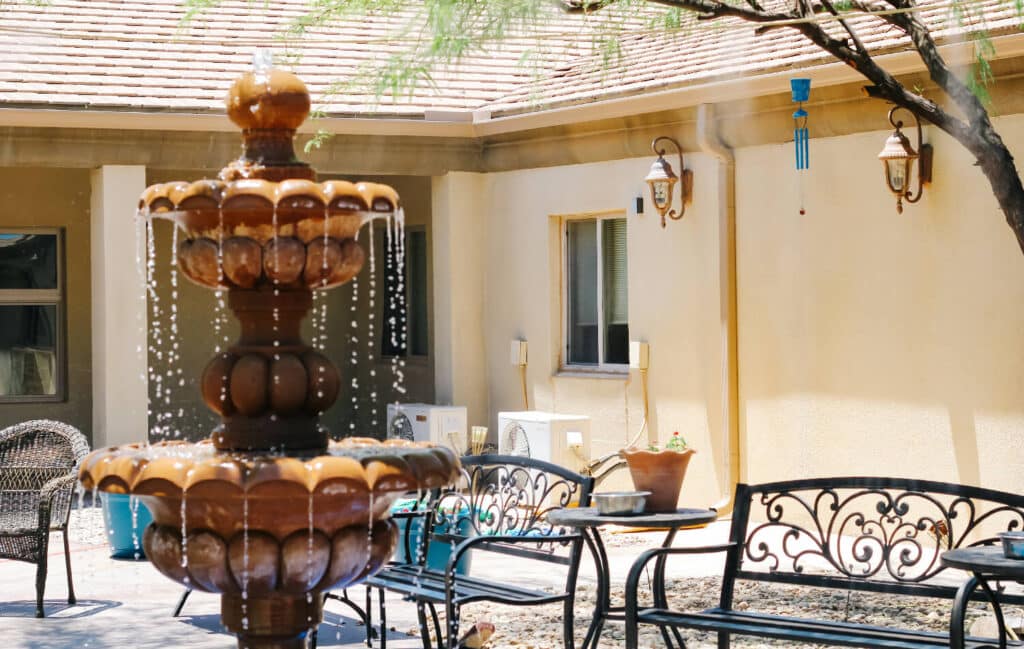 Stopping meth abuse on your own is tremendously challenging. Withdrawal symptoms from meth addiction can be stressful, exhausting, and dangerous. While meth withdrawals are not life-threatening, they can lead to complications such as extreme dehydration or accidental vomit aspiration. Medical detox at The River Source includes medical care from doctors and nurses who will monitor your vitals and administer medications that can ease withdrawal symptoms. While medical detox is unnecessary when coming off methamphetamines, it can certainly ease the process and greatly reduce the likelihood of early relapse. The River Source provides a holistic detox program that will give you access to the same medication-assisted treatment and 24/7 medical care as other detox centers plus holistic treatments that will strengthen your body, mind, and spirit. Our comfortable living arrangements and non-hospital setting help ease the emotional discomfort and stress many people feel in sterile drug detox centers. We also offer a full continuum of care, allowing you to easily transition to one of our rehab programs best suited for your personal and addiction needs.
YOU'RE NOT ALONE – WE CAN HELP
TAKE THE FIRST STEP AND APPLY FOR TREATMENT TODAY
Why Choose The River Source Phoenix for Meth Rehab?
Meth addiction can cause severe mental illness and several physical health effects. Comprehensive treatment programs made up of conventional addiction treatments address the root cause of addiction and help provide you with tools to prevent a relapse. The River Source Phoenix's naturopathic approach to drug and alcohol addiction goes beyond conventional treatment methods to include holistic therapies that will heal the body, mind, and spirit, helping to address the physical and mental effects of a meth addiction for a better chance at a full recovery.
Our high success rate is credited to our unique treatment program that uses personalized treatment, a holistic approach, and a full continuum of care. Although we offer several levels of care that allow you to start anywhere on the continuum, we encourage our patients to complete the full continuum of care for their best chance at long-term addiction recovery.
With more than 20 years of experience, we have found that our clients with the most success complete the full continuum which will be personalized to your addiction recovery needs. The step-down program takes you through intensive drug detox and residential inpatient treatment to remove you from outside influences and allow you to fully focus on your program through outpatient treatment and aftercare programs to provide you with enough support as you transition back to the real world. Your treatment program will be specially designed to help you overcome the physical and psychological aspects of your meth addiction and give you the tools and skills needed to live a successful, independent life free of alcohol and drugs.
First Class Amenities
Our priority at The River Source is creating effective, clinically driven substance abuse recovery programs and luxury amenities. We understand the role of comfortable amenities and environment on your recovery and patient retention. Our residential inpatient treatment program includes private and semi-private rooms, high-quality mattresses with fresh linens, spacious outdoor areas, washers and dryers, freshly prepared meals, smoking areas, and daily electronic use. We provide private areas available when you need alone time to reflect and fun communal areas to help you build bonds with others in similar programs. We also include access to amenities that foster physical exercise and provide nutritional support, both of which are key to helping your body and mind heal from the effects of meth addiction.
Meth Withdrawal
Meth withdrawal includes both physical and psychological symptoms. Every person's experience with meth withdrawal will be unique and can include both acute and post-acute symptoms. Duration and severity of meth withdrawal will depend on several factors including length and severity of drug abuse.
Acute meth withdrawal symptoms can include:
Dehydration

Anxiety

Irritability

Insomnia followed by sleeping too much

Chills

Intense drug cravings

Inability to think clearly

Depression and suicidal thoughts

Inability to feel pleasure
Post-acute withdrawal symptoms can include (which can last for weeks, months, or even years after):
Inability to feel pleasure

Fatigue and excessive sleepiness

Drug cravings

Mood swings

Psychosis

Depression and suicidal thoughts

Increased appetite
What Is Meth Detox Like?
Upon admission at The River Source, our team of clinicians will conduct a thorough physical and psychological evaluation to determine your personal medical detox needs. Our medical team comprises of nurses and doctors who will monitor your vitals around the clock and administer medications to ease withdrawal symptoms. Medical detox will also include naturopathic therapies such as massage, infrared sauna, and vitamin and amino acid IV therapy so support medical detox and ease withdrawal symptoms naturally. Counselors and therapists are also available to treat psychological symptoms and provide you with emotional support. As your withdrawal symptoms subside, you may begin with drug rehab therapies such as 12-step programs and behavioral therapy to address underlying addiction issues.
How Long Does Detox Last?
Every person's experience with meth detox will be different, including how long it will take their body to go through the withdrawal timeline. In general, you can expect withdrawal symptoms to start within 24 hours of last use and last between a couple of days to a couple of weeks. Most people will experience the worst parts of meth withdrawal within the first 24 hours, after which symptoms will gradually decline.
Acute meth withdrawal will last between 7 to 10 days. However, some people can take up to 2 weeks to fully detox. Post-acute withdrawal is generally mild and last an additional 2 to 3 weeks. Medical detox will continue as long as you present with withdrawal symptoms, but you will begin with behavioral therapy and other addiction therapies as your symptoms dissipate.
What Happens After Detox?
Medical detox is only the first step in addiction recovery as it only addresses the physical symptoms of addiction. The River Source Phoenix offers several options for drug rehab, although we do encourage all clients to complete the full continuum of care which consists of inpatient treatment, partial hospitalization program (PHP), intensive outpatient treatment, outpatient treatment, and aftercare program. Our step-down program has proven to have the highest long-term recovery outcomes, and each phase will vary in length depending on your needs and how you progress. All levels of care will include most of the same addiction therapies such as cognitive behavioral therapy, group therapy, 12-step programs, trauma-informed care, and medication-assisted treatment which will address the root cause of addiction and provide you with skills and tools to successfully manage your meth addiction for a lifetime. Rehab program lengths will vary, but the most common lengths are 30-day, 60-day or 90-day programs.
30-Day Meth Rehab in Phoenix
Short-term rehab or rehab that lasts 30 days or less is best suited for mild addictions. This intensive treatment program will pack in medical detox and several forms of addiction treatment within those 30 days. 30-day rehab will include several types of conventional treatment methods and holistic therapies to address the root cause of your addiction and help your body, mind, and spirit heal from the effects of addiction. Short-term rehab at The River Source in Phoenix can be made up of both inpatient and outpatient treatment programs. However, continuing with aftercare programs after completing your recovery program is important to help you successfully transition to day-to-day life.
60-Day Meth Rehab in Phoenix
Similar to a 30-day rehab, 60-day rehab is also better suited for milder forms of addiction, but it provides more time to break behavioral patterns and address co-occurring disorders contributing to your substance abuse. You can also expect the same addiction therapies and holistic treatments as short-term rehab. Just as with 30-day programs, it is important to continue with aftercare programs and our alumni program to ensure continued recovery success.
90-Day Meth Rehab in Phoenix
Severe meth addictions require a minimum of 90 days of rehab for several underlying causes and break negative habits relating to meth abuse. For the most part, meth addiction will require a long-term rehab program to heal physical and psychological issues. 90-day programs provide enough time and therapies to treat co-occurring disorders, provide life skills and vocational training, and create a robust relapse prevention plan.
Meth Detox & Rehab Success Rates
The River Source prides itself in having higher success rates than the national average. We attribute these high success rates to a combination of personalized treatment plans and a holistic addiction treatment approach. However, our most successful clients have completed the full continuum of care and encourage you to do the same, which also qualifies you for our 100% recovery guarantee, allowing you to come back to our rehab center free of charge if you relapse within one year of completing our program.
Meth Detox in Phoenix
Medical detox at The River Source provides you with safety and comfort and increases your chances of completing the withdrawal process successfully without early relapse. You can also easily transition into our meth rehab program which will help you achieve long-term sobriety.
Please contact the best rehab in Phoenix today if you want to discuss your unique case with us or learn more about our meth addiction treatment programs.
QUICK, CONFIDENTIAL INSURANCE VERIFICATION
CLICK BELOW TO FIND OUT IF YOU HAVE COVERAGE