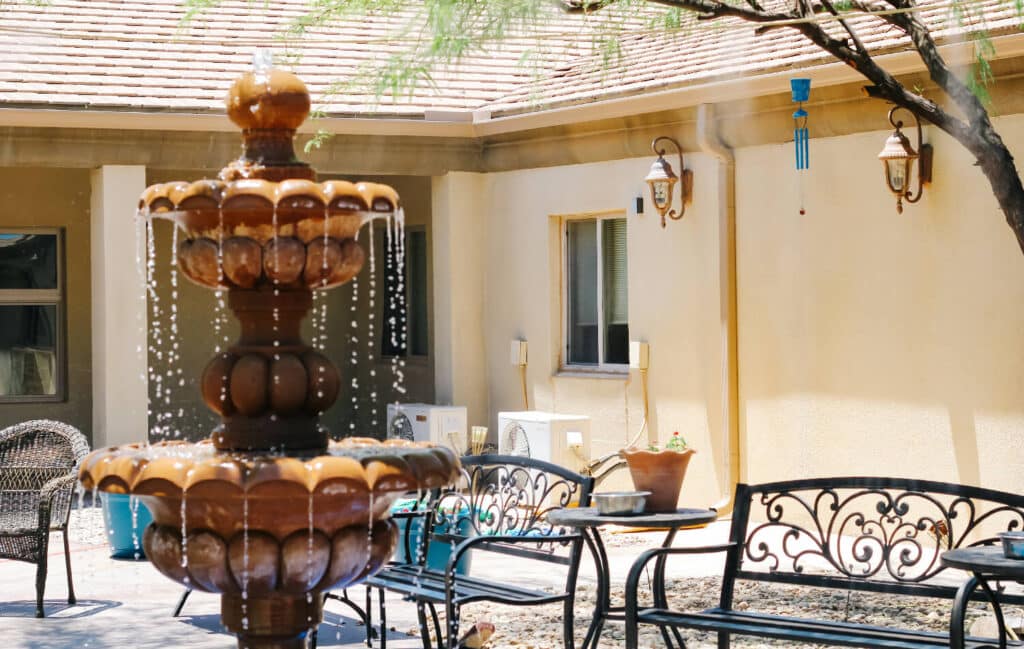 Prescription medications can cause addiction or physical dependence in anyone. Getting substance abuse treatment as soon as possible can help increase your chances of a successful recovery. The River Source in Phoenix, Arizona provides individualized treatment plans to address how a person can develop a dependence or drug addiction to prescription medications. As a Joint Commission-accredited treatment center, you can trust you will be participating in a top-rated drug rehab program.
YOU'RE NOT ALONE – WE CAN HELP
TAKE THE FIRST STEP AND APPLY FOR TREATMENT TODAY
Why Choose The River Source Phoenix for RX Drug Rehab?
The River Source goes beyond the conventional, evidence-based treatment methods found in top-rated drug and alcohol rehabs across the US. Our integrative treatment approach combines holistic treatment with traditional addiction therapies to heal the body, mind, and spirit and help clients find long-term addiction recovery. We credit our full continuum of care partly for our high success rates. Encouraging patients to follow through with a full step-down addiction treatment program has provided healing to the root cause of addiction and enough support as they transition back to their day-to-day lives. We also include a 100% recovery guarantee that allows you to return to treatment when you complete the full continuum of care.
Our unique treatment programs in Phoenix, Arizona will not only address physical dependence and underlying causes of addiction but will also provide you with therapies and tools necessary to strengthen your body, mind, and spirit. By teaching you the right skills and coping mechanisms, you will be able to address addiction head-on for years to come. However, relapse is a part of the addiction journey, but our program will teach you how to get back to your healthy self, and we will always be here to help you along the way.
Inpatient Residential RX Addiction Program in Phoenix
Part of our continuum of care includes residential inpatient treatment, which allows you to stay at the treatment facility full-time for a portion or the entirety of your rehab program. We have found our clients with the highest success have completed the full continuum of care, starting with inpatient treatment after medical detox. Inpatient residential treatment is usually best suited for those with severe addictions. However, even milder addictions would greatly benefit from even a short period of inpatient rehab. This intensive form of treatment provides the proper environment to separate yourself from outside influences and impulses, which may lead to an early relapse.
The River Source treatment facility in Phoenix Arizona provides clients with comfortable and modern living quarters and common areas. Although we are a non-hospital setting drug rehab with some nicer amenities to make you feel at home, we are not a luxury rehab. Our focus is on first delivering high-quality, evidence-based addiction treatments and qualified addiction staff.
Types of RX Drug Addictions We Treat
The River Source can treat a wide range of prescription drug addictions. Our highly skilled staff can oversee and administer various addiction treatment methods to address any type of addiction disorder. Some prescription drug addictions we treat, include but are not limited to:
Anti-anxiety medications including benzodiazepines and barbiturates

Antidepressants such as Prozac, Zoloft, and Lexapro

Sleeping pills including Lunesta and Ambien

Stimulants for ADHD and insomnia like Dexedrine, Adderall, and Ritalin

Opioid painkillers including Oxycodone and Oxycontin
Benzo Rehab in Phoenix
Benzodiazepines are highly effective in treating anxiety and insomnia but will also cause dependence and addiction in a matter of weeks. Withdrawal symptoms can be dangerous and require help from our medical detox program at The River Source Phoenix. Our dual diagnosis program can help address anxiety disorders and sleep disorders without medications so you can find long-term relief from your symptoms without needing medications.
Fentanyl Rehab in Phoenix
Fentanyl is highly addictive and dangerous, requiring comprehensive treatment programs to address opioid addiction. A robust treatment program at The River Source can help even the most severe addict find long-term recovery. Combining holistic treatment with traditional behavioral health treatment methods has helped many clients heal from the physical, behavioral, and psychological effects of opioid addiction.
Oxy Rehab in Phoenix
Opioid prescription addiction has been on the rise for many years due to the highly addictive nature of these medications. Medical detox is often necessary for oxycodone addiction to help patients go through early withdrawals and cravings comfortably and successfully. Our individualized treatment plans will help address the multi-facet effects of oxycodone addiction and help each client find a successful, independent sober living.
Morphine Rehab in Phoenix
The euphoric effects of opioid painkillers like morphine have led to long-standing addictions and even heroin addiction. Opioid addiction is one of the hardest addictions to overcome. However, The River Source's high success rate has proven that it can tackle the toughest drug addictions. Completing the full continuum of care, including medical detox, inpatient treatment, and outpatient programs, can provide you with the best chance of overcoming morphine addiction.
Meperidine Rehab in Phoenix
Another opioid painkiller that can quickly lead to addiction is Meperidine. Opioid withdrawals and cravings can be extremely painful, uncomfortable, and intense. Many fail at stopping Meperidine use on their own. However, our detox center in Phoenix can help you detox from opioids through medication-assisted treatment and holistic therapies. It also allows an easy transition into prescription drug rehab to address any underlying issues.
Diphenoxylate Rehab in Phoenix
Diphenoxylate is a prescription opioid antidiarrheal with high abuse potential. Overcoming addiction on your own may not provide you with the appropriate tools and skills necessary for relapse prevention. You can successfully learn new ways to handle future cravings and relapses through cognitive behavioral therapy, group therapy, holistic treatments, and other addiction therapies at The River Source.
Sedative Rehab in Phoenix
Several types of sedatives are available to treat anxiety and insomnia. Some have a higher abuse potential than others. However, they can all still cause physical dependence. Our medical detox program can help you overcome the initial physical dependence issues which have blocked your ability to stop use successfully, including uncomfortable withdrawal symptoms. For those who have developed behavioral and psychological addiction, drug rehab at The River Source can provide the right addiction therapies necessary for long-term addiction recovery.
Antidepressant Rehab in Phoenix
Antidepressants usually are not habit-building. However, they can cause physical dependence, making it difficult to stop using on your own. Medical detox can help you overcome initial withdrawals associated with stopping antidepressants, and our dual diagnosis program can address depression naturally through behavioral therapy and holistic treatments.
30-Day Rehab
Prescription drug rehab is available in short-term and long-term programs. For those with milder addiction, 30-day rehab or short-term rehab can provide enough time to address physical dependence and provide an environment to foster recovery. Short-term rehab programs are intensive, and you can expect your days to be highly structured around addiction therapies. It is important to continue with outpatient rehab and aftercare programs to address behaviors and emotions surrounding addiction.
60-Day Rehab
60-day programs are similar to 30-day programs but allow more time to work on negative behaviors and thought patterns that are contributing to addiction. You can expect addiction therapies and services in 60-day programs including cognitive behavioral therapy, family therapy, group therapy, 12-step programs, and holistic therapies like infrared sauna, yoga, meditation, and vitamin IV therapy. Dual diagnosis programs can also address co-occurring disorders such as anxiety and depression.
90-Day Rehab
More severe addictions require a minimum of 90 days to overcome. The River Source provides a full continuum of care that can be completed in 90 days or more if needed. Long-term rehab allows enough time to not only break deep-rooted behaviors and negative thought patterns but also address co-occurring disorders and trauma related to addiction while also providing the necessary skills and tools to live a full life without the need for drugs or alcohol.
Top Rated RX Addiction Treatment in Phoenix
The River Source provides the residents of Phoenix, Arizona with top-rated addiction treatment programs to address any type of prescription medication addiction. We credit our high success rates to a unique combination of naturopathic therapies, personalized treatment plans, and a full continuum of care.
Prescription Rehab in Phoenix
Prescription medication addiction will look differently in each person. Whether you only need help to stop the use of antidepressants or you have developed a long-standing battle with opioid painkillers, our treatment programs can meet you anywhere in your recovery journey. We offer inpatient treatment, a partial hospitalization program (PHP), an intensive outpatient program (IOP), outpatient treatment, aftercare programs, and a lifetime alumni program.
Our Recovery Guarantee
We encourage all our clients to complete the full continuum of care, which can be done in various timelines to fit their addiction needs. Completing the full continuum of care will come with our 100% recovery guarantee, which allows you to come back to The River Source at no extra charge if you relapse within one year of completing your program.
If you or someone you love is struggling with prescription drug addiction, please contact us today and learn more about how drug rehab programs can help you overcome addiction.
QUICK, CONFIDENTIAL INSURANCE VERIFICATION
CLICK BELOW TO FIND OUT IF YOU HAVE COVERAGE