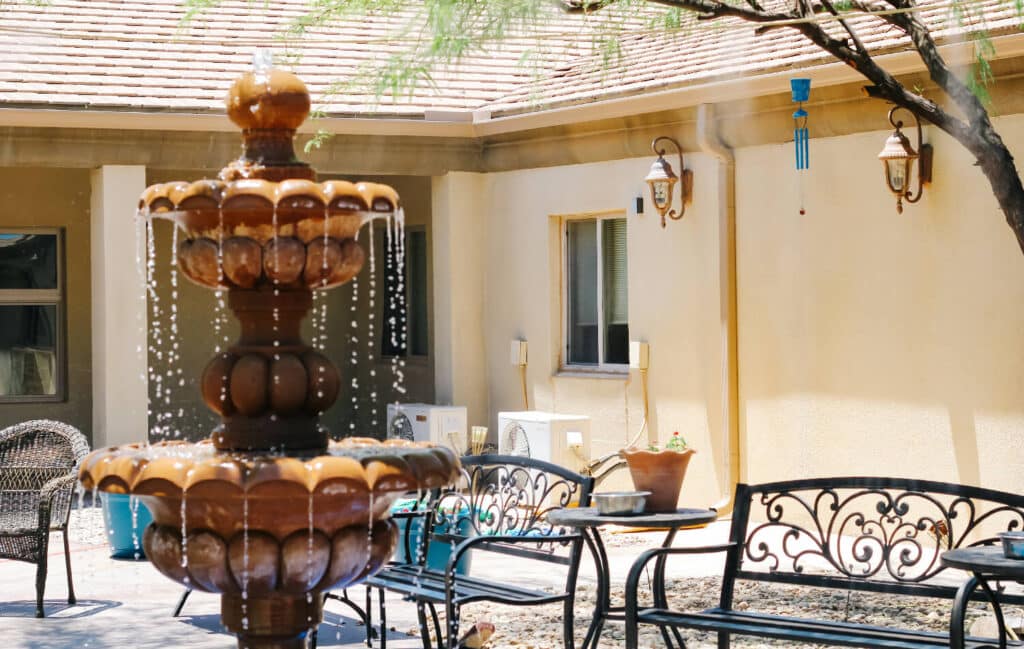 Many assume that prescription medications are safe because a doctor gives them. However, many come with a high potential for addiction. Several prescription medications such as benzodiazepines, painkillers, stimulants, and antidepressants can all lead to substance use disorders even when used as directed. However, there are specialized treatment programs for prescription medication addiction. At The River Source in Arizona, we are a Joint Commission accredited drug and alcohol treatment center with nearly 20 years of experience treating all types of substance use disorders. As a top-rated treatment facility, we are confident in our ability and your ability to get your life back in order.
YOU'RE NOT ALONE – WE CAN HELP
TAKE THE FIRST STEP AND APPLY FOR TREATMENT TODAY
Why Choose The River Source Arizona for RX Drug Rehab?
When choosing The River Source, you will get the best addiction treatment possible. Our integrative approach uses conventional treatment methods such as individual therapy, mediation-assisted therapy, family programming, and holistic treatments such as acupuncture and massage therapy to tackle RX drug addiction from all angles. With our holistic approach, create personalized treatment plans that address the body, mind, and spirit aspects of addiction to help you achieve sobriety. Our full continuum of care will take you through a fully immersive inpatient rehab to heal your body and mind through outpatient treatment and aftercare programs designed to give you support and help you transition back into the real world with minimal chance of relapse.
As Joint Commission certified, you will get top-rated care at The River Source. Our programs are personalized with evidence-based treatments made up of conventional treatments and naturopathic treatments. We can help heal the physical, emotional, and mental aspects of addiction to help you achieve long-term sobriety and leave our treatment facility with better coping skills and tools for a lifetime of success.
Inpatient Residential RX Addiction Program in Arizona
Inpatient residential treatment at The River Source is gender-specific, allowing men and women to heal separately in a safe and distraction-free environment. Our treatment facility is comfortable and cozy, with beautiful grounds to help you focus on your recovery. However, our focus is not on luxury amenities but rather on the addiction treatment program itself so you can continue recovery long after your time with us. Inpatient residential treatment offers the most immersive experience to truly focus on yourself and your recovery without outside distractions. This is often the best place to start for any type of addiction as it offers a strong foundation in a drug-free environment.
Types of RX Drug Addictions We Treat
There are several factors that contribute to developing a prescription drug use disorder, including the type of medication. At The River Source, we design our recovery programs to treat specific prescription medications, including:
Opioids: such as Vicodin, Oxycodone, Percocet, Dilaudid, and Duragesic

Stimulants: such as amphetamines like Ritalin, Adderall, Concerta, and Vyvanse

Benzodiazepines: such as Valium, Klonopin, Xanax, and Ativan

Medical Marijuana
Benzo Rehab in Arizona
Benzodiazepines are prescription anti-anxiety medications that can easily cause physical dependence, even when used as prescribed. Withdrawal symptoms from attempting to stop using benzos can be severe and even dangerous. It is highly recommended you start with drug detox and then transition into drug rehab. Your treatment program should have dual diagnosis programming in order to address underlying and co-occurring disorders of anxiety that are still present.
Fentanyl Rehab in Arizona
Fentanyl is a highly potent and highly addictive prescription opioid, which is also being manufactured and sold illicitly. Fentanyl is prescribed for severe pain cases such as after surgery or for cancer pain. However, there is a growing fentanyl epidemic because of its illicit use. Fentanyl not only comes with a high risk of abuse but there is also a high risk of overdose, which calls for addiction treatment as soon as possible.
Oxy Rehab in Arizona
Oxycodone is another prescription pain opioid that has high addiction potential. In recent years, physicians have been more careful and rigid in prescribing opioids for pain. However, even when used as directed, individuals can still easily develop a dependence on oxycodone. Part of our treatment methods at The River Source for oxycodone is helping our clients find better, more natural ways to treat their pain, such as acupuncture, yoga, and massage.
Morphine Rehab in Arizona
Morphine is a prescription opioid often used for its pleasurable effects. However, many people start their morphine addiction from a legitimate prescription for pain. Morphine is a very difficult addiction to overcome. However, our treatment specialists at The River Source are confident in their personalized treatment plans that anyone can overcome opioid addiction. Drug detox and inpatient treatment is the best way to gain a strong foundation for a lifetime of sobriety.
Meperidine Rehab in Arizona
Meperidine, also known as Demerol, is a prescription pain opioid that can cause dependence within just a few weeks of use. Withdrawal symptoms from any opioid can be highly uncomfortable and painful, which may require drug detox to successfully complete abstaining from using the drug. Through behavioral health and individual therapy, many people have found the ability to stop using long-term.
Diphenoxylate Rehab in Arizona
Diphenoxylate is a prescription opioid used to treat diarrhea. In high doses, it can cause a sense of euphoria and has a high potential for abuse. Addiction treatments for opioids will focus on behavioral health changes with cognitive behavioral therapy and holistic treatments, including Nutritional IV Therapy to help the body return to normal functioning.
Sedative Rehab in Arizona
Sedatives can be highly beneficial for acute cases of anxiety, depression, or insomnia. However, long-term use can lead to dependence and addiction. Some sedatives like Xanax can cause extreme and dangerous withdrawal symptoms, so you should always consult with a drug detox program when attempting to stop use. Dual diagnosis programs are also available at The River Source to address the underlying issues that may have led to your addiction.
Antidepressant Rehab in Arizona
Although antidepressants are not easily abused, they do have the potential for physical addiction. Stopping these medications abruptly can cause severe withdrawal symptoms, but a medical detox program can help you go through withdrawal more easily. Dual diagnosis programs are also important in these cases to help clients heal from their depression or find more natural, holistic ways to manage their symptoms.
30-Day Rehab
Short-term rehab that lasts 30 days or less is a good starting point to help clear the body and mind of RX drugs. It can be a more affordable option for individuals who cannot take an extended period of time off. 30-day rehab offers a combination of addiction treatments found in longer rehab programs, including drug detox, cognitive behavioral therapy, family therapy, and 12-step programming. Outpatient and aftercare programming should be continued after concluding 30 days of inpatient treatment.
60-Day Rehab
A 60-day inpatient treatment program is similar to 30-day rehab but with more time in a drug and alcohol-free environment. More severe addictions may need more work to break certain behaviors and heal underlying causes. 60-day rehab should be part of a full continuum of care.
90-Day Rehab
Research has found that 90-day rehab programs are the minimum amount of time required to recover from addiction and avoid relapse early on. Ninety-day programs can be made up of both inpatient treatment and outpatient treatment. However, for severe addiction, the full 90-day program in inpatient residential treatment may be warranted. You should take careful steps and plan on easing back into the real world.
Top Rated RX Addiction Treatment in Arizona
Our integrative treatment program at The River Source has allowed us to be among the top-rated RX addiction treatment centers in Arizona. Our detox center in Arizona combines conventional treatment methods such as family programming, individual therapy, dual diagnosis treatment, and group therapy with holistic treatments to help our clients fully heal. We seek to treat the body, mind, and spirit through evidence-based therapy and individualized treatment.
Prescription Rehab in Arizona
Our full continuum of care at The River Source in Arizona has helped many break free from their addictions. Offering multi-levels of care lets us meet anyone anywhere in their recovery journey. We offer residential inpatient treatment, intensive outpatient program (IOP), partial hospitalization program (PHP), and outpatient treatment. You will also have lifetime access to our alumni program to keep you active in your recovery.
Our Recovery Guarantee
We are so confident in our program and in your ability to achieve recovery we offer a 100% recovery guarantee. It is important for us for you to feel empowered and assured that if you put in the work, the recovery program will work for you. If you relapse within one year of successfully completing our full continuum of care, you can come back to The River Source at no extra charge. Please give us a call today and start your road to recovery.
QUICK, CONFIDENTIAL INSURANCE VERIFICATION
CLICK BELOW TO FIND OUT IF YOU HAVE COVERAGE