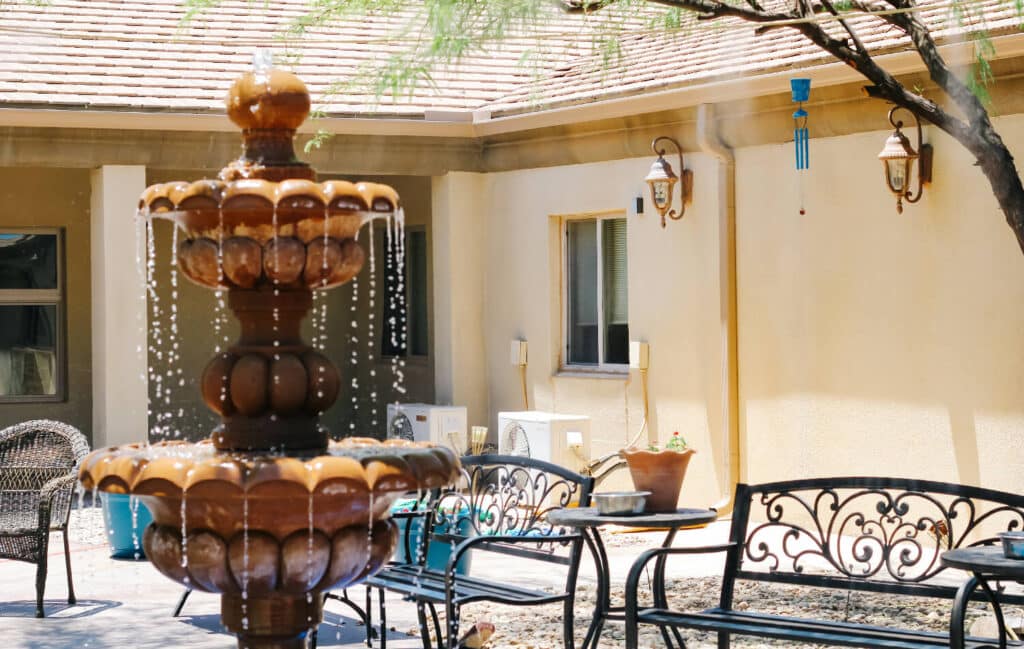 #1 Addiction Treatment Center in Scottsdale for Alcohol, Prescription Drugs, & Drug Addiction
Scottsdale residents struggling with drug and alcohol addiction have access to top-rated rehab programs at The River Source. Treatment plans are individualized and aim to address every aspect of their addiction to provide the best chance of achieving long-term sobriety. Our unique integrative addiction treatment programs combine conventional treatment methods with holistic and naturopathic approaches which will treat the person as a whole and not just the symptoms they present. Patients can choose from a wide range of levels of care to meet them anywhere in their recovery journey. We are committed to your healing journey which does not end the day you graduate from your program. Patients have access to a Lifetime Alumni program and support and resources from us in the unfortunate event of a relapse.
YOU'RE NOT ALONE – WE CAN HELP
TAKE THE FIRST STEP AND APPLY FOR TREATMENT TODAY
Alcohol & Drug Detox & Rehab in Scottsdale
Our full continuum of care at The River Source allows patients to complete all phases of the recovery journey in the same facility and with the same caring and knowledgeable staff who know their case inside and out. We are a Joint Commission-accredited treatment facility with medical detox and rehab programs for all types of addiction. Although we do not like to consider ourselves a luxury rehab, that does not mean we overlook your comfort during your stay with us. The treatment facility is in a non-hospital setting with several amenities all with a dual purpose of providing comfort and supporting your recovery program.
Why Choose the River Source in Scottsdale for Addiction Treatment?
With over 20 years of experience, The River Source has created a unique treatment program with a higher success rate than the national average. Combining personalized treatment plans, an integrative approach, and a full continuum of care provide patients with their best chance at addiction recovery. Our treatment plans are tailored to help your body, mind, and spirit heal from the effects of substance abuse while providing you with the right tools and skills necessary to manage your drug or alcohol addiction for a lifetime. We do not promise a miracle cure but an effective treatment program that will inevitably help you achieve long-term sobriety when you put in the work.
Scottsdale Alcohol Detox
Severe alcohol addiction may require medically supervised detox to overcome the withdrawal process safely and effectively. Withdrawal symptoms from alcohol addiction can be severe or even life-threatening. Scottsdale alcohol detox programs at The River Source provide around-the-clock care from a team of doctors and nurses who will monitor your vitals and medications to ease alcohol withdrawals. Part of our detox program includes naturopathic treatments such as vitamin IV therapy and an infrared sauna that will help you strengthen your body and detox more efficiently. Even if you are not at risk for dangerous alcohol withdrawals, you will greatly benefit from a medical detox. Often, individuals will quickly relapse when attempting to detox on their own due to uncomfortable withdrawals, cravings, and continued access to alcohol. Medical detox programs can provide you with medications that will ease discomforts and a drug and alcohol-free environment to prevent giving in to temptation.
Scottsdale Alcohol Rehab
Alcohol detox is only the first step in the recovery journey. Patients must continue with an alcohol rehab program to achieve long-term sobriety. Alcohol rehab programs at The River Source will help heal the root cause of your alcohol addiction through individualized treatment plans and provide you with the tools, skills, and resources necessary to manage your addiction for a lifetime. Our holistic alcohol rehabs aim to treat every patient as a whole, not just their addiction, for true healing of the body, mind, and spirit.
Scottsdale Drug Detox
Detoxing from drugs is necessary to begin drug rehab with a clear body and mind when dealing with active drug addiction. Medical detox programs at The River Source can help you detox from illicit and prescription drugs successfully. Long-standing substance abuse can cause uncomfortable withdrawal symptoms and cravings, leading to an early relapse. Scottsdale drug detox center programs can help you complete the withdrawal process with the help of medication-assisted treatment, holistic therapies, around-the-clock medical support, and a controlled, drug-free environment. You do not need to go through drug detox alone and in pain. Our medically supervised drug detox programs can help support you and ease the hardest part of the recovery process.
Scottsdale Drug Rehab
Drug detox is only the first step in recovery, and while you may have rid your body of toxic substances, it rarely is long-lived without additional support. Comprehensive drug rehab programs at The River Source can help you overcome drug addiction long-term. Through a variety of evidence-based addiction treatments personalized to your unique case, we can help you heal underlying causes of addiction while helping you break deep-set behaviors and habits contributing to substance abuse. Our full continuum of care is available to meet your addiction and personal needs and create a program that fits you best.
Scottsdale Prescription Drug Detox
Several prescription medications can lead to physical dependency which results in withdrawal symptoms. Stopping prescription medication use on your own can be challenging. However, The River Source's medical detox program in Scottsdale, AZ can help you stop prescription drug use more comfortably with medication-assisted treatment and holistic therapies.
Scottsdale Prescription Drug Rehab
When prescription drug dependency turns into addiction, comprehensive treatment interventions are necessary to achieve long-term recovery. The River Source's prescription drug rehab includes several addiction therapies that will address addiction's behavioral and psychological components. We also offer dual-diagnosis treatment programs to treat co-occurring disorders such as anxiety, depression, and pain with non-medication methods.
Scottsdale Top Rated Addiction Treatment
Our high success rate at The River Source is a testament to our effective treatment programs. A combination of personalized treatment plans, an integrative approach, and a full continuum of care have helped most of our clients find long-term recovery from their addiction. We are a Joint Commission-accredited treatment facility and in-network with most major health insurance companies.
Alcohol & Drug Detox-Rehab for Residents of Scottsdale
Residents of Scottsdale, Arizona can access top-quality drug and alcohol detox and rehab programs at The River Source. Our full continuum of care includes all levels of treatment including medical detox, residential inpatient treatment, partial hospitalization program (PHP), intensive outpatient program (IOP), outpatient treatment, aftercare programs, and a lifetime alumni program. Scottsdale residents can complete a full rehab program at one facility with the same caring and compassionate staff who know their recovery journey from day one.
Our Treatment Specialties
We use a unique integrative treatment approach at The River Source in Scottsdale, Arizona. Combining holistic treatment methods with traditional addiction therapies has provided our clients with a high success rate. We use the same conventional substance abuse treatments available in the best recovery centers and enhance them with naturopathic therapies. We also include specialized treatment programs such as dual diagnosis treatment, drug rehab for pregnant women, and addiction treatment programs for Native Americans to address unique issues.
Telehealth IOP
Virtual intensive outpatient program (telehealth IOP) is our online rehab program that allows you access to many of the same substance abuse therapies you would in person. Telehealth rehab has helped eliminate many barriers to treatment for those with social anxiety or agoraphobia, the immunocompromised, lack transportation, or individuals living in rural areas.
Naturopathic Therapies
Naturopathic medicine aims to help the body, mind, and spirit from the effects of substance abuse. We incorporate holistic therapies into all levels of care. Using naturopathic treatment allows us to see each patient's whole picture instead of just the symptoms they are currently presenting with. You can expect holistic treatments at The River Source including massage, yoga, homeopathy, infrared sauna, vitamin IV therapy, amino acid therapy, physical exercise, and nutritional counseling.
IV & Oral Vitamin Therapy
Long-term substance abuse can cause severe nutritional deficiencies which can make a recovery more challenging. We use IV and oral vitamin therapy to help the body restore function, improve immune support, and increase energy. Vitamin therapy can also help reduce withdrawal symptoms and help the body detox more effectively.
Amino Acid Therapy
Amino acids play an important part in brain function and, dependent on nutrition, are commonly affected by long-term addiction. This is one of the reasons why individuals in recovery may feel anxious or depressed. At The River Source, we replace amino acids through oral and IV treatment to help the brain regulate neurotransmitters on its own again. benefits of amino acid therapy include reducing fatigue and restoring mental health.
Massage Therapy
The River Source employs certified massage therapists and various modalities including deep tissue massage. Massage therapy is greatly beneficial during the process of rehab to relieve withdrawal symptoms including muscle soreness, fatigue, and pain. It can also help improve mental health by releasing dopamine and serotonin naturally. Individuals in rehab will also benefit from massage as it helps relieve stress and tension.
Yoga & Meditative Therapy
Part of our treatment program at The River Source includes helping patients find ways to manage their stress and triggers without the use of drugs and alcohol. We incorporate meditation and yoga into treatment plans as a way for patients to explore mindfulness and exercise. These practices can help relieve aches and pains associated with withdrawal, stimulate neurotransmitters, calm the nervous system, reduce stress, and enhance inner peace.
Dry Infrared Sauna Therapy
Medical detox at The River Source includes medication-assisted treatment to ease withdrawals and holistic methods to help the body detox naturally and more quickly. A dry infrared sauna can help the body effectively and rapidly sweat out toxins. It is a client's favorite way to detox in a warm and calm environment.
Individual Counseling
One-on-one counseling sessions will usually make up a large portion of your treatment plan. Our multidisciplinary team is trained in several types of therapy which can help you understand and heal the underlying causes of your addiction while providing you with tools and skills to manage your recovery independently.
Group Therapy
In addiction recovery, group therapy sessions can reduce feelings of loneliness and isolation. It also allows clients to build a mutually supportive network and friendship that can last a lifetime. Group therapy is led by counselors who may choose a topic of discussion, help clients create a relapse prevention plan, and learn new coping skills.
Family Education
An addict's loved ones are usually greatly affected by the addict's substance abuse. Family therapy aims to repair relationships that have been strained due to addiction while also helping family members learn how to better support the person in their recovery. Family education can help improve communication and the ability to express feelings. It is also beneficial in breaking codependent or enabling behaviors that may contribute to substance abuse.
12-Step Program
12-step programs have helped many for decades find and maintain sobriety. Our treatment center incorporates 12-step principles like those found in Narcotics Anonymous or Alcoholics Anonymous because of their addiction recovery effectiveness. We can also help connect you to meetings throughout Arizona to help you actively work on your sobriety.
Co-Occurring Disorders/Dual Diagnosis
The River Source used dual diagnosis treatment to address co-occurring disorders such as anxiety, depression, ADHD, PTSD, and bipolar disorder, often present with addiction. Through behavioral therapy, medication-assisted treatment, and holistic treatment we can successfully address co-occurring disorders which greatly reduces the risk of relapse. Patients will learn healthy coping skills to deal with negative emotions instead of turning to drugs or alcohol.
Addiction Treatment for Pregnant Women
We offer specialized treatment plans for women to safely overcome their substance use disorder. While some traditional detox methods may not be applicable for pregnant women, The River Source can use holistic methods and the help of medical personnel to ensure the safety of the mother and baby during the recovery program. We also incorporate prenatal care into recovery programs.
Trauma Informed Care
Many individuals in recovery have experienced trauma in their lives, and our clinical staff is sensitive to the fact that addiction treatment can trigger painful memories or feelings. Trauma-informed staff will ensure you feel safe throughout your recovery treatment, keep you involved in your treatment planning, and never push you to do anything you do not want to.
Addiction Rehab for Native Americans
The River Source provides culturally sensitive and appropriate treatment programs for Native American populations. Treatment programs will address specific race and cultural challenges that have contributed to substance abuse while incorporating traditional healing methods used by Native Americans to aid addiction treatment. We are also sensitive to the fact that most minority populations have negative experiences when seeking medical help and how that contributes to resistance to getting substance abuse treatment.
Clinically Driven Treatment
Our treatment programs at The River Source are evidence-based and will address addiction's physical, psychological, and behavioral aspects. We will also adjust treatment plans based on your progress and according to your unique strengths and weaknesses. Our treatment programs are constantly evolving based on the measurable results of our clients.
Outcome-Based Rehab Programs
We truly want every one of our clients to achieve long-term sobriety so we create treatment programs that will not only heal the underlying causes of addiction but also teach tools and skills necessary to manage your recovery on your own. Through 20 years of experience, we have developed a treatment program with a high success rate and continue to evolve it based on methods that have shown to have more success.
We Use Evidence-Based Treatment With High Success Rates
Our integrative treatment programs at The River Source are founded on conventional, evidence-based treatment methods that are proven to work. Therapies like cognitive behavioral therapy and dialectical behavioral therapy are used in the best rehab centers across the country. Our high success rate is also partly due to our personalized treatment plans and the full continuum of care.
Our Integrative Approach Plus Our Cost Effective & In Network Programs Are the Best Value For Treatment
By incorporating holistic methods with conventional addiction therapies in our integrative approach, you can get the most value out of your recovery program. We are in network with most major insurance companies and will work with individuals without health insurance to ensure that money is not a barrier to effective addiction treatment. Our individualized treatment programs will meet your needs and budget.
Best In Class Medically Trained Addiction Staff
Our multidisciplinary team of medical staff will ensure your safety throughout your recovery program. They are trained to be able to handle any type or severity of the addiction. Drug and alcohol withdrawals can be dangerous at times; however, our medical staff is available around the clock to administer medications and other medical interventions to safeguard your detox plan.
Premier In-Network Facility Offering Naturopathic Treatment Types
The River Source is a Joint Commission-accredited treatment facility with superior quality of care due to our integrative approach. We combine traditional addiction treatment methods with naturopathic therapies to provide healing of the body, mind, and spirit. We are in-network with most major health insurance companies that can cover your rehab costs.
Our Treatment Guarantee
When you complete the full continuum of care, you can return to treatment at The River Source at no extra charge if you relapse within one year. You are most vulnerable to relapse in the first year of recovery. Relapses happen and do not mean failure. The ability to get back on the path to recovery is what is important, and you do not want anything to stop you from reaching out for help in the event of one, including monetary costs.
Recovery-Friendly Attractions in Scottsdale, Arizona
Part of your recovery is learning how to have fun again without using drugs or alcohol. Finding recovery-friendly activities near you can help you beat boredom, get some exercise, and see friends and family while doing something fun. To get you started, here are some places to explore in Scottsdale:
McDowell Sonoran Preserve
Getting out in nature can boost your mental health, making sobriety easier. McDowell Sonoran Preserve has over 100 miles of trails with varying difficulty levels. It is a permanently protected desert habitat and hosts one of the world's most diverse animal environments.
18333 N Thompson Peak Pkwy, Scottsdale, AZ 85255
Scottsdale Museum of Contemporary Art
This art museum hosts some of the South West brightness and well-known modern art. They also host classes, workshops, tours, presentations, art programs, and lectures for all ages. Incorporating art into your life can provide you with a new hobby to keep you busy and away from drugs and alcohol, but also a way to access and work through emotions and issues.
7374 E 2nd St, Scottsdale, AZ 85251
Scottsdale Center for the Performing Arts
This theater is one of the city's prime attractions for live entertainment. It showcases over a thousand performances per year and indoor and outdoor educational programs and festivals. This is a great way to spend time with friends without alcohol or drugs being a center point.
7380 E 2nd St, Scottsdale, AZ 85251
Southwest Wildlife Conservation Center
Many animals can be found at this conservation center, including mountain lions, blackberries, javelinas, Bobcats, coyotes, and Mexican gray wolves. You can enjoy a day scrolling through the center and learning about Arizona's amazing native wildlife.
27026 N 156th St, Scottsdale, AZ 85262
MacDonald's Ranch
This cowboy-type ranch offers premier horseback riding in Scottsdale, Arizona for all levels. Located in the Sonoran Desert, they offer cowboy cookouts, pumpkin patches, hayrides, a museum, and stagecoach rides as well.
26540 N Scottsdale Rd, Scottsdale, AZ 85255
Arizona Outdoor Fun
Take an all-terrain vehicle (ATV) or utility terrain vehicle (UTV) tour through the desert and towards the Bradshaw Mountains. The tour crosses over Agua Fria River, Indian ruins, and Tip Top, a former mining town.
61112 Black Canyon Fwy, New River, AZ 85087
Arizona Cowboy College
Learn how to ride horses, ranch techniques, and cattle from real ranch Cowboys. Arizona Cowboy College offers activities that teach you how to be a true Scottsdale cowboy.
Scottsdale Neighborhoods We Serve
The River Source serves the residents of Scottsdale, Arizona and its surrounding areas, including:
Ancala

DC Ranch
Desert Highlands
Downtown Scottsdale
Fashion Square
Grainey Ranch
Grayhawk
Legend Trail
McCormick Ranch
Mirage Crossing
Montana Del Sol
Northsight
Old Town Scottsdale
Paradise Valley
Scottsdale Mission
Shea Corridor
South Scottsdale
Troon North
Villa Monterey
QUICK, CONFIDENTIAL INSURANCE VERIFICATION
CLICK BELOW TO FIND OUT IF YOU HAVE COVERAGE