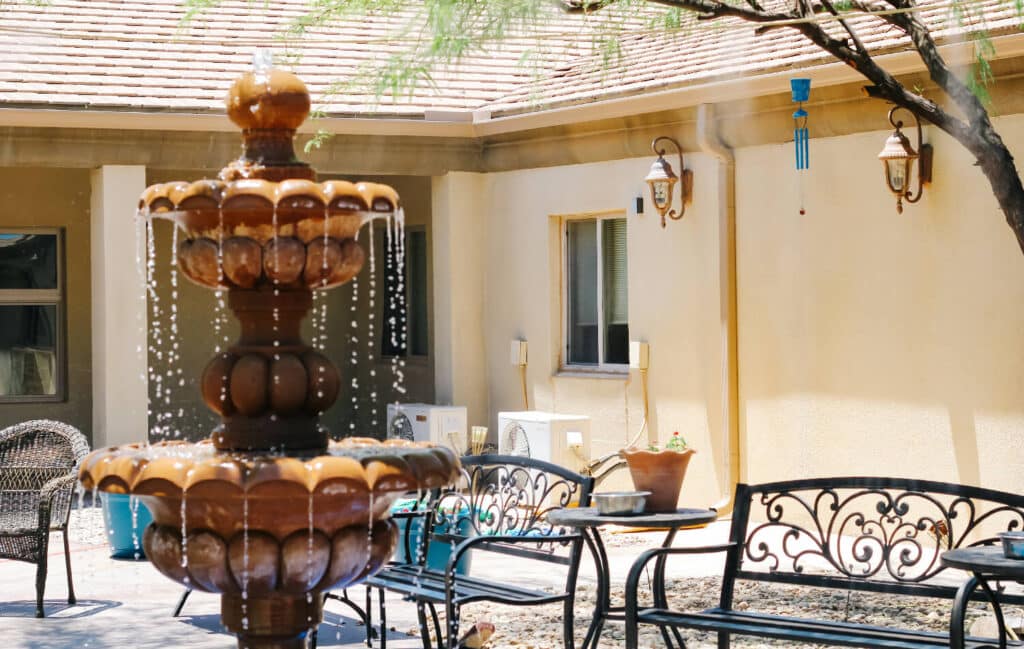 #1 Alcohol Detox Program in Scottsdale
Those dealing with alcohol addiction often struggle to stop drinking due to several barriers, including apprehension over the withdrawal process. Many who have attempted to stop drinking on their own quickly relapse due to severely uncomfortable withdrawals and cravings. Also, many people are not aware that alcohol withdrawals can even be dangerous or life-threatening and that stopping use is not nearly based on willpower. However, you do not need to go through the alcohol withdrawal process alone and in pain. Alcohol detox programs at The River Source provide patients with medication-assisted treatment and holistic therapies that will greatly ease or even eliminate many alcohol withdrawal symptoms. We are a top-rated, Joint Commission-accredited detox and rehab facility in Scottsdale, Arizona. Our treatment facility is equipped with the types of medications and a multidisciplinary team of nurses, doctors, and counselors who can help you go through the withdrawal process with ease. We have a higher success rate than the national average in part due to your integrative treatment program which incorporates holistic therapies into every treatment plan. Naturopathic and holistic therapies can help your body eliminate alcohol more quickly and come out the other side stronger than using conventional medical detox methods alone.
YOU'RE NOT ALONE – WE CAN HELP
TAKE THE FIRST STEP AND APPLY FOR TREATMENT TODAY
Why Choose The River Source Scottsdale for Alcohol Detox?
Personalized treatment plans, like the ones at the River Source in Scottsdale, can provide you with your best chance at long-term recovery. Our alcohol detox program includes around-the-clock medical supervision and FDA-approved medications for alcohol withdrawal. Our integrative approach provides you with much more than just the standard treatments available at the best detox centers across the country. You also get access to effective holistic treatments that can help heal the body, mind, and spirit. Choosing medical detox at the river source in Scottsdale, AZ not only ensures your safety but also ensures your success. Going through detox in a controlled, alcohol-free environment and medication-assisted treatment can help you complete the withdrawal process. Often those who attempt alcohol detox on their own, we'll quickly relapse due to withdrawals, cravings, and continued access to alcohol. Alcohol detox programs will also provide a solid foundation for your recovery journey, and you can easily transition into one of our alcohol rehab programs.
Alcohol Detox in Scottsdale for High-Functioning Alcoholics
Alcohol use disorder falls along a spectrum that ranges from mild to severe. Those with mild alcohol addiction may continue to maintain relationships, pay their bills, hold down good jobs, and even excel in their careers. These types of individuals are referred to as high-functioning alcoholics and often struggle with getting the help they need. Alcoholism is a progressive disease that will get worse over time.
Many people assume that alcohol detox and rehab are reserved for those with severe addiction. However, treatment programs are tailored to each person and getting help early on can improve your chances of long-term recovery. Those with mild alcohol use disorders are rarely at risk for dangerous and life-threatening alcohol withdrawal symptoms. That does not mean they will not benefit from alcohol detox programs at The River Source in Scottsdale. If you have already attempted to stop drinking on your own, you may know how difficult it can be.  Alcohol detox programs can provide you with the supportive and safe environment necessary to stop drinking successfully. Medication-assisted treatment is used to ease cravings, often leading to an early relapse. Our detox center can also provide you with long-term medication-assisted treatment, which can prevent relapse as you transition back into day-to-day life. However, it is important to continue with alcohol rehab after detox to treat the underlying causes of addiction to succeed in long-term recovery.
Medically Supervised Alcohol Detox in Scottsdale
Medically supervised alcohol detox at The River Source provides you with around-the-clock care from a team of medical doctors, nurses, and counselors who will monitor your vitals and administer medications. Medications used can ease uncomfortable withdrawal symptoms such as anxiety, nausea, diarrhea, and headaches. However, other medications used can be life-saving such as anti-seizure medications, anti-psychotics, and beta blockers. You also have access to psychological support from counselors who can help you through the toughest parts of your recovery and give your loved one peace of mind.
What Is Alcohol Detox Like?
Feelings of uncertainty and apprehension are typical when seeking help for alcohol addiction, including what detox and rehab centers are like. Most people have an image in their mind that detox facilities are sterile, cold, and unwelcoming places. While some places may hold true to that image, The River Source is among the non-hospital setting detox and rehab facilities. You can enjoy many of the comforts at home and be treated by caring and compassionate staff. Residential rooms are private or semi-private and include comfortable mattresses with fresh linens and private bathrooms.
Detox starts with a thorough medical evaluation including your mental state and addiction history. Clinicians can then use this information to create personalized treatment plans and anticipate what you may experience during detox. Once you are checked into your room, medical staff will monitor the vitals around the clock and administer medications as withdrawal symptoms arise. While you still may feel some discomfort, medications used in our alcohol detox program can greatly reduce the worst withdrawal symptoms and cravings. You will also enjoy freshly prepared, nutritious meals and access to holistic therapies to support the detox process.  You may also begin participating in individual and group therapy sessions to support you during this difficult process.
How Long Does Detox Last?
Alcohol detox Can last between 5 to 10 days on average. However, each person will react differently, and pending on several factors it may last longer. Factors such as the severity and longevity of alcohol addiction, polysubstance abuse, and overall health can influence how long your body takes to detox. Withdrawal symptoms typically arise within 6 to 12 hours after your last drink, including mild symptoms like insomnia, tremors, nausea, vomiting, anxiety, diarrhea, and increased heart rate. Between 24 to 48 hours into detox, is when people may experience hallucinations and seizures. After two to three days, symptoms will peak, and you will begin to feel better. While these are symptoms that you may experience while withdrawing from alcohol alone, The River Source provides you with medications that will ease these discomforts. Naturopathic and holistic therapies can also help your body eliminate toxins more easily and quickly. Occasionally, individuals will experience mild, lingering withdrawal symptoms for weeks or months later. These symptoms can be managed with medications, holistic treatment, and psychotherapy.
What Happens After Detox?
Alcohol detox is only the first step in recovery and to be successful in the long run, alcohol rehab programs are necessary. At The River Source, we can easily transition into one of our alcohol rehab programs, including inpatient residential treatment, intensive outpatient program (IOP), partial hospitalization program (PHP), and outpatient treatment. Alcohol rehab programs are meant to treat the underlying causes of addiction and provide patients skills and tools necessary to manage their addiction independently after graduation. As alcohol use disorder is a chronic, relapsing disease, working on your recovery does not end upon completing a rehab program. You must continue working on your sobriety through self-care techniques, therapy, and support groups. Our lifetime alumni program can help you keep motivated and active in your recovery efforts.
Top Rated Alcohol Detox Treatment in Scottsdale
When beginning your recovery journey, our top-rated alcohol detox program at the river source Scottsdale can provide you with a strong foundation. We are in network with all major insurance companies and Joint Commission accredited. Our integrative approach provides you with medically supervised detox and holistic therapies which can use and quicken the withdrawal process. Detoxing from alcohol does not need to be painful, you can go through the process comfortably and with around-the-clock support from our clinicians at The River Source.
Scottsdale Alcohol Detox
Our Scottsdale outpatient rehab through The River Source can help you stop drinking once and for all. Stopping alcohol use takes much more than just willpower; you can improve your likelihood of succeed with the help of medical detox. You can give yourself and your loved one's peace of mind that you are well taken care of during the hardest and most dangerous part of alcohol recovery. Alcohol detox programs can also help you transition easily into a comprehensive rehab program.
Our Recovery Guarantee
We encourage you to take advantage of our full continuum of care at The River Source Scottsdale. When you complete the full continuum of care from alcohol detox through aftercare programs, you qualify for a 100% recovery guarantee, allowing you to return to treatment for free if you relapse within one year of completing the program. We truly want you to find a lifetime of sobriety, however, relapses happen, and we will be there for you in the unfortunate case of one.
If you would like to learn more about our alcohol detox program or our Scottsdale inpatient alcohol rehab center programs, or any other program, please do not hesitate to contact us today.
QUICK, CONFIDENTIAL INSURANCE VERIFICATION
CLICK BELOW TO FIND OUT IF YOU HAVE COVERAGE