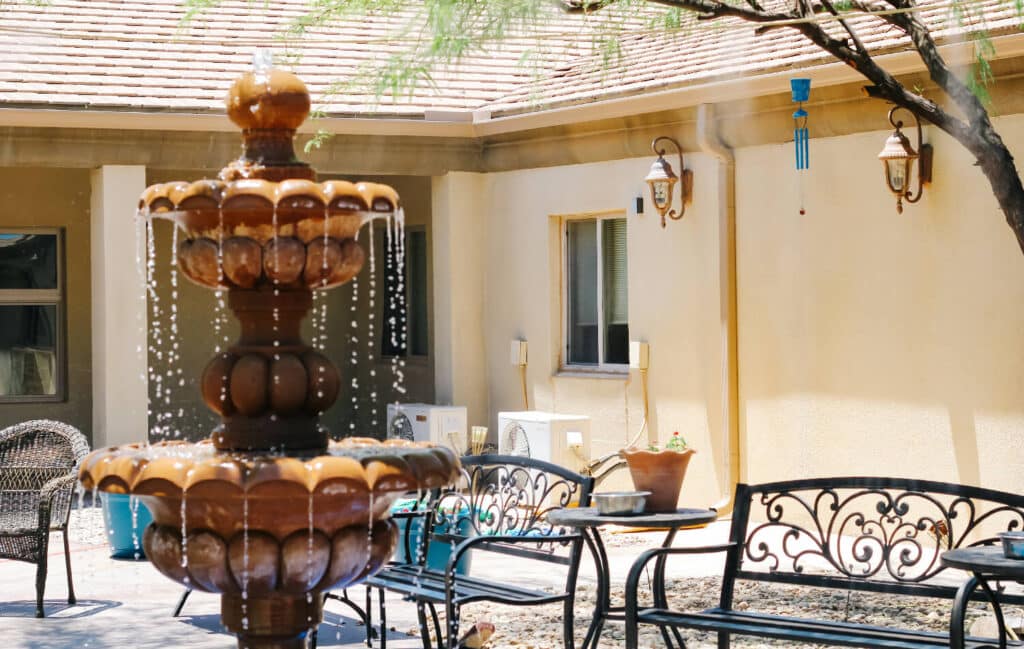 #1 Alcohol Rehab in Scottsdale
Alcohol addiction occurs in varying degrees of severity as it develops slowly over time. The River Source offers Scottsdale residents top-rate alcohol rehab programs to address the underlying causes of alcohol addiction through personalized treatment plans that can meet your specific needs. We believe in an integrative approach for successful recovery, meaning we incorporate the holistic treatment to heal addiction's physical, emotional, mental, and spiritual effects on each person. The full continuum of care at The River Source provides clients with the best chance at long-term recovery. Starting your recovery journey with intensive treatment through a medical detox and residential inpatient treatment allows you to fully immerse yourself in your recovery while healing the body, mind, and spirit. Continuing with outpatient treatment offers flexible and supportive treatment as you reintegrate into day-to-day life, greatly reducing the risk of early relapse. Our robust alcohol rehab programs are intended to provide patients with long-term recovery by healing the underlying causes of addiction and providing you with the tools and skills necessary to successfully manage your alcohol addiction.
YOU'RE NOT ALONE – WE CAN HELP
TAKE THE FIRST STEP AND APPLY FOR TREATMENT TODAY
Why Choose The River Source Scottsdale for Alcohol Rehab?
When you choose The River Source Scottsdale for alcohol rehab, you will receive a personalized treatment plan to address every aspect of your substance use disorder. We pride ourselves in providing alcohol addiction treatment with a high success rate. We attribute our high success rate to a combination of personalized treatment plans, an integrative approach, and the full continuum of care. Your individualized treatment plan begins with a thorough physical and psychological evaluation from our diverse clinical staff. They will get to know you, the unique aspects of your addiction, and your recovery goals. Our integrative approach includes a variety of evidence-based addiction treatments and programs will be adjusted to how you respond to treatment. The full continuum of care includes medical alcohol detox, residential inpatient treatment, partial hospitalization program (PHP), intensive outpatient program (IOP), outpatient treatment, telehealth intensive outpatient program (telehealth IOP), aftercare program, and a lifetime alumni program. With The River Source, you will have complete support throughout every phase of recovery and be given the right tools and motivation to manage your alcohol addiction on your own.
Alcohol Rehab in Scottsdale for High-Functioning Alcoholics
High-functioning alcoholics will often continue successfully managing their responsibilities and lifestyle while struggling with alcohol abuse. Many high-functioning alcoholics may succeed in their work and careers, making it difficult to take time off from addiction treatment. Personalized treatment programs will take factors such as these into account. The full continuum of care can be completed in various time frames, including short-term residential rehab and continued with longer-term outpatient treatment to minimize the amount of time off of work you need to take. Alcohol rehab includes treating the root cause of your addiction while providing you with coping skills and tools necessary to handle triggers and stressors in your day-to-day life.
Private Alcohol Treatment Program in Scottsdale
There are several options available regarding alcohol rehab in Scottsdale, Arizona. While state-run rehab centers provide patients with substance abuse treatment free of charge, private rehabs like The River Source offer more comfort and privacy. Private alcohol rehab programs, also known as celebrity, exclusive, or executive rehab, are privately owned alcohol and drug rehabilitation centers. Private rehabs frequently provide comfortable accommodations in a non-hospital setting with added amenities that provide a feeling of home. While we offer accommodations that may be considered more luxurious, that does not mean it takes the place of effective, evidence-based addiction treatments. Private rehab can actually offer more successful alcohol addiction treatment and often will not have a wait list as with public rehabs. The River Source wants to make addiction treatment accessible to everyone. We are in-network with most major health insurance companies which can pay for part or all of the rehab expenses. We offer several payment and financing options for those without health insurance.
Inpatient Medically Supervised Alcohol Rehab in Scottsdale
When considering alcohol rehab, inpatient medically supervised alcohol rehab may be your best starting point. The River Source includes 24/7 medical supervision from physicians and nurses who can ensure your safety and comfort during alcohol detox. Many people experience severe alcohol withdrawals and cravings which can even be life-threatening when attempting to stop drinking. Checking into residential inpatient treatment provides you and your loved ones with peace of mind that you are carefully monitored around the clock throughout your stay. Part of inpatient alcohol rehab includes holistic therapies such as vitamin IV therapy, amino acid therapy, infrared sauna, yoga, and meditation to not only ease withdrawal symptoms but strengthen the body, mind, and spirit for the long road to recovery ahead.
How Long Is the Program in Scottsdale?
Alcohol rehab programs at The River Source in Scottsdale are tailored to each individual, including the length of the program. Each person will require a different length of rehab depending on several factors including the severity of addiction, length of addiction, underlying co-occurring disorders, how you progress through treatment, and their overall home life and support network outside the rehab facility. Patients can choose between 30-day, 60-day, or-90 day rehab programs, which can all be made up of several levels of care. Treatment programs can always be shortened or lengthened depending on how you progress.
30-Day Alcohol Rehab in Scottsdale
Those with milder alcohol addictions may benefit best from short-term rehab or 30 days rehab. Residential inpatient treatment is a good start for anyone, allowing individuals to separate themselves from outside distractions, triggers, and influences. 30-day programs may provide enough time to break negative habits and behaviors while implementing more positive ones. While 30-day rehab programs are a great start for anybody, continuing treatment through outpatient treatment and aftercare programs is usually necessary for continued success outside the treatment facility. Short-term rehab programs tend to be quite intensive to fit in all addiction treatments in a 30-day or less period.
60-Day Alcohol Rehab in Scottsdale
A 60-day alcohol rehab program at The River Source in Scottsdale, AZ is similar to short-term rehab programs but allows more time to complete addiction treatments. These programs can be slower in pace and can also address more specific factors with alcohol addiction. Dual diagnosis treatment is necessary for those with co-occurring disorders such as anxiety and depression which have contributed to or resulted from alcohol addiction. Longer treatment programs may also be necessary for healing past traumas and post-traumatic stress disorder. We have found that patients who successfully complete the full continuum of care including aftercare programs and participating in our alumni program are more likely to remain sober after rehab.
90-Day Alcohol Rehab in Scottsdale
For those struggling with severe alcohol addiction, a minimum of 90 days in inpatient treatment is usually necessary for successful recovery. Although, our treatment programs at The River Source can be adjusted to accommodate your personal needs, meaning 90-day rehab programs can be made up of several levels of care. Long-term rehab allows our clinicians who also work with you to teach tools and skills needed for independent living through vocational skills and life skills training. Long-term rehab in our addiction center in Scottsdale can also help you heal from co-occurring disorders including depression, anxiety disorders, bipolar disorder, and post-traumatic stress disorder.
Men's Inpatient Alcohol Rehab
Men can face specific and unique challenges regarding substance use disorders. The River Sources residential inpatient program provides separate housing for women and men in an attempt to help clients be more successful in their recovery program. Men's only inpatient alcohol rehab allows them to express their emotions more freely and be more vulnerable with one another. It allows our clinicians to address unique biological, psychological, familial, and social aspects of alcohol addiction men face. Men's only housing and rehab allow them to develop long-lasting friendships and mutual support networks.
Women's Inpatient Alcohol Rehab
Similar to men, women also face their own unique challenges with alcohol addiction. Sexual and physical trauma are common along with substance use disorders which may have been caused by the opposite sex. Gender-specific residential inpatient treatment allows women to safely heal without the risk of certain triggers that the opposite sex may cause. Women may also feel more empowered by one another and have the ability to express emotions and stories with others who understand their struggles. Women can also develop no lasting friendships and support.
Our Recovery Guarantee
At our Scottsdale holistic rehab center, we truly believe in your ability and our program's ability to help you achieve long-lasting recovery. We also want you to feel supported throughout your recovery journey, especially within the first year of graduation. When you complete the full continuum of care, our 100% recovery guarantee allows you to return free of charge if you relapse within one year of completing your program. Relapses are common and part of the recovery process. If you got sober once, you could do it again, and we will always be here to help you get back up.
QUICK, CONFIDENTIAL INSURANCE VERIFICATION
CLICK BELOW TO FIND OUT IF YOU HAVE COVERAGE