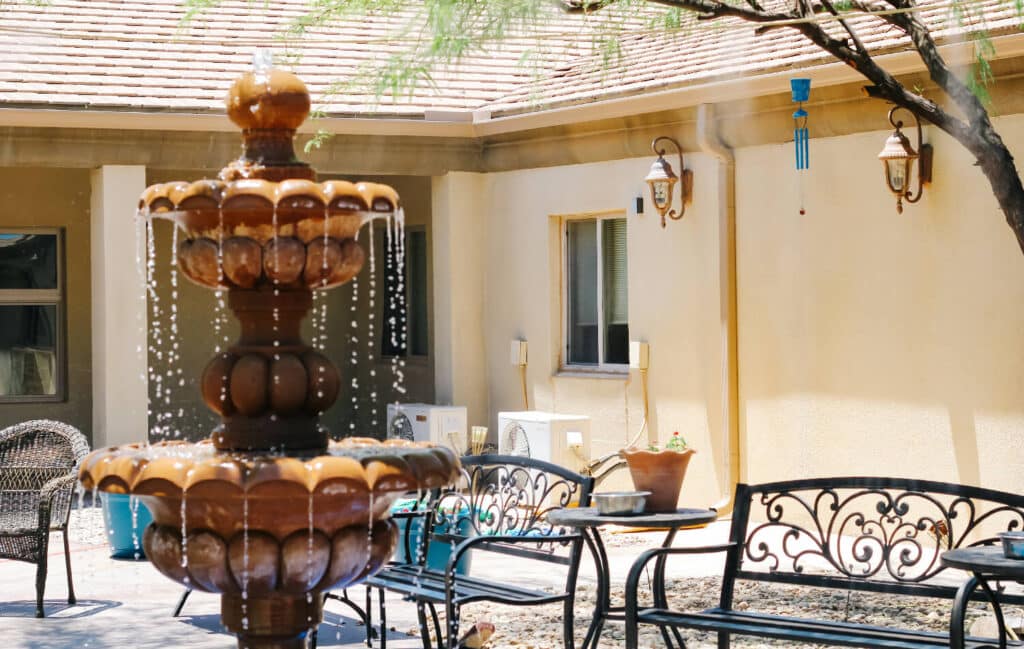 # 1 Drug Detox in Scottsdale
When you are struggling with active drug addiction, knowing where to start can be difficult when wanting help. It is normal to feel apprehensive about what to expect from addiction treatment centers and whether it is even worth it. Drug rehab in Scottsdale will always be worth it if you are ready to regain control of your life from substance abuse. Starting with a drug detox program in Scottsdale, Arizona, maybe the best first step for you. The River Source offers Arizona residents with top-rated medical detox programs through integrative care. Our detox program uses medication-assisted treatment and around-the-clock care from a highly skilled medical team to help you go through drug withdrawals easily and safely. Addiction treatment at our facility goes beyond medical detox. You can also access drug rehab programs including residential inpatient treatment, outpatient programs, and aftercare programs all under the same roof.
YOU'RE NOT ALONE – WE CAN HELP
TAKE THE FIRST STEP AND APPLY FOR TREATMENT TODAY
Why Choose The River Source Scottsdale for Drug Detox?
Scottsdale residents have access to effective, clinically driven medical detox at The River Source. All treatment plans are individualized after a thorough intake process. The River Source's unique integrative approach includes traditional treatment methods which are supported by naturopathic therapies. Our holistic approach to drug and alcohol addiction treats each person as a whole and not just the symptoms they are experiencing. While medication-assisted treatment is critical for reducing withdrawal and cravings and ensuring patient safety, holistic therapies can help the body self-heal for a quicker and easier detox.
While some substances may cause dangerous or life-threatening withdrawal symptoms, a medical detox program can provide medication and medical personnel to ensure your safety 24/7. Even if you are not at risk for dangerous withdrawal symptoms, drug detox programs in Scottsdale can ensure you complete the withdrawal process. Many individuals will quickly relapse when attempting to go through detox on their own due to severe withdrawals and cravings. Medical detox can provide medications to ease withdrawals and cravings while offering a controlled, drug-free environment that will eliminate outside triggers and temptations that often cause early relapse.
What Is Detox Like?
Drug detox starts with a thorough intake with our team of healthcare professionals and naturopathic doctors at The River Source. We will assess your medical history, personal needs, and recovery goals to create a personalized treatment plan. Our non-hospital setting drug detox facility includes private and semi-private residences to help you undergo drug detox more comfortably and privately. Our medical team will monitor your vitals 24/7 and administer medications to ease withdrawals and cravings as they come up. Feeling worried or scared about the withdrawal process is normal. However, you should know medications provided in drug detox can greatly decrease uncomfortable and painful symptoms. Drug addiction treatment plans also include holistic and homeopathic therapies to support the detox process.
Types of Drugs We Treat
At The River Source in Scottsdale, are multidisciplinary healthcare teams and various treatment options that can address every type of drug addiction. Our treatment centers are equipped with all types of FDA-approved medications, homeopathic remedies, and holistic therapies necessary for all forms of substance dependence. We also employ several medical staff members to ensure you have appropriate care around the clock in the event of any emergency. Some drug addictions we treat include:
Amphetamine and methamphetamine addiction

Benzodiazepine and barbiturate addiction

Alcohol addiction

Cocaine addiction

Heroin and opioid addiction

Prescription drug dependence and addiction

Psychedelics addiction

Marijuana addiction

Methadone addiction
Meth Detox in Scottsdale
The first step in treating methamphetamine addiction is often drug detox which will help ease withdrawal symptoms as the body adjusts to not having the drug. Drug detox under medical supervision is especially advised if there is a long-standing addiction. The River Source in Scottsdale uses IV fluids during meth detox as dehydration is often the biggest concern which can lead to medical complications such as renal failure. Some medications you can expect during meth detox include:
Benzodiazepines to

treat irritation and anxiety.

Antipsychotic drugs and sedatives

are used to treat hallucinations and psychosis in extreme cases of meth withdrawal.

Acetaminophen or ibuprofen to help with milder aches and pain.
Cocaine Detox in Scottsdale
Primarily, cocaine addiction effects are behavioral and psychological. However, that does not mean that overcoming physical dependence on cocaine is easy. While there are no specific FDA-approved medications for cocaine detox, The River Source Scottsdale uses various medications for symptomatic relief for withdrawal management. Drug detox does provide the controlled environment necessary to go through intense withdrawals and cravings without the ability to give in to them and prevent a relapse early on when you are most vulnerable. Medications, holistic therapies, and psychotherapy can help manage cocaine withdrawal symptoms which include:
Anxiety

Depression

Irritability

Insomnia

Paranoia

Fatigue

Cocaine cravings
Benzo Detox in Scottsdale
Benzodiazepine dependence and addiction can lead to dangerous side effects if removing the drug from the body is not done properly. Quitting benzo use cold turkey can be life-threatening due to the potential for seizures and suicidal behavior. Medically supervised detox in Scottsdale can help ensure your safety and health and the discomforts of withdrawal. Often, medical detox from benzos involves a planned tapering down a method that involves reducing dosage or prescribing a less potent benzodiazepine such as diazepam or clonazepam.
Oxy Detox in Scottsdale
Oxycontin dependence can happen to anyone even when used as directed by a doctor. Physical dependence leads to withdrawal symptoms when attempting to stop use and may also lead to psychological dependence and addiction. Those withdrawing from oxycontin run the risk of medical complications such as uncontrolled pain, severe dehydration, worsening of anxiety, risk of suicide, or cardiovascular complications in those with predisposed issues. Medical detox at The River Source can offer medications and supervision to help you stay safe during withdrawal. Some medications you can expect during oxy detox include methadone and buprenorphine to reduce withdrawal symptoms and cravings.
Heroin Detox in Scottsdale
Medically supervised detox is often the initial step in a more comprehensive treatment program for heroin addiction. Medications commonly prescribed for treating heroin withdrawal are also used to manage opioid withdrawal such as methadone or buprenorphine. These medications are opioid agonists which reduce withdrawal symptoms without the high or euphoria of illicit opioid use. Part of our heroin detox program at The River Source in Scottsdale also includes holistic treatments such as vitamin IV therapy, amino acid therapy, meditation, massage, and infrared sauna to help heal and strengthen the body during detox.
How Long Does Detox Last?
Each person's experience with drug detox will differ depending on their unique circumstance. Factors such as severe or long-standing addiction and underlying medical health issues may lengthen drug detox. However, on average most patients will complete drug detox within five to 10 days. The drug detox phase of treatment will conclude once acute withdrawal symptoms and cravings have ceased. Sometimes, individuals may experience mild, lingering withdrawal symptoms, which can last weeks or months after, referred to as post-acute withdrawal syndrome or PAWS.
What Happens After Detox?
Drug detox is only the first step in a comprehensive recovery program that can help you achieve long-term sobriety. Although medical detox can provide a strong foundation for addiction treatment, it only addresses the physical aspects of addiction. It is critical to continue with drug rehab programs after completing drug detox. The River Source in Scottsdale provides personalized treatment programs that will vary in intensity and length depending on your individual addiction treatment needs.
Drug rehab programs are available in residential inpatient treatment, partial hospitalization program (PHP), intensive outpatient program (IOP), outpatient treatment, and virtual intensive outpatient program (telehealth IOP). All levels of care will include a variety of addiction treatments aimed at addressing the root cause of your addiction, teaching you coping skills, and breaking negative behaviors. Naturopathic treatments will address the body, mind, and spirit to treat all aspects of your health that drug addiction has affected.
Why Detox at The River Source?
The River Source offers a non-hospital setting for a more comfortable experience during drug detox. Treatment programs provide the most gentle and effective methods in Scottsdale, Arizona. Our integrative approach to drug detox incorporates naturopathic medicine and nutritional support to help your body heal from the effects of drug addiction and ease withdrawal symptoms further. Our detox programs are mainly clinical and results-oriented. However, we also offer plenty of amenities to help foster your comfort during drug detox. Medical detox also allows you to enter drug rehab with a clear body and mind to fully immerse yourself in your recovery efforts.
Our Recovery Guarantee
Our top priority at The River Source in Scottsdale is supporting your efforts in achieving long-term sobriety. We highly encourage all patients to complete the full continuum of care as that offers the best chance for recovery from drug and alcohol addiction. When you complete the full continuum of care, you also qualify for a 100% recovery guarantee, allowing you to return to treatment free of charge if you relapse within one year of graduation. Relapses happen and are especially common in the first year of recovery, so we want to ensure you feel supported to easily come back to treatment if that happens.
Please call us today to learn more about our drug detox programs and how you can regain control of your life.
QUICK, CONFIDENTIAL INSURANCE VERIFICATION
CLICK BELOW TO FIND OUT IF YOU HAVE COVERAGE