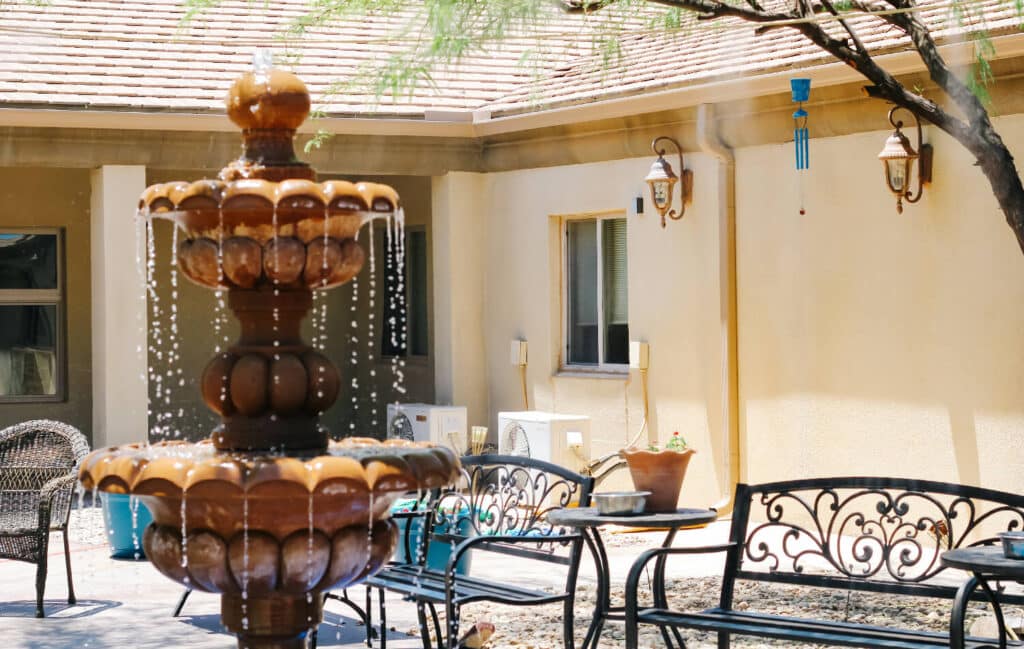 #1 Drug Rehab in Scottsdale
Struggling with the idea of entering or going to drug rehab is filled with several unknowns including whether drug addiction treatment will even work for you. The River Source Center In Scottsdale offers personalized treatment plans consisting of integrative care and evidence-based addiction therapies which can help anyone overcome their issues with substance abuse long-term. Our treatment programs are designed individually to address the behavioral, physical, and psychological aspects of addiction, and by integrating naturopathic treatments, we also help heal the body, mind, and spirit. You can expect to participate in various addiction treatments to help you manage your recovery through coping skills and tools. We offer all levels of care including medical detox, residential inpatient treatment, partial hospitalization program (PHP), intensive outpatient program (IOP), outpatient treatment, virtual intensive outpatient program (Virtual IOP), and aftercare programs.
YOU'RE NOT ALONE – WE CAN HELP
TAKE THE FIRST STEP AND APPLY FOR TREATMENT TODAY
Types of Drug Addictions We Treat
A combination of our highly skilled clinicians, holistic approach, and various addiction therapies allows us to treat a wide range of addictions. Through our multiple levels of care, we can create individualized treatment programs and meet anyone wherever they are in their recovery journey. We even offer medical detox to help those coming off drug use do so in a safe and comfortable way. Some drug addictions we treat include, but are not limited to:
Opioid addiction

Alcohol addiction

Cocaine addiction

Methadone addiction

Methamphetamine and amphetamine addiction

Prescription drug addiction

Cannabis addiction

Benzodiazepine addiction

Hallucinogen addiction

Inhalant addiction
Heroin Rehab in Scottsdale
Heroin is one of the most addictive substances and requires intensive, comprehensive treatment plans to overcome. Heroin addiction can be incredibly challenging to overcome on your own due to severe withdrawals and cravings when attempting to stop use. Even if you are initially successful at stopping heroin use, the behavioral and psychological effects of heroin addiction will most likely make sobriety short-lived. However, our robust rehab programs at The River Source Scottsdale, including medical detox and residential inpatient treatment, can help the most severe heroin dependence and addiction cases. The personalized treatment plans we offer will address the underlying causes of substance abuse to provide you with long-term recovery. Usually, heroin addiction requires residential drug rehab at the beginning to provide a controlled environment away from temptation and influences which may cause relapse early on when you are most vulnerable.
Cocaine Rehab in Scottsdale
Often cocaine users start off recreational but can quickly develop cocaine dependence, leading to drug addiction. individuals can develop severe cocaine addiction affecting them both physically and psychologically. Our full continuum of care at The River Source in Scottsdale provides the type of comprehensive care necessary to overcome cocaine addiction long-term. Those addicted to cocaine will often need medical detox to complete the withdrawal process and eliminate all toxic substances. Our integrative drug rehab program will treat underlying behavioral and psychological factors contributing to your substance abuse through individual and group counseling, dual diagnosis treatment, holistic therapies, and other recovery services.
Oxy Rehab in Scottsdale
Prescription opioid prescription medications can be just as adaptive as illicit opioids like heroin. Opioid dependence can happen to anyone, even when taken as prescribed. Oxycodone is one of the most prescribed opioids for several types of pain. Addiction to oxycodone is most successfully treated when individuals receive early intervention. The River Source's oxy rehab program in Scottsdale, Arizona is available through several levels of care, including medical detox, inpatient treatment, partial hospitalization program, and outpatient treatment. Rehab program lengths are tailored to each person and the severity of their addiction. Patients can also learn alternative pain relief methods to help them end their reliance on prescription painkillers.
Meth Rehab in Scottsdale
Methamphetamines are highly addictive illicit drugs with a long list of short-term and long-term health effects which can be life-threatening. Meth addiction can be difficult to break and often users will quickly relapse. Completing the full continuum of care at The River Source in Scottsdale, Arizona, can help break the cycle of meth addiction. Dual diagnosis programs will address the numerous physiological effects of methamphetamine abuse including meth-induced psychosis and schizophrenia. As drug addiction does not only affect the user, family and couples therapy can help heal strained relationships and teach loved ones how to better support you in your recovery efforts. Our 100% recovery guarantee will allow you to return to treatment if you relapse in your first year of recovery.
Benzo Rehab in Scottsdale
Benzodiazepines are highly effective anti-anxiety medications but are also commonly abused. Benzos can quickly alter brain chemistry and cause physical dependence, requiring medical detox to stop using safely. Dependence on benzodiazepines can happen within only a few weeks of taking a prescription as indicated. Some individuals will also intentionally abuse benzos by mixing them with alcohol or other depressants to enhance their effects which can lead to an overdose. Withdrawal symptoms from benzodiazepine dependence may cause seizures when attempting to stop. Medical detox at The River Source can help you safely and comfortably stop benzo use. While dual diagnosis programs will treat underlying Co-occurring disorders such as anxiety and panic disorders through psychotherapy and holistic treatments.
Prescription Drug Rehab in Scottsdale
Many people assume that because a doctor prescribed the medication it is safe, however, several prescription drugs can cause physical and psychological dependency. Some of these medications include painkillers, stimulants like Adderall, antidepressants, sleep aids, and anti-anxiety medications. Prescription drug rehab at The River Source Scottsdale may include several levels of care including medical detox and residential inpatient treatment. Patients will also benefit from our integrative approach to finding non-medication methods to manage underlying symptoms such as depression and pain. Conventional addiction treatments are enhanced with holistic therapies.
Top Rated Addiction Treatment in Scottsdale
At The River Source, we take great care in understanding your individual addiction and personal needs through our initial intake. Our clinicians will use this information to create individualized treatment plans to uncover and treat the underlying causes of addiction. Our integrative approach combines conventional treatment methods with a naturopathic approach to healing the body, mind, and spirit for true recovery. Treatment plans will be made-up of various substance abuse treatments including dialectical behavioral therapy, cognitive behavioral therapy, group counseling, family therapy, relapse prevention planning, vitamin IV therapy, nutritional counseling, infrared sauna, yoga, and much more.
Scottsdale Drug Rehab Success Rates
We measure our success rates based on our client's relapse rates after completing their drug rehab program and are proud to report our higher success rates than the national average. We contribute our high success rates to the combination of our integrative approach, personalized treatment plans, and the full continuum of care. After almost 20 years of experience here at The River Source, we have found that individuals who complete the full continuum of care have the highest success rate. We encourage all patients to complete the full continuum of care and encourage full participation and the aftercare program and our lifetime alumni program.
Why Choose The River Source Scottsdale for Addiction Treatment?
When you choose The River Source in Scottsdale, Arizona, you will be participating in an integrative drug rehab program that goes beyond traditional addiction treatment methods. While we do not like to consider ourselves a luxury rehab, you will still benefit from several comfortable amenities that will contribute to your recovery efforts. Patients can also access all levels of care at our rehab centers including medical detox, Scottsdale inpatient drug center treatment, outpatient treatment, and aftercare programs. As a Joint Commission-accredited treatment facility, you can trust that you will receive effective addiction treatment to help you achieve long-term sobriety.
The River Source's integrative treatment program may be your best chance at recovery. We combine the most effective conventional treatment methods found at the best rehab centers across the US supported by holistic therapies that will heal the body, mind, and spirit for a more complete recovery from drugs and alcohol. Our naturopathic approach to addiction treats each client as a whole, not just the symptoms they present for a robust recovery program. Another major component of our highly successful treatment programs is personalized treatment plans that are adjusted as you progress through treatment. We also encourage all our clients to complete the full continuum of care. Our step-down-system model will have you through intensive treatment to heal the root cause of addiction followed by more flexibility through outpatient programs that will allow you to slowly reintegrate back into day-to-day life without enough support and resources.
Our Recovery Guarantee
Our commitment to your sobriety does not end until your drug rehab program at The River Source Scottsdale ends. When you complete the full continuum of care, you qualify for our 100% recovery guarantee which allows you to come back to treatment free of charge if you relapse Within one year after graduating. Relapses happen, especially in the first year of recovery, it does not mean you failed but that perhaps you need more support.
If you or your loved one is struggling with substance abuse or drug addiction, we can create a program for you to help you achieve long-term recovery. Please call us today if you want more information about our drug rehab programs at The River Source.
QUICK, CONFIDENTIAL INSURANCE VERIFICATION
CLICK BELOW TO FIND OUT IF YOU HAVE COVERAGE