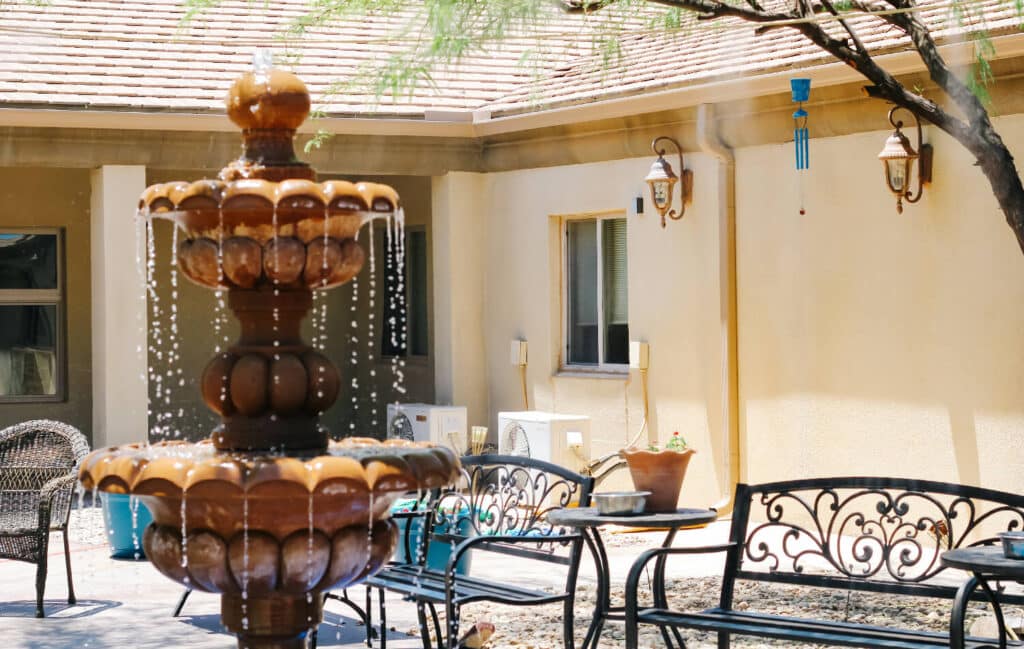 #1 Inpatient-Residential Alcohol Rehab in Scottsdale
Inpatient alcohol rehab in Scottsdale, Arizona can offer the best foundation for long-term recovery from alcohol addiction. Attempting to stop drinking on your own and with continued access to alcohol can be severely challenging for anyone. Removing yourself from the places, people, and things that may be relapse triggers in the outside world will allow you to focus fully on your recovery efforts as well. Our inpatient treatment programs at The River Source are individualized to fit every unique case of alcohol addiction. We use an integrative approach of combining traditional addiction treatment methods with naturopathic therapies which will heal the body, mind, and spirit from the effects of addiction. We aim to not only treat addiction itself but also the person which contributes to our high success rate.
YOU'RE NOT ALONE – WE CAN HELP
TAKE THE FIRST STEP AND APPLY FOR TREATMENT TODAY
Why Choose The River Source Scottsdale for Residential Alcohol Rehab?
The River Source in Scottsdale uses a unique treatment program that incorporates a naturopathic approach, personalized treatment, and a full continuum of care to provide a higher success rate than the national average. Our treatment programs are designed to help you heal from the effects of addiction, change behaviors surrounding substance abuse, and teach skills and tools needed for long-term sobriety. We also provide many comfortable amenities and a non-hospital setting without it taking away from quality, effective addiction treatment. Patients can also access our treatment facility's full continuum of care for continued support after completing inpatient treatment. We provide a 100% recovery guarantee, allowing you to return to the treatment at no extra charge if you relapse within one year of completing the full continuum of care with us. This is a great safeguard for your first year of sobriety when you are most vulnerable to relapse. Our integrative approach incorporates naturopathic treatments aimed at healing the body, mind, and spirit into conventional addiction treatment available in the best rehab centers across the country. Patient treatment plans are individualized to provide the best chance at achieving long-term sobriety. Our treatment facility also provides several comforts and amenities without sacrificing the quality of care. You can also access the full continuum of care at our treatment center with the same caring and supportive staff who know your unique case from day one.
How Long Is Rehab?
Treatment programs at The River Source are personalized, and treatment lengths will be tailored to your specific case. We will work with you to determine the best recovery program length. However, it is important to stay in addiction treatment as long as possible. Factors that may determine the length of your rehab program include the severity of alcohol addiction, length of alcohol addiction, how you progress through treatment, and the presence of co-occurring disorders. Treatment program length may also be based on the number of therapies and services needed to achieve long-term sobriety. In general, inpatient treatment programs are available in 30-day, 60-day, or 90-day lengths. All of which can be extended or shortened depending on your progression.
30-Day Inpatient Alcohol Rehab in Scottsdale
30-day alcohol rehab or short-term alcohol rehab is our most popular inpatient program. It is a great opportunity to remove yourself from outside stressors, places, and people which may be triggering your substance abuse. Inpatient treatment is an intensive and immersive experience that will provide a strong foundation for alcohol addiction recovery. You should always continue short-term rehab with outpatient treatment and aftercare programs to support you as you transition back to day-to-day life.
60-Day Inpatient Alcohol Rehab in Scottsdale
60-day rehab is similar to short-term rehab but allows more time in rehab to complete addiction treatment and break behaviors relating to your substance abuse. This is a better option for those with mild to moderate addiction who are dealing with co-occurring disorders such as anxiety or depression. You will have access to a comprehensive treatment program that provides you with several types of addiction therapies, holistic treatment, outdoor spaces, nutritious meals made in-house, and comfortable living areas.
90-Day Inpatient Alcohol Rehab in Scottsdale
Severe forms of alcohol addiction require a minimum of 90-days stay in inpatient rehab. Often, those with severe alcohol addiction have been struggling with the disease for a long time which requires more time to break negative habits and heal from the body, mind, and spirit effects of alcohol addiction. Long-term rehab can also provide you with further coping skills, vocational skills, and life skills training to improve your chances of long-term sobriety through successful independent living.
Alcohol Rehab for High-Functioning Alcoholics in Scottsdale
Often people who consider themselves high-functioning Alcoholics feel they have their drinking under control because they have not experienced any negative consequences to their drinking yet. However, alcoholism is a progressive disease, and it is only a matter of time before it begins to affect your health, personal life, and work life. While high functioning Alcoholics may have a mild case of alcohol addiction, alcohol rehab at The River Source Scottsdale can provide the specific treatment program you need and stop the progression of the disease. Many individuals with high-functioning alcoholism may be hesitant to enter an inpatient treatment program partly because they do not feel they need such intensive treatment. We offer several other program types in outpatient settings that may be better suited and allow you to continue going to work or school while you get treatment.
Alcohol Rehab in Scottsdale
Alcohol rehab programs at The River Source in Scottsdale, Arizona are personalized to each client. Our rehab programs include a full continuum of care to meet you and your needs anywhere along the road to recovery. We encourage clients to begin alcohol rehab with medical detox to ensure their safety and success during withdrawal. Our medical team is available 24/7 to provide medication-assisted treatment that will ease alcohol withdrawals and cravings. Continuing with inpatient treatment will greatly decrease the risk of relapse early on when you are most vulnerable. Residential inpatient treatment also allows you to remove yourself from a living situation that is not conducive to your sobriety. Other levels of care include a partial hospitalization program (PHP), intensive outpatient program (IOP), telehealth IOP, outpatient treatment, and aftercare program. You can complete the full continuum of care, a step-down system from intensive treatment to outpatient care to help you reintegrate into day-to-day life. Choosing The River Source for alcohol rehab also gives you access to a lifetime alumni program to motivate and support you throughout your alcohol recovery journey.
Top-Rated Inpatient Alcohol Addiction Treatment Program in Scottsdale
The River Source in Scottsdale is a top-rated inpatient alcohol addiction treatment program in part due to our full continuum of care with a naturopathic approach. Our treatment facility is Joint Commission accredited, which is the gold standard of four rehab centers in the US. We also offer several specialized treatment programs including gender-specific inpatient housing to help men and women heal separately in spaces where they can feel safer and more vulnerable.
Alcoholism Treatment in Scottsdale
If you or a loved one in Scottsdale, Arizona are struggling with alcoholism and alcohol use disorder, you can access comprehensive treatment programs at The River Source. Our treatment plans are designed to treat the underlying causes of each unique case while incorporating holistic treatments to heal the person as a whole and provide the necessary coping skills and tools to successfully manage alcohol addiction outside the treatment facility. Alcoholism affects all areas of a person's life including their health, relationships, mental state, and finances. It is a chronic, progressing disease, but our robust inpatient residential treatment programs make recovery possible.
Our Recovery Guarantee
Our commitment to your recovery does not end the day you graduate from your program. Drug and alcohol addiction is a life-long chronic disorder that requires constant work and maintenance. Not only do we give you the tools, skills, and relapse prevention planning necessary to maintain active in your recovery, but we also give you access to a lifetime alumni program. However, even with our highly successful treatment program and doing everything right, sometimes relapses are just inevitable and your first year out of rehab is when you are most vulnerable to one. We do not want anything to stop you from reaching out for help from us in the unfortunate event of a relapse, including the cost of treatment. As part of our commitment to your recovery outside our treatment facility, we include a 100% recovery guarantee, allowing you to return to the treatment at no extra cost if you relapse within one year of completing the full continuum of care.
If you or a loved one are struggling with alcohol abuse or addiction, please call our Scottsdale prescription drug rehab center today. We offer much more than inpatient treatment and will personalize a treatment program to meet your addiction and personal needs.
QUICK, CONFIDENTIAL INSURANCE VERIFICATION
CLICK BELOW TO FIND OUT IF YOU HAVE COVERAGE