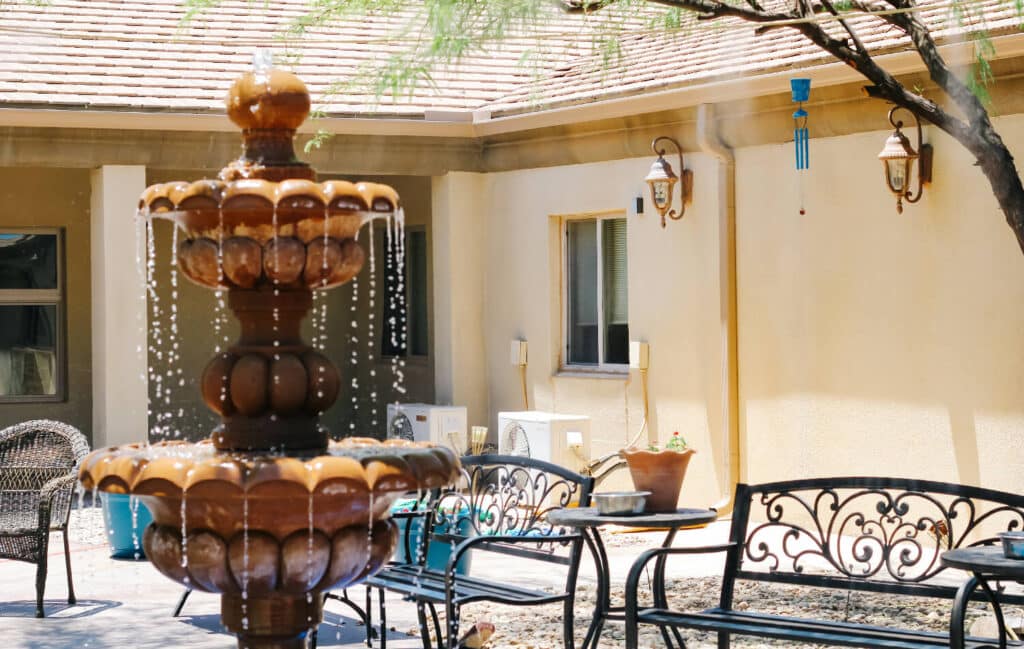 Residential inpatient treatment at The River Source in Scottsdale can provide the type of intensive addiction treatment in a controlled environment necessary for a strong foundation in recovery. The beginning of your recovery journey will be the most difficult and relapse is at its highest risk. Residential inpatient treatment allows you to remove yourself from the outside world to avoid triggers, stressors, and influences so you can truly focus on your recovery. Feeling apprehensive about entering inpatient treatment is normal, as most people have a preconceived notion that inpatient facilities are clinical, uncomfortable places. However, our treatment center provides private and semi-private residents that are comfortably furnished, several common area amenities, and private outside areas. Treatment plans include several types of individual and group therapy and holistic therapies to help heal the body, mind, and spirit.
YOU'RE NOT ALONE – WE CAN HELP
TAKE THE FIRST STEP AND APPLY FOR TREATMENT TODAY
Why Choose The River Source Scottsdale for Residential Drug Rehab?
The River Source in Scottsdale offers the best inpatient treatment for substance abuse through clinically driven, evidence-based treatments with a holistic approach. Our programs are designed to help you achieve long-term sobriety and the ability to manage your recovery successfully. We provide comfortable accommodations and several amenities without interfering with our treatment programs' quality. You can also access the full continuum of care from medical detox through outpatient and aftercare programs at the same treatment facility. One of the best reasons to choose The River Source is our 100% recovery guarantee which allows you to return to the treatment at no charge if you relapse in the first year after completing the full continuum of care.
The River Source offers all levels of care and a variety of treatment methods to address every unique aspect of addiction. We are passionate about each of our patients' journeys through recovery and do everything in our power to help you achieve long-term sobriety. Our commitment to your sobriety does not end the day you graduate, we continue to help you actively maintain recovery and will be there for you in the event of a relapse to help you back up.
How Long Is Rehab?
Treatment plans at The River Source are personalized and will vary in length depending on your unique case. Residential inpatient treatment is available in 30 days, 60 days, and 90-day lengths, however, programs can be longer if needed. Several factors may determine your treatment program length including the length of addiction, the severity of your addiction, the presence of co-occurring disorders, and how you progress through treatment. Continuing with outpatient programs can greatly increase your chances of successful recovery as they provide guidance and support as you reintegrate into day-to-day life.
30-Day Inpatient Drug Rehab in Scottsdale
Short-term inpatient rehab allows patients to break from their everyday lives to truly look inward and completely focus on their recovery. It provides enough time from outside stressors, people, places, and things that may trigger and break behaviors related to their addiction. 30-day rehab programs are best suited for those with milder addictions and should always be followed up with outpatient treatment programs.
60-Day Inpatient Drug Rehab in Scottsdale
60-day rehab programs are similar to short-term programs but allow more time to complete addiction therapies and spend time away from relapse triggers. This is a good program length for those with milder substance use disorders but also struggling with co-occurring disorders such as anxiety, bipolar disorder, and depression. It allows enough time to complete dual diagnosis programs and learn the skills and tools necessary to manage substance use and mental health disorders.
90-Day Inpatient Drug Rehab in Scottsdale
Individuals struggling with severe drug and alcohol addiction would benefit from 90-day inpatient drug rehab. As short-term rehab dedicates almost the first time to drug detox, they do not provide enough time to focus on behavioral health therapy. Long-term rehab allows clinicians to work on several areas of your drug addiction and enough time to break negative habits and behaviors contributing to your substance abuse. Patients can also participate in vocational skills and life skills training.
Types of Drug Addictions We Treat
Our multidisciplinary clinical team and variety of addiction treatments in Scottsdale allow us to effectively treat a wide range of drug addictions. The River Source tailors every treatment program and considers specific substance addiction's physical, psychological, and behavioral effects in creating treatment plans. Inpatient treatment may begin with medical detox and be followed by outpatient and aftercare programs. Rehab programs can provide treatment for illicit and prescription drugs and alcohol addiction.
Inpatient Heroin Rehab in Scottsdale
Heroin rehab will usually require drug detox and inpatient treatment for successful recovery. Heroin addiction can be quite severe and may need long-term recovery programs. Inpatient rehab at The River Source will provide you with a supportive environment and medication-assisted treatment necessary to avoid early relapse. Individual and group therapy sessions are also necessary to treat underlying causes of addiction, co-occurring disorders, and negative behaviors.
Inpatient Cocaine Rehab in Scottsdale
Cocaine addiction primarily causes psychological symptoms and complications and is highly addictive. Residential inpatient treatment can provide the type of environment and 24/7 support needed to overcome the initial stages of recovery from cocaine which comes with a high risk of relapse due to cravings. Coming down from cocaine abuse can also cause severe depression and even suicidal thoughts, which dual diagnosis treatment can successfully treat.
Inpatient Oxy Rehab in Scottsdale
Prescription opioid medications like oxycodone can cause significant physical and psychological dependence. Individuals can quickly build up a tolerance to their prescription which can lead to substance abuse and eventually addiction. Our inpatient treatment programs at The River Source can help the most severe forms of oxy addiction through psychotherapy and medication-assisted treatment, reducing withdrawal and cravings for opioids. Naturopathic treatment can also help patients find non-medication ways to treat their pain.
Inpatient Meth Rehab in Scottsdale
Methamphetamine addiction can lead to several long-term health effects and mental health disorders, such as meth-induced psychosis and schizophrenia. Meth addiction is usually severe and requires long-term inpatient rehab to effectively treat co-occurring disorders caused by meth abuse. Our dual diagnosis programs at The River Source will simultaneously address substance use and mental health disorders. We also include holistic treatments such as vitamin therapy to help the body heal from the effects of meth addiction.
Inpatient Benzo Rehab in Scottsdale
Benzodiazepines are readily prescribed for anxiety but are also easily abused leading to addiction. Attempting to quit benzo use cold turkey may result in dangerous withdrawal symptoms such as seizures and suicidal thoughts. Our rehab programs will not only help you taper down use safely, but our dual diagnosis program can also help treat your anxiety disorder with psychotherapy, holistic therapies, and coping skills.
Inpatient Prescription Drug Rehab in Scottsdale
Prescription drug dependency and addiction can appear in several different forms. Our programs at The River Source are tailored to your individual case and will address the specific issues related to medication use. Medications leading to abuse or dependency include stimulants, sleep aids, antidepressants, anti-anxiety medications, and opioid painkillers. We can tailor programs to focus more on the underlying issues that led to seeking out a prescription or on the addiction, such as breaking compulsive behaviors.
Men's Inpatient Drug Rehab
The River Source provides several specialized treatment programs to meet the unique needs of certain populations, including gender-specific inpatient rehab. Addiction affects men and women differently and tailoring treatment programs to meet those needs is key to successful recovery. Men may feel more secure and vulnerable sharing their issues surrounding substance abuse with other men. They may be able to express their feelings more easily and more authentically than with women around. It also allows men to build strong bonds and lasting support with one another.
Women's Inpatient Drug Rehab
Women also greatly benefit from gender-specific inpatient rehab. It can provide a safe environment to heal and reduce triggers related to past trauma from the opposite sex. Women's inpatient rehab will foster support and connection among patients. It also allows women to discuss sensitive subjects they may not feel comfortable with around men.
Top-Rated Inpatient Drug Rehab Program With Results
The River Source in Scottsdale, Arizona offers inpatient rehab with higher success rates than the national average. Our treatment programs are designed to foster true healing and changes necessary for long-term recovery. We credit our unique treatment program that combines personalized treatment plans, an integrative approach, and a full continuum of care to our high success rate. While we provide several amenities and comfort comparable to luxury rehabs, we continue to put effective, clinically based addiction treatments first. Our highly skilled and trained clinical staff can treat all types of addictions ranging from mild to severe.
Our Recovery Guarantee
We offer a 100% recovery guarantee at The River Source, allowing you to return to the treatment at no extra charge if relapse occurs within one year of completing our full continuum of care. The first you are when you are most vulnerable to relapse, and we don't want anything to stop you from getting back up, including the cost of treatment.
QUICK, CONFIDENTIAL INSURANCE VERIFICATION
CLICK BELOW TO FIND OUT IF YOU HAVE COVERAGE