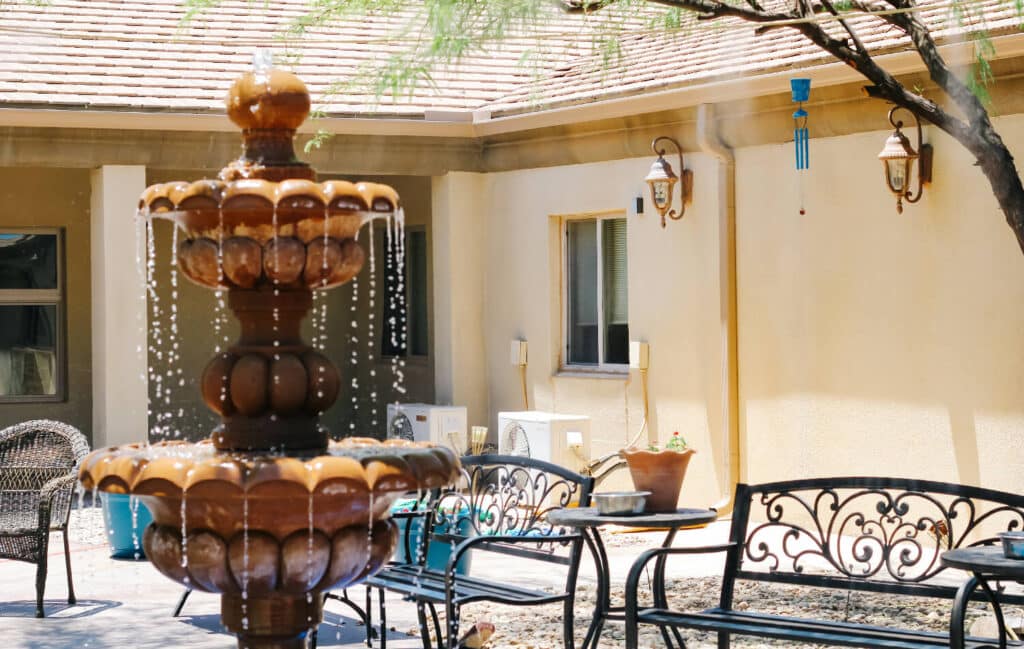 Top-Rated Outpatient Alcohol & Drug Rehab Center in Scottsdale | Telehealth
Outpatient alcohol and drug rehab at The River Source in Scottsdale, Arizona is part of our full continuum of care. We recommend outpatient treatment as a step down from medical detox and inpatient treatment. However, for some individuals, inpatient treatment may not be an option due to work, school, or home obligations, making outpatient treatment programs a great option to start your recovery program. Outpatient programs provide access to our integrative treatment approach incorporating naturopathic therapies with conventional addiction treatment. Treatment plans are personalized including outpatient treatment schedule and number of weekly therapies. Outpatient treatment is available, and several levels of care include a partial hospitalization program (PHP), intensive outpatient program (IOP), and outpatient treatment. We also offer a telehealth intensive outpatient program that includes several of the same in-person addiction treatments through a secure online portal that you can access anywhere in the world. Other levels of care will also include aftercare programs and the lifetime alumni program.
YOU'RE NOT ALONE – WE CAN HELP
TAKE THE FIRST STEP AND APPLY FOR TREATMENT TODAY
Alcohol & Drug Rehab That Allows You to Still Go to Work & School
Most people with substance use disorders continue to have productive and seemingly normal lives, including holding a job or even being highly successful in their careers. Often these individuals will put off getting drug or alcohol addiction treatment due to the inability of putting their life or work on hold for an extended period of time. Outpatient treatment programs are flexible enough to allow individuals to continue going to work or school full-time. Intensive outpatient program IOP will schedule several addiction therapies a week outside work or school hours, including early morning, late afternoon, evening, or weekend. With The River Source's IOP you will live at home and travel to our treatment facility in Scottsdale AZ several days a week depending on your individualized treatment program. We also offer telehealth IOP or virtual rehab which includes access to Benny of the same effective addiction treatment available and in-person rehab. Our secure online portal will give you access to individual and group therapy sessions which are accessible from anywhere in the world. A virtual rehab is a great option for individuals who travel often for work.
What to Expect During Outpatient Rehab
The first step in outpatient care is a thorough evaluation of your current state in the recovery process for clinicians to create a schedule and treatment plan tailored to your needs. Treatment plans our personal lives to best support reintegration into everyday life. You can expect several types of addiction treatment including individual and group therapy sessions and holistic therapies a week. During this phase of treatment, clinicians will continue helping you work through the underlying causes of your addiction while helping you to build on coping skills and tools needed for successful recovery as you begin to apply them to your day-to-day life. You will also continue on spiritual healing through this 12-step program and may be encouraged to participate in 12-step meetings outside The River Source. Outpatient treatment is also an important time to continue cultivating bonds with your peers, serving as lifelong friendships and mutual support systems.
Benefits of Outpatient Drug & Alcohol Rehab
It can offer several benefits, whether you are entering outpatient rehab as your first step in the recovery process or as a step down from inpatient treatment. Outpatient rehab will require you to live at home or in a sober living facility while you attend treatment. When outpatient treatment is a good fit for the individual, it can be just as effective as inpatient treatment. Some benefits of outpatient drug rehab include:
Works with inpatient care. Outpatient treatment is most effective as a follow-up to inpatient programs to help patients transition back to the real world with enough support and feedback from counselors and peers.
Fits around most schedules. One of the biggest advantages of outpatient treatment is the ability to continue going to work or school full time or taking care of responsibilities at home such as children, elderly, and pets. Some people struggling with substance abuse have difficulty putting their lives on hold for several months, and outpatient treatment can remove those obstacles.
Less expensive. Without the need for room and board plus fewer addiction treatments a week, Rehab costs are substantially less. Outpatient rehab may fit your budget better while still providing an effective addiction treatment program.
Provides real-world experience. While staying sober during residential treatment is fairly easy, once you're in the real world and faced with real problems, sobriety can be more challenging. Outpatient treatment can provide you with plenty of support while you experience stressors which may be relapse triggers. You can also actively apply what you learn in treatment daily.
Easy transition to long-term recovery. Outpatient treatment can serve as a way to transition from inpatient treatment to the real world without throwing you into the deep end of the pool, making adapting to your life less stressful and more successful.
Support from loved ones. Inpatient treatment will usually completely cut you off from the outside world, even your support system. Outpatient treatment program, like partial hospitalization program, can offer intensive treatment like inpatient care but allows you to go home to your supportive loved ones at the end of the day.
What Does a Day in Outpatient Addiction Treatment Look Like?
Your day in outpatient rehab will be much less structured than inpatient treatment which means every day will be different than the last. As you progress through treatment, program intensity will be tapered down meaning you'll spend fewer and fewer hours each week at The River Source. Your day will begin either at home or at a sober living facility where you can follow your daily morning routine. Depending on the structure of your outpatient treatment program, you may either travel to the Scottsdale rehab center first thing in the morning for your full block of treatment you may go to work or school first and participate in your block of treatment in the afternoon or evening. Some of our treatment programs also allow you to break up your daily addiction treatments into morning and evening blocks. Addiction treatments may include several types of individual and group counseling and holistic therapies.
How Long Does Outpatient Rehab in Scottsdale Last With The River Source?
Just as with all our treatment programs, the length of outpatient treatment depends on each individual. It is important to remember that addiction is a lifelong journey and your work in recovery does not end the day you complete your rehab program, like cocaine rehab in Scottsdale. The River Source offers two main outpatient treatment programs before continuing with outpatient treatment and aftercare programs which you schedule on your own. These two outpatient programs are:
Partial Hospitalization Program (PHP): This program generally consists of 30 days of treatment for a total of 20 sessions. This intensive program requires an average of 6 1/2 hours of treatment five days a week. This is a good step down from inpatient treatment. We recommend residing in the lower sober living facility instead of directly going home so that you can be around others in recovery without 24/7 supervision.
Intensive Outpatient Program (IOP): this program is a total of 24 sessions, usually done over 60 days. IOP is our more flexible program which allows you to complete your sessions around your work schedule for an average of three hours, three days a week.
Telehealth IOP Serving Scottsdale
Our online rehab program also known as Telehealth IOP, allows patients to access individual and group therapy sessions through a secured, HIPAA-compliant online portal. Telehealth IOP has eliminated several barriers to treatment including for individuals who are immunocompromised, have social anxiety or agoraphobia, do not have access to reliable transportation, or live in rural communities with minimal drug and alcohol rehab options. Telehealth services are also more affordable to those without health insurance who pay out of pocket. The River Source encourages all telehealth IOP participants to do on-site drug testing as a way to maintain accountability and motivation.
Why Choose The River Source for Outpatient Alcohol & Drug Rehab?
The River Source offers top-rated drug and alcohol rehab programs throughout the state of Arizona, and all our treatment facilities are Joint Commission certified, which is the gold standard in addiction treatment facilities. We have developed a unique treatment program with a high rate of success which we contribute to our personalized treatment plans, integrative approach, and the full continuum of care. We encourage all our clients to begin treatment with medical detox and inpatient treatment before starting outpatient care, but we also understand that not every individual's circumstances may allow that.
Our Recovery Guarantee
We truly want to support you throughout your recovery journey, especially during the first year of recovery when you are most vulnerable to relapse. Even with our highly successful program and applying everything you have learned in rehab, sometimes relapses are inevitable. When you complete the full continuum of care at The River Source, you will qualify for a 100% recovery guarantee, allowing you to return to the treatment at no extra charge if you relapse within the first year of completing the program.
If you would like more information about our outpatient treatment program or any of our other Scottsdale alcohol rehab center programs, please do not hesitate to call us today.
QUICK, CONFIDENTIAL INSURANCE VERIFICATION
CLICK BELOW TO FIND OUT IF YOU HAVE COVERAGE