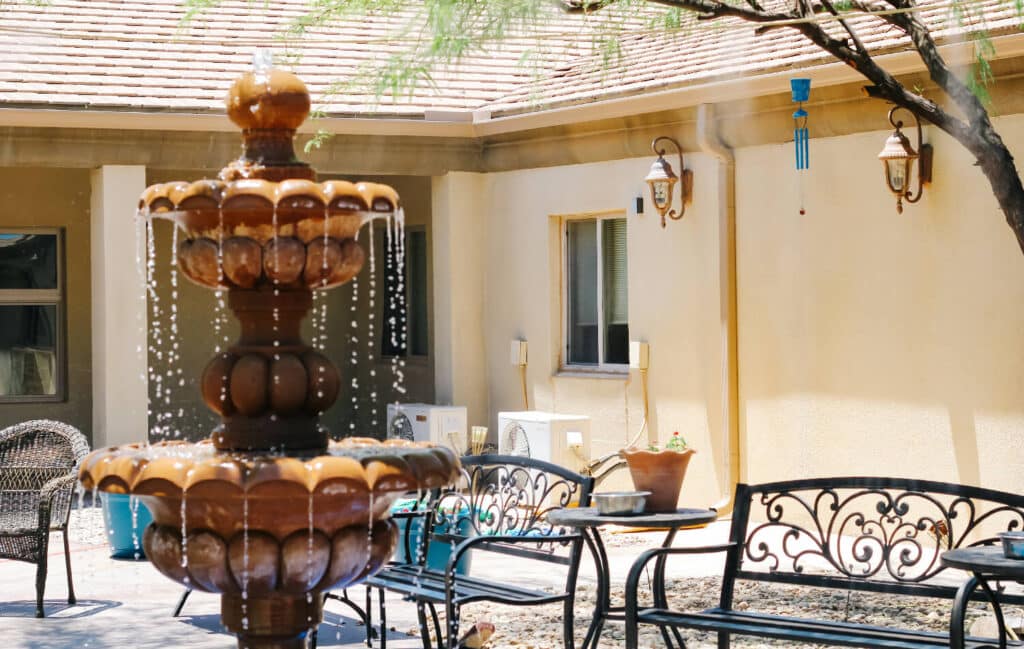 #1 Prescription Drug Rehab & Detox in Scottsdale
Prescription medications can cause physical dependence, leading to addiction to illicit drugs. Because there is still plenty of stigma surrounding drug rehabs, individuals with prescription drug use disorders avoid getting the treatment they need. The River Source in Scottsdale provides individualized treatment plans to help anyone along the wide spectrum of drug dependence and addiction. We can tailor treatment plans to fit your addiction and personal needs. Our treatment facility offers a safe and supportive environment to help you gain back control of your life.
YOU'RE NOT ALONE – WE CAN HELP
TAKE THE FIRST STEP AND APPLY FOR TREATMENT TODAY
Why Choose The River Source Scottsdale for RX Drug Rehab?
Choosing The River Source for your prescription drug rehab needs provides you with much more than the effective, traditional addiction treatment available in the top rehab across the country. We incorporate holistic and naturopathic treatments to heal the body, mind, and spirit affected by long-term substance abuse. Patients can choose from various levels of care including medical detox, residential inpatient treatment, partial hospitalization program (PHP), intensive outpatient program (IOP), and outpatient treatment. We also offer specialized treatment programs to address the unique needs of specific populations such as gender-specific residential treatment, rehab programs for pregnant women, and addiction treatment for Native Americans.
Inpatient Residential RX Addiction Program in Scottsdale
Our residential inpatient rehab allows you to stay at the treatment facility full-time. Inpatient treatment is the most intensive form of treatment and allows patients to separate themselves from the outside world to truly focus on their recovery. Entering a controlled environment eliminates the possibility of a relapse early on when you are most vulnerable. Inpatient rehab is available in several lengths and should be continued with outpatient treatment to help you reintegrate into daily life. You can count on around-the-clock support and access to medical personnel.
Types of RX Drug Addictions We Treat
Our multidisciplinary team and variety of addiction treatments allow us to treat a wide range of prescription drug addictions. Our individualized treatment plans will address the unique causes of your addiction or dependency and provide you with the appropriate tools and skills necessary for lifelong sobriety. Some prescription drug addictions we treat are listed below.
Benzo Rehab in Scottsdale
Benzodiazepine addiction can lead to severe withdrawals when attempting to stop. Our medical detox program can help you safely taper down and use holistic therapies to safely address physical dependence. Dual diagnosis treatment at The River Source can help address underlying anxiety and sleep disorders without the use of medication so you can find long-term relief more naturally.
Fentanyl Rehab in Scottsdale
Fentanyl is highly addictive and requires comprehensive treatment programs to overcome. The River Source can create an intensive and medication-assisted treatment program to help even the most severe addictions. Our integrative treatment approach can help you heal from the physical, behavioral, and psychological effects of opioid addiction.
Oxy Rehab in Scottsdale
Most opioid addictions including oxy addiction require a medical detox to successfully stop using due to their severe withdrawals and cravings. Oxy rehab in Scottsdale through The River Source includes individualized treatment plans that will get to the root of your addiction and teach you ways to manage underlying issues, including pain, without using opioid painkillers.
Morphine Rehab in Scottsdale
Many individuals with opioid use disorders have attributed the root of their addiction to opioid painkillers like morphine. Morphine addiction is difficult to overcome, but our intensive treatment programs at our detox center in Scottsdale can help even the most severe cases. We recommend that most patients complete the full continuum of care, including medical detox, inpatient treatment, outpatient treatment, and aftercare program to achieve long-term sobriety.
Meperidine Rehab in Scottsdale
Meperidine is another opioid prescription medication that can cause dependence within a few weeks and may lead to a full-blown substance use disorder. Depending on the severity of your addiction, we will create your own personalized treatment plan which may include individual therapy, group counseling, learning new coping skills, and holistic treatments.
Diphenoxylate Rehab in Scottsdale
Diphenoxylate is an opioid medication prescribed to treat diarrhea, however, in high doses, it can cause a sense of euphoria and lead to substance abuse or addiction. Sometimes, individuals with prescription dependency are unaware of it until they attempt to stop use and develop withdrawal symptoms, making it highly difficult to stop using on your own. Our medical detox program at The River Source can help you overcome withdrawal symptoms and cravings more easily through medication-assisted treatment and holistic therapies.
Sedative Rehab in Scottsdale
A wide range of sedatives are used to treat anxiety, panic, and insomnia disorders. They also range in risk of developing dependency or addiction. Medical detox at The River Source in Scottsdale can help you overcome severe withdrawal symptoms more easily. Our dual diagnosis programs are critical in these cases for treating underlying occurring disorders and help patients find non-medication ways for treating anxiety and insomnia.
Antidepressant Rehab in Scottsdale
Although antidepressants are not easily abused, they have the potential for physical addiction. Severe withdrawal symptoms can make it challenging to stop using on your own however medical detox can help guide proper tapering down the system. Dual diagnosis programs can also help you manage your depression without needing medications.
30-Day Rehab
Short-term rehab, which lasts 30 days or less, is best suited for those with milder prescription addictions. These treatment programs are quite intensive, and you can expect many addiction treatments to be packed in a short period of time. Short-term rehab is the minimum amount of time it takes to break behaviors and learn new habits to be successful. It is important to follow up with outpatient treatment and aftercare programs to continue building on what you learned in your program.
60-Day Rehab
60-day rehab is similar to 30-day rehab except it allows more time to complete treatments and stay away from drugs and alcohol. These programs are best suited for those with mild to moderate addictions who also deal with co-occurring disorders such as anxiety and depression. For some prescription medication addiction, our dual diagnosis program at The River Source can help you find non-medication ways to manage your mental health issues. As with short-term rehab, you should also continue with outpatient programs and aftercare planning to ease back into the real world.
90-Day Rehab
For more severe addictions, 90 days is the minimum amount of time necessary to recover from addiction and reduce the likelihood of relapse within the first year of sobriety. The River Source Scottsdale's long-term rehab programs are made up of several addiction therapies aimed at healing the underlying causes of addiction and providing patients with the tools and skills needed for successful, independent living without using drugs or alcohol, including vocational and life skills training.
Top Rated RX Addiction Treatment in Scottsdale
Scottsdale residents can access top-rated prescription drug addiction treatment at The River Source. Our high success rate is attributed to a combination of personalized treatment plans, an integrative approach, and the full continuum of care. Patients can complete their full recovery program from medical detox through outpatient treatment and aftercare programs in the same facility with the same caring, knowledgeable staff who know their full story from the beginning.
Prescription Rehab in Scottsdale
Our full continuum of care at The River Source in Scottsdale allows us to treat any prescription drug addiction severity. Whether you just need help getting over the withdrawals of antidepressants or we need help with the compulsive use of opioids, our individualized treatment plans can help you meet your recovery goals. You can expect several types of addiction therapies including cognitive behavioral therapy, family therapy, group counseling, 12-step programs, medication-assisted treatment, and holistic therapies.
Our Recovery Guarantee
We are confident in your ability to overcome addiction. However, relapses happen and are most likely to happen in the first year of your recovery. Our recovery programs are designed to help you overcome substance abuse in the long term and be there for you in the long road ahead. We offer a 100% recovery guarantee that you can return to the treatment at The River Source if you relapse within the first year of completing the full continuum of care.
The River Source is a Joint Commission-accredited treatment facility and is in network with most major health insurance companies. We truly want our patience to achieve long-term recovery by healing the root cause of their addiction and providing them with the proper tools and skills necessary to manage their addiction for a lifetime. By choosing The River Source, you will get much more than conventional treatment methods because we incorporate naturopathic treatments that look at the whole picture and not just the symptoms you are presenting to us today.
If you or a loved one is struggling with prescription drug use and wants more information about our programs, please contact us today. We can help guide you on the next steps to take or get you started on the admissions process if appropriate.
QUICK, CONFIDENTIAL INSURANCE VERIFICATION
CLICK BELOW TO FIND OUT IF YOU HAVE COVERAGE