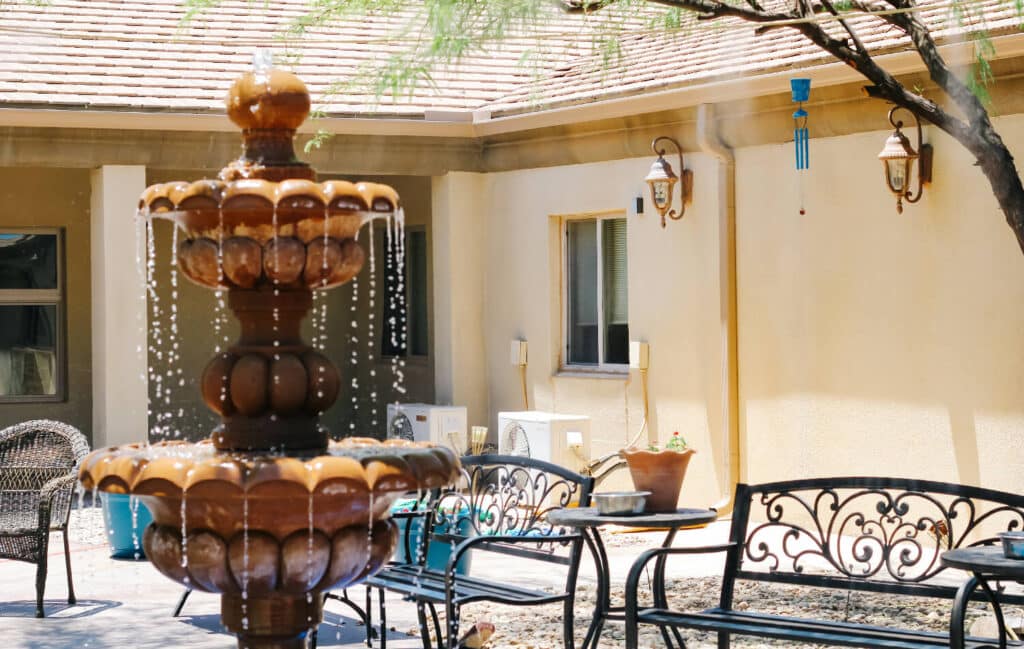 #1 Alcohol Detox Program in Tempe
When dealing with alcohol abuse, it is normal to feel apprehensive about stopping drinking because of the withdrawal process. Prolonged or severe alcohol abuse can lead to severely uncomfortable, dangerous, and at times life-threatening withdrawal symptoms when attempting to stop drinking. However, supervised alcohol detox programs can help you go through the withdrawal process comfortably and with plenty of support. The River Source near Tempe, Arizona offers top-rated alcohol detox programs that use medication-assisted treatment, around-the-clock medical care, and holistic therapies to help clients overcome the withdrawal process much more easily and less painfully. We are a fully accredited Joint Commission treatment facility and in network with all major insurance companies. Clients can comfortably detox from alcohol in a non-hospital setting while residing in semi-private rooms and with 24/7 medical monitoring from nurses and doctors. Every treatment plan is tailored to your unique needs using an integrative treatment approach that combines conventional treatment methods with naturopathic therapies for a whole-person approach to addiction recovery.
YOU'RE NOT ALONE – WE CAN HELP
TAKE THE FIRST STEP AND APPLY FOR TREATMENT TODAY
Why Choose The River Source Tempe for Alcohol Detox?
Alcohol detox at The River Source for Tempe residents can greatly reduce or even eliminate many alcohol withdrawal symptoms and cravings. Choosing our detox program will help make quitting drinking much easier and more successful than attempting it yourself. You also have access to various holistic treatments including vitamin and amino acid IV therapy, massage therapy, infrared sauna, meditation, and yoga to help your body, mind, and spirit heal from the effects of alcohol abuse. While severe alcohol addiction requires medical detox due to dangerous and life-threatening withdrawal symptoms, milder addictions can also benefit from a detox program. Often, those who attempt to stop drinking on their own quickly relapse due to withdrawals, cravings, and temptations. You can reside in our controlled, alcohol and drug-free environment to eliminate outside triggers and temptations contributing to your addiction while also receiving FDA-approved medications to reduce symptoms and cravings.
The River Source also offers comprehensive alcohol rehab programs and all levels of care. Clients can easily transition into one of our alcohol rehab programs upon completing medical detox. All our rehab treatment plans are individualized and aim to address the underlying addiction issues. We offer residential inpatient treatment, partial hospitalization program (PHP), intensive outpatient program (IOP), outpatient treatment, virtual outpatient treatment, and aftercare programs. Your personalized alcohol recovery program may include several levels of care for your best chance at successful long-term sobriety.
Alcohol Detox in Tempe for High-Functioning Alcoholics
Individuals who consider themselves high-functioning alcoholics often find it difficult to admit they have a problem with drinking because they have not experienced significant negative impacts on their lives. However, addiction is a progressive disease; it is only a matter of time before things worsen without professional intervention. Milder addictions, like the ones seen in high-functioning alcoholics, have a much higher chance of successful recovery and can more easily detox from alcohol.
The River Source in Tempe, Arizona provides individuals struggling with alcohol abuse the chance to stop drinking once and for all with the help of our alcohol detox program. While high-functioning alcoholics may not need medical detox, they will still greatly benefit from it. Our alcohol detox program uses medication-assisted treatment, holistic therapies, and counseling to help clients go through alcohol withdrawals more easily. It also helps eliminate any outside temptations or triggers, allowing patients to make a clean break from their drinking habits. Alcohol detox allows clients to enter a rehab program with a clear body and mind.
Medically Supervised Alcohol Detox in Tempe
Medically supervised alcohol detox can help you eliminate alcohol from your system safely and comfortably with the help of medical personnel and medications. Alcohol is one of the few substances that can lead to dangerous and life-threatening withdrawal symptoms. Choosing our medically supervised alcohol detox program at The River Source in Tempe, Arizona, will ensure you are monitored around the clock by board-certified doctors and nurses who can administer medications to keep vitals in check and provide you with immediate life-saving medical care in the event of an emergency. Medically supervised alcohol detox can give you and your loved ones peace of mind during the most difficult part of the recovery process. Part of our medical detox program includes holistic therapies such as vitamin IV therapy, infrared sauna, and nutritional therapy to strengthen the body and mind while helping it detox more effectively.
What Is Alcohol Detox Like?
Alcohol detox programs at The River Source for Tempe residents begins with our clinicians' thorough physical and psychological evaluation. They will use this information to create a personalized detox plan and give you a better picture of what to expect from your detox. Once you are checked into your room, our medical team will monitor your vitals around the clock and administer medications as withdrawal symptoms appear, which can be within hours of your last drink. Some medications you can expect during alcohol include benzodiazepines to calm the nervous system and avoid seizures, antipsychotics to help with hallucinations, FDA-approved medications like Acamprosate that treat alcohol withdrawal and cravings, and various over-the-counter medications such as antidiarrheals and anti-nausea-medications. You will also have access to individual and group therapy sessions to help support you emotionally and psychologically during this difficult stage of recovery. Our naturopathic doctors will also recommend various holistic therapies within our facilities including an infrared sauna, vitamin and amino acid therapy, yoga, and meditation to help your body detox naturally.
How Long Does Detox Last?
How long it takes your body to detox from alcohol depends on factors such as age, sex, weight, overall health, addiction length, and severity. You can expect withdrawal symptoms to arise within 6 to 12 hours after your last drink and peak two to three days later. Most people detox from alcohol between 5 to 10 days. Occasionally, individuals may experience post-acute withdrawal syndrome (PAWS) which includes mild, lingering withdrawal symptoms that can last for weeks or months after. PAWS symptoms include anxiety, depression, and insomnia which can be managed with medications, psychotherapy, and holistic treatments.
What Happens After Detox?
After completing alcohol detox, you may feel great and like you have overcome addiction. However, detox is only the first step in the recovery process and only addresses the physical aspects of addiction. Continuing to alcohol rehab at The River Source will offer you the best opportunity for long-term sobriety. We offer several levels of care and program intensities including residential inpatient treatment, partial hospitalization program (PHP), intensive outpatient program (IOP), virtual outpatient treatment, and aftercare programs. Depending on your case will determine which program(s) are best suited for you. We do recommend that all patients complete the full continuum of care for their best chance at a successful recovery. All levels of care at Tempe outpatient alcohol rehab can be completed in varying amounts of time and will include several types of conventional and holistic addiction therapies.
Top Rated Alcohol Detox Treatment in Tempe
Tempe residents have access to top-rated alcohol detox programs at The River Source. Our multidisciplinary team of certified clinicians will monitor you and your vitals 24/7 in comfortable, non-hospital setting residences. FDA-approved medications and naturopathic treatments are available to reduce withdrawals and cravings, making the process much easier. We are also in network with all major health insurance companies which may pay for some or all of your alcohol detox costs.
Tempe Alcohol Detox
Starting our alcohol detox program at Tempe inpatient alcohol rehab center can help you successfully stop drinking once and for all. If you have attempted to stop drinking in the past unsuccessfully, medical detox is the help you have been looking for. It can provide you with the environment, medications, and tools necessary for a solid foundation in recovery from alcohol addiction. Clients can easily transition into alcohol rehab once completing detox.
Our Recovery Guarantee
Alcohol detox at The River Source for Tempe residents is only the first step in recovery. If you choose to continue through the full continuum of care, you will qualify for our 100% recovery guarantee. This guarantee allows you to return to treatment at no extra cost if you relapse within one year of completing the full continuum of care. Relapses are a part of recovery, and you are at higher risk for one in the first year of recovery. We want to help eliminate barriers that may prevent you from reaching out for help after a relapse, including financial ones, as part of our lifelong commitment to you and your sobriety.
If you would like to learn more about our alcohol detox program, rehab program, or any other substance abuse program, please do not hesitate to contact us today. Our addiction specialists are always available to answer any questions you may have or get you started on the admissions process.
QUICK, CONFIDENTIAL INSURANCE VERIFICATION
CLICK BELOW TO FIND OUT IF YOU HAVE COVERAGE