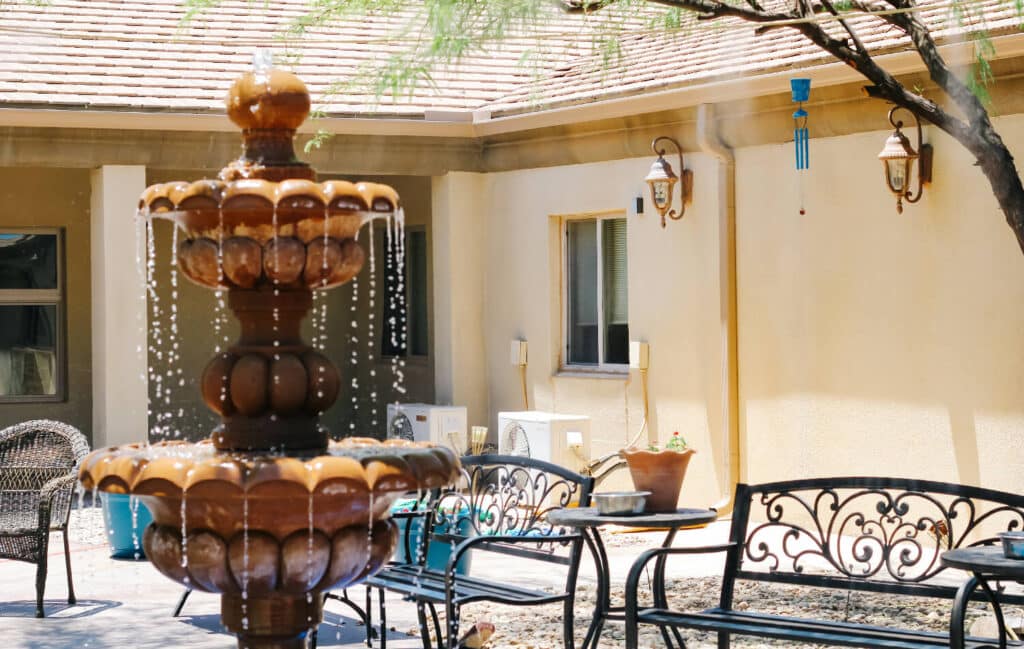 #1 Alcohol Rehab in Tempe
The River Source offers the best in alcohol rehab for Tempe, Arizona Residents. Each alcohol rehab program is personalized and we use dynamic treatment methods to adapt to the client's progress. We provide an alcohol rehab program unlike any other through an integrative treatment approach using holistic addiction therapy methods and conventional rehab treatments. Clients can expect an individualized treatment plan that addresses the underlying issues of addiction while healing the body, mind, and spirit from the effects of addiction for a whole-person approach. We provide clients with comprehensive treatment programs and all levels of care for their addiction recovery needs. An effective step-down program through the full continuum of care can provide the most effective recovery program. Going through varying intensities from medical detox through outpatient treatment will address all aspects of alcohol addiction and slowly help clients reintegrate back into their day-to-day lives. Our levels of care include alcohol detox, inpatient residential treatment, partial hospitalization program (PHP), intensive outpatient program (IOP), outpatient treatment, and aftercare programs.
YOU'RE NOT ALONE – WE CAN HELP
TAKE THE FIRST STEP AND APPLY FOR TREATMENT TODAY
Why Choose The River Source Tempe for Alcohol Rehab?
When choosing The River Source Tempe for recovery from alcohol addiction, you get much more than the effective conventional treatment methods found throughout the best rehab centers in the country. You also get access to holistic and naturopathic therapies that will help heal the body, mind, and spirit from the effects of alcohol abuse. This integrative treatment approach is part of the reason for our high success rates. Clients can also access all levels of care at The River Source which allows you to choose the best level(s) of care for your needs. However, we do encourage our clients to complete the full continuum of care for their best chance at long-term recovery. We use an outcomes-based addiction program that is designed to help you meet your alcohol recovery goals and adjusted as your progress and respond to treatment.
Alcohol Rehab in Tempe for High-Functioning Alcoholics
It is common to assume that the only people who need rehab are those with alcohol use disorders who are in dire straits. However, anyone who cannot control their alcohol use can benefit from our programs at The River Source in Tempe, Arizona. We create treatment plans for all types of alcohol use disorders, including for high-functioning alcoholics. Alcoholism is a progressive disease; while the person may not see as many negative effects from their drinking now, it will only worsen. Getting professional help as soon as possible will greatly increase the chances of a successful recovery from alcohol addiction. We can create a treatment plan to fit your addiction and personal needs, including an intensive outpatient program (IOP) that will allow you to continue going to work or school while you get recovery treatment. Dual diagnosis treatment is also available for those with co-occurring disorders such as anxiety, depression, and PTSD, who use alcohol as a way to cope with mental health disorders.
Private Alcohol Treatment Program in Tempe
When it comes to alcohol rehab, there are several options available. State-run rehab centers offer free addiction treatment. However, private rehab provides more comfort and privacy. The River Source is a private alcohol rehab center in Tempe, Arizona in a non-hospital setting with added amenities to improve recovery outcomes and comfort during treatment. Private rehab centers will also usually have space available immediately, have a higher clinician-to-client ratio, and provide personalized treatment plans for the most effective form of alcohol rehab treatment. Our private alcohol rehabilitation center provides effective, evidence-based treatment. We are also in-network with all major health insurance companies and will help you navigate your insurance plan to determine how much of your treatment program may be covered. We never want the price of rehab to be an obstacle to effective treatment and offer other financing options for those without health insurance.
Inpatient Medically Supervised Alcohol Rehab in Tempe
Individuals who struggle with severe or long-term alcohol addiction are at a higher risk of developing dangerous or even life-threatening withdrawal symptoms from alcohol when attempting to stop drinking. The River Source near Tempe, Arizona, offers inpatient medically supervised alcohol rehab with alcohol detox to help clients go through withdrawals more comfortably and safely. Medical staff made up of nurses, physicians, psychiatrists, and counselors are available 24/7, and clients going through alcohol detox will be monitored around the clock to ensure their vitals are normal. Our inpatient medically supervised alcohol rehab provides patients with immediate access to medical care whenever they need it. We use medication-assisted treatment to ease withdrawal symptoms and keep patients' vitals in check. Medications can also be used throughout the recovery process to help ease co-occurring disorders such as PTSD, depression, and anxiety.
How Long Is the Program in Tempe?
Each treatment program at The River Source in Tempe, Arizona, is personalized, including the treatment length. Rehab program length is determined by several factors including severity and longevity of alcohol abuse, the presence of co-occurring disorders, and how the client progresses through treatment. Generally, our treatment programs in our addiction center in Tempe are completed in 30 days, 60 days, or 90-day program lengths, however, they can be longer if needed. Treatment programs may consist of several levels of care. Inpatient treatment can last several weeks through the full 90 days or longer, while outpatient rehab typically lasts about 1 to 3 months. Supervised alcohol detox is not always necessary, but it can be beneficial for anyone wanting to stop drinking to ensure they enter alcohol rehab with a clear body and mind.
30-Day Alcohol Rehab in Tempe
Our 30-day alcohol rehab at The River Source in Tempe, Arizona is a great option for those with milder alcohol addictions or as a way to jump-start the recovery process. Short-term recovery programs are intensive as they attempt to fit in a variety of addiction therapies into 30 days. Inpatient treatment for 30 days can provide the best environment away from outside influences, triggers, and temptations to fully focus on the alcohol recovery program.
60-Day Alcohol Rehab in Tempe
60-day alcohol rehab is similar to our 30-day program but allows more time to complete several addiction therapies, break negative behavioral patterns, and learn new coping skills. Patients can also benefit from a longer stay in a stable, sober environment if needed. This program length is best for those with milder alcohol use disorders with co-occurring disorders. Outpatient treatment and aftercare programs are encouraged upon completing 30-day and 60-day treatment programs.
90-Day Alcohol Rehab in Tempe
Severe alcohol addiction requires a minimum of 90 days in rehab for successful recovery. Our long-term alcohol rehab in Tempe allows clinicians to address addiction-related behavioral and emotional patterns while also helping clients develop better-coping skills and receive vocational and life skills training if necessary. Long-term alcohol rehab can be made up of several levels of care. Clients will benefit from aftercare and alumni programs upon completing alcohol rehab for further support to reintegrate seamlessly back into daily life.
Men's Inpatient Alcohol Rehab
The River Source provides separate inpatient treatment housing for women and men intending to help clients be more successful through their recovery efforts. Men's inpatient alcohol rehab provides the type of environment needed for men to express their emotions more openly and be more vulnerable. Clinicians can also address unique biological, psychological, familial, and social aspects of addiction men face. Separate gender-based housing also helps both sexes feel safer and reduces distractions.
Women's Inpatient Alcohol Rehab
Women also face many unique challenges when it comes to alcohol addiction. The River Source's women's inpatient alcohol rehab offers a safe environment for women to focus and heal their addiction together. Often, women in recovery struggle with mental health disorders brought on by sexual or domestic abuse, which can be retriggered by the opposite sex. Our women's program allows women to express their emotions and stories more freely with others who understand their struggles while helping to build a sisterhood of life-long support.
Our Recovery Guarantee
While our alcohol rehab program has a high success rate, no recovery program is foolproof. Relapses are a part of recovery, and the chances of relapsing are highest in the first year of recovery. What is important is to get yourself back up and we want to be there for you if you need further support after a relapse. The River Source offers a 100% recovery guarantee, allowing you to return to the treatment at no extra cost if you relapse within one year of completing our full continuum of care. Our recovery guarantee aims to eliminate some of the barriers of reaching out for help again and ensuring every client continues on their path to recovery,
If you would like to learn more about our Tempe holistic rehab center for Tempe residents or are ready to start the admissions process, please give us a call today and our intake specialists will help you in any way they can.
QUICK, CONFIDENTIAL INSURANCE VERIFICATION
CLICK BELOW TO FIND OUT IF YOU HAVE COVERAGE