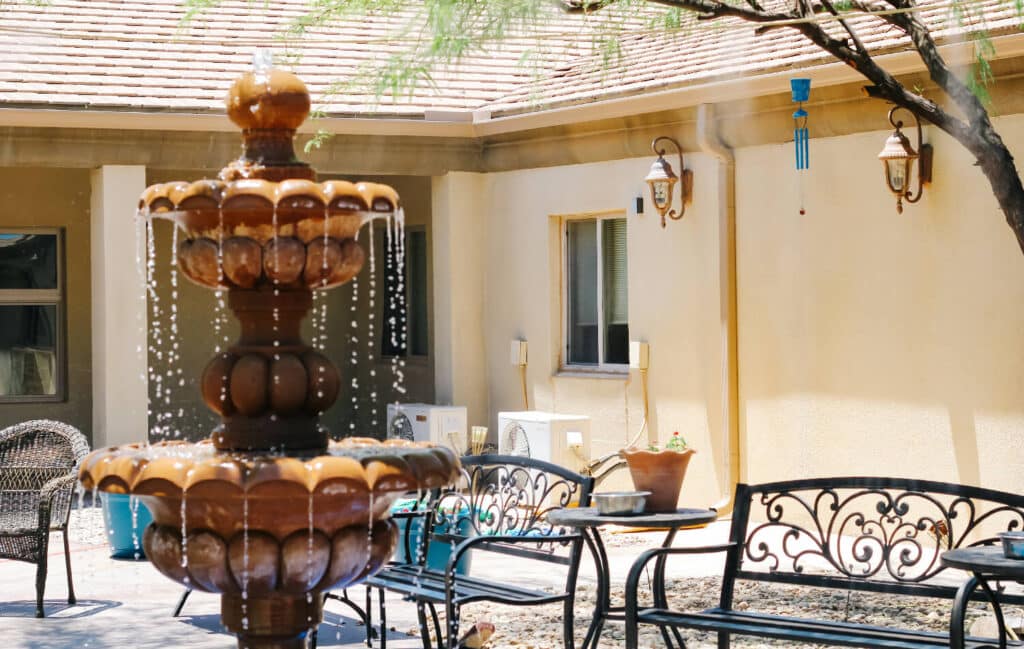 When struggling with active addiction, it can be difficult to realize you need help and even more challenging to know where to start the road to recovery. Feeling apprehensive about drug rehab in Tempe is normal, as is wondering if it will even help. When you are ready to take back control of your life, comprehensive drug rehab programs can help you find sobriety and there is no better place to start the road to recovery than through supervised drug detox. The initial withdrawal symptoms from drug abuse can be severely uncomfortable and at times dangerous, which makes stopping drug abuse even more difficult. However, through medical detox at The River Source near Tempe, Arizona, our top-rated program can help you overcome drug withdrawals safely and comfortably. Our program includes around-the-clock medical supervision and medication-assisted treatment that uses FDA-approved medications to ease withdrawal symptoms. We also offer holistic and naturopathic therapies to help the body naturally detox from toxic substances more effectively and quickly. Clients can also easily transition into drug rehab programs that will address the underlying causes of addiction and teach healthy coping skills and tools to achieve long-term sobriety.
YOU'RE NOT ALONE – WE CAN HELP
TAKE THE FIRST STEP AND APPLY FOR TREATMENT TODAY
Why Choose The River Source Tempe for Drug Detox?
The River Source Tempe uses a unique integrative treatment approach to drug detox by combining conventional treatment methods with holistic therapies for a whole-person approach to recovery. While medication-assisted treatment can help ease withdrawal symptoms and keep the patient's vitals in check, our naturopathic therapies will help strengthen and heal the body, mind, and spirit for a more effective detox. Although it is possible to detox from drugs and alcohol on your own, it is not recommended. Some substances can cause dangerous and even lethal withdrawal symptoms without medical supervision. Individuals who choose to detox on their own often quickly relapse due to severe cravings and withdrawals which carries a high risk of accidental overdose. Instead of battling drug withdrawal symptoms on your own, you can have access to medications that reduce or even eliminate them while residing in comfortable, semi-private rooms. Clients will also receive nutrition meals prepared by an in-house kitchen staff which help strengthen the body for easier detoxification.
What Is Detox Like?
Upon checking into our detox facility, a team of clinicians will conduct a thorough physical and psychological evaluation to help determine what you may expect during detox and create a personalized treatment plan. Once you are checked into your room, you can expect withdrawal symptoms to begin within hours of your last dose. Our team of medical professionals will administer medications to ease those symptoms or prevent dangerous symptoms such as seizures. Our team of doctors and nurses will monitor your vitals around the clock to ensure your safety.
All your meals will be prepared for you and will provide nutritional supplements such as oral or IV vitamins and amino acids to help your body begin healing from substance abuse. Once your symptoms have peaked and you begin to feel better, you may begin with individual and group therapy sessions to address the underlying causes of addiction and provide support during this difficult process. The River Source also incorporates other holistic treatment methods and medications to help ease withdrawals naturally such as massage therapy and infrared sauna. Everyone goes through drug detox differently, but you can expect to complete the process anywhere between 5 to 10 days.
Types of Drugs We Treat
All types of drug addiction present their own challenges during detox and will require specific treatment approaches. Our detox and rehab center at The River Source near Tempe, Arizona, employs a multidisciplinary team of professionals, supplies a variety of medications, and uses various addiction treatment methods to treat a wide variety of substance abuse. Drug dependence and addictions we treat include, but are not limited to:
Amphetamine and stimulant addiction

Benzodiazepine addiction

Cocaine addiction

Depression medication dependence

Heroin and opioid addiction

Marijuana addiction

Methadone addiction

Methamphetamine addiction

Prescription drug addiction

Psychedelic addiction

Sleeping aid dependence
Meth Detox in Tempe
Methamphetamines can lead to severe physical and psychological addiction, which can be quite challenging to stop using on your own. Individuals attempting to stop meth abuse alone are often unsuccessful due to early relapse. The Meth detox program at The River Source provides medications and IV fluids to treat dehydration, which is the biggest concern when stopping meth use as it can lead to medical complications such as renal failure. Medications used in meth detox include benzodiazepines for anxiety, antipsychotic drugs, and over-the-counter pain medications.
Cocaine Detox in Tempe
While cocaine addiction primarily affects a person psychologically and behaviorally, overcoming physical dependence is still challenging. There are no specific FDA-approved medications for cocaine withdrawals, however, drug detox still boasts several benefits for those attempting to stop cocaine abuse. The River Source's cocaine detox program uses holistic methods not common in other detox centers to naturally ease withdrawal symptoms, cravings, and co-occurring disorders. We also use psychotherapy and psychiatric drugs to help with many of the psychological withdrawal symptoms including depression.
Benzo Detox in Tempe
Benzodiazepines are effective psychiatric drugs used to ease anxiety symptoms. However, they can lead to dependence and abuse. If benzos are not cleared from the body slowly and properly, it can result in dangerous withdrawal symptoms including seizures. The River Source's benzo detox program helps clients taper down benzo use safely while incorporating several psychotherapy, group therapy, and holistic treatments to ease anxiety symptoms and sleep disorders without using medications. Upon completing benzo detox and rehab, clients learn non-medication ways to manage their anxiety.
Oxy Detox in Tempe
Oxy dependence and addiction can happen to anyone, even when used as prescribed by their physician. Stopping oxy use alone can be quite difficult because of withdrawal symptoms and if not treated early on, can progress into severe opioid addiction. The River Source can create a personalized detox plan for any oxy or opioid addiction, including 24/7 medical supervision, FDA-approved medications, and holistic therapies. Our holistic addiction treatment programs not only help you overcome dependence and addiction, but they also provide you with tools to manage substance abuse long-term, including finding natural ways to address pain instead of relying on painkillers.
Heroin Detox in Tempe
Heroin is one of the most difficult forms of substance abuse to overcome, especially initially because of severe cravings. Our detox program at The River Source near Tempe, Arizona, uses FDA-approved medications including buprenorphine to help clients stop heroin abuse more easily. Through nutrition, vitamin and amino acid therapy, and infrared sauna, clients can help their minds and bodies heal from the effects of heroin abuse. We greatly encourage all heroin recovery clients to complete the full continuum of care for their best chance at long-term recovery.
How Long Does Detox Last?
Every person will go through detox differently and will also vary how long it takes their body to rid itself of all toxic substances. However, you can generally expect to detox between 5 to 10 days. Several factors can determine how long it takes to detox from substance abuse including type(s) of substance abuse, length of addiction, the severity of addiction, age, sex, overall health, and the presence of co-occurring disorders. Some people can experience mild, lingering withdrawal symptoms known as Post-Acute Withdrawal Syndrome (PAWS) which can last several weeks or months after initial detox.
What Happens After Detox?
Detox is a great first step in the recovery process. However, it only addresses physical dependence. Addiction is a complex disorder requiring comprehensive treatment programs that address all the psychological and behavioral layers related to substance abuse. After drug detox, clients can easily transition into The River Source's drug rehab program. Our clinicians will create a personalized treatment plan which will vary in levels of care, the intensity of treatment, and types of therapies to address the underlying causes of addiction. Options for drug rehab include residential inpatient treatment, partial hospitalization program (PHP), intensive outpatient program (IOP), and outpatient treatment. All programs should be followed with aftercare programs that help individuals transition back to their daily lives with enough resources and support.
Why Detox at The River Source?
Detoxing at The River Source near Tempe, Arizona provides the gentlest and most effective detoxification program available. Our integrative treatment approach will not only use medication-assisted treatment found in the best detox programs across the U.S. but will also incorporate holistic and naturopathic therapies to help the body, mind, and spirit heal more effectively. Our detox program also occurs in a comfortable, non-hospital setting with around-the-clock care.
Our Recovery Guarantee
We greatly encourage all clients to complete the full continuum of care after drug detox, which provides the best chance at long-term recovery. It also grants access to our 100% recovery guarantee which allows clients to come back to The River Source at no extra charge if a relapse happens within one year of completing the full continuum.
If you or your loved one is struggling with controlling substance abuse and would like to learn more about our drug detox program, please do not hesitate to call us today. Our intake specialists are always ready to answer any questions you may have.
QUICK, CONFIDENTIAL INSURANCE VERIFICATION
CLICK BELOW TO FIND OUT IF YOU HAVE COVERAGE