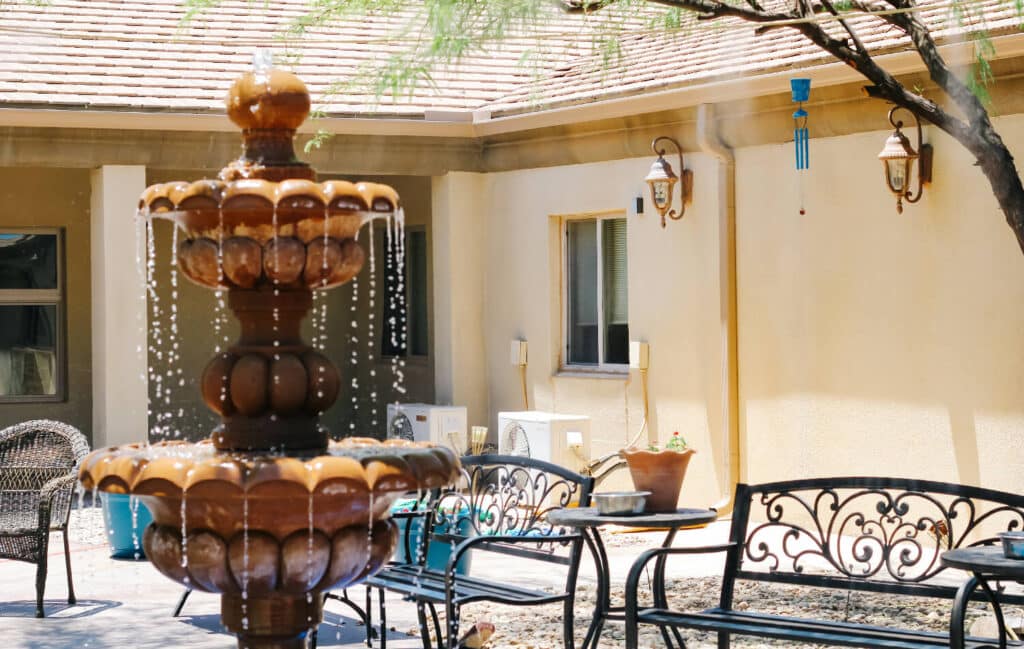 The River Source near Tempe, Arizona, offers top-rated drug rehab treatment. Our comprehensive drug and alcohol rehab programs provide clients with their best chance at long-term recovery no matter the severity or longevity of addiction. Clients at The River Source Tempe can access the full continuum of care through our treatment facility which includes medical detox, residential inpatient treatment, partial hospitalization program (PHP), intensive outpatient program (IOP), outpatient treatment, and aftercare program. We offer the best drug rehab program through our clinically driven, evidence-based treatment with a holistic approach. Our integrative approach to substance abuse treatment sets us apart from other top-rated addiction treatment centers by incorporating holistic therapies and methods into conventional addiction treatments. We create personalized treatment plans that will address the effects of substance abuse and addiction on the body, mind, and spirit, allowing clients to find true healing.
YOU'RE NOT ALONE – WE CAN HELP
TAKE THE FIRST STEP AND APPLY FOR TREATMENT TODAY
Types of Drug Addictions We Treat
Our multidisciplinary, highly skilled team of clinicians can treat a wide range of addictions. We also offer the full continuum of care to meet any addiction severity or anywhere along the road to recovery. Our medical detox program includes various FDA-approved medications, psychiatric medications, holistic therapies, and more to ease any drug or alcohol withdrawal while maintaining the patient's safety through 24/7 medical care. We provide personalized treatment plans for addictions including but not limited to the following:
Alcohol

Opioids and heroin

Benzodiazepines

Antidepressants

Prescription stimulants

Sleep medications

Cocaine and crack cocaine

Methamphetamines

Methadone

Inhalants

Cannabis

Psychedelics
Heroin Rehab in Tempe
Addiction to heroin and other opioids is incredibly challenging to overcome on your own. Withdrawals and cravings experienced with attempting to stop using often drive many to relapse quickly. Even if you are initially successful in stopping heroin abuse, it is often short-lived without the proper coping skills and tools rehab programs offer. The River Source's heroin rehab program includes medical detox to ease withdrawals and cravings and inpatient treatment so clients can remove themselves from outside triggers and temptations. During heroin rehab, treatment plans will be individualized to address the underlying issues of addiction through various individual and group therapy sessions while also healing the body, mind, and spirit through holistic therapies.
Cocaine Rehab in Tempe
Cocaine addiction can affect all aspects of a person's life and health, including employment, relationships, and mental health. The River Source Tempe's cocaine rehab program offers a holistic approach to address not only cocaine addiction itself but also all the areas of a person's life that have been affected. Clients can comfortably work through their recovery program in our Tempe inpatient drug center, which will include various addiction therapies including cognitive behavioral therapy, group therapy, and family therapy. We also provide vocational and skills training to help clients live a successful, independent life free of cocaine abuse. Dual diagnosis treatment is also available to simultaneously treat mental health disorders that have led to or are a result of cocaine addiction.
Oxy Rehab in Tempe
Prescription opioid medications such as Oxycodone, have long been a driver in the opioid crisis in the U.S. These medications are often prescribed for various types of pain after an injury or surgery and lead to dependence and addiction. Oxy addiction is most successful when treated early on, which may only require outpatient programs at The River Source Tempe. We tailor all recovery programs to each individual including length of treatment, the intensity of treatment, and types of addiction therapies. Through our holistic treatment program, clients can also learn natural, drug-free ways to manage their pain to end reliance on prescription painkillers.
Meth Rehab in Tempe
Methamphetamines can easily and quickly cause severe addiction which requires intensive treatment programs. The River Source in Tempe, Arizona provides medical detox and inpatient residential treatment to help those with severe meth addiction recover successfully. Clients in meth recovery often require dual diagnosis treatment to treat severe mental health effects, such as anxiety disorders, depressive disorders, and psychosis, caused by meth addiction. Clients will have access to a wide range of addiction therapies and services including family therapy, vocational training, and life skills training to help treat all areas of their lives affected by meth addiction.
Benzo Rehab in Tempe
Benzodiazepines are frequently prescribed for anxiety and sleep disorders and while they are safe to use short term, it is not uncommon for individuals to end up abusing them or becoming physically dependent. Individuals may abuse benzos to get a greater effect by combining them with other depressants such as alcohol or opioids. Benzo rehab in Tempe at The River Source can include polysubstance addiction treatment to address all other substances that may have been abused simultaneously. Clients can also address underlying anxiety or sleep disorders through our dual diagnosis treatment so they are able to get a handle on their mental health without the use of medication.
Prescription Drug Rehab in Tempe
It is easy to assume that because a medication is prescribed by a doctor that it is safe. However, many prescription drugs have a potential for dependence and abuse, including opioids, benzodiazepines, stimulants, antidepressants, and sleep medications. While some of these can lead to full addictions that require intensive rehab, others only cause physical dependence for which medical detox may be enough. Prescription drug rehab at The River Source includes drug detox, behavioral therapy, holistic treatments, and other approaches to address underlying issues.
Top Rated Addiction Treatment in Tempe
Residents of Tempe, Arizona can receive top-rated substance abuse and addiction treatment at The River Source. Our Integrative approach combines evidence-based naturopathic therapies and conventional treatment methods in a comfortable, non-hospital setting. We use a whole-person approach to address even the smallest effects of addiction for more successful, long-term recovery. Clients can expect therapies such as cognitive behavioral therapy, dialectical behavioral therapy, family therapy, and group therapy as part of their personalized treatment plan. They will also access holistic methods such as massage therapy, vitamin IV therapy, nutritional and exercise counseling, and an infrared sauna. Not only do our treatment programs treat drug addiction itself, but they also aim to heal the effects of addiction on the body, mind, and spirit.
Temoe Drug Rehab Success Rates
The River Source has higher success rates than the national average due to our integrative approach. By treating the person as a whole and not just the addiction symptoms they present, clients can experience true healing and are more likely to experience sobriety long-term. Our most successful clients usually complete the full continuum of care. This step-down system allows clients to begin with intensive treatment through medical detox and inpatient treatment and then slowly reintegrate back into daily life through outpatient programs. However, it is important to note that recovery success is related to the time and work spent during and after the rehab program.
Why Choose The River Source Tempe for Addiction Treatment?
The River Source's integrative treatment approach has provided us with high success rates and you can trust that you are choosing a valuable investment in yourself. We are a Joint Commission-accredited facility and in-network with all major insurance companies. You can also complete the full continuum of care at our treatment facilities including aftercare programs and a Lifetime alumni program for added support throughout your recovery journey. We can treat any severity of addiction in our comfortable, private setting.
Finding the right drug rehab center in Tempe, Arizona can be overwhelming with the number of choices. While there are many other top-rated rehab centers in Arizona, we provide a unique experience and treatment approach not found anywhere else. When you choose The River Source, you are choosing your best chance at recovery because our holistic addiction treatment approach aims to address every aspect of your health that substance abuse has affected. Our non-hospital setting provides various comforts and amenities without sacrificing high-quality addiction treatment. Amenities such as comfortable rooms, relaxing common areas, and outdoor recreational spaces help clients to recharge between therapy sessions and increase treatment retention rates.
Another reason to choose The River Source is our high success rates, which we attribute to the combination of personalized treatment plans, an integrative approach, and a full continuum of care. Each recovery program is tailored to each client and will take them through immersive inpatient treatment through flexible outpatient care for a seamless transition back to day-to-day life. 
Our Recovery Guarantee
Our commitment to you and your recovery does not end the day you complete your program. Relapses are a part of recovery, and you are at higher risk in the first year of recovery. Part of our commitment to your recovery is offering a 100% recovery guarantee which allows you to return to the treatment at no extra cost if you relapse within one year of completing the full continuum of care.
If you or a loved one is struggling with drug addiction, please contact us today to learn more about our treatment programs and regain control of your life.
QUICK, CONFIDENTIAL INSURANCE VERIFICATION
CLICK BELOW TO FIND OUT IF YOU HAVE COVERAGE