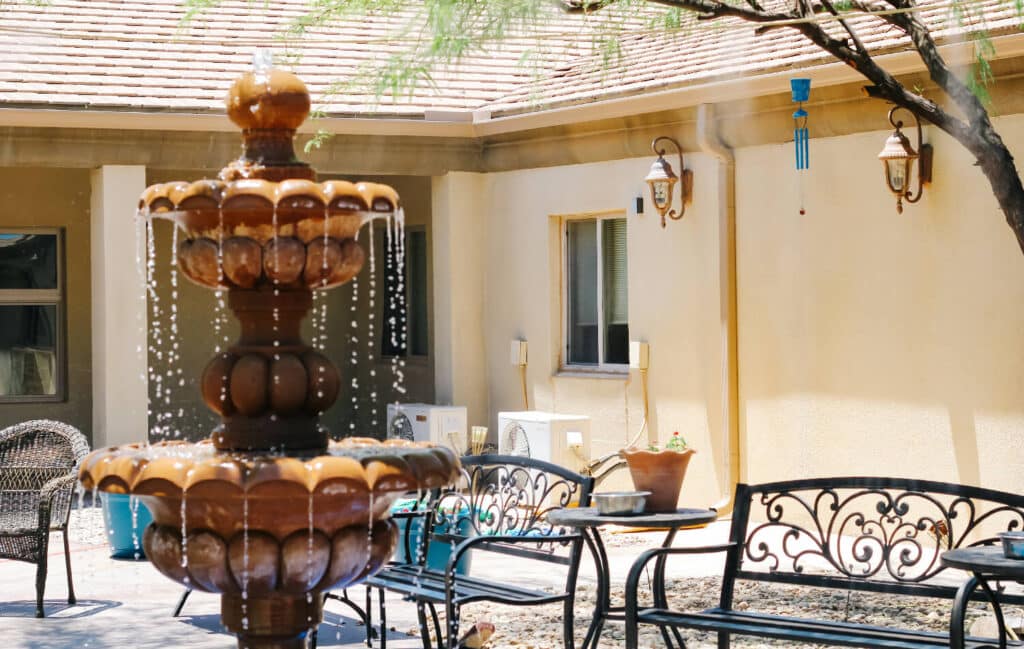 #1 Heroin Detox-Rehab in Tempe
Addiction to heroin is incredibly challenging to overcome alone and is usually met with frequent relapses. Severe withdrawals and cravings experienced when stopping heroin use usually lead to users quickly relapsing. Our comprehensive heroin addiction treatment programs at The River Source can help anyone, no matter how severe their heroin addiction, find recovery long-term. Recovery programs usually begin with medical detox, including around-the-clock medical care and medication-assisted treatment to ease withdrawal. Drug detox can ensure you successfully stop heroin use. Our medical detox program uses a combination of FDA-approved medications and holistic therapies to ease withdrawal and cravings. Our certified, highly skilled staff of doctors, nurses, and counselors monitor patients around the clock in a controlled, drug-free environment. Drug detox residences are comfortable, non-hospital semi-private rooms that will include all your meals. After completing detox, you can easily transition into one of our heroin rehab programs to treat the underlying causes of addiction while providing the tools and skills necessary to self-manage your recovery. Our treatment facilities offer all levels of care, which can be completed in a step-down system for the best chance at long-term recovery from heroin addiction. The full continuum of care at The River Source near Tempe includes drug detox, residential inpatient treatment, partial hospitalization program (PHP), intensive outpatient program (IOP), virtual IOP, outpatient treatment, aftercare program, and a lifetime alumni program.
YOU'RE NOT ALONE – WE CAN HELP
TAKE THE FIRST STEP AND APPLY FOR TREATMENT TODAY
Why Choose The River Source Tempe for Heroin Detox & Drug Rehab?
Tempe residents have access to The River Source's unique detox and rehab program which offers much more than the evidence-based, conventional treatment methods found in the best rehabs throughout the country. We use a unique integrative treatment approach that incorporates holistic therapies into conventional methods to heal the person as a whole and not just the addictions symptoms they are currently presenting. Every treatment plan is also personalized using information gathered from a thorough physical and psychological evaluation. Clients also have the opportunity to complete the full continuum of care, which takes them from intensive treatment programs where they can truly focus on their recovery through flexible outpatient programs that help them easily reintegrate into the real world. Our treatment facilities also offer several comforts of home and luxury without sacrificing quality addiction treatment.
First Class Amenities
At The River Source, we believe a comfortable environment with supportive amenities can be just as important as addiction treatment therapies. While our treatment programs focus on providing effective, evidence-based heroin addiction treatment therapies and employing highly qualified staff, we also place importance on furnishing a non-hospital setting inpatient facility with cozy accommodations. Clients will reside in spacious rooms with high-quality mattresses and fresh lines, secure storage areas, fun common areas with TVs, and spacious outdoor areas.
As a holistic addiction treatment facility, we integrate physical exercise and nutrition into all our treatment plans to help the body heal naturally and faster from the effects of heroin abuse. Some exercise and recreational activities we offer include yoga and exercise classes, outdoor volleyball and basketball courts, ¼ mile outdoor track, and a frisbee golf course. We want our clients to find what type of exercise works best for them so they look forward to it instead of feeling dread. Our kitchen staff will prepare nutritious, well-balanced meals that are prepared onsite and support the healing of the body, mind, and spirit.
What Is Detox Like?
Detoxing from heroin abuse can be painful, intense, and at times dangerous. While heroin withdrawal symptoms themselves are not life-threatening, the withdrawal process can lead to medical emergencies such as extreme dehydration, suicidal tendencies, accidental overdose, and accidental aspiration of vomit. The medical detox program at The River Source includes 24/7 medical supervision by doctors and nurses who will monitor your vitals around the clock and ensure your safety throughout the detox process. Medication-assisted treatment includes FDA-approved medications, such as Buprenorphine, to ease heroin withdrawal symptoms and cravings. Our medical team will create a personalized detox plan based on your initial evaluation and administer medications as withdrawal symptoms arise, which can start within hours after your last dose. You will detox in comfort in one of our semi-private, non-hospital setting rooms and have all your meals prepared for you onsite. As your symptoms begin to subside, you will meet with therapists and peer support groups to help you through psychological and emotional difficulties that arise during heroin withdrawal.
How Long Does Detox Last?
Each person's experience with heroin detox will differ, including how long it takes their body to detox completely. Certain factors such as your overall health, sex, age, weight, length of addiction, and severity of heroin addiction, will affect how long it takes you to detox. In general, you can expect to detox from heroin within 10 days. Withdrawal symptoms start within a few hours after your last dose and peak at around 2 to 3 days. However, holistic and naturopathic therapies at The River Source can help your body detox more easily. Our infrared sauna is especially beneficial in helping to sweat out toxins quickly while vitamin IV therapy can restore important nutrients to your body essential for proper functioning.
Occasionally, some people may experience mild, lingering withdrawal symptoms called Post-Acute Withdrawal Syndrome (PAWS). Symptoms of PAWS from heroin addiction include fatigue, anxiety, and depression which can be treated with psychotherapy, medication-assisted treatment, and holistic therapies.
What Happens After Detox?
While drug detox helps with physical addiction, it is only the first step in recovery. Successful long-term sobriety from heroin requires inpatient and outpatient rehab programs that find and heal the underlying causes of addiction. We have found that clients who experienced the most successful recovery completed the full continuum of care at The River Source. This is a robust step-down system with several levels of care including residential inpatient treatment, partial hospitalization program (PHP), intensive outpatient program (IOP), virtual IOP, outpatient treatment, aftercare program, and a lifetime alumni program. However, clients can also choose the best care levels that suit them best.
Heroin addiction can be severe and often requires inpatient treatment to help patients remove themselves from triggers, temptations, and environments contributing to their heroin abuse. Continuing with outpatient treatment is also highly beneficial to assist in slowly reintegrating into daily life without heroin and with enough support from clinicians and peers. Aftercare programs provide resources such as sober living housing to help clients live independently and successfully.
Our programs at The River Source are personalized with various addiction treatments and services. Treatment programs will address underlying addiction issues and teach various coping skills and tools to successfully manage cravings and co-occurring disorders. Dual-diagnosis treatment is available to those with co-occurring disorders such as depression and anxiety for simultaneous treatment. Some therapies and services you can expect include individual therapy, group counseling, family education, 12-step programming, vitamin IV therapy, massage therapy, life skills training, and vocational training.
How Long Does Heroin Rehab Last?
The length of rehab will depend on each person's history with addiction and their need to find successful recovery. The River Source we customize each treatment program in length and intensity to each client. As part of our trauma-informed care, we will keep communicating with you about your treatment plan and keep you a part of it. You must be as much of a designer of your recovery as we are. While every treatment program will differ, generally our treatment programs come in 30 days, 60 days, or 90-day programs which can be shortened or lengthened depending on your progress.
30-Day Heroin Rehab in Tempe
Short-term rehab, which lasts about 30 days, is a great fit for those with milder heroin addictions. This program helps clients recenter and refocus themselves so they can successfully get on the road to recovery. This treatment program may be intense as it aims to fit several therapies into a short period of time, but it will also get you back to your normal life more quickly. Aftercare programs are also important to help you transition to day-to-day life successfully.
60-Day Heroin Rehab in Tempe
Individuals struggling with heroin addiction and co-occurring disorders would benefit best from a longer treatment program, such as our 60-day program. These programs are similar to our short-term rehab at The River Source Tempe but allow more time to work on and break negative habits and behaviors related to addiction while also allowing our clinicians to work with dual diagnosis treatment.
90-Day Heroin Rehab in Tempe
Severe drug and alcohol addiction requires a minimum of 90 days in recovery. These programs allow enough time to complete drug detox and continue into a long-term residential inpatient program. Clinicians can work with all therapies in shorter rehab lengths and incorporate life skills and vocational training when needed.
If you or a loved one is struggling with heroin addiction, please call our AZ rehab center today to learn more about our recovery programs or to get started on the admissions process.
QUICK, CONFIDENTIAL INSURANCE VERIFICATION
CLICK BELOW TO FIND OUT IF YOU HAVE COVERAGE