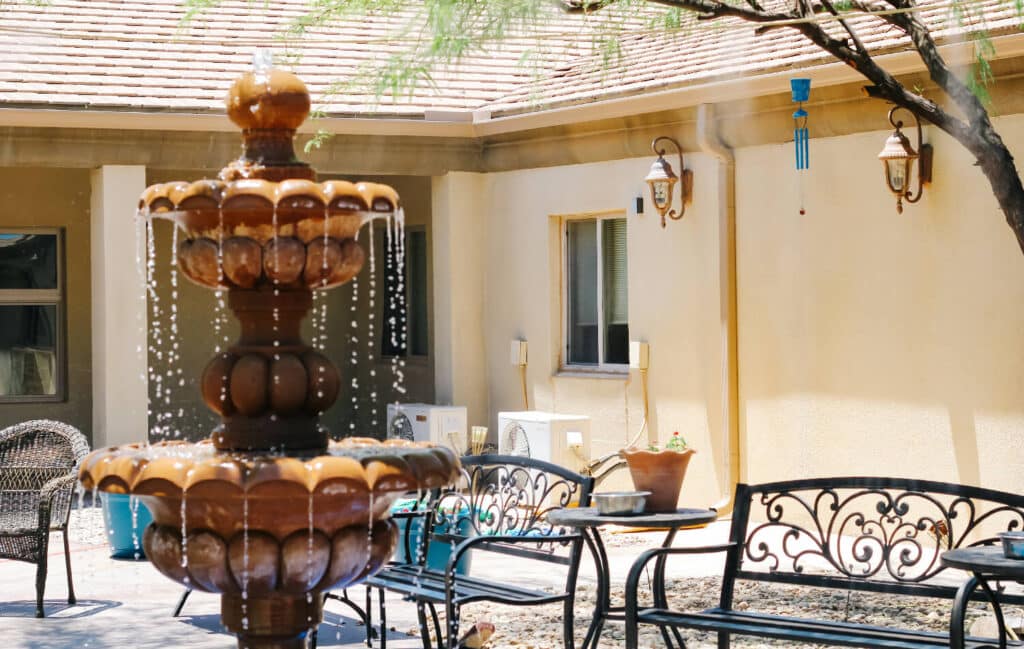 #1 Inpatient-Residential Alcohol Rehab in Tempe
Alcohol use disorder can range in severity and the effects of alcohol addiction are far-reaching. When it comes to taking control of unhealthy drinking patterns, there is no better chance for long-term recovery than residential inpatient treatment. The River Source near Tempe, Arizona, offers one of the best alcohol rehab programs with several levels of care, including inpatient treatment. Starting your journey to recovery in medical detox and inpatient treatment can lay down a solid foundation for successful sobriety. Our comprehensive treatment programs are personalized to address every aspect of your unique case with alcohol addiction and also take into consideration any personal needs. Clients have the opportunity to take advantage of our unique integrative addiction treatment program which combines conventional treatment methods with holistic practices for a whole-person approach. We are Joint Commission accredited and in network with all major health insurance companies.
YOU'RE NOT ALONE – WE CAN HELP
TAKE THE FIRST STEP AND APPLY FOR TREATMENT TODAY
Why Choose The River Source Tempe for Residential Alcohol Rehab?
With over 20 years of experience, we have created a unique treatment program at The River Source with a high success rate. Combining personalized treatment plans, an integrative approach, and a full continuum of care have allowed most of our clients to find successful, long-term sobriety from alcohol addiction. Our programs are designed to help you heal from the effects of addiction, change negative behaviors and habits, and teach the necessary skills and tools needed to manage addiction independently. We provide comfortable residences with high-quality mattresses, fresh linens, and private bathrooms, along with freshly prepared, nutritious meals all aimed at helping you overcome addiction to alcohol and drugs. Clients also have access to calm and quiet outdoor areas, comfortable common areas with games, flat-screen TVs, and more, and various fitness classes and equipment to help unwind after a day of hard work in recovery treatments.
Our integrative approach which combines conventional treatment methods with holistic therapies offers the best value in alcohol rehab. Treatment programs are designed to address the underlying causes of addiction while helping you heal from the various effects of alcohol abuse. We also offer vocational and life skills training when needed to help you achieve successful independent living. Our full continuum of care includes all levels of rehab to assist in an easy transition back to the real world.
The River Source offers you the best value in addiction treatment as your treatment plans will be comprised of conventional and holistic therapies. We aim to heal all areas of your wellbeing for the best chance at long-term recovery. Clients also reside in clean, semi-private suites with high-quality mattresses and fresh linens and will enjoy many amenities to take advantage of during downtime.
How Long Is Rehab?
Every treatment program at The River Source Tempe is individualized to each client, including the length of rehab. Programs are available in various lengths and our clinicians will recommend the program they feel best suits your unique case. We will work with you to find the best length of treatment. However, it is important to stay in alcohol rehab as long as possible for successful recovery. Factors that help us determine your length of stay include the length of addiction, the severity of addiction, your home environment, and the presence of co-occurring disorders. We also base your recovery program length on which addiction treatments and services you may need. Most people complete inpatient rehab in 30 days, 60 days, or 90-day programs, however, these can be adjusted as needed. Our programs at Tempe prescription drug rehab center are outcomes-based, meaning we will adapt your treatment plan based on how you progress and respond to individual treatments. It is important to note that inpatient rehab is the only level of rehab, we encourage all clients to follow up with outpatient treatment and aftercare programs for seamless reintegration into day-to-day life.
30-Day Inpatient Alcohol Rehab in Tempe
Our most popular inpatient program is 30-day alcohol rehab or short-term rehab. 30-day residential inpatient alcohol rehab offers the opportunity to remove yourself from outside stressors, influences, and triggers so you can truly focus on yourself and your recovery program. This program length is best suited for those with milder addictions to alcohol. However, it can also be used as a strong foundation for severe addictions as well but must be followed up with outpatient programs. Clients find our highly structured inpatient programs beneficial to allow physical, mental, and spiritual healing to take place without outside distractions. You should expect short-term rehab to be intensive as we aim to fit several types of addiction therapies, holistic treatments, and services into 30 days.
60-Day Inpatient Alcohol Rehab in Tempe
Individuals who are struggling with milder addictions and co-occurring disorders such as depression, anxiety, and PTSD, may benefit best from a 60-day inpatient program. The 60-day rehab program is similar to the 30-day program but allows more time to complete addiction treatments, work on negative behaviors and habits, and receive dual diagnosis treatment. Individuals with co-occurring disorders may find recovery more challenging because they must simultaneously work on those issues along with addiction treatments. As with other programs, continuing with outpatient treatment and aftercare programs is important for enough support as you return to your day-to-day life.
90-Day Inpatient Alcohol Rehab in Tempe
Those who have struggled with long-term addiction or severe alcohol addiction need a minimum of 90 days in rehab to help break habits, behaviors, and thought patterns contributing to their substance abuse. 90-day programs at The River Source near Tempe, Arizona, provide you with several addiction treatment therapies to uncover and heal underlying issues and teach healthy coping and life skills for successful, sober, independent living. Individuals who are struggling with co-occurring disorders will receive dual diagnosis treatment to treat disorders such as bipolar disorder, depression, anxiety, and PTSD with psychotherapy, group therapy, and holistic therapies. Clients who complete the full continuum of care by following up with various outpatient treatment options are most successful in long-term recovery from alcohol addiction.
Alcohol Rehab for High-Functioning Alcoholics in Tempe
High-functioning alcoholics often avoid getting the help they need because they feel they have their drinking under control since it has not begun to negatively impact major areas of their lives. They often continue to hold steady employment, pay their bills on time, and appear to have a normal life. However, addiction is a progressive disease, and it is only a matter of time before it catches up with them. During this stage, alcoholism is mild and is more easily treatable. Treatment programs are not lengthy or intensive. High-functioning alcoholics who want to stop drinking would benefit from our inpatient treatment programs at The River Source to help them regain control of their health and lives. Checking into inpatient rehab can provide a much-needed break from daily life and its stressors to reset and fully focus on recovery.
Alcohol Rehab in Tempe
Inpatient alcohol rehab at The River Source near Tempe is personalized to each client. We offer all levels of care to fit your needs and where you are on the road to recovery. Medical detox is available to ease alcohol withdrawals and cravings, making quitting drinking much easier. After detox, we encourage all clients to complete the full continuum of care, which will take them through intensive inpatient treatment through various outpatient programs for a seamless transition back to daily life without the use of alcohol or drugs. Clients will also have access to a Lifetime Alumni Program upon completing alcohol rehab which helps peers keep connected and support one another.
Top-Rated Inpatient Alcohol Addiction Treatment Program in Tempe
Tempe residents have access to top-rated alcohol addiction treatment at The River Source. Our facilities are Joint Commission accredited, the gold standard for rehab centers in the U.S. We credit our high success rate to a combination of personalized treatment plans, an integrative approach, and a full continuum of care.
Alcoholism Treatment in Tempe
The River Source treats alcoholism and alcohol use disorders through comprehensive treatment plans that address all areas of addiction. Our clinicians aim to find and treat the underlying causes of addiction to help clients achieve long-term recovery. We use a naturopathic approach which aims to heal the body, mind, and spirit for a whole person approach instead of only treating the addiction symptoms you present.
Our Recovery Guarantee
At The River Source, we have found that clients who are the most successful in their long-term recovery complete the full continuum of care. We encourage all clients to complete this program, no matter the severity of their addiction. One way we do this is by offering a 100% recovery guarantee, which allows you to return to treatment at no extra cost if you relapse within one year of completing the full continuum of care. This is also part of our lifetime commitment to your sobriety.
If you or a loved one would like to learn more about our inpatient alcohol rehab program, please do not hesitate to contact us today. Our intake specialists are ready to answer any questions or get you started on the admissions process.
QUICK, CONFIDENTIAL INSURANCE VERIFICATION
CLICK BELOW TO FIND OUT IF YOU HAVE COVERAGE