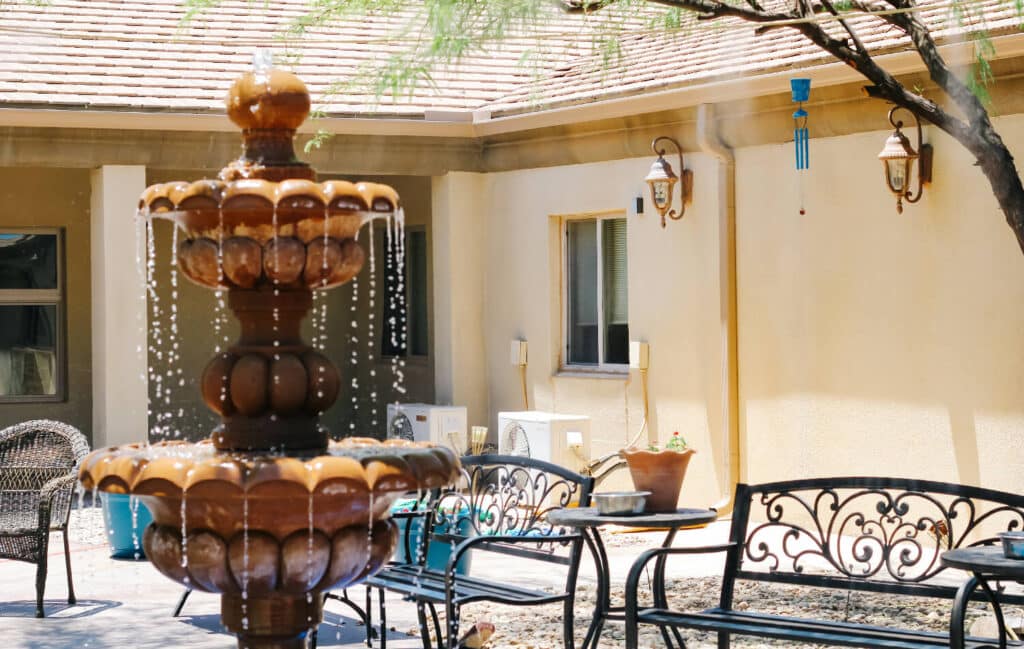 Best Inpatient Drug Rehab Treatment in Tempe
When it comes to prolonged or severe drug addiction, residential inpatient treatment at The River Source Tempe offers you the best chance at long-term recovery. Inpatient treatment provides a drug-free environment away from stressors, influences, and triggers during the first stages of recovery to allow you to focus fully on yourself and your recovery. Residential drug rehab can produce the break you need from your life to reset and gain back control. Our top-rated inpatient drug rehab near Tempe, Arizona uses clinically driven, evidence-based addiction treatments to address all aspects of addiction. Clients get the unique opportunity to experience our integrative approach which incorporates holistic therapies into conventional addiction treatment in Tempe to heal the body, mind, and spirit from the effects of drug abuse. We are a Joint Commission accredited facility and in network with all major health insurance companies.
YOU'RE NOT ALONE – WE CAN HELP
TAKE THE FIRST STEP AND APPLY FOR TREATMENT TODAY
Why Choose The River Source Tempe for Residential Drug Rehab?
Our high success rate at The River Source is reason enough to choose us for drug rehabilitation. With over two decades of experience, we have developed a unique treatment program that has helped most of our clients find long-term sobriety. We attribute our high success rate to a combination of using holistic methods, personalized treatment plans, and encouraging all clients to complete the full continuum of care. You also do not have to choose between comfort and effective addiction treatment at The River Source. While our treatment facilities are comfortably furnished and offer several luxury amenities, we do not sacrifice effective, quality addiction treatment. Clients will reside in comfortable residences with private bathrooms and 24-hour monitoring.
The River Source, with multiple locations throughout Arizona, can offer the best chance at long-term recovery. After 20 years of experience, we have built our programs around what works. While it may feel overwhelming to pause your life, work, and relationships to attend inpatient rehab, it is your best chance at overcoming alcoholism and addiction. This immersive experience will help you truly focus on yourself while eliminating any outside distractions. We are in network with most major insurance companies, which may cover some or all your inpatient rehab costs.
How Long Is Rehab?
At The River Source, every treatment program is individualized to reflect personal and addiction needs, including length of stay. Our clinicians will create a treatment plan after a thorough physical and psychological evaluation to determine the length of stay and the level of care you need. Together, you will decide which treatment level and length is best for you. Our programs will vary in length, with most people choosing between 30-day, 60-day, or 90-day programs. Most clients complete their programs through several levels of care to take them through intensive treatment through flexible programs that allow an easy transition back to day-to-day life.
30-Day Inpatient Drug Rehab in Tempe
Individuals with milder addictions would benefit best from a 30-day inpatient drug rehab, also known as short-term rehab. 30 days in residential treatment offers a break from stressors, triggers, and influences from the outside world which has contributed to your addiction. Programs will be intensive as they attempt to fit in as many addiction therapies and services as possible in a short amount of time. Many clients choose to taper down to outpatient programs after completing short-term residential rehab.
60-Day Inpatient Drug Rehab in Tempe
Those with milder addictions with co-occurring disorders such as PTSD, depression, and anxiety would benefit more from the 60-day program. Like a 30-day rehab, 60-day rehab includes many of the same therapies but with more time to complete them and the ability to incorporate dual diagnosis treatment. Clients can spend more time breaking negative behaviors and habits before returning to the real world.
90-Day Inpatient Drug Rehab in Tempe
Severe drug addiction will require a minimum of 90 days in drug rehab. 90 days in residential inpatient may be the amount of time needed away from the outside world to work on yourself and build enough positive skills and behaviors to successfully face triggers head-on. Long-term rehab also allows clinicians enough time to work on vocational or life skills if needed for independent living.
Types of Drug Addictions We Treat
The River Source employs a team of highly skilled clinicians and staff who are capable of treating a wide range of drug addictions. Every treatment plan is personalized to address the root cause of addiction and confront the unique challenges every substance yields. We also offer all levels of care from medical detox through aftercare programs to meet your personal needs.
Inpatient Heroin Rehab in Tempe
Heroin addiction is often severely challenging to overcome. Inpatient heroin rehab in Tempe, Arizona can foster the type of controlled environment and structured program needed to overcome heroin addiction successfully. Around-the-clock support from clinicians can be especially supportive throughout the intense process of working through underlying issues, trauma, and co-occurring disorders related to substance abuse.
Inpatient Cocaine Rehab in Tempe
Cocaine abuse and addiction can lead to intense cravings and psychological effects when attempting to stop use. Residential inpatient treatment at The River Source near Tempe can eliminate outside influences and temptations which often lead to relapse during early recovery when you are most vulnerable. Behavioral therapy can support long-term abstinence by finding the reasons for substance abuse and altering negative behaviors and habits. Medication-assisted treatment is used to treat co-occurring disorders, often found alongside cocaine addiction.
Inpatient Oxy Rehab in Tempe
Prescription opioids such as Oxy can prove to be as challenging to overcome as heroin addiction. Personalized treatment programs at The River Source for Tempe residents will find and treat the underlying causes of Oxy dependence and addiction. Clients may also greatly benefit from our holistic therapies to find non-medication ways to deal with physical pain which may have led to seeking out prescription painkillers.
Inpatient Meth Rehab in Tempe
Methamphetamine abuse and addiction can lead to several long-term physical and mental health effects, such as meth-induced psychosis and schizophrenia. Meth addiction is also usually severe and requires long-term inpatient rehab for successful recovery. Dual diagnosis treatment at The River Source for Tempe residents can simultaneously address both addiction and the psychological effects of meth abuse. Clinicians can also teach vocational and life skills training that may have been compromised due to long-term addiction.
Inpatient Benzo Rehab in Tempe
Benzodiazepines may prove difficult to stop use because of their severe withdrawal symptoms. Clinicians at The River Source will create a safe and effective tapering-down schedule while also incorporating a variety of behavioral therapies and holistic treatments to address underlying anxiety disorders. Clients can leave inpatient treatment free from benzodiazepines and with the proper tools and skills necessary to manage their anxiety without medications.
Inpatient Prescription Drug Rehab in Tempe
Individuals who have developed dependence and addiction to prescription medications often need the same rehab program as those with illicit drug addictions. The River Source will tailor a specific treatment plan to address issues related to medication abuse. Some medications leading to dependence and addiction include antidepressants, anti-anxiety medications, opioid painkillers, stimulants, and sleep aids.
Men's Inpatient Drug Rehab
The River Source near Tempe, Arizona, provides several specialized treatment programs to meet the unique needs of certain populations, including gender-specific inpatient rehab. Addiction affects men differently than women and we will tailor treatment programs to meet those needs. Men's inpatient rehab can produce an environment where men can express their emotions and issues more authentically and easily than with women around. It also helps men to build lasting and supportive bonds with one another.
Women's Inpatient Drug Rehab
Women also face unique challenges regarding substance abuse and drug addiction. Women's inpatient rehab can foster a safe healing environment by reducing triggers around the opposite sex. Our women's inpatient rehab at The River Source can help women build stronger connections and sisterhood with one another. Group therapy will also focus on topics related to issues women face.
Top-Rated Inpatient Drug Rehab Program With Results
Tempe, Arizona residents can access top-rated inpatient alcohol rehab programs at The River Source. Most of our clients have found long-term sobriety through a combination of personalized treatment plans, an integrative approach, and completing the full care continuum. Our inpatient residences are comfortably furnished with high-quality mattresses and fresh linens to help ensure clients complete their program.
Our Recovery Guarantee
We encourage all clients to complete the full continuum of care as we have found those who do, have achieved the most success in their recovery. We encourage you to complete the full continuum of care through our 100% recovery guarantee, which allows you to return to the treatment at no extra cost if you relapse within one year of completing your program. Successful recovery is possible when you put in the work.
QUICK, CONFIDENTIAL INSURANCE VERIFICATION
CLICK BELOW TO FIND OUT IF YOU HAVE COVERAGE