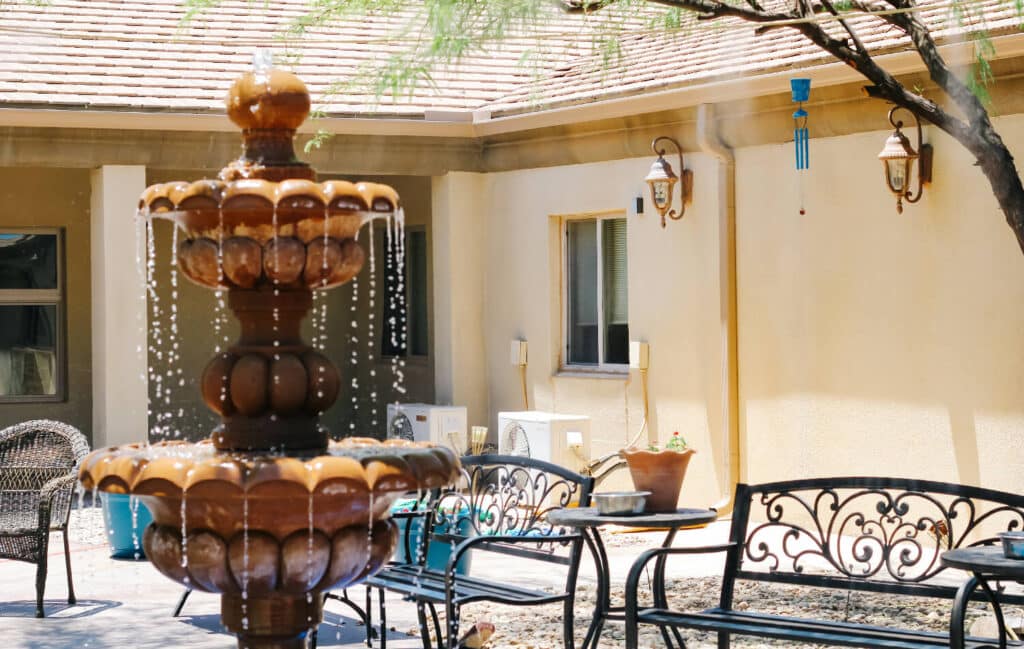 #1 Addiction Treatment Center in Tucson for Alcohol, Prescription Drugs, & Drug Addiction
Get the comprehensive support you need to manage drug and alcohol addictions at The River Source. Our Tucson rehab features medically sanctioned therapies complemented by naturopathic therapies with a holistic approach to recovery and wellness. Substance use disorders are complex, which is why we offer an individualized treatment plan for each client. Featuring a full continuum of care that includes medical detox, residential treatment, and outpatient treatment programs, The River Source can meet you wherever you are on your recovery journey.
YOU'RE NOT ALONE – WE CAN HELP
TAKE THE FIRST STEP AND APPLY FOR TREATMENT TODAY
Alcohol & Drug Detox & Rehab in Tucson
Many clients who enroll at The River Source begin their recovery plan with medical detox. Drug and alcohol detox target the physical dependence associated with addiction. Our detox programs include 24-hour monitoring to provide treatment to reduce the severity of withdrawal symptoms with medications and treatments that take a holistic approach to recovery. We feature massage therapy, dry infrared sauna therapy, and IV therapy to support recovery for the mind, body, and spirit.
Why Choose the River Source in Tucson for Addiction Treatment?
Tucson-area residents choose the River Source for treatment because of our reputation for recovery success. We feature experienced addiction medicine specialists and empathetic therapists who work together to support each client's unique needs. We've developed a positive, healing environment where individuals can heal as they learn how to effectively manage their addiction. We don't take a cookie-cutter recovery approach like other Tucson addiction treatment centers. Our goal is always to provide the individualized care the clients expect from a top-notch drug and alcohol rehab.
Tucson Alcohol Detox
Alcoholism affects millions of people all over the country. The first step to managing an alcohol addiction is usually rehab alcohol detox. At our innovative detox center, clients can expect around-the-clock support as they're carefully weaned of alcohol. We treat withdrawal symptoms as they arise to ensure that clients are as comfortable as possible. Our naturopathic treatments like amino acid therapy can also help induce comfort and healing. Detox programs usually last between five and ten days. After completing Tucson alcohol detox, clients can then begin the next phase of their alcohol addiction treatment plan.
Tucson Alcohol Rehab
During your alcohol addiction treatment program, you can expect to participate in individual therapy sessions and group therapies that cover various types of treatment modalities. Our alcohol treatment programs include medically sanctioned therapies such as cognitive behavioral therapy, which helps clients understand–and manage–the connections between their thoughts, emotions, and behaviors. We also offer holistic and naturopathic therapies like yoga and meditation that enhance recovery as well. Relapse prevention plays a strong role in all of our addiction treatments.
Tucson Drug Detox
If you are addicted to illicit drugs like heroin or cocaine, you likely need a Tucson drug detox center to end your physical dependence on these substances. At our detox center in Tucson, Arizona, you can get the full support you need to safely detox from whatever substance you are addicted to. Our medical providers can offer treatments to reduce or even eliminate unpleasant withdrawal symptoms, helping you relax as you heal. Naturopathic treatments like vitamin and IV therapies support your health needs while spurring the healing process.
Tucson Drug Rehab
Drug abuse treatment can help you successfully manage your addiction to street drugs. Our treatment providers will help you identify the triggers that have led you to abuse drugs and understand the complexity of substance use disorders and how they affect the brain and body. Then, we can help you manage the triggers and powerful compulsions that govern your condition. Individual therapies and cognitive behavioral therapies like dialectical behavior therapy can help you develop the skills and strategies you need to stop using and achieve lasting recovery.
Tucson Prescription Drug Detox
Medically supervised RX drug detox is often the first step in the addiction recovery process. Powerful prescription drugs like opioid painkillers can leave you physically dependent on these substances. Detox programs 'undo' the physical dependence. Our care team will provide treatments and medications to reduce the intensity of withdrawal symptoms. We can also begin medication-assisted treatment MAT or dual diagnosis treatment for clients who need this type of support during (and after) the detox process.
Tucson Prescription Drug Rehab
Overcoming an RX drug addiction is just as difficult as managing a street drug or alcohol addiction. During your addiction recovery program, you'll learn how to manage your triggers to keep your recovery progress on track. Our treatment programs include individual treatment and group therapy. We also offer behavioral health treatment for clients with dual diagnosis. Some clients choose to participate in a family program to include loved ones in the healing process.
Tucson Top Rated Addiction Treatment
What makes our recovery center programs in Tucson, AZ, top-rated? The River Source features a comprehensive continuum of care that includes medically assisted detox programs, inpatient treatment, outpatient programs like intensive outpatient drug treatment, co-occurring disorders treatment, life skills training, family therapy, and continuing care. Our Tucson rehab programs include evidence-based and holistic treatments designed to support long-term recovery. Our treatment facility is welcoming, safe, luxurious, and conducive to real healing.
Alcohol & Drug Detox-Rehab for Residents of Tucson
If you are searching for rehab centers in Tucson, get to know all the addiction treatments and programs that The River Source offers. Whether you need inpatient treatment or an intensive outpatient program, our rehab programs are designed with relapse prevention in mind. We address each aspect of substance use disorders, helping clients build a strong addiction recovery foundation. By completing an addiction treatment program, you can take control of your life and health. Our world-class rehab treatment center can help each step of the way.
Our Treatment Specialties
The River Source has developed inpatient and outpatient programs that focus on therapies that have the backing of the medical and scientific communities. These treatments have been proven to be effective for treating substance use disorders. Like other treatment centers that offer alternative therapies like equine therapy, The River Source also offers alternative and naturopathic treatments that complement the recovery process. Whether you enroll in inpatient or intensive outpatient programs IOPs, you can expect to take part in individual counseling and group therapies.
Telehealth IOP
The River Source now offers telehealth intensive outpatient programs IOPs to support clients who can't reach our addiction treatment center in Tucson. Caring for family or attending work or school can sometimes make it extremely difficult to get the addiction treatment or co-occurring disorder therapy you need to recover. Not all treatment centers offer telehealth, but we've found that it's an excellent way to extend our reach–to help more people recover and continue their recovery journey without interruption.
Naturopathic Therapies
At our rehab center in Tucson, AZ, clients can participate in naturopathic therapies that support both physical and mental healing. Naturopathic therapies like IV and oral vitamin therapy, massage therapy, and yoga can support clients during medical detox and rehab programs. At The River Source, we are committed to treating each person's mind, body, and spirit. Our naturopathic therapies help us to target each aspect of addiction, spurring healing and lasting recovery.
IV & Oral Vitamin Therapy
People who abuse drugs and alcohol often suffer from depleted nutrition and poor health. Our treatment center targets the addiction they're battling and their overall mental and physical health to support whole-person healing. IV and oral vitamin therapy are especially important during the early stages of treatment, like medical detox. Even clients without much appetite during detox can get the nutritional support they need with this type of healthful therapy.
Amino Acid Therapy
Our bodies are made up of amino acids. Some we make, and some we need to obtain through our diet. Substance abuse often translates into a poor diet and a lack of nutrition. That's why our rehab offers amino acid treatment to ensure that clients get the nutrients they need to support health and recovery. During detox, in particular, clients can benefit from this type of nutritional support.
Massage Therapy
Yes–relaxation supports healing and recovery! That's why many treatment centers are now offering holistic remedies like massage therapy. At River Source, clients can benefit from massage therapy. During detox, massage can reduce the stress and physical aches that may accompany the process. After detox, massage can continue to support healthy stress management and relaxation.
Yoga & Meditative Therapy
Yoga and meditation therapy supports both physical and mental addiction recovery. Learning to focus and de-stress is a valuable strategy for managing substance abuse triggers. Yoga also enhances physical fitness and supports a healthy life. We offer yoga, meditative therapies, and other naturopathic treatments at our luxury Tucson rehab center. It's not uncommon for our clients to continue practicing yoga and meditation after completing their formal rehab treatment program.
Dry Infrared Sauna Therapy
Many clients include dry infrared sauna therapy as part of their treatment program at The River Source. This naturopathic therapy can help reduce tension and muscle aches that often accompany the detox progress. Many clients continue participating in this therapy during their rehab program as an effective way to de-stress and relax. Learning to relax without drugs or alcohol is a healthful strategy for preventing relapse.
Individual Counseling
Individual counseling is a cornerstone of addiction treatments at The River Source. During one-on-one counseling sessions, clients can work with their therapist to develop strategies for managing their specific triggers and situations. They can also obtain individual support if they need dual diagnosis treatment.
Group Therapy
Group therapy provides strong support for recovery. Our group therapies include many different modalities, including evidence-based and holistic treatments. Clients can support one another as they participate in therapies designed to address common aspects of addiction and recovery.
Family Education
Loved ones can also suffer when a family member is addicted to alcohol and drugs. Our Tucson, AZ, rehab can provide family therapy to help each member of the family cope with addiction and recovery. Our family therapists teach each individual how to provide healthy support for one another, repair trust issues, and communicate better.
12-Step Program
Many clients are aware of 12-step programs like Alcoholics Anonymous or Narcotics Anonymous. We facilitate 12-step programming at our recovery center. Clients can learn about the principles of 12-step recovery and may choose to embrace this form of addiction management. Many of our clients attend 12-step groups after completing their rehab program. Some attend indefinitely in order to support others who are recovering from substance use disorders.
Co-Occurring Disorders / Dual Diagnosis
Many people with substance use disorders also suffer from an existing mental health disorder like bipolar disorder, anxiety disorder, or depression. Whether you have a mood disorder that occurred before you developed an addiction or a mental illness that occurred after you became addicted to alcohol or drugs, you need simultaneous dual diagnosis treatment so that you can successfully manage both conditions. Although not all Pima County addiction rehab centers treat co-occurring disorders, our treatment center in Tucson does.
Addiction Treatment for Pregnant Women
The River Source features various treatment tracks for clients. One of them is designed specifically with pregnant women in mind. Our evidence-based and holistic treatments support the physical and emotional well-being of pregnant women as we help them manage their addiction for their own sake and the sake of their growing infant. Clients can support one another during treatment as they build their strong and lasting recovery foundation.
Trauma Informed Care
Many clients visit our rehab in Tucson with years of trauma clung to their shoulders. Our experienced therapists provide trauma-informed care to help clients find ways to cope with their trauma that are healthy. Whether witnessing or experiencing a single trauma or multiple traumas, clients know that their traumatic experiences can be powerful triggers for substance abuse. We help them manage their triggers to support sober living and emotional healing.
Addiction Rehab for Native Americans
Some demographics have been hit especially hard by substance abuse disorders. That's why The River Source offers special recovery track programs for specific groups like Native Americans, who face many challenges that are unique to their experience. With individual therapy and supportive group therapies, clients on our special recovery tracks can achieve recovery success in our healthful and caring environment.
Clinically Driven Treatment
The River Source bases our addiction treatment programs on medically sanctioned therapies like cognitive behavioral therapies. These treatments are backed by medical studies that have proven their success in treating substance use disorders. Clients can expect to participate in individual counseling and group therapies, including clinically driven ones. We complement our treatment plans with naturopathic and some alternative treatments that are known to enhance the recovery process. Together, all of our therapies support lasting recovery.
Outcome-Based Rehab Programs
The River Source treatment programs have a strong relapse prevention foundation. We help patients achieve sober living–and continue to live sober lives long after they've completed their rehab program. In fact, we guarantee treatment success. Clients who relapse within a year of treatment can return for free substance abuse treatment. We are committed to helping each client achieve lasting recovery. With an individualized treatment plan, you can build your recovery success one day at a time.
We Use Evidence-Based Treatment with High Success Rates
Evidence-based treatments like cognitive behavioral therapy and dialectical behavioral therapy help clients understand and manage the connections between their emotions, thoughts, and behaviors. A person with a substance abuse disorder experiences interconnected psychological, physical, and behavioral dependencies. Clinically driver therapies provide clients with the strategies to manage these connections and make the life changes needed to maintain long-term addiction recovery. Our inpatient rehab and outpatient programs prioritize medically sanctioned treatments that drive recovery success.
Our Integrative Approach Plus Our Cost Effective & In Network Programs Are the Best Value For Treatment
Our treatment center in Tucson, AZ, takes an integrative approach to addiction recovery and wellness. That means that we blend medically sanctioned addiction rehab programs with holistic and naturopathic treatments supporting recovery. While doing this, The River Source strives to maintain our affordable recovery programs. Currently accepting patients, our rehab staff can quickly begin your enrollment process by explaining our treatment programs in detail, verifying insurance, and helping you choose the ideal rehab treatment for your needs.
Best In Class Medically Trained Addiction Staff
As the best drug and alcohol rehab in Tucson, Arizona, The River Source attracts the best addiction specialists and clinicians. Our care team is staffed by experienced physicians, therapists, and counselors who understand the ins and outs of addiction and how addiction can manifest differently for individuals. We tailor our care to each client's needs, whether they're also battling mental health disorders like anxiety disorder or mood disorders or if they have multiple addictions. Each treatment provider offers empathetic care and behavioral health treatment that clients can depend on as they learn to manage their alcohol and drug addiction.
Premier In-Network Facility Offering Naturopathic Treatment Types
Not all rehab centers in Tucson offer naturopathic treatments, but The River Source knows how valuable these therapies can be with their support of the healing process. Drugs and alcohol take a serious toll on the mind, body, and spirit. While medically sanctioned addiction treatments target the addiction, our holistic therapies target the whole individual, providing the support that people need to heal wholly and completely. At our in-network treatment facility, you can enjoy a wide range of naturopathic treatments, including yoga, meditation, massage, and more.
Our Treatment Guarantee
You won't find many Tuscon, AZ, alcohol and drug rehabs that offer a guarantee, but The River Source does. If you relapse within a year of your treatment, you can return for free substance abuse treatment. That's how much we believe in our capability to help clients successfully manage their addiction to drugs and alcohol. We also feature continuing care with our alumni program so that clients who need ongoing support can get it. Get in touch with us to learn about our admissions process and substance abuse treatment programs.
Recovery Friendly Attractions in Arizona
During your recovery, you must fill your time with sober-friendly things to see and do. Relapse is always a concern, so it's crucial to avoid places or situations that can be triggered to use. The following Tucson attractions and things to do can help you keep your recovery journey on track.
5700 N Sabino Canyon Rd, Tucson, AZ 85750
Escape the city crowds to enjoy some hiking in Sabino Canyon. Located north of Tucson in the Santa Catalina Mountains, the canyon offers stunning views of waterfalls and the desert landscape.
2150 N Alvernon Way, Tucson, AZ 85712
Featuring 16 types of gardens, the Tucson Botanical Garden is a popular attraction that's perfect for strolling and enjoying the sunshine. The site encompasses more than five acres and includes popular gardens like its Zen garden and butterfly garden.
University of Arizona Art Museum
1031 N Olive Rd, Tucson, AZ 85721
Check out the latest exhibits at the University of Arizona Art Museum. Be sure to mark your calendar for its special events held throughout the year. You might also enjoy other university events such as theater performances or college sporting events.
2021 N Kinney Rd, Tucson, AZ 85743
The Sonora Desert Museum features a zoo, aquarium, and even a natural museum on its grounds. Situated on nearly 100 acres, the museum complex is a fun place to explore to enjoy local desert flora and fauna.
2700 N. Kinney Rd, Tucson, AZ 85743
The two parts that makeup Saguaro National Park are famous, of course, for their stands of saguaro cacti. The enchanting park features hikes and trails that are suitable for all skill levels. 
Tucson Neighborhoods We Serve
The River Source serves clients in and near Tucson. Many of our clients come from Tucson neighborhoods and subdivisions that include:
Arcadia Rose
Barrio Hollywood
Aldea Linda
Iron Horse
Barrio Viejo
Menlo Park
Rincon Heights
Barrio Santa Rosa
Shadow Hills
El Presidio
Bear Canyon
Dunbar Spring
Oro Valley
Carriage Park
Garden District
Loma Verde
Miramonte
Armory Park
Palo Verde
QUICK, CONFIDENTIAL INSURANCE VERIFICATION
CLICK BELOW TO FIND OUT IF YOU HAVE COVERAGE