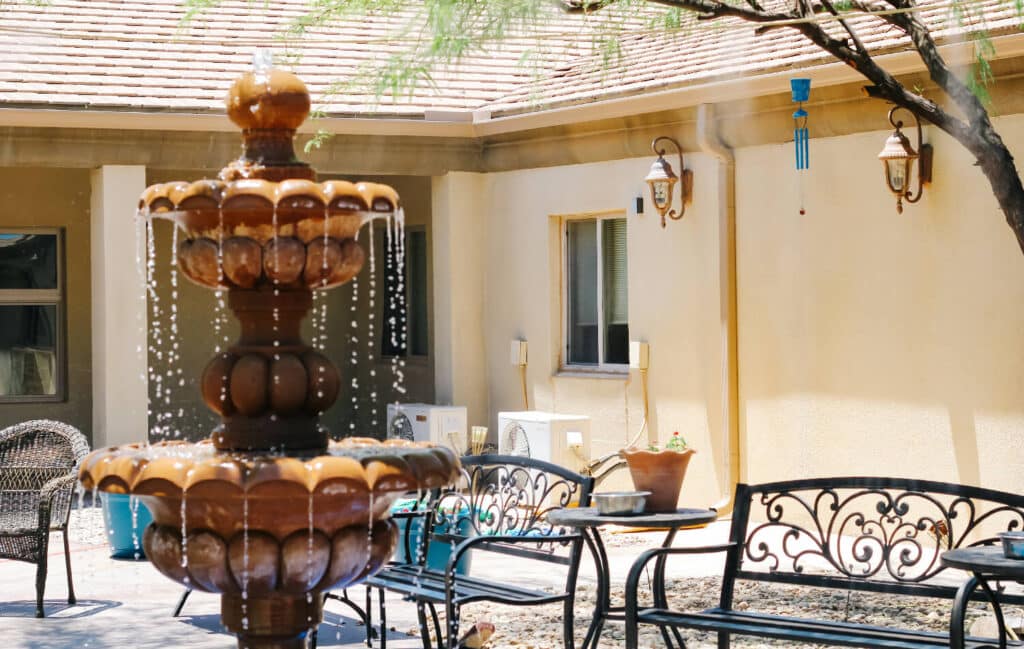 #1 Cocaine Detox and Rehab in Tucson
Admitting to yourself and possibly your loved ones that you have a drug abuse problem and want to look into cocaine addiction rehab is a big step in anyone's life. It's often hard for ourselves to see what substance use disorders are doing to us and the realization can be painful, but necessary, in order to begin a recovery plan. At The River Source we have many levels of care which allow you to choose the right rehab plan for you. Everyone who has abused or become addicted to drugs or alcohol has experienced different mental and physical effects. That's why we offer treatments at our drug rehab center that help people heal the damage done to their minds, bodies, and spirits by drugs or alcohol. If you or one of your loved ones is interested in cocaine addiction treatment and would like to know about the available levels of care we offer, call us today.
YOU'RE NOT ALONE – WE CAN HELP
TAKE THE FIRST STEP AND APPLY FOR TREATMENT TODAY
Why Choose The River Source Tucson for Cocaine Detox & Drug Rehab?
At The River Source we have an inpatient treatment center and an outpatient treatment center staffed with highly trained medical professionals and addiction recovery specialists whose goal is to help as many people as possible make a major change in their lives. We believe in a holistic approach to treating substance use disorders and have a step by step process during which we address the spiritual, mental and physical issues you have caused by powder or crack cocaine. We provide quality care to people from all walks of life. If you are seeking treatment in Arizona including a detox program, residential inpatient care, outpatient rehab, Cognitive Behavioral Therapy (CBT), or any other types of treatment within our levels of care, call and speak to one of our addiction treatment counselors today. If you are worried about one of your loved ones and would like to learn more about the effects of cocaine and possible signs and symptoms of abuse, we can provide educational services too.
First Class Amenities
At The River Source we offer luxury rehab for alcohol treatment, drug treatment, detox treatment, heroin addiction rehab, other opioid addiction rehab, cocaine addiction treatment, and plans for co-occurring mental disorders, like bipolar disorder, in conjunction with treatment in our top addiction treatment center in Tucson. Substance use disorders affect people from the boardroom to the classroom and we have levels of care that fit each of their needs. As part of our first class amenities we offer specialized plans for men's inpatient treatment and women's inpatient treatment. We also know that being in a peaceful, safe environment can be key to successfully beginning your addiction recovery. At our Arizona drug rehab facility we have a rejuvenating water fountain, a peaceful courtyard, inspirational trails, beautiful exterior landscape, and quiet, serene mediation areas. We also offer plenty of activities and recreational areas for after the therapy day, and these include basketball, volleyball, yoga, frisbee golf, hiking areas, and other types of exercise. 
What Is Detox Like?
Cocaine detox can be the first phase of a comprehensive recovery program at The River Source. Cocaine addiction can cause a lot of damage to a person's life and general wellbeing and by taking the first step to rid your body of all the toxins associated with drug abuse, you are moving forward in a positive direction. Cocaine detox is one of our inpatient treatment rehab programs and is staffed by medical professionals and drug and alcohol counselors. During medical detox you will be monitored 24 hours a day to ensure that any withdrawal symptoms you are experiencing do not adversely affect your health. You may also be issued over the counter medicines for common withdrawal symptoms like headaches, body aches, nausea, and dizziness. In general you will be made as comfortable as possible so that you can move on to the next phase of your recovery program. 
How Long Does Detox Last?
Drug and alcohol withdrawal symptoms can begin as soon as just hours after a person uses or drinks for the last time. That's why it's important to have a medical detox program in mind or one that you know you're going to take part in before you begin cocaine withdrawal. Although an individual can go through drug detox at home, it can be very dangerous and is not advised. Cocaine detox typically lasts five to seven days and you will begin to experience the side effects of cocaine withdrawal 8 to 12 hours after you last use the substance. By the second day you will most likely experience common symptoms like lethargy, nausea, and some loss of motor control. Even after five to seven days you may still have symptoms that resemble the flu.
What Happens After Detox?
A rehab program that begins with cocaine detox can continue in a number of ways. First, a person can continue inpatient treatment and begin cocaine rehab with us in our residential care environment. In a lot of cases an individual will start group therapy sessions during medical detox and these can continue as part of inpatient treatment. Individual therapy and other types of treatment will be part of an overall plan, too. If inpatient treatment isn't a good fit for an individual, then they can take advantage of one of our other levels of care. We offer traditional outpatient substance abuse treatment.  We also have Intensive Outpatient Programs (IOP) and Partial Hospitalization Programs available to our clients. Over the long term, people can also take advantage of our alumni programs that include support organizations like Alcoholics Anonymous and Narcotics Anonymous meetings. 
How Long Does Cocaine Rehab Last?
No one ever sets out with the goal of needing drug abuse treatment as part of their life. However, it is a reality for millions of people and a process that can truly be transformative once you begin your addiction recovery.  Rehab centers that offer high quality care like at The River Source customize all of the alcohol or drug abuse treatment plans so that the needs of the individual struggling with addiction are met. What this means is there is no set amount of time that can be put to cocaine addiction rehab; it's all up to the individual. There are parts of addiction rehab that have timetables that can be estimated. Cocaine detox typically takes five to seven days, but has been known to last up to three weeks in some specific cases. There are also programs that last a particular length of time, like 30, 60, and 90 day inpatient rehab programs. However, overall rehab from substance use disorders is very open ended and should not be rushed.
30 Day Cocaine Rehab in Tucson
The effects of cocaine can impact a person's health and mental wellness in a number of ways.  By taking part in a 30 day cocaine rehab program at our Tucson drug rehab center, a person can begin to center themselves and look forward towards a happier, healthier phase of their life. Inpatient drug rehab allows a person to concentrate solely on their substance use disorders and the root causes of their drug abuse.  People can get involved with drugs or alcohol due to a lot of reasons and in a lot of situations and during residential inpatient treatment we try to help them get to the bottom of their substance abuse so that they can help avoid it in the future.
60 Day Cocaine Rehab in Tucson
Outpatient rehab can be an excellent choice for many people after detox treatment. Due to some people's circumstances, they cannot commit to residential inpatient care and taking part in a program at a drug rehab center would cause them more stress, and harm, than good. However, if you are seeking treatment and can commit to inpatient addiction rehab, there are a lot of benefits to take advantage of during your stay. During 60 day cocaine rehab, our patients take part in individual therapy, group sessions, and alternative therapy options all pointed towards helping them change their habits and behaviors when they return to society and the real world. Drug and alcohol abuse treatment that lasts 60 or 90 days gives therapists a good amount of time to help clients with life skills, coping skills, and to develop a solid relapse prevention plan. 
90 Day Cocaine Rehab in Tucson
Cocaine addiction rehab can sometimes be a complicated situation as individuals may have been using powder or crack cocaine, and possibly other substances, for quite some time. If a person has suffered a lot of mental and physical trauma during that time, it can take a lot of effort to unravel. That's where a 90 day cocaine rehab treatment program can be helpful. Inpatient treatment in general lets a person think only about getting better while they are staying with us. A 90 day rehab program gives individuals with severe drug addictions ample time to deal with all of the experiences they had as part of substance abuse.  
If you or one of your loved ones is struggling with cocaine addiction and would like to know more about our levels of care and substance abuse treatment options, call us today. We're here to help. 
Our Recovery Guarantee
We are so confident in our program and in your ability to achieve recovery we offer a 100% recovery guarantee. It is important for us for you to feel empowered and assured that if you put in the work, the recovery program will work for you. If you relapse within one year of successfully completing our full continuum of care, you can come back to The River Source at no extra charge. Please give us a call today and start your road to recovery.