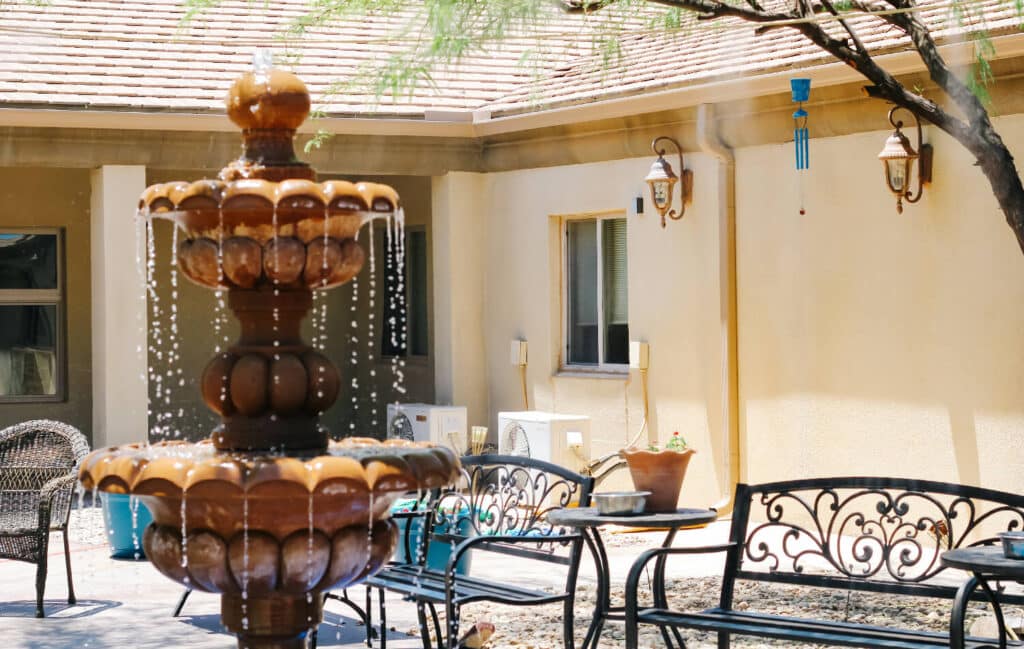 The River Source (TRS) is a detox and rehab center in Arizona accredited by the Joint Commission and highly successful in helping patients quit drugs and alcohol and enter long-term recovery through an integrative approach to treatment that combines naturopathic care with evidence-based therapies and top-tier medical care. Combining these treatments in a holistic approach gives each patient the best chance of avoiding relapse and meeting individual needs through customized care plans. Our inpatient rehab facility is located in Arizona City, AZ, and we have two outpatient facilities: one in Gilbert AZ, and one in Phoenix AZ. Detox is given in inpatient care. You will live inside the treatment center and be provided with robust treatments for medical, emotional, social, behavioral, and psychological issues you may face alongside your addiction.
YOU'RE NOT ALONE – WE CAN HELP
TAKE THE FIRST STEP AND APPLY FOR TREATMENT TODAY
Why Choose The River Source Arizona for Drug Detox?
When you Tucson AZ residents choose The River Source Arizona for your drug detox needs, you are choosing:
A well-established and experienced, serious detox center

24-hour medical care and evidence-based treatments

A highly effective program with a guarantee of success for up to one year after treatment

A comprehensive and cost-effective program with affordable private pay rates and financial help for those who qualify

Safe medical detox plans that provide prescription medications along with holistic therapies to keep you comfortable and safe

Individual therapy that includes life coaching, counseling sessions, and long-term continuing care planning for life after rehab treatment

Interesting and effective treatments, from cognitive behavior therapy to art therapy and exercise time
Our mission is to provide you with a foundation for a lifetime of recovery. Detox does not need to be traumatic, frightening, or painful and with our highly experienced, educated, and credentialed team of addiction experts by your side, along with:
Effective medical care

FDA-approved prescription medications

Holistic treatments to strengthen the body

Dual diagnosis care for co-occurring conditions

Mental health treatments and support

Therapy and counseling throughout detox

Peer support
You will be able to get through this difficult portion of your substance abuse treatment and move forward with your life on a positive trajectory.
What Is Detox Like?
When Tucson, Arizona residents enter detox at The River Source, you will move into a comfortable shared room with one other person, with a full bathroom and a walk-in closet. You will live in the center for the duration of your detox, moving into the inpatient rehab section after detox is complete. You will have access to:
An on-site washer and dryer

Group TV rooms

Cell phone use after day 8, from 4:30 to 6 pm

Smoking and vaping are allowed in certain areas

Holistic and naturopathic treatments like vitamin IV therapy, amino acid therapy, oral vitamin therapy, infrared sauna treatments, deep tissue massage, yoga, and meditation

Medically assisted treatments (MAT) from all substances including opiates, alcohol, benzodiazepines, methadone, prescription drugs, cocaine, crystal meth, etc.

Medical care 24 hours a day
We believe that the more comfortable you are during your detox, the more focused you will be able to be on your sobriety from the start, improving your overall recovery rate.
Types of Drugs We Treat
At The River Source, we treat several types of drugs in our drug detox programs and drug rehab program. Each substance requires its own unique treatment plan, care, therapy, and medical protocols. The following are some of the most common drugs seen in our treatment centers.
Meth Detox in Tucson
Withdrawal from meth has specific symptoms that may be extremely uncomfortable and painful, with drug addicts experiencing strong cravings for more meth that often results in relapse. Withdrawal symptoms include:
 

Feeling tired/fatigued/lethargic

 

Increased appetite

Dry mouth

Weakness

Dehydration

Jitteriness/tremors

Muscle pain

Depression/apathy/hopelessness (may include suicidal ideation)

Paranoia/hallucinations/delusions
Cocaine Detox in Tucson
Cocaine is a powerfully addictive drug that causes a serious psychological addiction, often requiring a stay in a Tucson, AZ inpatient rehab followed by longer-term outpatient drug rehab in Tucson and follow-up treatment programs with a strong relapse prevention plan. Symptoms of cocaine detox include:
Hallucinations and paranoia

Restlessness, insomnia, and nightmares

Drug-induced psychosis

Muscle pain

Tremors

Malaise or lethargy

Strong drug cravings
Benzo Detox in Tucson
Benzodiazepines are a dangerous drug to quit cold turkey, especially if you have been using them for a long time or have been using large quantities. A medically supervised slow taper in a medication-assisted treatment will help you avoid severe anxiety, cravings, and seizures. Other common withdrawal symptoms of benzos are:
Increased heart rate

Shaking

Panic

Insomnia/trouble sleeping

Light and sound sensitivity
Oxy Detox in Tucson
Oxycodone is a prescription pain medication in the opioid family, meaning it binds to opioid receptors to stop the pain and create a mild euphoria. This is also an incredibly addictive drug, even if you take it as prescribed. Treatments include a combination of medication, behavioral health care, doctor oversight, continuing care, and therapy. Common withdrawal symptoms from oxy are:
High blood pressure and rapid heartbeat

Flu-like symptoms

Nausea, diarrhea, and vomiting

Muscle aches

Insomnia and restlessness

Strong drug cravings
Heroin Detox in Tucson
Heroin is difficult to quit, as the withdrawal symptoms and drug cravings can be devastating, painful, and distressing. A medication-assisted detox is often necessary to safely tap off this drug. Common withdrawal symptoms include:
High blood pressure

Anxiety and rapid heart rate

Muscle and bone pain

Nausea, diarrhea, and vomiting

Flu-like symptoms

Severe drug cravings
How Long Does Detox Last?
As we utilize a whole-patient approach to healing through detox and rehab, your holistic and evidence-based care will be customized to your individual needs. Each person has a unique timeline for detoxing, but it usually falls between 1 and 10 days.
What Happens After Detox?
After detox, your program is designed to direct you into inpatient rehab (30 to 90 days), then a partial hospitalization program (1 month, full days Mon-Fri), then into an intensive outpatient program (2 months, mornings or afternoons Mon, Wed, and Th), ending with a 6-month general outpatient program. These include treatments like:
12-step principles

Individual treatment

Group therapy

Family therapy with loved ones, education, and counseling

Cognitive behavioral therapy

Dialectical behavioral therapy

Trauma-informed care

Dual diagnosis treatment for a co-occurring disorder (care for mental health issues like mood disorders, depression, or anxiety in your addiction treatment plan)

Psychoeducational groups

Neurofeedback

Psychiatric services

Evidence-based treatments

Naturopathic services

Continuing long-term addiction treatment and continuing care coordination
Our rehab programs for Tucson Arizona residents are designed to help drug addicts heal the body, mind, and spirit. The body is healed through detoxification, healing, re-building strength, exercise, stretching, acupuncture, nutritional programs, and repairing the damage caused by long-term substance abuse. Healing the body will help clients gain the stability and energy needed to continue toward a sustained recovery.
The mind is healed by reconnecting the mind and body to increase emotional wellness. Clients will develop coping strategies, regain independence, build positive habits, and resist triggers through counseling, therapy, meditation, and yoga. In process groups, family therapy, and other psychiatric treatments, we utilize eastern and western medicine to help patients rebuild relationships, relearn social habits, and address underlying and co-occurring disorders, including mental health issues, emotional disorders, and trauma.
The spirit is healed by pursuing your own individual path to recovery. Healing is an individual journey, and we will support you in finding your life's purpose, reconnecting with your spirit, and practicing as little or as much religion as you wish. We will also begin 12-step healing with fellowship and community support, treating each patient in a holistic whole-person approach on and off our rehab campus.
Why Detox at The River Source?
At The River Source rehab centers, we don't just allow family contact, we encourage it. Family involvement can be crucial to a client's recovery, so we foster that support by providing family education, therapy, visitations, and/or video calls within our clients' treatment programs. Some other excellent reasons to choose The River Source for Tucson drug rehab are:
Our inpatient treatment programs and outpatient rehab are outcomes-driven with plenty of evidence-based clinical care and practical tools used alongside naturopathic healing in a holistic approach to healing.

Our treatment center has plenty of comforts, including TVs in the detox rooms, residential TV rooms fitness equipment, games, and recreational activities

Our integrative approach includes all support you will need for a lifetime recovery, including a lifelong alumni services program with long-term sobriety planning, community gatherings, an alumni hotline, a newsletter, and a private Facebook group

We are in-network with most major insurance companies, and we are accredited by the Joint Commission, proving our best-in-class ratings as a premier in-network facility
Our Recovery Guarantee
At The River Source drug rehab center, our recovery guarantee is that it will take 150 days to reclaim your life from drug and alcohol addiction through integrated individual treatment. If you relapse within one year of completing the full continuum of care (detox, inpatient drug and alcohol rehab, partial hospitalization program, intensive outpatient program, and general outpatient treatment), you may return at no additional cost.
Call our drug and alcohol rehab now, we are accepting patients, can verify insurance coverage, or answer any questions you may have about substance use disorders treatments, drug or alcohol rehab, or our treatment facility. We're here to help.
QUICK, CONFIDENTIAL INSURANCE VERIFICATION
CLICK BELOW TO FIND OUT IF YOU HAVE COVERAGE