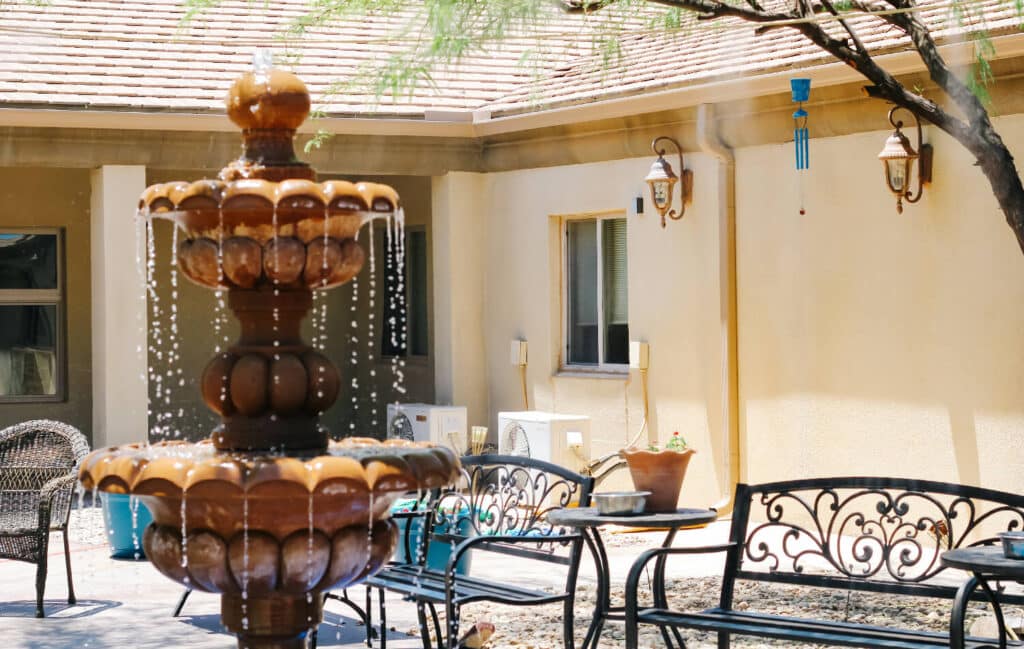 Featuring more than 20 years of experience providing substance abuse treatment, The River Source has become Tucson's premier detox and drug rehab center. We offer residential treatment, outpatient programs, and a lifetime alumni program that provides continuing care. Drug addiction is a chronic condition, but it can be successfully managed with quality addiction treatment. Combining medically approved substance abuse treatment and naturopathic therapies, The River Source has helped thousands of people overcome their dependence on powerful street drugs like heroin and prescription drugs like oxycodone. Our treatment programs target each aspect of addiction, helping people achieve the long-term recovery they crave. We're so confident in our ability to help clients manage their drug addiction that we guarantee their success. If you relapse within one year of completing your drug addiction treatment, return to our Tucson, Arizona treatment center for free.
YOU'RE NOT ALONE – WE CAN HELP
TAKE THE FIRST STEP AND APPLY FOR TREATMENT TODAY
Types of Drug Addictions We Treat
As a leading drug treatment center in Tucson, The River Source treats a complete range of substance use disorders, including street drug addictions, prescription drug addictions, and alcohol addiction. We apply a conventional and holistic approach to each treatment plan to support physical, psychological, and spiritual healing. When you enroll in our drug treatment plan for inpatient treatment or an intensive outpatient plan, we will evaluate your needs to recommend the ideal therapies for you.
Our rehab treatment generally consists of individual counseling, group therapy, and multiple treatment modalities that address many aspects of drug abuse disorders. Unlike other Tucson, AZ, rehab centers that offer cookie-cutter treatment programs, we individualize therapies to provide clients with the effective support they need to reach their recovery goals.
Heroin Rehab in Tucson
Heroin is a highly addictive and frequently deadly drug. Every day in Arizona, at least five people die from opioid overdoses. Heroin is an illicit opioid drug that is one of the most widely abused street drugs in the state. By enrolling in our detox and Tucson inpatient drug rehab center, you can put heroin abuse behind you.
Our clinicians support clients each step of the way. We can provide medication-assisted treatment MAT to help reduce cravings and withdrawal symptoms associated with heroin addiction. We will tailor our drug rehab treatment program to suit your condition needs. We can provide dual diagnosis treatment as well as behavioral therapy that addresses your unique circumstances.
Cocaine Rehab in Tucson
Cocaine is an addictive stimulant that is known to wreck health, careers, finances, and relationships. With drug detox (if needed), inpatient rehab, or an intensive outpatient program, you can end your cocaine dependence. During our treatments, like dialectical behavior therapy, we'll help clients identify what led them to abuse cocaine and how to manage their triggers to use. We also help clients develop the life skills they need to keep relapse at bay and safeguard their continued recovery journey.
Oxy Rehab in Tucson
Oxycodone is a widely abused opioid prescription drug. Opioid painkillers like oxy and fentanyl are extremely addictive. Because they're so powerful, they can cause an overdose when abused and even death. Prescription drug addiction continues to be a problem in Tucson, Arizona, as elsewhere in the country. The River Source offers traditional and holistic therapies that support opioid recovery. Many clients benefit from medication-assisted treatment for opioid drug disorders and individual counseling that addresses their unique treatment needs.
Meth Rehab in Tucson
Methamphetamine is among the chief drugs abused in Arizona. Meth also has one of the highest drug relapse rates. Even after treatment, more than 93% of people addicted to meth experience relapse. At our recovery center, we guarantee treatment success, or you can return for further treatment. If you relapse within the first year of completing your meth recovery treatment program, you can return to our rehab center for treatment. We are wholly committed to your meth recovery success and believe in the healing power of our drug treatment plans and their ability to promote lasting recovery.
Benzo Rehab in Tucson
Benzodiazepines are a class of prescription drugs that treat anxiety, but they're also widely abused and taken recreationally. As addictive drugs, benzos can also be dangerous. Overcoming a benzo addiction requires high-quality drug addiction treatment. Drug or alcohol use disorders are chronic and frequently progressive without medical detox and behavioral therapy. Our recovery center can help you manage your benzo addiction to protect your health and future. Visit our rehab center in Tucson to see why we're the best drug rehab in Arizona.
Prescription Drug Rehab in Tucson
Prescription drug addiction can be as dangerous and deadly as any other form of substance addiction. If you've developed a dependence on a prescription drug or abuse prescription drugs, you need treatment. The River Source can help you manage your addiction with our detox programs that combine traditional therapies and naturopathic treatments like IV therapy to promote recovery. Inpatient drug treatment or outpatient treatment programs can target your mental and behavioral dependencies in order to promote lasting recovery.
Top Rated Addiction Treatment in Tucson
If you are suffering from drug addiction, you can rely on The River Source, one of the best drug rehab centers in Arizona. As a leading addiction treatment provider, our Arizona rehab features a safe and relaxing rehab campus. We offer detox programs as well as drug rehab inpatient and outpatient programs. We also offer an alumni program to ensure that clients get the ongoing support they need. Additionally, we feature special treatment tracks for men, women, pregnant women, and Native American clients. A leader among drug rehabs in Tucson, AZ, The River Source can help you manage your addiction for recovery success.
Tucson Drug Rehab for High-Net-Worth Individuals & Celebrities
While The River Source does feature a luxurious treatment facility and amenities like a fitness center that are popular with clients, we stress that what we offer is the highest quality treatment for drug and alcohol addictions. Our drug and alcohol rehab is clinically driven. We focus on substance abuse disorder treatment as opposed to swimming pool maintenance.
While offering world-class inpatient drug rehab and outpatient treatment programs, we do take care to ensure that our clients are as comfortable as possible. Our treatment facility is expertly maintained and designed to promote healing and positivity. While other luxury treatment centers in Tucson focus on luxury amenities, we focus on transforming lives and health for lasting recovery.
Why Choose The River Source Tucson for Addiction Treatment?
Tucson residents choose The River Source because we have a reputation for being the best drug treatment rehab in Arizona. We offer individual treatment that's tailored to each client's particular needs. Some clients require a medical detox, family therapy, dual diagnosis treatment, or treatment for drug and alcohol addictions. Our addiction rehab in Tucson covers all levels of care to ensure that we meet clients where they need us.
Our evidence-based and holistic treatment approaches set us apart from the best drug rehab centers in Arizona. We combine medically sanctioned addiction treatments such as cognitive behavioral therapies and naturopathic therapies like massage and dry infrared sauna to treat the mind, body, and spirit. The combination of conventional drug abuse treatment and naturopathic therapies supports whole-person recovery. By completing our drug addiction treatment program, you can achieve your recovery goals and begin your life anew.
If you're searching for Tucson, AZ, addiction treatment centers that take a holistic approach to wellness, choose The River Source. We combine traditional drug addiction treatments, including cognitive behavioral therapies and naturopathic treatments like massage therapy, to help clients successfully manage their drug addiction. Each drug rehab program we offer can be tailored to our client's unique needs.
We can provide behavioral health care for clients with co-occurring disorders and even family therapy for loved ones who want to participate in the recovery process. The River Source is now accepting patients to our alcoholism and drug inpatient and outpatient treatment programs. We also feature medically supervised detox, medication-assisted treatment MAT, and more.
Our Recovery Guarantee
Even among the best drug treatment centers in the country, you'll find few that guarantee addiction recovery success. The River Source is one of them. We have developed leading drug and alcohol treatment programs based on medically conventional and naturopathic therapies that work to help clients transform their lives and health. Our addiction treatment guarantee is this: if you experience relapse within the first year of completing our rehab treatment program, you can return for free for further addiction treatment in Tucson.
Drug and alcohol addiction is complex. A person in recovery has to manage their triggers to use them 100% of the time. Mismanaging them just once can result in relapse. That's why our addiction recovery programs are comprehensive, targeting each aspect of addiction and recovery to help clients build the strongest foundation for their sober lives. Contact our drug and alcohol rehab to begin your recovery journey with the empathetic care and individual therapies you need to succeed.
QUICK, CONFIDENTIAL INSURANCE VERIFICATION
CLICK BELOW TO FIND OUT IF YOU HAVE COVERAGE