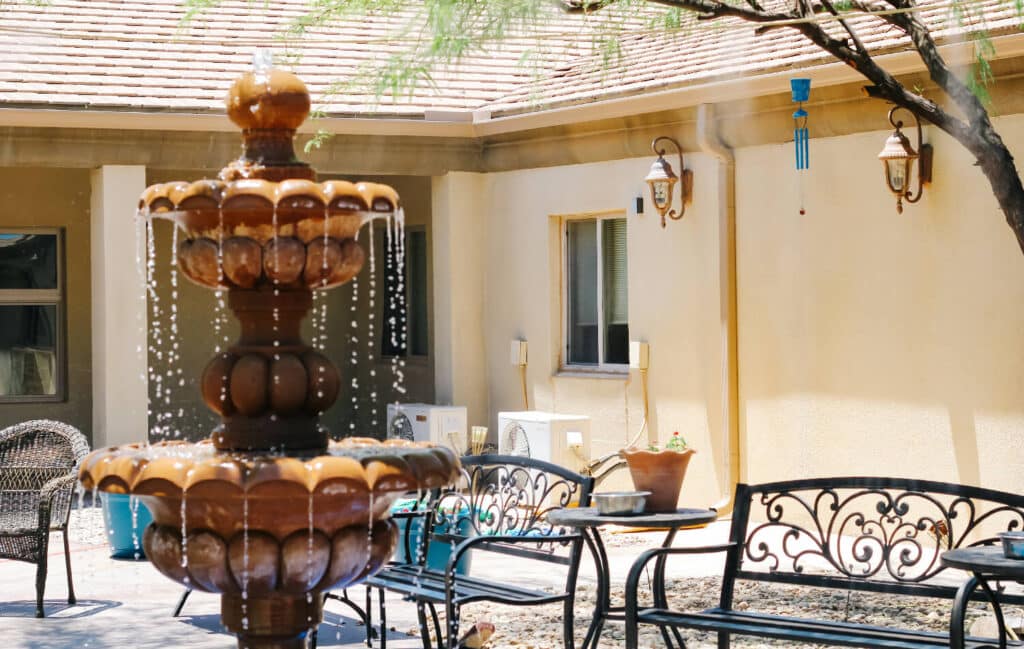 #1 Heroin Detox Rehab in Tucson
The River Source is the top heroin detox in Tucson, Arizona, offering inpatient treatment in the city of Tucson, and outpatient rehab in Gilbert, Arizona and Phoenix, Arizona. We offer the full continuum of care, including:
Medical detox
Residential treatment (inpatient rehab)
Intensive outpatient treatment programs
Partial hospitalization programs
General outpatient programs
Telehealth intensive outpatient treatment throughout the state of Arizona
Lifetime alumni services
Established in 2003, we are accredited by the Joint Commission, taking an integrative approach to all substance abuse treatment, with a focus on kindness, integrity, and delivering clinically driven results through effective treatments and care instead of empty promises. Our team will deliver a quality holistic rehab program that incorporates treatments for the body, mind, and spirit as you heal from addiction to drugs and alcohol.
At The River Source, our medical director is a naturopathic doctor who will work with you as a patient to create a customized treatment program that incorporates conventional therapies with naturopathic treatments in a whole-patient approach to long-term healing with proven results. Our team achieves high success rates through this integrative and cost-effective approach to substance abuse treatment.
YOU'RE NOT ALONE – WE CAN HELP
TAKE THE FIRST STEP AND APPLY FOR TREATMENT TODAY
Why Choose The River Source Tucson for Heroin Detox & Drug Rehab?
Choosing The River Source rehab facility over other rehab treatment centers in Tucson for your heroin detox and rehab will provide you with comprehensive care both on and off our rehab campus that will build your foundation for a lifetime of recovery. Heroin can be a devastating drug that may feel impossible to quit, but with our integrated holistic treatment plans, we can get you through your withdrawal in our inpatient medication-assisted detox program with a full medical team on-site day and night. In a MAT program you will:
Be kept safe and have 24-hour monitoring by medical professionals
Be provided with prescription medications if needed for your comfort and safety
Begin a tapering-off program, with replacement drugs provided to help you quit opioid use on a slow and measured schedule
Your detox is only the first step to a lifelong recovery, and our addiction treatment center's team will collaborate with you to build a program that will best suit your needs as you rehabilitate. Your rehab will include behavioral therapy, group therapy, 12-step programs, individual therapy, and plenty of family involvement, including family counseling sessions, family education groups, visiting hours, and 4-hour weekend passes with family. You may also invite your family to your transition ceremonies if you wish.
First Class Amenities
At The River Source, we offer a healing and comfortable environment, featuring open spaces and outdoor areas to enjoy, and a cozy interior with comfortable semi-private bedrooms with a maximum of one roommate and full bathrooms. You will have a TV in your room during detox, and during residential rehab, there are TV rooms to enjoy. We also have:
Fitness equipment

Games and recreational activities

Sand volleyball court

Basketball

Frisbee golf

¼ mile track

Yoga and exercise classes

Art therapy groups

Well-balanced nutritional food

On-site washer and dryer

Outside group meetings, alumni and 12-step sponsors

Church attendance (not mandatory)
For your comfort and to reduce unnecessary distress we allow smoking and vaping in designated areas at the recovery center during scheduled breaks, and after day 8 of treatment, you may use your cell phone between 4:30 pm and 6:00 pm every day.
There are additional holistic treatments available for purchase, like acupuncture, a comprehensive blood panel analysis, massage therapy, IV nutrient therapy, B-vitamin boosters, and an enhanced supplement package. At any time during your treatment plan, you can ask your case manager or any staff member how to access these amenities.
What Is Detox Like?
Detox is an inpatient treatment program at The River Source Tucson drug detox center, in which we utilize an integrated approach that combines evidence-based therapy and treatments and medical care with naturopathic services, so you can reap the benefits of both schools of thought. The goal is for you to remain comfortable, stopping the worst of the withdrawal symptoms and cravings, with a strong focus on a sober future. Detox programs may include:
Medical detox

Medical care 24/7

Naturopathic & Conventional

Nutritional IV

Oral vitamin therapy

Amino acid therapy

Acupuncture

Dry sauna

Massage therapy
How Long Does Heroin Detox Last?
Detox at The River Source lasts for an average of 1 to 10 days, with the timeline depending on your individual treatment plan, and factors like:
How long you were using heroin

Whether you need dual diagnosis treatment for a co-occurring condition

How much heroin you were using and how often

Whether you were using heroin with other drugs or alcohol

Whether you have health conditions that need management alongside your detox
What Happens After Detox?
After Detox, you will move into your holistic, evidence-based drug and alcohol rehab plan. At The River Source, we pride ourselves on healing the body, mind, and spirit in one comprehensive treatment program. We offer several levels of care within our Tucson rehab and our outpatient drug or alcohol rehab facilities throughout Arizona. These include:
Inpatient Rehab
Inpatient drug rehab is 30 to 90 days of inpatient care. This means you will move into our safe and comfortable, 100% sober rehab center for a full 30 to 90 days, living inside our supportive environment, and accessing:
Individual therapies with a counselor

Life coaching

Continued medical care and medication-assisted treatment (MAT)

Process groups

Lectures

Art therapy

Family counseling services, family groups, and family involvement

Holistic healing methods and naturopathic services

Psychiatric services and dual diagnosis treatments

Cognitive behavioral therapy and dialectical behavioral therapy

12-step principles

Psycho-educational groups

Neurofeedback

Yoga and meditation

Exercise time

Book studies

Continuing care coordination and planning
When you transition out of residential rehab into outpatient rehab, or if you are unable to commit to inpatient treatment due to life's obligations, you will have the opportunity to enter our partial hospitalization plan (20 sessions over one month) and our intensive outpatient plan (24 sessions over 2 months). You will live outside of the facility but come to outpatient treatment on a set schedule.You may move into a sober structured living facility during PHP, IOP and GOP  if you need a sober-friendly place to live with strong boundaries set in place.
Partial Hospitalization Program
The Partial Hospitalization Program (PHP) is a highly structured outpatient rehab program that includes:
Individual counseling and group counseling

Life skills programs

Relapse prevention programs

Family involvement

High accountability for your actions
Intensive Outpatient Program
The Intensive Outpatient Program (IOP) addiction treatments occur on Mondays, Wednesdays, and Thursdays either in the morning or evening, with flexible scheduling. The IOP can take place on-site in our drug treatment centers, or online, depending on your needs. Treatments include:
Life skills programs

Relapse prevention skills

Family involvement

Continued therapy sessions

Aftercare planning
General Outpatient Plan
The General Outpatient Plan (GOP) is an even more flexible program that allows you to work with the same team after rehab is complete:
One weekly process group

One counseling session per month

Relapse prevention and coping skills

Lifestyle guidance and accountability

Individual treatment and counseling

Aftercare planning

Long-term follow up care
Alumni Services
Lifetime alumni services are also part of rehabilitation from substance use disorders with The River Source, keeping you active in your heroin addiction recovery and focused on sobriety, long-term. Our alumni group provides:
A supportive community

Somewhere to turn during difficult times

An alumni services hotline

12-step meetings every Saturday morning

Sponsorship

Fun events with food, activities, and education

A private Facebook group and a monthly email newsletter to keep you up to date on workshops, meetings, and events at our addiction treatment centers and in the community
30 Day Rehab in Tucson
30 days is the minimum length of time recommended for our inpatient drug and alcohol treatment. The longer you spend inside our sober and supportive environment, the more time you will have to build new habits, learn new behavioral health and relapse prevention techniques, avoid the temptations of returning to heroin use, heal, and gain perspective on life, with an eye toward the future. In 30 days you will be able to make a lifelong change, especially if your time in our drug rehab center is followed by an outpatient program, with connections to our alumni network.
60 Day Rehab in Tucson
If you are in a medication-assisted treatment (MAT) detox program, a longer time spent in residential treatment in Tucson may be a good idea. Heroin addiction can be severe, and maintaining your sobriety will be easier with full-time care and support from our professional, dedicated, and non-judgmental staff in a sober living environment. Those who are starting new psychiatric medications in a dual diagnosis treatment plan may also benefit from remaining under the watchful eye of staff in our comfortable accommodations for 60 days. Two months in our rehab treatment centers will help you break old habits, establish healthy routines, and heal your body, mind, and spirit.
90 Day Rehab in Tucson
90 days of inpatient rehab in Tucson is a long-term program, guaranteed to help you make life-changing progress on your road to recovery. You will have plenty of time to try new therapies and treatments, learn what works for you, create new goals and work towards them. The longer you stay in our rehab centers in Tucson, the lower your risk of relapsing will be.
At The River Source we offer a recovery guarantee. If you complete your continuum of treatment and relapse within one year of graduation, you may return for free. We are in-network with over 50 insurance companies, and we provide financial options for patients and families that qualify to ensure that finances are not stopping you from getting the help you need. To learn more about our heroin medical detox and rehab programs, please phone us today at 888-687-7332. We can verify insurance coverage or answer any questions you may have.
Our Recovery Guarantee
We are so confident in our program and in your ability to achieve recovery we offer a 100% recovery guarantee. It is important for us for you to feel empowered and assured that if you put in the work, the recovery program will work for you. If you relapse within one year of successfully completing our full continuum of care, you can come back to The River Source at no extra charge. Please give us a call today and start your road to recovery.