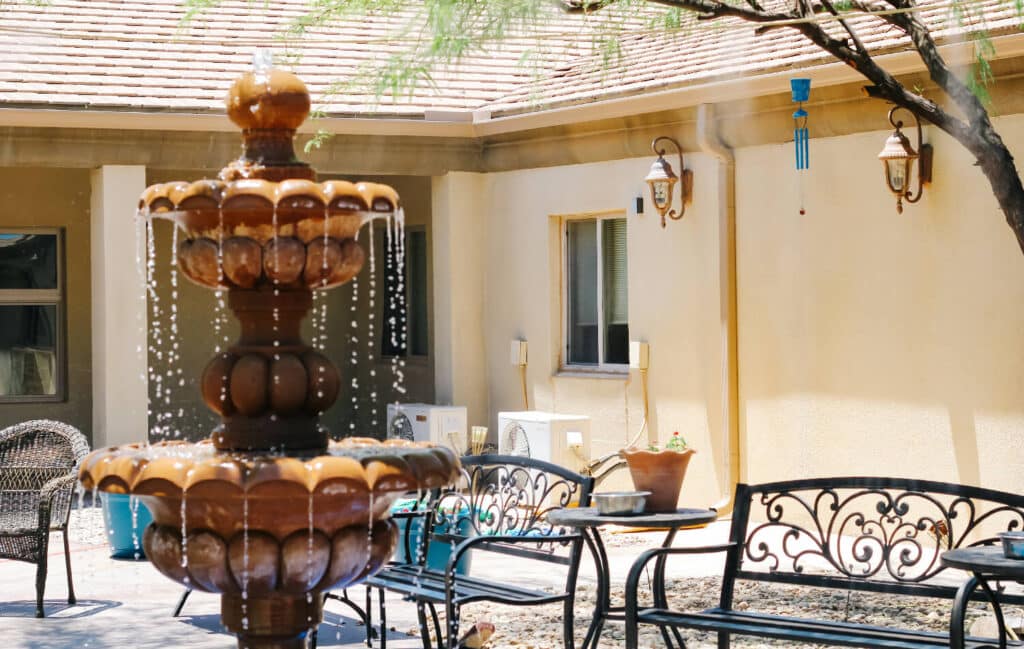 How Does Holistic Addiction Treatment Work?
Many substance abuse treatment centers have gone to a holistic approach as to how they work with their drug and alcohol rehab clients. At The River Source we have fully embraced the idea that alcohol and drug addiction can damage a person's mind, body, and spirit and we want to help them heal in all the ways possible as part of their treatment plan with us. If you or one of your loved ones are looking for addiction rehab resources, please give us a call today.
YOU'RE NOT ALONE – WE CAN HELP
TAKE THE FIRST STEP AND APPLY FOR TREATMENT TODAY
Holistic vs. Traditional Addiction Treatment Approach
A holistic drug rehab program or detox center does not negate the traditional addiction treatment approach but expands on it to help someone struggling with substance use disorders in as many ways as possible. Holistic healing as part of a meth rehab in Tucson identifies the mental, physical, emotional, and spiritual ways substance abuse negatively affects a person and works to make corrections in all of those areas. Traditional addiction treatment approach staples like individual therapy and group sessions are still a part of the overall rehab process.
What's Involved In a Holistic Addiction Treatment Program
Integrative approaches like ones we use at The River Source combine evidence based treatment practices with naturopathic care to guarantee a safe, comfortable, and long term recovery. As part of our holistic addiction care plans, our clients begin by meeting with a Naturopathic Doctor, Nurse Practitioner, and an Addictionologist to create a comprehensive and individualized treatment plan. Our holistic healing approach starts by working through issues with an individual's body, and then moves on to their mind and spirit. There are group and individual therapies during each stage. 
Naturopathic Therapies
Naturopathic treatments are holistic therapies that we tie into traditional methods in order to put together a complete treatment plan for each of our clients. Naturopathic therapies include nutritional treatments and physical treatments that include yoga, meditation, massage, and sauna sessions. Naturopathic therapies begin at The River Source during our medical detox program and continue throughout our other levels of care. These individual therapies promote healthy activities well into addiction recovery.  
IV & Oral Vitamin Therapy
IV therapy used in conjunction with counseling, peer support groups, family therapy, and other evidence based treatments can be very helpful during an individual's overall treatment plan. Drug and alcohol treatment that uses integrative approaches gives people fighting addiction more choices when it comes to their individual therapies.  At The River Source we offer a wide variety of treatment options as we know that everyone who has struggled with substance abuse has walked a different road.  By offering IV therapy and other options we can create the most specific treatment plans for everyone we work with during their alcohol and heroin rehab in Tucson.
Amino Acid Therapy
When someone has an alcohol abuse or drug abuse problem, they can often ignore some of their basic health needs, like nutrition. This results in a lack of many essential vitamins, minerals, and other substances needed to maintain a healthy body. For example, a heavy drinker may be depleted in B vitamins which the body uses to metabolize alcohol. Adding Amino acids to the nutrition part of holistic healing can help curb cravings and reduce mood swings and physical pain during medical detox and rehab treatment. 
Massage Therapy
Massage therapy has been touted as an excellent holistic approach in many types of treatment over the past few decades, including being part of drug and alcohol rehab programs. Treatment providers who incorporate massage therapy understand that body movement and tissue stimulation can assist with the drug detox process. Additionally, the initial days of addiction recovery treatment can be very stressful and massage sessions can help in this area, too.
Yoga & Meditative Therapy
Yoga and meditation work in all of the areas of holistic healing – your mind, body, and spirit. While the physical movement of yoga is good for anyone being treated for substance abuse, the mental and emotional benefits are important, too. Yoga and meditation helps you reduce stress, be mindful, concentrate on your goals, and be overall more peaceful which allows you to see your path forward in recovery more clearly.
Dry Infrared Sauna Therapy
Medical detox is about getting through the first few days without drugs and alcohol but also removing all of the toxins that have built up in your body due to substance abuse. Dry infrared sauna therapy helps with this process and also provides a warming, calming effect that allows time for introspection as well as emotional and physical healing. Sauna therapy allows your body to take care of itself without any side effects due to the natural process of detoxification that is occurring. 
Individual Counseling
Individual therapy sessions are typically a major component of substance abuse treatment programs. During individual counseling at rehab centers or as part of outpatient treatments, patients can delve into topics with their therapist that they may not feel comfortable discussing in a group session. Additionally, during individual therapy clients can develop relapse prevention plans, review coping skills, discuss future plans for housing, work, and school, and overall outline how they are going to be successful in recovery. A primary therapist can also suggest and recommend other types of alternative therapy that may assist their patient. 
Group Therapy
Group sessions during residential treatment or outpatient rehab is the other side of the coin. In this setting, people struggling with drug addictions can support each other and communicate information about how they are dealing with being clean and sober. They can also discuss what led them to use or drink in the past and how they could have avoided those situations.
Family Education
Family programs can also be part of outpatient rehab or inpatient treatment programs. Family therapy is useful in multiple ways. First, it shows someone's loved ones that they are committed to making a change in their life.  Second, it shows the individual struggling with substance disorders that their family members are there to support them. Third, it can uncover any stress, situations, or conflicts that may have triggered or led to someone using or drinking and how to resolve those issues as part of a relapse prevention plan. 
12 Step Program
12 step programs can be integrated into drug and alcohol rehab plans and also be a part of aftercare support. The 12 step principle was developed by the founders of Alcoholics Anonymous and is used by many organizations that help people maintain a clean and sober lifestyle in addiction recovery. At our abuse treatment center in Arizona, we host alumni support meetings that include 12 step programs. Peer support can be an important part of a person's sustained recovery and having processes and protocols in place can help substantially over the long term.
Co-Occurring Disorders / Dual Diagnosis
A co-occurring disorder is a situation wherein people who are struggling with substance abuse or drug addictions also have an underlying mental health issue. This can include bipolar disorder, an eating disorder, anxiety, depression, or other mental health issues. A dual diagnosis indicates that a person has disorders in both categories, mental health and addiction. Patients who have a dual diagnosis have a specific rehab program that ensures both of their co-occurring disorders are treated at the same time and neither one is negatively impacted by the care plan of the other. 
Addiction Treatment for Pregnant Women
At The River Source we offer a specialized rehab program for pregnant women. When someone is expecting, many aspects of a traditional addiction treatment program cannot be applied due to there being two lives involved. For our pregnant clients, we consider both addiction treatment and prenatal care when designing a program for safe addiction recovery.
Trauma Informed Care
Trauma is not a co-occurring disorder unto itself, but it can lead to substance abuse, alcohol addiction, drug addiction, and multiple mental health disorders. As part of our holistic approaches to substance use disorders, we try to get to the root of why a person turned to drugs or alcohol and trauma is frequently what we find. Our dual diagnosis treatment program ties into our trauma informed care so that we can explore all of the aspects of a person's physical and mental health as part of the treatment process. 
Addiction Rehab for Native Americans
At The River Source, we understand that substance abuse can affect people from any walk of life. Additionally, there is no demographic across the country that is not impacted by drugs or alcohol abuse. The environment on reservations, including social isolation, poverty, and poor healthcare services, can lead to substance abuse. That's why we have developed a specialized recovery program for our Native American clients.
Why Choose The River Source Tucson for Holistic Addiction Treatment
We offer a holistic approach at our recovery center that augments the traditional substance abuse treatment protocols we offer our patients. Call us today to hear more about our detox programs, alcohol addiction, drug addiction, dual diagnosis, and behavioral health treatment.
Our Recovery Guarantee
At The River Source, we are proud to offer the following guarantee of our services. "If relapse occurs within 1-year after the completion of our Reclaim-120 Program, The River Source invites clients to return for no additional charge."
QUICK, CONFIDENTIAL INSURANCE VERIFICATION
CLICK BELOW TO FIND OUT IF YOU HAVE COVERAGE