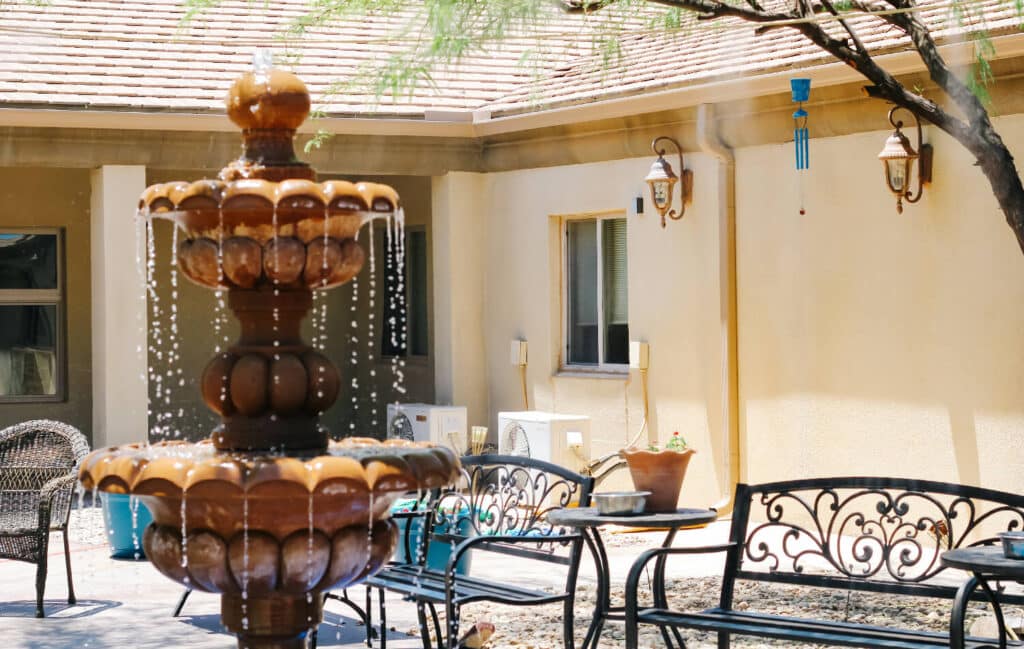 # 1 Inpatient-Residential Drug Rehab in Tucson
When you are living with active drug addiction, it is easy to feel you are alone in your battle with addiction. While you have considered getting help for your substance use disorder, it is often hard to navigate how to get the necessary support when you have never received them before. At River Source Behavioral Health, we will be with you every step of the way as you begin your courageous journey towards a life in addiction recovery. Our mission and core values within our recovery center are centered around empowering our patients to see your ability to heal from your drug addiction within your body, mind, and soul. With the support of our evidence-based therapy methods, you will be able to release the negative emotions and behaviors that have resulted due to your substance use disorder. Patients will be able to release feelings of shame or guilt about their drug addiction and become inspired to find their way in a new sober life. Through our comprehensive treatment programs, patients will engage in evidence-based therapy methods along with a truly genuine holistic treatment approach that provides an opportunity to heal and gain the coping and life skills to successfully live a life of sober living. 
YOU'RE NOT ALONE – WE CAN HELP
TAKE THE FIRST STEP AND APPLY FOR TREATMENT TODAY
Why Choose The River Source Tucson for Residential Drug Rehab?
Tucson residents choose The River Source to heal from drug addiction for the whole person integrated approach to addiction treatment.
Drug and alcohol addiction impact all aspects of a person's life including their body, mind, and spirit. To have an effective treatment process, it's important that your addiction treatment program incorporates a variety of treatment programs that will support healing the root causes of addiction, overcoming physical dependence on drugs and alcohol, and developing the tools for relapse prevention that will support you in having long term success in addiction recovery.
Our treatment program is conducted in three phases that will support an integrative approach to healing. The initial step in your drug treatment program is to address the physical addiction and the impacts of drug addiction on your body. With the support of medical and naturopathic addiction treatment approaches, patients will be able to safely overcome drug withdrawal symptoms with the guidance of our clinical team which will maintain your comfort throughout your treatment process.
As your body begins to restore its natural functioning, your mind will also be ready to start diving into deep-rooted emotions and traumas with the support of evidence-based therapy methods. Patients will also have the opportunity to address any co-occurring disorders or mental health conditions that have influenced their addictive behaviors with the support of dual diagnosis treatment programs.
The third phase of your treatment program will include incorporating a spiritual component that will support you in gaining a belief in a higher power that will give individuals a sense of purpose and a renewed sense of self. Our treatment programs support patients in finding a connection with their spirituality with the support of 12-step programs and options for connecting with a higher power or god through open exploration of your beliefs including opportunities to attend church if you wish. 
Patients that are able to heal from addiction holistically, addressing their body, mind, and spirit have shown higher success rates in addiction recovery. 
How Long Is Rehab?
Inpatient rehab is a personal choice to make that's centered around your specific needs for healing and personal growth. Each patient will have their own unique set of needs from a treatment program and the length of time that it takes you to complete your inpatient treatment program will be entirely dependent on your own preference and goals for addiction recovery.
Patients are able to attend addiction treatment in Tucson for 30, 60, or 90 days. If you choose a short-term option and decide that you need more time to engage in addiction treatment, you are welcome to extend your stay for increments of 30 days. 
30-Day Inpatient Drug Rehab in Tucson
Participating in a 30-day rehab program provides patients with an opportunity to have a clean break from their home environment that was fueling their drug addiction and allows them the time that they need to fully engage in the addiction recovery process. A 30-day rehab program will allow you the time to learn and develop the tools for living in addiction recovery through comprehensive treatment approaches. Patients in a 30-day rehab program will be able to set a foundation for a new stable life in addiction recovery. 
60-Day Inpatient Drug Rehab in Tucson
For Tucson patients that are searching for a treatment program that provides ample time to participate in addiction treatment programs that will support you in effectively and thoroughly addressing your core reasons for drug addiction and developing techniques for relapse prevention. P[ateints will be able to participate in an individualized treatment plan that incorporates treatment methods that target healing from their drug addiction physically, emotionally, mentally, and spiritually. 
90-Day Inpatient Drug Rehab in Tucson
A 90-day inpatient drug rehab program is an optimal amount of time for patients to engage in addiction treatment. Having a long-term rehab option will provide patients with the opportunity to engage in specialized addiction treatment methods that promote positive personal growth and healing for a lifetime of recovery success. Patients in a 90-day rehab program will be able to participate in trauma therapy, dual diagnosis treatment, and family therapy sessions that will foster long-term success in addiction recovery.   
Types of Drug Addictions We Treat
The River Source understands the nature of substance use disorders and that there are different drugs that Tucson residents are engaging in. Our individualized treatment plans will support patients in overcoming all types of substance addictions including: 
Cocaine 

Meth 

Heroin

Fentanyl 

Benzodiazepines 

Oxycodone 

Opioids

Prescription drugs 

Alcohol 

Marijuana 
Inpatient Heroin Rehab in Tucson
Heroin rehab will often require a patient to undergo a heroin detox or opioid detox that can require the support of a medication-assisted treatment program which can include a long-term tapering-off program. Patients in heroin rehab will often experience forms of drug withdrawal symptoms for an extended period of time that can last for weeks or months after they first quit using drugs.
Engaging in a heroin rehab program will provide you with the opportunity to have ongoing therapeutic support and medical guidance to help you safely move through any troublesome withdrawal symptoms and start to develop new coping skills and strategies for relapse prevention. 
Inpatient Cocaine Rehab in Tucson
Individuals living with cocaine addiction will often experience predominantly psychological symptoms and side effects. An effective cocaine rehab program will support patients by focusing on the impacts that cocaine has had on their emotional and mental health through behavioral therapy and dual diagnosis treatment for mental health disorders. 
Inpatient Oxy Rehab in Tucson
Oxycodone and other opiate prescription painkillers can create significant physical dependence in users. An effective oxy rehab program will require supporting patients in safely removing the physical dependence on prescription opioids with an opioid detox and medication-assisted treatment. As you begin to overcome the physical dependence on drugs, you will be able to learn new holistic treatments that will help you alleviate pain and manage any presenting triggers to ensure you stay on the road to recovery. 
Inpatient Meth Rehab in Tucson
Crystal meth abuse creates significant mental health impacts on an individual including experiencing depression or drug-induced psychosis. A meth rehab program will provide patients with mental health treatment that will help to mitigate the symptoms of their mental health and find alternative, holistic methods of managing the unpleasant episode effects that occur.
Inpatient Benzo Rehab in Tucson
Benzodiazepines are a highly addictive prescription medication that is commonly prescribed for mental health disorders including anxiety, depression, panic disorder, or seizures. If someone attempts to quit benzos cold turkey, there can be serious implications to a person's existing anxiety, depression, or seizures resulting in severe symptoms. In order to safely overcome benzo addiction, patients will need to go through a long-term tapering-off program that will allow their body the time it needs to slowly adjust to functioning without the use of prescription drugs. 
Inpatient Prescription Drug Rehab in Tucson
Prescription drug abuse can come in a variety of forms from stimulants, benzos, sleeping medications, and prescription opioids. These medications will require the support of a tapering-off program along with behavioral; therapy and dual diagnosis treatment that will provide you with the coping skills to manage triggers and stressors along with holistic treatments to manage any presenting symptoms of your mental health disorders. 
Men's Inpatient Drug Rehab
There is significant healing that can occur within a gender-segregated treatment program. Men who are able to participate in addiction treatment together are able to share similar experiences and emotions that can occur from societal norms and expectations. A group of men is able to come together to develop the tools to express emotions in a healthy manner and start to develop strong friendships and bonds that will support you in your addiction recovery process. 
Women's Inpatient Drug Rehab
Similar to men's inpatient drug rehab, women that are able to come together in the same addiction treatment program to heal together are able to safely express their emotions and experiences within a group of like-minded individuals. There are some women that have had a history of abuse at the hands of men and healing within a group of women helps to provide a safe, trustworthy circle of support that will foster long-term addiction recovery.
Top Rated Inpatient Alcohol Rehab Program With Results
The River Source provides patients with a comprehensive approach to addiction treatment that incorporates a variety of evidence-based therapy methods that will facilitate and foster personal growth, healing, and a healthy, stable lifestyle in sober living. Patients will be invited to participate in the following evidence-based therapy methods: 
Cognitive Behavioral Therapy

Dialectical Behavioral Therapy 

Dual Diagnosis treatment 

Medication-assisted treatment 

Neurofeedback 

Psychiatric care 

Family therapy and family-oriented programs to facilitate healing within the family unit 

Life skills development

Holistic and naturopathic treatments 

12 step programs

Relapse prevention education and skill development 
Why Choose The The River Source Tucson for Addiction Treatment
River Source Behavioral Health is the leading choice for Tucson residents that are seeking treatment and are prepared for long-term success in addiction recovery. Our team will provide each patient with a long-term, robust treatment plan that is centered around your individual needs for healing and treatment. Patients will have the option of participating in inpatient treatment, outpatient rehab programs, lifetime alumni support, and aftercare programs that will ensure that our patients have high success rates in addiction recovery. 
Our Recovery Guarantee
Your success is our top priority. Completing our continuum of care for addiction treatment and following the treatment programs laid out by our clinical addiction therapists will qualify you for our 150-day recovery guarantee. If you experience a relapse within a year after completing treatment, you will be invited to come back to our treatment center to resume addiction treatment programs. 
QUICK, CONFIDENTIAL INSURANCE VERIFICATION
CLICK BELOW TO FIND OUT IF YOU HAVE COVERAGE