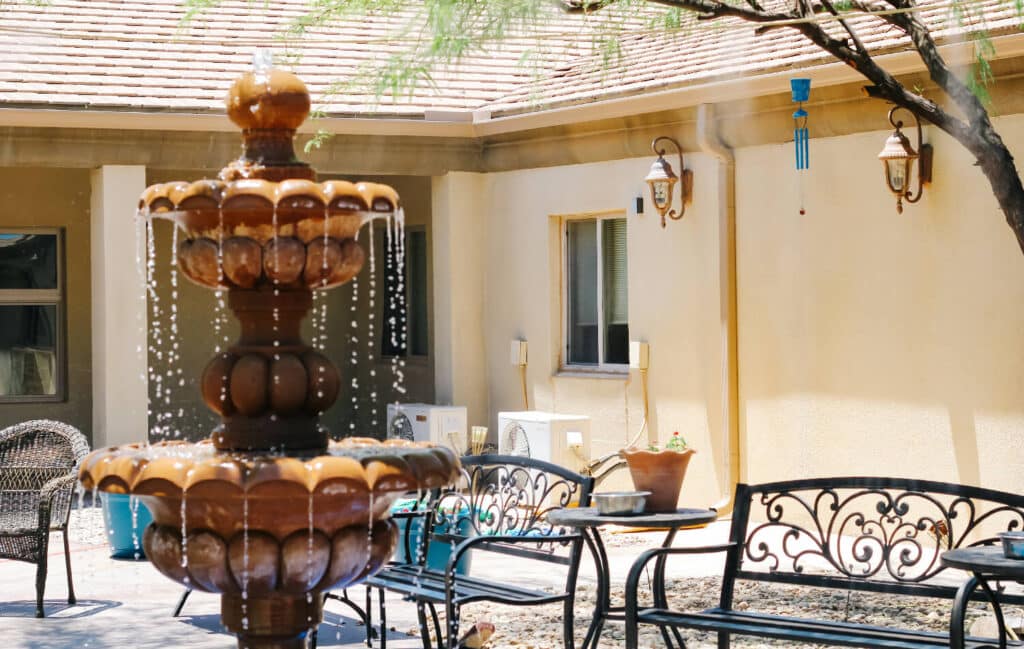 Detox programs for drug addiction can be an important part of an overall plan to begin your recovery. Meth users looking for inpatient treatment regarding assistance with withdrawal symptoms and alcohol or drug detox can find what they need in the Tucson, Arizona area. Every substance has unique factors when it comes to addiction and meth rehab in Tucson including specific detox for meth protocols. Detox treatment in an inpatient program is highly recommended over trying to go through withdrawal at home on your own. If you're looking for treatment for meth addiction and would like to find out about available resources in Arizona, call us today at The River Source.  We're here to guide you on your way towards a lifetime journey of drug and alcohol free living. 
YOU'RE NOT ALONE – WE CAN HELP
TAKE THE FIRST STEP AND APPLY FOR TREATMENT TODAY
Why Choose The The River Source in Tucson for Meth Rehab
The River Source is a fully accredited drug and alcohol rehab that has been helping people with various types of treatment for 20 years. We have several levels of care including outpatient treatment, an inpatient program that also includes medical detox, and many therapy options within our holistic approach to healing from drugs and alcohol. We take professional referrals from doctors and other healthcare professionals and complete a thorough insurance verification to ensure our clients are receiving all of their benefits. At The River Source no matter whether it's detox treatment or any of our other levels of care, we will create a recovery plan that's right for you.
First Class Amenities
No matter whether you stay with us for residential treatment for meth addiction, cocaine addiction, heroin addiction, other opioid addiction, or issues with any other substances, you will find first class amenities at The River Source. Not only do we have a beautiful facility, as part of our inpatient program we offer 24 hour a day medical care as needed, individual therapy, group therapy, and treatment for co-occurring disorders. A stay with us for inpatient treatment will help you reset and begin to put your drug and alcohol problems behind you as you work on your addiction recovery. 
Meth Withdrawal
When someone is addicted to meth or any other substance stops using or drinking they will experience withdrawal symptoms. These can vary greatly from person to person and in some cases can be life threatening. That's why we always suggest people get help with their withdrawal symptoms in a safe, supervised medical detox program. Taking part in residential treatment for detox when you're addicted to meth quickly solves a lot of the immediate issues that can occur when you stop using, including assisting with relapse prevention. Alcohol and drug detox can be uncomfortable to say the least and by letting the outstanding professionals at The River Source assist you through this stage of your recovery, you can more easily get past this milestone and onto inpatient or outpatient rehab therapy.
What Is Meth Detox Like?
During meth detox you will experience withdrawal symptoms, some of which are common to a lot of substances and some of which are specific to being addicted to meth. There are short term and long term withdrawal side effects that an individual could experience after they stop using and begin meth detox. Here are some of the withdrawal symptoms that drug addiction treatment professionals commonly see when someone is addicted to meth:
Short term meth withdrawal side effects can include:
Dehydration

Headaches

Muscle pain and spasms

Appetite changes

Intense cravings

Psychosis 

Fatigue

Anxiety

Insomnia
Over the long term, meth withdrawal can cause:
Depression 

Irregular sleep

Cravings

Anxiety

Cognitive issues
How Long Does Detox Last?
There are three main phases of the detox process when you are addicted to meth and stop using. This process also happens with other substances people commonly abuse, too. The three stages are crashing, craving, and rehabilitation. Overall, meth detox can take from 10 to 20 days for symptoms to cease for the most part.  Anyone addicted to drugs or alcohol may feel cravings well after they've been through detox and have been clean and sober for some time. When someone is crashing, there's basically a shock to their system. Their body is not getting something it is used to receiving regularly. This happens with commonly used legal substances like caffeine and nicotine, too. Once the initial effects of meth withdrawal have somewhat subsided, cravings will be the worst part of no longer using. Once all substances are out of a person's system, a rehab treatment plan can begin. 
What Happens After Detox?
After detox, there are many options for an individual to begin a drug rehab treatment plan. Meth addiction treatment programs are available in both inpatient and outpatient environments at The River Source. The effects of meth can last quite some time and taking part in drug rehab treatment to ensure you have a good relapse prevention plan in place is vital to long term recovery. In addition to relapse prevention, meth addiction treatment programs offer many types of therapy including family therapy, individual therapy, and cognitive behavioral therapy, all of which can help get to the root of the issues an individual has with drugs or alcohol. A rehab program for crystal meth abuse and addiction can also include introduction to an aftercare support group like Narcotics Anonymous which can help with long term support.
30 Day Meth Rehab in Tucson
Everyone who makes a commitment to drug treatment has had a different experience with substance abuse.  That's why it's important to have a customized treatment plan, like we offer at The River Source. During a 30 day program for meth rehab in Arizona, an individual can work on identifying the root cause of their substance abuse or drug addiction, and through different therapy protocols learn how to deal with those issues and move on.  We take a holistic approach to substance abuse treatment as we know addiction can affect a person's mind, body, and spirit. Our goal in our addiction rehab programs is to help our clients heal in as many ways possible so they can move on with their addiction recovery and a happier, healthier lifestyle.
60 Day Meth Rehab in Tucson
Crystal meth is a highly addictive substance and many experts believe that the longer a patient can stay in an inpatient addiction treatment program the more success they will have over the long term in addiction recovery. That's why 60 day meth rehab and 90 day meth rehab programs exist. During longer stays in inpatient rehab, individuals can take part in more types of therapy, including options like dialectical behavioral therapy, music therapy, art therapy, and yoga and massage sessions. A 60 day meth rehab program let's individual therapy sessions become more in depth and allows more interactions with different people during group sessions. Not everyone can commit to an inpatient program let alone one that lasts for two months but those who can greatly benefit from the amount of ongoing treatment they receive throughout their stay. 
90 Day Meth Rehab in Tucson
As with treatment for other substance use disorders, the specifics involved in methamphetamine addiction treatment is dictated by what the individual has experienced and their relationship with substance abuse. People begin to use drugs for many different reasons and individuals from all walks of life can become addicted to meth and need drug addiction treatment. A 90 day meth rehab program is considered by many to be long term care, but for some it is the perfect length of time to deal with all the aspects of their substance abuse. Drug addictions can affect a person's life in many ways, too. Taking part in a residential treatment program can get an individual ready to rebuild their family life, their career, and their financial stability. 
Meth Detox & Rehab For High Net Worth Individuals & Celebrities
Treatment programs for the rich and famous may seem like they get the better end of the deal, but many well known drug rehabs, the Mayo Clinic being the prime example, treat their high net worth and celebrity clients the same as anyone else. Everyone who receives meth addiction treatment at The River Source goes through our same processes and protocols, from the admissions process at our recovery center to the customized treatment plan we create for each of our clients. We know that no matter who you are, you need help healing your mind, body, and spirit when you come to us for methamphetamine addiction treatment. We don't have to treat celebrities special because everyone is special at The River Source.
Meth Detox in Tucson
Committing to addiction treatment for crystal meth is a big decision and a major step in the right direction for anyone who wants to make a significant change in their life. Starting addiction recovery can be tough and there will be some rough days but the therapy and other types of treatment you will receive in any of our levels of care at The River Source in Arizona will help guide your way. 
If you are interested in meth detox, meth rehab, or any of our other inpatient or outpatient treatment programs, please give us a call today. 
Our Recovery Guarantee
We are so confident in our program and in your ability to achieve recovery we offer a 100% recovery guarantee. It is important for us for you to feel empowered and assured that if you put in the work, the recovery program will work for you. If you relapse within one year of successfully completing our full continuum of care, you can come back to The River Source at no extra charge. Please give us a call today and start your road to recovery.