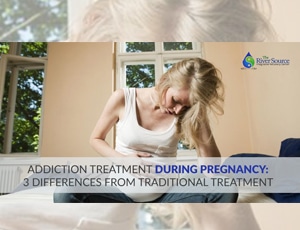 Addiction Treatment During Pregnancy: 3 Differences from Traditional Treatment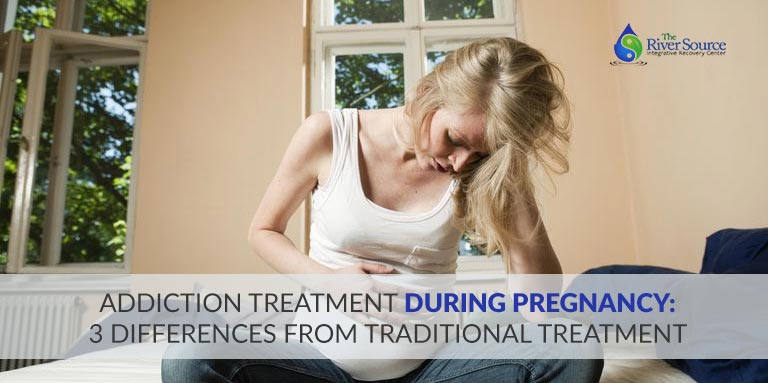 Women suffering from addiction during pregnancy can find themselves feeling hopeless and overwhelmed when it comes to finding treatment. They may know they need help, for both themselves and their child, but traditional treatment options are no longer an option.  The River Source wants you to know that you are not alone, and you can still create a beautiful life for your family.
There are differences in addiction treatment for women who are pregnant, versus traditional treatment, to ensure a safe and effective journey back to sobriety.  Read our three tips below on how your treatment will be catered to your pregnancy and learn how The River Source's holistic treatment worked for one mother who had nowhere else to go.
Addiction harms both the mother and her child.  When seeking treatment, know that it needs to be supervised by a doctor.  The pregnancy can cause additional health risks during treatment because both the mother and her child can suffer from withdrawal.  Two lives are at stake, so you will need to consider two kinds of medical services: safe addiction treatment and critical prenatal care.
The dangers to you and your child
Addiction treatment for women who are pregnant needs to be customized according to the substance being used, the level of addiction, the stage of pregnancy, and the mother's medical history.  This treatment should include counseling and therapy to tackle the underlying causes of the addiction and create a more stable environment for the baby.  Mothers can experience issues such as post-partum depression, panic attacks, eating disorders, and other mental health issues when battling addiction while pregnant.
Beyond these dangers, the child is also vulnerable to several health issues. The addiction can lead to miscarriage, stillbirth, low birth weight, premature birth, heart defects, infections, and sudden infant death syndrome.  Additionally, there is always the danger of the baby becoming drug-dependent, known as neonatal abstinence syndrome, and can experience dangerous withdrawal symptoms.  This withdrawal experience can also happen during addiction treatment, which is why you need a doctor who specializes in helping women who are pregnant.  Treatment should safely wean the mother off of the drug without exposing the unborn child to withdrawal.
Due to the special considerations that need to be made to protect both the mother and her child from experiencing harsh withdrawal and other medical issues, traditional addiction medications may not be the best choice for women who are pregnant.  There are some medications more commonly used by women who are pregnant that are less of a risk to the child and its mother, including more homeopathic and holistic remedies as well as medications like Subutex or Methadone.  Your doctor should discuss the risks and benefits of different addiction medications to see what option is the safest and most effective for you.  This treatment should also be working alongside prenatal care to safeguard the health of the child.
A River Source Miracle: One Mother's Success Story
The River Source has extensive experience in treating pregnant women, and we even have a women's only treatment center that focuses on helping women find their better life.  Before finding The River Source, one of our patients, Marci, though she was alone and had nowhere to turn to with her addiction – and then she found out she was pregnant.  Hear how The River Source changed her life and the life of her child.
The River Source Can Help You
If you or a loved one are pregnant and addicted to drugs or alcohol, The River Source is here for you.  Our expertise from our knowledgeable medical director ensures you receive the best possible care to give you your life back and protect the life of your child.  Call today to save two lives.