When you think of a drug rehabilitation center, what comes to mind? For many, it's images of crowded halls, group meetings, and cafeteria-style dining rooms. It's these images that can scare people away from seeking treatment for themselves or others. Like in other areas of life, we turn to media to learn more about the things we don't know about. Drug rehabs are often portrayed as being dark, scary, and disconnected from society. Many people believe they can overcome addiction without having to be in rehab, but really, they're just afraid of what's behind the doors of an addiction treatment center.
The River Source wanted to take the time to share what a rehabilitation center is really like so that you can see what's behind the doors of a facility like ours. You'll be surprised to learn that our community is a home-away-from-home, and it becomes the source of stability, tranquility, and peace for our residents; the place where sobriety is first achieved and then embraced.
Location, Location, Location
An important part of any treatment center is the location. Government-run addiction treatment programs are placed in buildings in and around large cities in order to be convenient and serve a large number of people. However, standard and luxury treatment centers are positioned in remote locations that offer peace and privacy.
The River Source is nestled in Arizona, and we offer two separate locations in order to meet the unique needs of our patients. The first facility is located in Mesa in a historic district. Patients enjoy this location because they are close to the city and feel connected to the world. They enjoy the architectural charm of the homes and the labyrinth-shaped garden that's perfect for self-meditation.
Our second facility is situated about an hour from the city, and the views are absolutely breathtaking. With sandy deserts and mountain vistas in the background, this setting is highly conducive to recovery. For patients who need to remove themselves from society, this location is an ideal fit.
Arizona is an exceptional setting for treatment because of the warm climate and sunny skies. The weather has an impact on the mood, and in desert country, our residents know that they can always count on the consistency of AZ weather. Also, the beautiful vistas, sandy deserts, mountain ranges, and towering palm trees encourage self-discovery. There are also many opportunities for hiking, swimming, and yoga.
The Main Areas
When setting foot into an addiction treatment center, you're greeted by a warm and welcoming environment. The outdoors are well-manicured and offer locations for yoga, meditation, and exercise. There are lounge areas that are shared by the residents, such as TV rooms and dining rooms. TV rooms are built to be comfortable and quaint, while the dining areas have round tables that seat four people.
There will be a room specifically assigned for group meetings. While you may have visions of everyone sitting in a circle on folding chairs, this couldn't be farther from the truth at The River Source. We have comfortable leather chairs that line the walls, giving patients the opportunity to sit comfortably while being able to see everyone in the room. All rooms in the facility have nice artwork, area rugs, window treatments, and ceiling fans.
The Bedrooms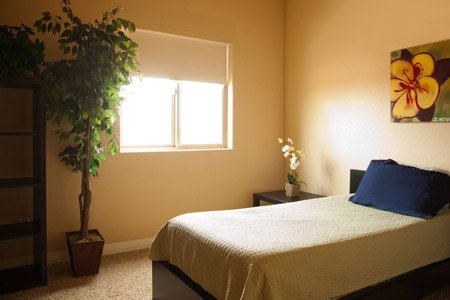 We understand that many people are hesitant to share a room during treatment, but most of our patients find this to be the best decision. Your roommate will be a fast friend and prevent you from isolating yourself. You'll find our rooms to be comfortable, just like yours at home. With twin-sized beds, large dressers, nightstands with lamps, and window treatments, your bedroom will offer you the peace and privacy you need. Each room offers different artwork and paints colors, just like the rest of our facility.
It can be a confusing and scary time when choosing a rehabilitation facility for yourself or a loved one. Yet don't let the images of what you've seen on TV scare you. A treatment center like The River Source is designed to replicate the comfort and security of a home. Nothing is hospital-like or cold; instead, our rooms are lined with comfortable chairs and couches, ceiling lights, beautiful artwork, and area rugs. We understand that our facilities are "home" for at least 30 days for our patients, and by having the right environment, our patients can place their energy and focus where it's needed most: recovery.