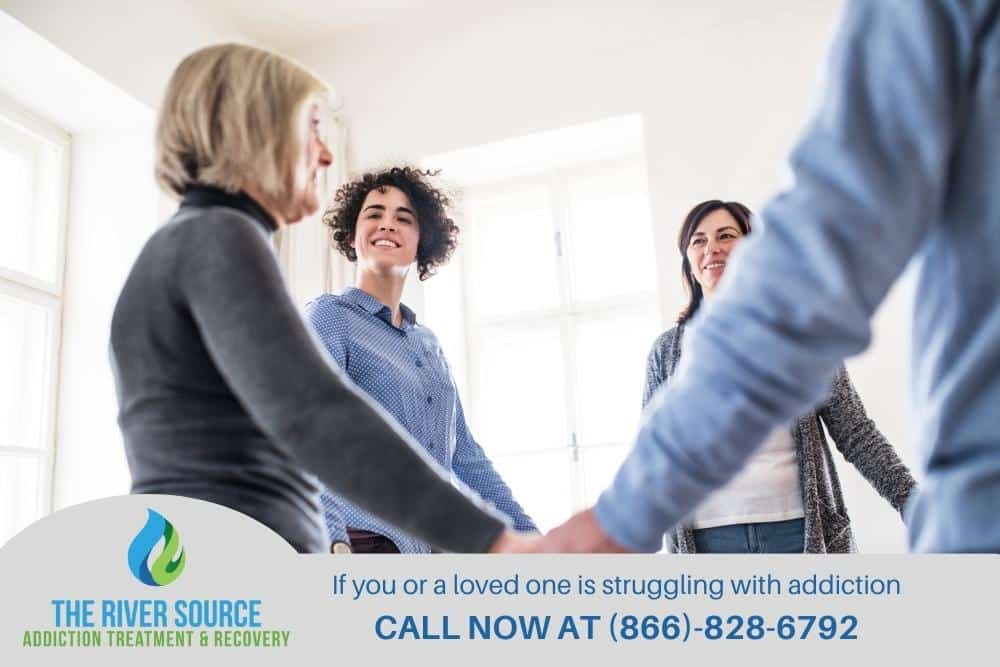 Chandler AZ Substance Abuse Rehab
Help Is Available in Arizona
Whether you or a loved one has a health problem and needs treatment for an addiction or you're worried about the possibility of becoming dependent on drugs or alcohol, there are several options for effective drug rehabilitation facilities in Arizona. In fact, look no further than a Chandler, AZ substance abuse rehab where substance abuse treatment is available to anyone who needs it. This kind of health treatment can help those who struggle with drug and alcohol addiction regain control of their lives by reducing cravings for drugs and alcohol, stabilizing their mental health, and improving their quality of life.
For more information on how our addiction treatment programs can help heal drug or alcohol dependence, please give The River Source a call at 866-294-9331.
What Is Substance Abuse Rehab?
Substance abuse treatment, whether it's Chandler, AZ substance abuse rehab, or a treatment center somewhere else, is a way for those struggling with an addiction to alcohol or drugs to get help and break the cycle of addiction. Chandler, AZ substance abuse rehab aims to help individuals experiencing addiction return to their mental, physical, and emotional health. According to the Substance Abuse and Mental Health Services Administration, more than 20 million Americans required substance abuse treatment in 2015.
There are two types of substance abuse rehab: residential treatment, also known as inpatient treatment, and outpatient rehab. A residential rehab is a form of addiction treatment that offers patients 24-hour care under the supervision of professionals. Because of the comprehensive care provided, inpatient treatment is often recommended for those with severe or long-term addiction and those struggling with co-occurring disorders.
The other type of Chandler, AZ substance abuse treatment is outpatient treatment. This level of care may provide similar services to what's offered in a residential program, but unlike inpatient treatment, patients return home each day after outpatient treatment services. Additionally, there are multiple levels of outpatient rehab with programs that meet once or twice a week to intensive outpatient programs that involve up to six hours per day of therapy.
No matter what kind of Chandler, AZ substance abuse rehab is the right fit for you, the primary goal of substance abuse treatment is to address behavioral patterns and habits that are causing you harm or pain while also helping you develop healthy strategies and coping mechanisms to use instead. When you seek help from Chandler, AZ substance abuse rehabs, you'll work with an addiction professional to create a customized treatment plan that addresses your unique needs and recovery goals.
How Long Is Substance Abuse Rehab in Chandler AZ?
The length of substance abuse rehab often varies depending on the individual and their needs. However, according to the National Institute on Drug Abuse (NIDA), addiction treatment should last a minimum of 90 days to be effective, although the entirety of that period doesn't need to be spent in an inpatient or residential treatment program. Oftentimes, patients begin their recovery journey in residential treatment and then transition to an outpatient program for the remainder of rehab.
There are several factors to consider regarding the length of substance abuse rehab. Common variables include cost, insurance coverage, and the level of care needed. Depending on your insurance provider and specific medical care plan, your insurance may cover all or part of the cost of treatment. However, if your insurance doesn't offer at least partial coverage, the length of stay may be limited because of the affordability of treatment. The other thing to consider is the level of care needed for you and your recovery needs. Think about whether you require detox, a live-in residential program, or a more part-time outpatient program. All of these factors can determine how long you stay in a Chandler, AZ substance abuse rehab.
Chandler AZ Substance Abuse Rehab: How to Choose the Best Facility
It can be overwhelming to choose a substance abuse rehab. However, it is possible to find the right one for you. Finding the right drug or alcohol treatment program can increase your likelihood of completing the program successfully and maintaining your sobriety after returning home. Here's how to choose the best substance abuse rehab for you:
Determine your goals and needs: since every treatment center has its own specialties and focuses, it's important to find one that aligns with your personal recovery goals and needs. The first step is identifying which substances or behaviors you want to recover from. From there, the next step is determining if you have any underlying issues, like mental health issues or medical conditions such as heart or liver disease. Lastly, define what success looks like to you and go with the rehab facility that can lead you toward success.
Consider what kind of treatment program is best for you: the type of treatment program, whether inpatient or outpatient, will largely depend on the severity of your addiction.
Learn about the facility's specialties: different treatment centers may specialize in different forms of addictions or behaviors. For example, while one facility may specialize in treating alcohol use disorder (AUD), another may specialize in treating patients with co-occurring disorders. Selecting the treatment program that both specializes in what you're going through and has a positive track record with former patients is important to your overall recovery.
Consider the treatments and therapies available: depending on the substance abuse rehab, different treatments and therapies will be offered. Do some research beforehand to learn about the different types of therapies to learn which fits you best.
4 Benefits of Naturopathic Treatments in Substance Abuse Rehab
One type of treatment to look for in Chandler, AZ substance abuse rehab is naturopathic medicine. Naturopathic medicine is a type of treatment that uses natural remedies to help the body heal. This treatment method is a holistic and integrative approach to treating substance abuse and addiction. Naturopathic treatment uses a holistic approach to treat the whole person, including the mind, body, and spirit, instead of only treating the symptoms of drug or alcohol addiction. These are some of the benefits of naturopathic medicine:
It focuses on the prevention
It fosters collaboration and learning
It's the least invasive approach to healing
It can be used in conjunction with conventional medical treatment methods
Substance Abuse Rehab in Chandler AZ: The River Source Is the Best Place for Treatment
If you or a loved one is struggling with an addiction and are ready to reclaim your life, consider joining The River Source, a top-tier Chandler, AZ substance abuse rehab. At The River Source, you'll work hand-in-hand with addiction professionals and undergo clinically driven and evidence-based treatment methods to help you on your road to recovery, including naturopathic medicine. With a holistic approach to substance abuse recovery, The River Source offers a full range of services to support your physical, mental, and emotional health. Using The River Source treatment methods, you can achieve and maintain long-lasting sobriety and reclaim your life from substance abuse and addiction.
Wondering about the cost of treatment at The River Source? Luckily, The River Source is a cost-effective premier in-network facility that accepts most insurance providers. For more information about how The River Source can help you on your road to recovery, call 866-294-9331.