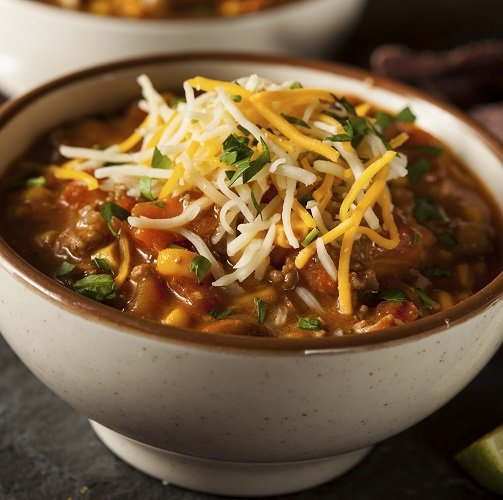 Healthy Fall Recipe: Slow Cooker 3-Bean Chili
Healthy eating habits are important for everyone, but they are especially important for those recovering from a drug or alcohol addiction. Many people who suffer from addiction or another mental health disorder also have poor eating habits. In fact, SAMHSA reports that 42% of people with mental illness are obese.
As you get further out in your recovery, it's crucial that you also learn how to maintain a healthy diet. Poor eating habits can not only lead to other medical problems down the road but also it can put you at risk for relapse.
Cooking Is A Hobby And Way Of Life For Healthy Recovery
One of the best things you can do for yourself early in recovery is to facilitate an interest in cooking. Cooking is so much more than what you see in the kitchen. It includes researching recipes, experimenting with different ingredients and going to the grocery store or farm stand. You may even want to join a cooking class or dine at different restaurants with friends and family.
Now that football season is here and the temps are dropping ever so slightly, we thought we'd share this healthy recipe for 3-bean chili. It's perfect for a Sunday afternoon when football is on the TV, you're having friends over and you don't want a mess in the kitchen. Serve it up with crackers or whole wheat tortilla chips, or add it to hot dogs for a chili dog meal. If you have extras, freeze them for leftovers.
3-Bean Slow Cooker Chili
Ingredients:
1 – 20-ounce package lean ground turkey
1 – 28-ounce can fire roasted diced tomatoes
1 – 16-ounce can tomato sauce
1 – 15.5 can pinto beans, drained and rinsed
1 – 15.5 can kidney beans, drained and rinsed
1 – 15-ounce can black beans, drained and rinsed
1 small onion, chopped
1 – 4.5-ounce can green chilies
2 tablespoons chili powder
1 tablespoon minced garlic
1 teaspoon oregano
1 pinch ground cumin
Directions
Cook and stir ground turkey in a large skillet until browned, about 7 to 10 minutes. Transfer to slow cooker.
Add tomatoes, tomato sauce, beans, onions, green chilies, and spices into the slower cooker with the turkey.
Cook on high for 4 hours or low for 7 hours.
Check out our other delicious and healthy recipes
Whole Body Health And Addiction Recovery
The River Source offers holistic treatment for those suffering from drug or alcohol abuse. Our program includes alternative therapies, counseling and continuing care. We also place emphasis on maintaining a healthy diet and exercise regimen to keep the body strong and the mind focused.
Call Us Today To Learn More!