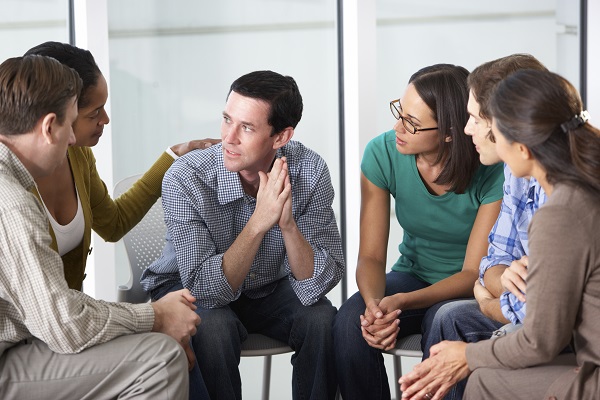 How Group Therapy Works In Rehab
Part of your stay in drug rehab will include group therapy. You may envision a room with couches or chairs and people pouring their hearts out to a caring and compassionate therapist, but the scene is actually quite different. Group therapy blends together a group of people facing similar issues – in this case, drug or alcohol addiction – in an intimate setting that includes one or more therapists.
Group therapy will supplement the individual therapy sessions you have throughout the week. It is typically cheaper and easier to do since the setting serves a lot of people at once.
You may be thinking, "But I don't care to discuss my problems with anyone!" This is definitely normal. But as you move on in recovery and start to break down the walls of your addiction, you'll find group therapy to be a highly rewarding experience.
What Are The Benefits Of Group Therapy?
Let's take a look at the many benefits of group therapy.
Connect with others who are traveling a similar path.
Witness how other recovering addicts are reaching their milestones.
Recognize that you are not alone in your struggles.
Prevent feelings of isolation.
Practice empathy, or the feeling of walking in someone else's shoes.
Learn to listen to others, their approach to life and how they handle difficulties.
Learn how to relate to others and establish healthy relationships.
Be on the receiving end for empathy.
Is There A Difference Between 12-Step Groups And Group Therapy?
You may be wondering what the difference between 12 steps and group therapy is. Surprisingly, the two are quite different, and it's important to understand why.
First, group therapy generally costs money and is included in a broader treatment plan. The sessions are led by a therapist, and members are encouraged to share advice and feedback. The goal of this is to break through the barriers of addiction, confront problems and work through issues of denial.
Twelve-step groups, on the other hand, are typically free and not run by any therapist or counselor. Instead, they are run by the group, although there is always some type of chair member available to make sure the setting stays positive. Members don't give advice to each other. Instead, they share their experiences freely without expectations. Also, no record of attendance is kept.
We hope that this has helped you better understand what group therapy is, how it can benefit your recovery and how it differs from 12-step meetings.
Holistic Group Therapy Program
Here at The River Source, we can safely and effectively help you or your loved one recover from addiction. Our program includes group therapy and practices the 12 steps. We also make it a priority to offer holistic care in a sober environment that promotes physical, emotional and spiritual healing.
Call Our Treatment Center Today To Get Started On Your Sober Journey