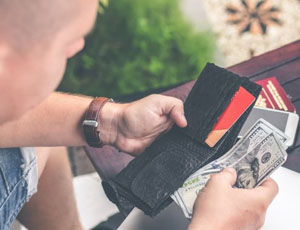 How Insurance Helps Pay for Addiction Treatment
Paying for Arizona drug rehab is a major concern for addicts and their families. It continues to be the main barrier to receiving quality treatment, but it shouldn't be. Anyone looking to be freed from their addiction should have access to treatment from a reputable rehab center.
To help this become a reality for people with substance abuse, The River Source accepts most insurance plans. You can verify your insurance today and our insurance coordinators will provide you with a list of benefits your insurance offers.
How Insurance Works
Insurance can be complicated. Not only are there many different insurance companies but also insurance plans. Two people can have Blue Cross Blue Shield as their insurance provider but have very different plans. One plan may cover 90% of treatment costs once the deductible has been met while the other plan may only cover 60%.
Though each insurance company is unique, many operate in a similar manner. There are different plans to choose from. Some have high deductibles and lower monthly premiums, making them attractive to younger demographics that are relatively healthy. Other plans have low deductibles and higher monthly premiums. Though you'll be paying more each month, if you do get sick, more of the care is covered. With most insurance plans, you must reach your deductible before coverage kicks in.
In-Network vs Out-of-Network Treatment
Another factor to pay attention to is how your insurance policy views in-network and out-of-network providers. Generally speaking, your insurance provider will pick up more of the costs of an in-network treatment center, particularly in the case of HMOs. Because certain Arizona rehab centers are contracted with your insurance, the rates are lower.
PPOs tend to be more flexible, but they usually cover more with in-network providers. And, if you choose an out-of-network provider, your insurance company may deny coverage altogether. This is why it's important to verify your insurance with the Arizona rehab of your choice.
The River Source Accepts Most Insurance
To make things easy on our patients, we accept most insurance providers including Blue Cross Blue Shield, United Healthcare, Aetna Insurance for rehab, Ambetter, UMR, and many others. Financial assistance is also available from MLend Finance. To pay for your out-of-pocket costs, you can use a credit card.
Don't let the cost of treatment stand in your way of getting better. The River Source works with patients from all demographics, and we're confident that we can find a way to make treatment affordable for you!