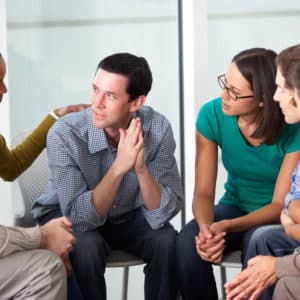 Outpatient Rehab in Arizona

What Is Outpatient Rehab?
Outpatient rehab refers to programming where clients visit daily or several times weekly for treatment but live at their homes. At River Source, we offer step-down outpatient programs where clients gradually require less support as they complete the programs and begin to transition fully to their life of sobriety. Our partial hospitalization (PHP) program is an outpatient rehab program but offers a high degree of support. While attending outpatient rehab in Arizona, our  30-day program includes 20 sessions that involve approximately 6 hours of treatment during the week.
The River Sources offers clients a full spectrum of recovery solutions. We offer residential inpatient treatment as well as outpatient programming. What's right for you? It's not uncommon for some people to put off inpatient rehab because they have children or other family members to care for. They may feel unable to take time away from work or other responsibilities. Even so, addiction treatment can be a life-saving treatment. Alcohol and drug addiction wrecks physical and mental health. Getting treatment, inpatient or outpatient is a crucial and life-affirming step.
Our clinically driven addiction treatment is complemented by effective naturopathic therapies that greatly enhance recovery. Our treatments, collectively, address each aspect of drug and alcohol addiction, helping clients manage their triggers to use and prevent relapse. If you are battling an addiction, outpatient treatment might be the right treatment course for you.
We offer intensive outpatient treatment (IOP) that involves fewer sessions during the week but still provides clients with the support they need as they move toward independence and successfully manage their addiction. Our IOP program is a 60-day program with 24 sessions. During outpatient treatment, clients can expect to develop skills and strategies for managing the triggers that have compelled them to abuse alcohol or drugs. These triggers can spell relapse if they are not well managed.
Our programs include evidence-based therapies that help clients understand what led them to abuse drugs or alcohol and find healthful ways of coping with these triggers so that they do not derail their recovery progress. We offer individualized treatment as well as group therapy. Our rehab also offers special treatment tracks for specific demographics like men, women, and Native Americans.
We feature highly focused treatment programs that provide a springboard to long-term recovery. Our rehab features a safe and comfortable setting where clients can find meaningful support and all the help they need to manage their addiction effectively.
For more information on how our addiction treatment programs can help heal drug or alcohol dependence, please give The River Source a call at 866-828-6792.
Who Should Consider Outpatient Rehab in Arizona?
Clients who don't want to enroll in residential addiction treatment should consider outpatient rehab. Outpatient rehab's more flexible programming can be a good fit for clients who cannot enter inpatient treatment. On the other hand, outpatient rehab may not be the best fit for everyone. For instance, many people just beginning their recovery journey may need the 24-hour support that inpatient rehab can provide. Someone who isn't stable enough to remain living at home may also need the support of a residential treatment program.
Outpatient programming is also ideal for clients who have completed inpatient treatment. Continuing their treatment on an outpatient basis can provide them with continued support. This support can be helpful as individuals return to their everyday lives with their stressors and triggers. Research has demonstrated that the longer a person continues addiction treatment, the less likely they will be to relapse.
If you are addicted to alcohol or drugs, outpatient treatment may be ideal for you. However, it's best to visit The River Source for an evaluation. The best course is enrolling in a program that ideally suits your needs. Our addiction specialists can evaluate your needs and recommend the right treatment course for you.
8 Things to Know Before Choosing Outpatient Rehab in Arizona
Choosing an outpatient rehab is important. Not all rehabs are alike. Your treatment is an investment in your health and well-being–in your future. Here are some things you should know as you select an addiction treatment center:
Individualized Treatment
Choose an addiction treatment center that prioritizes individualized treatment. Individual treatment allows clients and their therapists to work on issues that matter to them. During individualized treatments, clients and their therapists can develop strategies that help clients manage their triggers, helping them build a strong recovery foundation.
Clinically Driven Programs
When choosing an outpatient rehab, look for one that features clinically driven programming with evidence-based therapies like cognitive behavioral therapy. Evidence-based treatments have the approval of the medical and scientific communities because they've been rigorously studied. These treatments are proven to be effective and safe.
Top-Notch Clinicians
Look for a treatment center staffed by credentialed and experienced clinicians. The best rehabs are staffed by caring addiction specialists who have devoted their careers to helping people manage their conditions.
Holistic Treatments
Choose a rehab that offers holistic and naturopathic treatments. These treatments complement recovery and support clients' health. River Source is known for its naturopathic therapies such as infrared sauna detox and nutrition-based therapies.
Medical Detox
Detox is usually the first step in the alcohol and drug addiction recovery process. During detox, the individual is weaned from the substance of addiction. Not all rehabs offer medical detox. The River Source does.
Special Treatment Tracks
Many rehabs specialize in special treatment tracks. For instance, both women and men have unique needs. In Arizona, there is a large population of Native Americans. They, too, have unique needs. The River Source has developed programs designed to provide treatment for special groups, including pregnant women. These programs address their client's unique needs and circumstances.
Dual Diagnosis Treatment
Dual diagnosis treatment addresses the needs of clients with a dual diagnosis–a substance addiction and a mental health disorder. It's important to find a rehab that is equipped to provide dual diagnosis treatment as about a third of people with an alcohol or drug addiction have a simultaneous mental health problem.
High Success Rates
Choosing a rehab with a proven track record of success is important. The River Source has an excellent record of treatment success. In fact, we stand by the quality of our treatment with a treatment guarantee. After completing our full treatment program, clients are eligible for further free treatment if they relapse within the first year after finishing our rehab program.
Get Help From Top-Rated Rehab in Arizona at The River Source
Substance use disorders affect more than 22 million Americans. Fortunately, people have lots of options when it comes to types of addiction treatment programs. Although inpatient drug rehab continues to be popular with individuals who need help overcoming their addiction, many people begin with outpatient treatment or transition from inpatient to outpatient programs as their support needs change.
If you are searching for addiction treatment in Arizona, choose The River Source. Our treatment center features the above features and more. We feature ultra-comfortable amenities and services designed to support lasting recovery. Our treatment programs include outpatient rehab. Outpatient rehab may be the ideal course of treatment for you, but we also offer residential treatment. Don't put off treatment. The sooner you enroll in a treatment program at The River Source, the faster you can put your addiction behind you. Call us at 866-828-6792 today.