Words are extremely powerful; they can dramatically shift how we perceive ourselves, each other, and our experiences. While words can positively affect us, they can also be hurtful and hold us back — and this is especially true for those struggling with substance abuse.
The River Source understands the power words hold, and the importance of accurately describing the challenges we face. That's why we strive to reduce the negativity and factual errors associated with addiction. Read below to learn how to responsibly, and better, communicate about addiction.
Why Word Choice Matters
Words always say more than we think they do. Using the wrong words doesn't just have the potential to hurt people: miscommunication can also imply plenty of incorrect things and perpetuate stigmas of addiction that simply aren't true. One of the first steps to understanding addiction is clearly defining it, and reframing it in honest, positive language. Here are some ways you can put addiction into the right words:
DON'T: Say "Addicts," "Alcoholics," & "Junkies"
What do you think of when you hear these words? Some people may think of "addicts" and "alcoholics" as lazy, careless, or worst of all, beyond hope. Although addiction affects people from all walks of life, these terms reflect how society views those suffering from addiction as people — or rather, how society thinks their substance use defines them. This can make someone feel like addiction is who they are, instead of something they struggle with.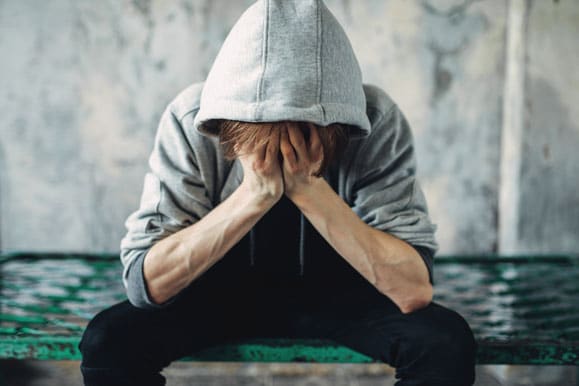 DO: Use Person-First Language
Avoid stigmatizing words like "addict" and "abuser" by using person-first language to refer to someone with addiction: "a person struggling with addiction." Instead of dehumanizing those living with addiction, this phrasing makes it clear that there is much more to a person than their struggle with substance abuse. Focus on the person instead of their disease, and on what you share in common.
DON'T: Talk About Addiction Like It's A Choice
Many people don't view addiction as a disease: they assume that someone decides to use, then just doesn't make the decision to stop. However, research shows that the brain is actively changed by addiction. This classifies addiction as a mental illness, as it fundamentally alters the brain and causes people to lose control of their behavior. Addressing a substance use disorder as a disease to be treated, rather than something to be ashamed of, isn't just kinder — it's more correct.
DO: Describe Addiction Accurately to Shift the Conversation
Addiction is an ongoing challenge that requires professional medical assistance, so changing our language and educating others about the reality of substance use disorders can help those with addiction understand their problem and feel empowered to seek the help they need. Addiction is an ongoing challenge, so instead of referring to it as a choice or moral failing, describe addiction as what it is: a difficult disease, or more specifically, a mental illness called a substance use disorder (SUD).
DON'T: Assume Addiction is Easy to Talk About
Your loved ones who have yet to seek treatment may feel guilty and unready to admit the severity of their problem — to you or themselves. But even after rehab, addiction will remain a sensitive subject for the rest of you and your loved one's lives. Even if they are well into recovery, talking about it can still be embarrassing, shame-inducing, and even triggering, so don't force them to talk about their addiction if they're uncomfortable.
DO: Speak Positively — When They're Ready
Choosing the right moments to talk about addiction is key. While it can be difficult for both the addicted person and those affected by their addiction, it's important for both parties to approach the topic with empathy. When you and your loved ones are ready, speak optimistically and supportively to make it clear you believe in their hard work and will be there for them throughout their ongoing recovery journey.
We're Here to Help
Talking about addiction is hard, but The River Source is here to help you have those difficult conversations, better understand one another, and continue to move forward. For nearly 20 years, we have helped our clients reclaim their life and achieve long-term recovery. Our team understands the unique challenges those suffering from addiction face — many staff members are in recovery themselves and know a thing or two about communicating with the right language!
If you have questions about addiction, rehab, or how to talk about these subjects in a better way, call us at (866) 367-8069 or visit us online at https://www.theriversource.org/.