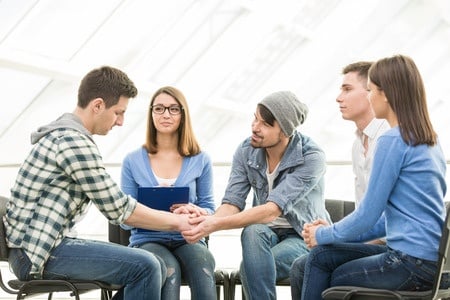 What Goes on Behind the Doors of a Treatment Facility?
Unless you've set foot in a rehab facility, you probably have a lot of questions about what one is like. Some people have visions of barbed wire surrounding a dark, dingy facility that rivals an insane asylum from the movies. Others picture calm, serene environments where horses graze on the pasture and recovering addicts spend their days meditating. We can assure you that no treatment center is like the former, and they tend to be more structured than the latter. Let's take a look at what you can expect when coming to a treatment facility such as The River Source.
You're Not Forced to Stay
Some people think that they are locked away in a rehab center, but it doesn't work this way. You are free to leave if you want, even if you were admitted by the criminal justice system. That doesn't mean there won't be consequences, but a treatment center won't force you to stay. There are no locks on the doors, bars on the windows or barbed wire around the facility. People stay because they want to get better.
The Setting is Familiar and Homelike
The River Source strives to offer a comfortable environment that feels more like home than a treatment center. We have common areas that include leather couches, armchairs, and throw pillows. Modern artwork adorns the walls. Elegant lighting hangs from the ceiling. The rooms are clean and simple and include twin beds with dressers for each person. Our dining halls are quaint, with tables that seat four people. We particularly enjoy our bright, open spaces and landscaped grounds.
You're Fed Nutrient-Rich Meals
Each treatment center has its own philosophy, and at The RS, we believe in healing the entire body – mentally, physically, and emotionally. Only a strong body will have the strength to fight addiction, and a body that feels better will want to continue on this path. That's why we offer our patients nutrient-rich meals that are prepared on-site. They are delicious and include seasonal fruits and vegetables, lean meats and proteins, low-fat dairy, whole grains, and healthy fats.
You, Will, Take Part in Counseling and Group Therapy
Therapy is an important part of any addiction treatment program. Patients at The RS will take part in individual and group counseling, and these sessions tend to be at a higher volume in the first month of treatment. Individual therapy helps patients to see what led to the addiction and why they are at risk.
Group therapy allows patients to come together, share in their struggles and offer support without being judged. We also provide family therapy in person or by phone, helping to strengthen the family unit. As a patient, you will receive multiple sessions of therapy each week.
You May Participate in Yoga and Exercise
Many treatment programs embrace the 12 steps. Part of the 12-step process is to become spiritual. This is not to be confused with becoming religious. Being spiritual simply means that you open your eyes to a greater purpose in life and connect with a higher power of some kind. To help our patients practice their spirituality, we offer yoga and meditation. These activities are also good for the physical body.
You Can Personalize Your Treatment
Part of the reason why a longer stay in rehab is ideal is that patients learn how to structure their days around healthy, constructive activities. Patients have free time in rehab to do what they want: meditate, read a book, write in their journal, etc. This free time is important because it's a time for self-exploration.
We encourage patients to take advantage of the treatments that will work for them such as neurofeedback, hypnosis, vitamin therapy, dry sauna treatments, and acupuncture. The RS also has life coaches who teach invaluable life skills. Some of these treatments are included with your treatment; others are an added fee. Being able to build your own treatment regimen is what makes our treatment truly unique and personalized.
Make Your Recovery Enjoyable
Attending rehab is nothing to fear. Most recovering addicts are very pleased to see that this first step in their journey is peaceful and comforting, setting the stage for a rather enjoyable recovery.
Best of all, treatment is about YOU. So many addicts don't know themselves anymore and have lost the ability to be rational. It's possible that you have no idea what led to the addiction or how much past experiences have affected you. By tearing down the walls of the addiction and working through underlying problems, treatment will build you back up into a more confident, positive person who is ready and able to contribute to society.