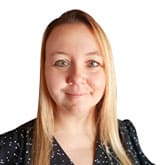 Charlene Leary BSN, RN, CEN
Director of Nursing
---
Employment Start Date:
August 2020
Why did you choose a career with The River Source?

After working in an emergency department for over 20 years, I saw first-hand how people with addictions/behavioral health slipped through the cracks and couldn't receive the care they needed. I'm happy to provide the care they need at The River Source.


What was the interview process like?

It was great. Thorough and engaging – exactly what a good interview should be like.


How would you describe the training process?

The training that I received was set to my own needs and focused on how I learn and retain things and at my pace.


What do you enjoy most about your job?

I absolutely love seeing our clients change and grow from day 1, to leaving detox and then entering the rehabilitation portion of their stays. The changes are amazing to see first-hand.


How would you describe the culture and work environment?

The people, culture and work environment at The River Source are all family-like. We are all here to work towards one goal and that's helping our clients work towards their sobriety.


What's the most rewarding aspect of working at The River Source?

The clients! I love that I get to see the progress of each and every one of them first-hand.


How has The River Source helped you develop your professional skills?

Going from a fast paced, high stress field of nursing, to addiction/behavioral nursing has given me the chance to truly fall in love with nursing all over again.


What potential is there for career growth at The River Source?

As an example, I personally started at The River Source as a temp nurse, moved very quickly into a full-time nurse, worked for about 1 year and then promoted to charge nurse and then Director of Nursing.


What's one memorable moment you've had since working here?

Seeing a client come through the doors in the midst of their addiction, go through the detox/rehab process, move on to PHP/IOP, become The River Source Alumni and come back to visit, join meetings and share their stories with newer clients early in on their addictions. They are a beacon of what someone experiencing addiction can become. Makes my heart happy each and every time.


Why should someone ultimately consider a career at The River Source?

To become a part of an amazing family of caring, compassionate, dedicated, and hardworking people. To help others that sometimes seem or feel hopeless discover that they can start to live a life free of drugs/alcohol and reclaim what they have lost from their addictions!