Driving Directions
We're located at 7910 W. Thomas Rd., Suite #103, Phoenix, AZ 85033
If you're coming from the south or east, take I-10 W heading west past Phoenix Sky Harbor International Airport. Take Exit 136A for 79th Ave and turn right onto N 79th Ave, where the Valley Metro Park & Ride will be there on your right. Stay on N 79th Ave for 1.2 miles, and then turn right onto W Thomas Rd. Make an immediate left in front of Ewing Irrigation & Landscape Supply, and we'll be in that same plaza to its right.
If you're coming from the west, take I-10 E heading east, and use Exit 133B to get on the AZ-101 Loop N. In 1.9 miles, take Exit 3 for Thomas Rd. When you see the Arizona Centers for Digestive Health on your right, turn right onto W Thomas Rd. Continue past the Thomas Centre shopping center on your left, and go for another 1.4 miles. When you see Mariscos El Nuevo Altata restaurant on your right, make a left into the plaza across the street and you'll see us in there.
Phoenix Substance Abuse Treatment
At The River Source, our outpatient substance abuse treatment center in Phoenix, Arizona offers more than just simple, cookie-cutter solutions. We believe in using an individualized approach in combination with evidence-based and holistic therapies to help our clients best understand the physical, mental, and emotional aspects of the recovery process while providing them the tools and resources they need for long-term sobriety.
What sets The River Source apart is our Reclaim 120 program, where clients experience the full Continuum of Care in 120 days of rehab by way of a step-down treatment model. After completing detox and residential programming, our clients can transition into one of our outpatient levels of care at our Phoenix rehab facility where they will engage in outpatient therapies such as individual and group counseling, life skills workshops, and relapse prevention training. Here, our goal is to make sure our clients are fully prepared for what lies ahead as they re-enter mainstream society as sober individuals.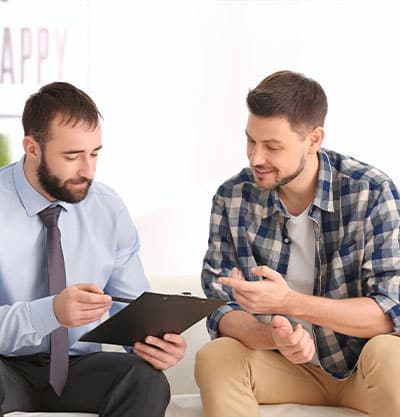 Our Addiction Treatment Programs
Our initial recommendation for new clients is 120 days of alcohol and drug rehab, but we're aware that's not a commitment some people are able to make. Even so, we still want everyone to have the opportunity for treatment that meets their needs, so our full Continuum of Care includes the following programming options:
Drug and Alcohol Detox
Men's Residential Inpatient Program
Women's Residential Inpatient Program
Partial Hospitalization Program (PHP)
Intensive Outpatient Programs (IOP)
Lifetime Alumni Program
VERIFY YOUR INSURANCE
Complete the Form Below to Get a Full Summary of Your Benefits
Our Addiction Recovery Services
Clients work with us to deal with every aspect of their addiction in our gender-specific inpatient and step-down outpatient treatments, and we have a number of recovery services to help them do so.
Individual Counseling

Individual counseling involves meeting with a licensed counselor to better understand their addiction, how it warps their thinking, and what they can do to have a healthy, sober future. We focus on accountability and forgiveness so that clients can make sustainable progress.

Group Therapy

Group therapy gives people a chance to join people facing similar challenges, share their stories without judgment, experience support from other people, and even learn about some strategies and techniques they can use in their own situation.

Family Education

Our licensed counselors help families better understand the problems that may have arisen due to someone's addiction issues. We take the time to help everyone learn to express their feelings and needs so that the focus can shift to how they'll plan for their future in sobriety.

12-Step Principles

A 12-step program, popularized by Alcoholics Anonymous, is used in many substance abuse treatment programs. At The River Source, we've adapted these 12 steps for our clients to help them measure and manage their progress in recovery.

Naturopathic Therapies

Naturopathy and holistic therapies are a wonderful supplement to evidence-based therapies for many clients. Nutritional therapy, meditation, yoga, acupuncture, massage sessions, and more have benefited many clients' overall health here at The River Source.

Co-Occurring Disorder Treatment

More than half of all substance use disorders involve a co-occurring disorder, such as anxiety, depression, or post-traumatic stress disorder (PTSD). These all require parallel treatment while working on sobriety, so we help clients examine the ways their mental health and addiction have intertwined.

Specialized Treatment Areas

Each unique addiction case can have complicated, outside factors playing a role in recovery, which require specially-tailored care. That's why we offer specialized treatment for Native Americans, pregnant women, people with trauma, and more.
Proudly Serving Phoenix, AZ
We're forever grateful that our drug and alcohol rehabilitation programs are able to serve the people of Phoenix, AZ, the greater West Valley area, and beyond, including Glendale, Scottsdale, Tolleson, Mesa, Gilbert, Chandler, Goodyear, and Sun City. We believe all people in our communities deserve the ability to go out and see the beauty of places like Camelback Mountain, the Desert Botanical Garden, and South Mountain Park & Preserve with the strength and renewed love of life that come with sobriety.