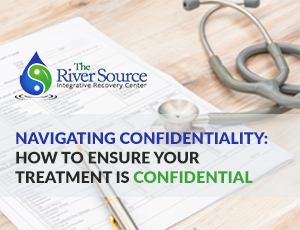 Navigating Confidentiality: How to Ensure Your Treatment Is Confidential
Confidentiality can sometimes be a roadblock on the journey to freedom from addiction.  Those struggling with substance abuse may fear that if they seek treatment, the people they care about most could find out about their addiction.  They might face judgment from their loved ones or co-workers, harm their reputation, and even lose their careers over revealing their dependency.  However, anyone seeking addiction treatment should know that confidential recovery is possible and that you can find the help you need without everyone in your life knowing.
The River Source doesn't want anything to stand in the way of you and your safe recovery, which is why we are committed to confidential treatment that respects every patient's privacy.  We have your guide to federal protections, job security, and addiction treatment center policies, so you can ensure your treatment is confidential.
Federal Protections
The government has standards in place that protect patients' confidentiality, including your addiction treatment.  One major federal act that offers you the protection you need is the Health Insurance Portability and Accountability Act of 1996 (HIPAA).
HIPAA was designed to protect patient confidentiality, as it prevents any federally assisted addiction treatment centers from releasing patient information without consent.  While there are extenuating circumstances, in the cases of criminal acts or medical emergencies, HIPAA allows you to control how much information is shared with your family and your employer about your addiction, your treatment, and any aspect of your recovery even after your treatment is over.  If your addiction treatment center doesn't follow HIPAA's guidelines, then they face fines, lawsuits, and loss of licenses.
To learn more, visit https://www.hhs.gov/hipaa/index.html.
Job Security
Review your company's policies to understand how they handle drug and alcohol abuse, insurance, and medical leave.  This research will give you crucial information on the consequences of informing your employer, as well as your own protections as an employee.  There are also two federal acts in place that protect your job while you seek addiction treatment.
The Americans with Disabilities Act (ADA)
ADA provides you job security if you decide to seek treatment.  It prevents your employer from firing you based on your decision to seek treatment and protects you from discrimination while you are in recovery.  ADA applies to all state and government employers as well as private companies with more than 14 employees.
Family and Medical Leave Act
The Family and Medical Leave Act gives you 12 weeks of unpaid leave per year for family or medical reasons that include addiction treatment – but you do have to qualify.  Your job remains protected during this time, so while you are in treatment, you have peace of mind that you will still have your job after you return home.  You can also rest assured knowing that your employer is required to keep your addiction treatment confidential.
To learn more about your employee rights, visit https://www.samhsa.gov/workplace/legal/federal-laws.
What to Look for in Your Addiction Treatment Center
When searching for the addiction treatment center that is right for you, take a look at their privacy and confidentiality policies.  You will want to know how they secure your private information and help you maintain confidentiality.  Some treatment centers even offer you convenient recovery options that support your privacy. This can include flexible scheduling that allows you to continue working and confidential pick-up points, transportation, and parking.
The River Source's Confidential Treatment
The River Source wants you to find freedom from addiction and help you reclaim your life.  We are always happy to help you navigate your rights and protections, and we offer confidential treatment services that set you on the path to recovery.  Call us today for more information about our confidentiality policy and to see if The River Source could help you or a loved one break free from addiction.