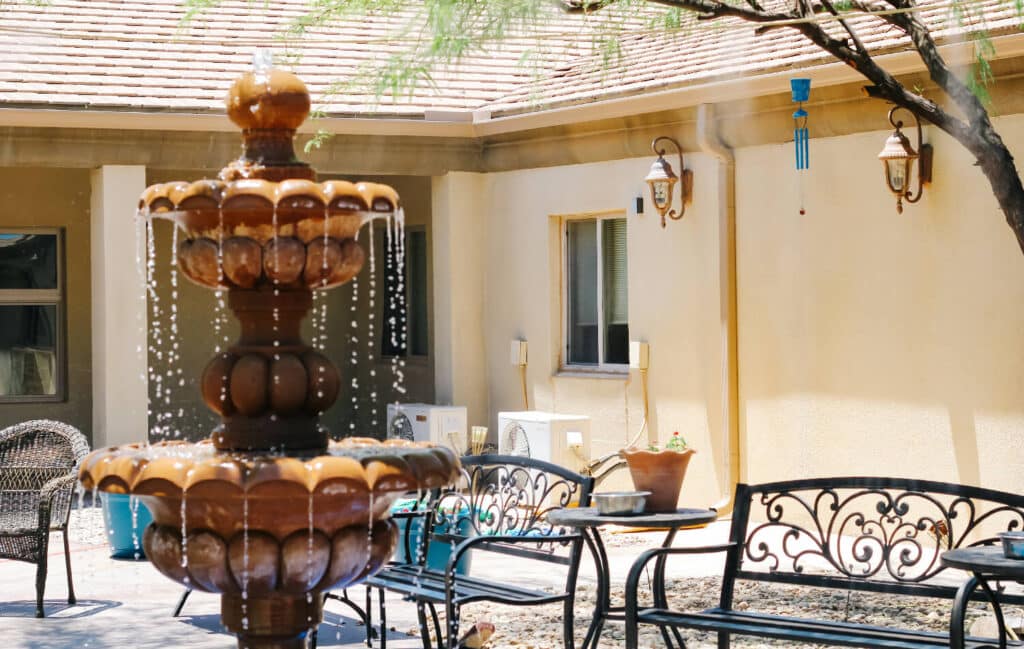 #1 Alcohol Detox Program in Albuquerque
The River Source near Albuquerque, New Mexico provides top-rated alcohol detox treatment through an integrative approach. Our treatment programs combine effective conventional detox methods with naturopathic therapies for the healing of the body, mind, and spirit. We are a top-rated, Joint Commission-accredited detox and rehab facility with locations throughout Arizona. Our multidisciplinary staff is able to treat any alcohol addiction severity successfully through FDA-approved medications, behavioral therapy, psychotherapy, and holistic treatments. We have a higher success rate than the national average which we credit to our unique treatment program that uses personalized treatment plans, an integrative approach, and a full continuum of care. Clients can detox in a comfortable, non-hospital setting which can ease anxiety and stress related to the recovery process. With The River Source, you do not need to choose between luxury amenities and effective, clinically driven addiction treatment. Our treatment facilities are equipped with several amenities that not only make the recovery a little easier but also contribute to your success.
YOU'RE NOT ALONE – WE CAN HELP
TAKE THE FIRST STEP AND APPLY FOR TREATMENT TODAY
Why Choose The River Source Albuquerque for Alcohol Detox?
The River Source, with various locations in Arizona, is only a short drive away from Albuquerque, New Mexico, and offers a unique addiction treatment program not found anywhere else. Our integrative approach incorporates holistic therapies in conventional treatment methods found in the best alcohol detox programs throughout the US. Clients can access naturopathic treatments such as massage, vitamin and enzyme IV therapy, infrared sauna, meditation, and yoga which not only help the body detox more easily, but also heals it at the body, mind, and spirit level. Traveling for alcohol detox can also provide you with more privacy and confidentiality while getting you farther away from triggers, places, and people who may have influenced your addiction. Going outside of Albuquerque for addiction treatment can also help you be more committed to treatment and more likely to finish the program.
Choosing to go through medical alcohol detox will ensure your success and safety. Often those who attempt to stop drinking on their own are unsuccessful because they give in to cravings and withdrawals early on. We use FDA-approved medications and holistic therapies to ease withdrawals and cravings. Our medical staff will monitor your vitals around the clock and be able to administer life-saving medical care in the event of an emergency. Alcohol is one of the few substances which can cause life-threatening withdrawals, which can be dangerous to detox on your own. The River Source also offers a full continuum of care, which allows clients to easily transition into one of our rehab programs for a chance at long-term recovery, including inpatient treatment, outpatient treatment, and virtual rehab. We are in-network with all major insurance companies, which may be able to pay for some or all of your alcohol detox program.
Alcohol Detox in Albuquerque for High-Functioning Alcoholics
Often, those who consider themselves high-functioning alcoholics often put off getting treatment because they have been able to take care of their responsibilities such as keeping a job, family obligations, and hygiene. They also have a hard time getting treatment because they do not want to uproot the lives they've been able to keep up with in order to take time off for addiction treatment. However, alcoholism is a progressive disease, and will only get worse if it continues to go untreated. Getting help early, especially when alcohol addiction is still considered mild, can make recovery easier and more successful.
Medical alcohol detox The River Source can provide any addiction severity the solid foundation needed for successful recovery. While high-functioning alcoholics may not be at risk for dangerous or life-threatening withdrawal symptoms, they can still benefit from supervised alcohol detox. We can provide the type of controlled environment that will prevent giving in to cravings and medications to ease withdrawal symptoms which can make the process much more comfortable. Individuals are more likely to successfully stop drinking with the help of an alcohol detox program compared to attempting it on their own. It also provides the opportunity to enter alcohol rehab after completing detox. Our full continuum of care includes outpatient treatment and virtual rehab, which can be accessed from anywhere in the world.
Medically Supervised Alcohol Detox in Albuquerque
With around-the-clock medical care at The River Source, Albuquerque residents attempting to stop drinking can do so more safely. Withdrawals from long-term or severe alcohol abuse can be dangerous or life-threatening, including causing seizures and hallucinations. Medical complications such as extreme dehydration or suicidal tendencies are also possible. Our medical detox program will include 24/7 monitoring by a medical team of doctors, nurses, and psychiatrists plus prescription medications including anticonvulsants and antipsychotics to ensure you or your loved one's safety. Having around-the-clock medical care can provide peace of mind for lifesaving care in the event of a medical emergency.
What Is Alcohol Detox Like?
Detox programs at The River Source begin with a full physical and psychological evaluation. Clinicians can use this information gathered to create a personalized treatment plan and to anticipate any complications that may arise during alcohol withdrawals. Clients will comfortably detox in one of our private, non-hospital setting residences where a medical team will monitor their vitals around the clock. IV fluids will be used to ensure proper hydration and medications can be administered as withdrawals and cravings arise. Holistic therapies such as vitamin and enzyme therapy, yoga, massage, and infrared sauna are used to help the body detox naturally more quickly, and easily. As withdrawals and symptoms begin to diminish, you may participate in individual and group therapy to address the underlying causes of addiction.
How Long Does Detox Last?
How long it takes to detox from alcohol will depend on several factors. Most people can expect to detox for between 5 to 10 days. Factors that affect the body's ability to detox alcohol include how long and how severe alcohol addiction was if there was polysubstance abuse, the presence of underlying health issues, sex, weight, and age. Typically, withdrawal symptoms will begin within 6 to 12 hours after the last drink and peak two to three days after, after which you will begin to feel better. After about a week, acute withdrawals should conclude. Occasionally, some people may experience lingering withdrawal symptoms for weeks or months later known as post-acute withdrawal syndrome (PAWS) which can include anxiety, depression, and insomnia. These symptoms can be managed with medications and psychotherapy.
What Happens After Detox?
Alcohol detox will only address the physical aspects of addiction and although it can help a person stop drinking initially, rarely does it lead to long-term recovery. Continuing on to comprehensive treatment programs in alcohol rehab at The River Source can help uncover and treat underlying alcohol addiction issues. We offer a range of rehab program options to fit addiction and personal needs. Albuquerque Inpatient alcohol rehab center can provide the type of intensive treatment needed for severe alcohol addiction but is also a great place for anyone to start. Outpatient programs include a partial hospitalization program (PHP), intensive outpatient program (IOP), and virtual IOP. Completing the full continuum of care, which is a step-down program from intensive inpatient treatment through flexible outpatient programs, can provide the best chance at long-term recovery. Aftercare programs can help readjust to everyday life more easily and reduce the likelihood of relapse early on. Patients also have access to our Lifetime Alumni program which can provide support, motivation, and accountability to continue working on their sobriety.
Top Rated Alcohol Detox Treatment in Albuquerque
As a top-rated alcohol detox program, The River Source provides the best option for Albuquerque residents looking to successfully stop drinking. We employ a multidisciplinary team of certified clinicians who will monitor your safety 24/7 while you detox in comfortable residences. FDA-approved medications and holistic therapies are provided to help reduce withdrawals and make the process much easier. Our high success rates are in part due to our full continuum of care, which begins with a solid foundation in alcohol and drug detox.
Albuquerque Alcohol Detox
Albuquerque residents can access top-rated alcohol detox at The River Source within a short drive. Stopping alcohol abuse takes much more than willpower. Alcohol detox programs can help you quit drinking once and for all by providing the type of environment and guidance to go through the withdrawal process successfully. You and your loved ones will have peace of mind and you are well taken care of around the clock during the most difficult phase of recovery.
Our Recovery Guarantee
The River Source's commitment to your recovery from alcohol addiction does not stop the day you complete your program. We know how hard sobriety is, especially during the first year of recovery. When clients complete the full continuum of care in our Albuquerque outpatient rehab, they can come back to treatment for no extra charge if they relapse within the first year. Relapses happen, the important part is getting back on the road to recovery and we want you to get back on it as easily as possible.
QUICK, CONFIDENTIAL INSURANCE VERIFICATION
CLICK BELOW TO FIND OUT IF YOU HAVE COVERAGE