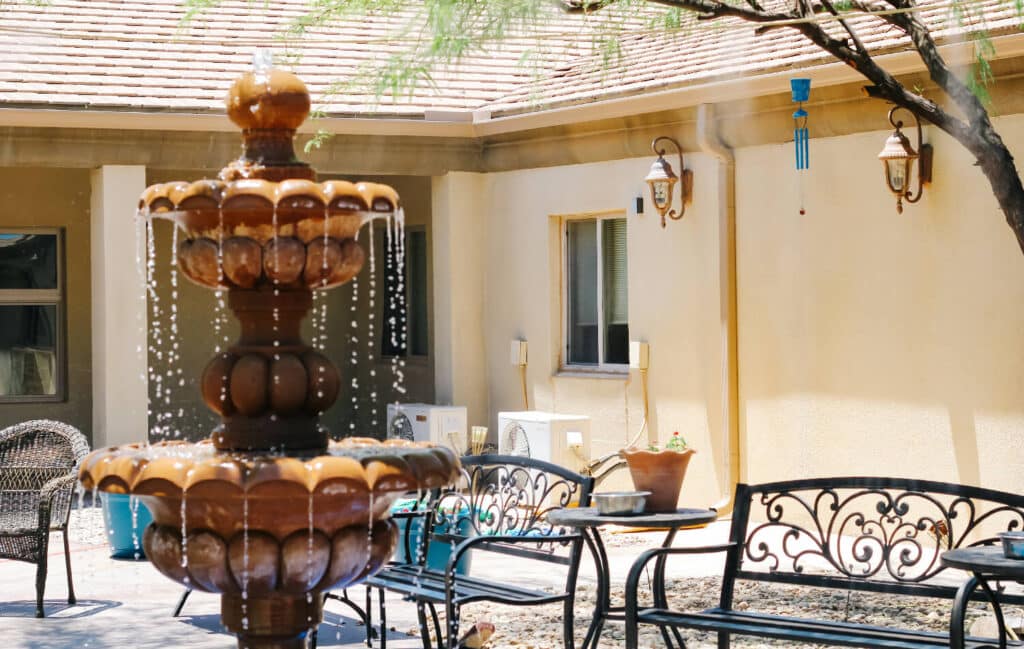 #1 Alcohol Rehab in Albuquerque
The best alcohol rehab will provide personalized and dynamic treatment methods to fit each person's needs and adapt to their progress. The River Source offers Albuquerque, New Mexico a treatment center like no other. Our integrative treatment approach sets us apart from rehab centers across the country by incorporating holistic therapies with our Albuquerque holistic rehab center into conventional treatment methods. We individualize each treatment program to find and address the underlying issues of addiction while healing the body, mind, and spirit from the effects of addiction for a whole-person approach. Recovery programs can change depending on which therapies and services the client react best to. We offer all levels of care, including Telehealth IOP, to fit all alcohol addiction severities. Clients can access medical detox, inpatient treatment, partial hospitalization program (PHP), intensive outpatient program (IOP), outpatient treatment, and aftercare programs under the same roof and with the same professional staff. As a Joint Commission-accredited rehab center, Albuquerque residents can trust they are receiving the gold standard of care. We are also in-network with all major health insurance companies and our intake team can verify your insurance when you call to see if some or all your rehab costs may be covered.
YOU'RE NOT ALONE – WE CAN HELP
TAKE THE FIRST STEP AND APPLY FOR TREATMENT TODAY
Why Choose The River Source Albuquerque for Alcohol Rehab?
Albuquerque residents who choose The River Source for alcohol rehab are getting the best chance at long-term recovery. Our high success rate is partially due to our unique program that uses personalized treatment plans, an integrative approach, and a full continuum of care. Clients with the greatest success have followed our step-down system from intensive treatment through flexible outpatient programs to reintegrate back into their day-to-day life. Treatment programs begin with a thorough physical and psychological evaluation so we can truly know you, your struggles, and your recovery goals to create the best treatment plan for you.
The River Source has several locations in Arizona near the Phoenix area which is within driving distance from Albuquerque but far enough away to provide several more benefits than a local rehab. Traveling for rehab can provide more confidentiality and less likely to run into someone you know. This is also a good reason to get away from triggers and people who have influenced your alcohol addiction. Patients who travel to our rehab center have also made a stronger commitment to complete their program. Clients can also take advantage of our Telehealth IOP which allows access to many of the same therapies and services they would get from in-person rehab.
Alcohol Rehab in Albuquerque for High-Functioning Alcoholics
High-functioning alcoholics often assume they have their drinking under control or that it is not a big deal because it has not negatively impacted important areas of their lives, like their jobs. However, alcohol addiction is a progressive disease and without intervention, high-functioning alcoholics will only get worse. These individuals are often hesitant to get addiction treatment because they are in denial or because they feel inpatient treatment is too intensive for what they need. The River Source offers a variety of treatment programs to fit anyone's needs, including outpatient programs which may be best suited for those with milder addictions and highly motivated in their recovery. Our personalized treatment plans will address specific issues faced by high-functioning alcoholics and stop the disease in its progress. Clients will leave their programs with the tools, skills, and support needed to manage their addiction independently and successfully long-term.
Private Alcohol Treatment Program in Albuquerque
There are several options available for alcohol rehab in Albuquerque, including state-run rehab centers which provide substance abuse treatment free of charge. However, these types of treatment facilities often have a long wait list and do not offer a personalized treatment approach. Private rehab facilities, like The River Source, can provide you with the best chance of long-term sobriety. Individuals may be more likely to complete an inpatient treatment program at a private facility because they offer more comfort and amenities. While we do not consider ourselves a luxury rehab center, we do provide added amenities that actually serve a purpose in our recovery programs. While the costs of private alcohol treatment may seem high, we try to make addiction treatment accessible to everyone. We are in-network with most major health insurance companies which can pay for some or all your rehab costs. Financial assistance is also available through deferred payments on out-of-pocket expenses.
Inpatient Medically Supervised Alcohol Rehab in Albuquerque
Alcohol addiction is one of the few substances that may cause dangerous or even life-threatening withdrawal symptoms. For those with extensive alcohol addiction, detoxing on their own is not recommended. The River Source offers an inpatient medically supervised alcohol rehab program, which begins with medical detox. Albuquerque residents can comfortably and safely go through the withdrawal process with 24/7 medical care and medication-assisted treatment. Our clinical staff includes doctors and nurses who will monitor patients' vitals around the clock and ensure their detox is going as planned. They are able to administer medications to ease withdrawals and cravings as well as to prevent medical emergencies such as anti-seizure medications, sedatives, and beta-blockers. During the alcohol rehab portion of the program, patients will not be monitored around the clock but they do have access to 24/7 medical care in the event of an emergency.
How Long Is the Program in Albuquerque?
Alcohol rehab programs vary in length to fit the severity of the addiction. Individuals with more severe forms of alcohol addiction can expect longer treatment programs. The presence of co-occurring disorders, such as anxiety, depression, bipolar disorder, and ADHD, may also lengthen treatment. It is critical that individuals who struggle with co-occurring disorders have them simultaneously treated through dual diagnosis treatment for successful recovery. While treatment programs can vary, the most common lengths of treatment are 30-day, 60-day, and 90-day rehab programs which can be made up for several levels of care if needed. Treatment programs can always be extended or shortened depending on your needs.
30-Day Alcohol Rehab in Albuquerque
Milder alcohol addictions would benefit from 30-day rehab programs. While 30-day programs can be made up of any level of care, inpatient short-term rehab can provide individuals with the type of environment, structure, and immersive experience necessary to gain a strong foundation in their recovery. 30-day programs allow enough time to break negative habits and behaviors while learning more positive ones. Short-term rehab is quite intensive as they attempt to fit a large variety of treatments and services into 30 days. Clients can always follow up with aftercare programs to continue integrating back into day-to-day life.
60-Day Alcohol Rehab in Albuquerque
A 60-day alcohol rehab program can help Albuquerque residents with mild to moderate alcohol addiction. This program is similar to short-term rehab but allows more time to complete all addiction treatments at a slower pace. This is also a good option for those struggling with co-occurring disorders along with mild alcohol addiction who need dual diagnosis treatment. Outpatient and aftercare programs are recommended after completing 60-day rehab.
90-Day Alcohol Rehab in Albuquerque
Severe forms of alcohol addiction require a minimum of 90 days in rehab. Severe alcohol addiction takes time and several treatment options to break negative behaviors and underlying causes. The River Source can create a comprehensive long-term rehab program to address every aspect of alcohol addiction and help heal the person as a whole. This also allows enough time to teach tools and skills needed for successful independent living such as vocational skills and life skills training.
Men's Inpatient Alcohol Rehab
Residential inpatient programs at The River Source are gender specific. Not only does this allow more privacy and safety for both sexes, but it also has added benefits. Men struggle with their own specific issues surrounding alcohol and drug addiction which men's inpatient alcohol rehab can address. They will also feel freer to express their vulnerability and issues with one another. Men's rehab allows clinicians to address unique psychological, familial, biological, and social aspects of addiction men face.
Women's Inpatient Alcohol Rehab
Similar to men, women also face their own unique struggles when it comes to alcohol addiction. Women's inpatient alcohol rehab can prevent certain traumatic triggers caused by the opposite sex and also allow women to feel more vulnerable. Women can help empower one another while building a sisterhood, strong support networks, and friendships that will last a lifetime. It is easier for women to express emotions and stories with others who understand their struggles.
Our Recovery Guarantee
We are committed to your recovery all the way with our addiction center in Albuquerque. While we provide you with the tools, skills, and healing necessary to overcome an alcohol addiction, relapses happen and you are most vulnerable to one in the first year of recovery. We offer a full recovery guarantee which will allow you to come back to treatment if you relapse within one year of completing our full continuum of care.
If you would like to learn more about our alcohol rehab program or would like to get started on the admissions process, The River Source intake specialists are always ready to take your call and help you in any way they can.
QUICK, CONFIDENTIAL INSURANCE VERIFICATION
CLICK BELOW TO FIND OUT IF YOU HAVE COVERAGE