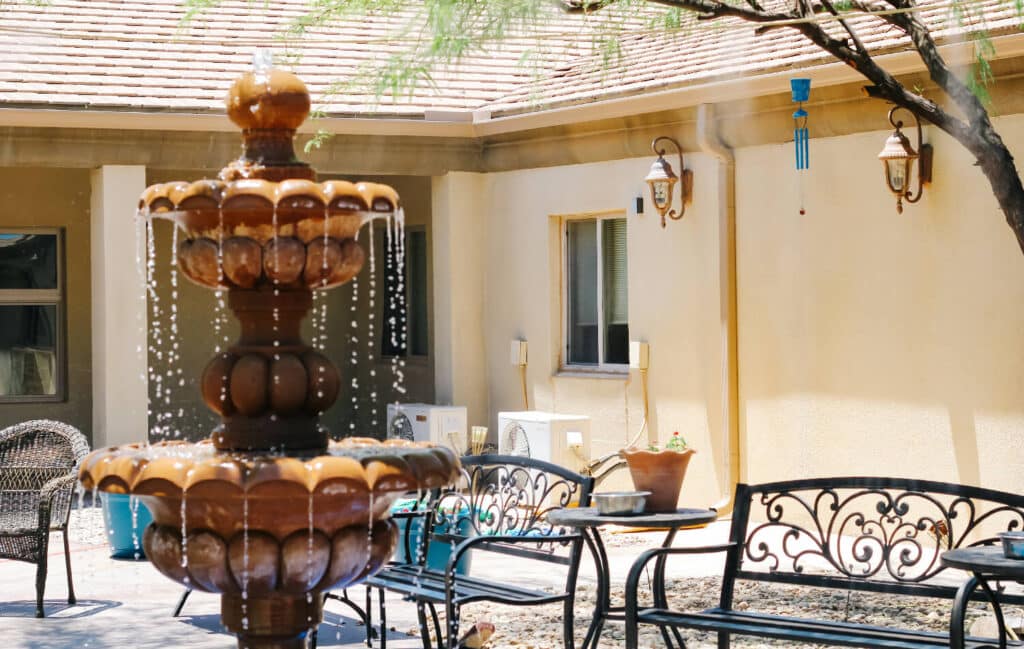 # 1 Drug Detox in Albuquerque
Feeling apprehensive about stopping drug abuse is normal. Many individuals have anxiety and fear surrounding drug withdrawals which can be painful and even dangerous. However, medical detox programs are available to help those struggling with addiction go through the withdrawal process more easily, comfortably, and safely. Residents of Albuquerque, New Mexico have access to The River Source's multiple locations in Arizona. Our top-rated drug detox program will provide you with around-the-clock medical care in a comfortable, non-hospital setting. An integrative approach that uses FDA-approved medications and holistic therapies will help ease withdrawal symptoms and cravings while healing the body, mind, and spirit from the effects of drug abuse. We also provide drug rehab programs including inpatient treatment, partial hospitalization program (PHP), intensive outpatient program (IOP), and outpatient treatment for an easy transition from a medical detox.
YOU'RE NOT ALONE – WE CAN HELP
TAKE THE FIRST STEP AND APPLY FOR TREATMENT TODAY
Why Choose The River Source Albuquerque for Drug Detox?
Albuquerque residents have access to clinically driven, effective medical detox at The River Source. We have multiple locations in Arizona that are located within driving distance from Albuquerque, New Mexico, but far enough away for added benefits of traveling for detox. Going out of state for medical detox not only provides added privacy and confidentiality, but you also have access to more rehab choices and can also make it less likely to check out of rehab early. Choosing a drug detox program instead of attempting detox on your own, can not only ensure your success but also your safety. Some substances can lead to dangerous or life-threatening medical situations, such as seizures, extreme dehydration, or accidentally choking on vomit.
We provide a unique integrative approach that incorporates traditional treatment methods found throughout the best drug detox programs across the US and enhance them with naturopathic treatments for true healing. Holistic therapies can not only further reduce withdrawals and cravings, but they can also help the body self-heal faster for a quicker and easier detox.
What Is Detox Like?
Drug detox at The River Source begins with a thorough medical evaluation from our team of healthcare professionals and naturopathic doctors. An assessment of your medical history, addiction history, personal needs, and recovery goals will provide the necessary information to create a personalized treatment plan. After a tour of the facility, you will be checked into your comfortable room with a private bathroom where our medical team will monitor your vitals 24/7 to ensure the withdrawal process is going as planned. As withdrawal symptoms begin to appear, they will administer medications to ease those symptoms and cravings. Nutritious, in-house-made meals will be provided for you to help you detox. Depending on your personalized treatment plan, you may also begin with holistic treatments such as vitamin and enzyme IV or oral therapy, massage therapy, and an infrared sauna. You may also participate in individual or group therapy sessions to begin healing the underlying causes of your addiction.
Types of Drugs We Treat
Our multidisciplinary healthcare team and state-of-the-art facilities at The River Source are capable of addressing all types of substance abuse and addictions. We are equipped with a wide range of FDA-approved medications for treating drug withdrawals, psychiatric medications, homeopathic remedies, and holistic therapies necessary for helping individuals detox from all types of substances. Our medical staff members are available 24/7 to ensure you have appropriate care and act in the event of any emergency. Some types of drugs we treat in our drug detox program include but are not limited to:
Alcohol

Amphetamines

Barbiturates

Benzodiazepines

Cocaine

Heroin

Marijuana

Methadone

Methamphetamine

Opioids

Psychedelics

Various prescription medications including painkillers, stimulants, sleep aids, and antidepressants
Meth Detox in Albuquerque
Methamphetamines can cause severe physical and psychological dependence. Attempting to stop meth abuse on your own is quite challenging and often unsuccessful due to early relapse from severe cravings and withdrawals. Meth detox at The River Source can provide you with the drug-free environment and medications necessary to successfully recover from meth addiction. We use IV fluids and vitamin therapy to address dehydration during meth detox which is the biggest concern as it can lead to medical complications such as renal failure.
Cocaine Detox in Albuquerque
Both cocaine and crack cocaine addiction can be difficult to overcome on your own. While withdrawal symptoms from these substances are not as severe as other drugs, cravings and psychological effects can cause individuals to quickly relapse. While there are no FDA-approved medications for cocaine withdrawals, The River Source uses various medications and holistic therapies for symptomatic relief of withdrawals. Our comfortable, non-hospital setting can also provide the drug-free environment necessary to avoid giving in to temptation and cravings. Around-the-clock medical care can also ensure your safety as cocaine withdrawals can lead to suicidal thoughts and attempts. Medications, psychotherapy, and holistic therapies at our detox centers can help manage cocaine withdrawal symptoms which include:
Insomnia

Anxiety

Depression

Irritability

Fatigue

Paranoia

Cocaine cravings
Benzo Detox in Albuquerque
Benzodiazepine dependence can lead to dangerous withdrawals if not removed from the body properly. Quitting benzodiazepine use cold turkey can lead to seizures and suicidal behavior which are life-threatening. Our medical team at The River Source can ensure your safety by providing around-the-clock supervision, psychotherapy, and medications to ease withdrawals. Benzo detox may involve a planned, gradual tapering down a method that involves reducing dosage or prescribing less potent benzodiazepines such as clonazepam or diazepam. Rebound anxiety from stopping benzo use is also challenging, however, psychotherapy and holistic therapies can help ease these issues as your body readjusts to not having the medication in its system.
Oxy Detox in Albuquerque
Oxycodone dependence can be challenging to stop on your own due to severe cravings and painful withdrawal symptoms. Oxy addiction can happen to anyone, even to those who use it as prescribed by their doctor. Medical detox at The River Source can provide you with FDA-approved medications, holistic therapies, and psychotherapy to reduce withdrawals and cravings no matter how severe the addiction may be. Medications used in oxy detox may include Naltrexone, buprenorphine, and methadone. Our rehab programs can also help you find non-medication methods to address your pain and stop oxy use long-term.
Heroin Detox in
Albuquerque
Heroin addiction is one of the most difficult substances to overcome. However, medical detox at The River Source can provide FDA-approved medications, psychotherapy, and holistic methods to overcome heroin use successfully. Our clients will reside in comfortable residences with freshly prepared, nutritious meals while they are supervised around the clock by a medical team. We can administer various medications and supplements as withdrawals happen. Medications commonly used also include methadone, Naltrexone, and buprenorphine which will block opioid receptors and reduce heroin withdrawals and cravings.
How Long Does Detox Last?
The medical detox phase of a recovery program may last between five to 10 days on average. Every person's experience with drug detox will differ depending on several factors including severity and longevity of addiction, type of substance(s) used, the presence of underlying medical issues, co-occurring disorders, and the person's sex, weight, and age. Holistic therapies used at The River Source can help strengthen the body and its ability to move out toxic substances which can make the detox process easier and quicker. Once acute withdrawal symptoms and cravings have ceased, drug detox is over. Sometimes, individuals may experience mild, lingering withdrawal symptoms which can last for weeks or months later which is referred to as post-acute withdrawal syndrome or PAWS.
What Happens After Detox?
While drug detox provides successful initial recovery from drug dependence and addiction, it is rarely long-lasting. Medical detox can provide a strong foundation for addiction treatment but it is only the first step in a recovery program. Comprehensive drug rehab programs are necessary for long-term recovery from addiction. Individuals attending medical detox at The River Source can easily transition into one of our rehab programs which include inpatient treatment, partial hospitalization program (PHP), intensive outpatient program (IOP), virtual IOP, or outpatient treatment. Programs are individualized and will address the underlying issues of addiction. Our programs will also help you learn new coping skills and tools, break negative behaviors, and provide you with resources for successful independent living without the use of drugs or alcohol.
Why Detox at The River Source?
The River Source provides medical detox in a non-hospital setting with comfortable accommodations and access to holistic therapies for body, mind, and spirit healing. While our programs are focused on delivering addiction detox and treatment that is clinically and results-oriented, we still provide several amenities that provide a level of luxury. You can also easily transition into a drug rehab in Albuquerque where you can learn to achieve long-term sobriety.
Our Recovery Guarantee
We encourage all patients to complete the full continuum of care as it provides the best chance for long-term recovery but also qualifies you for our 100% recovery guarantee. The River Source clients are able to come back to the treatment at no extra cost if they relapse within 1 year of completing the full continuum of care with us.
QUICK, CONFIDENTIAL INSURANCE VERIFICATION
CLICK BELOW TO FIND OUT IF YOU HAVE COVERAGE