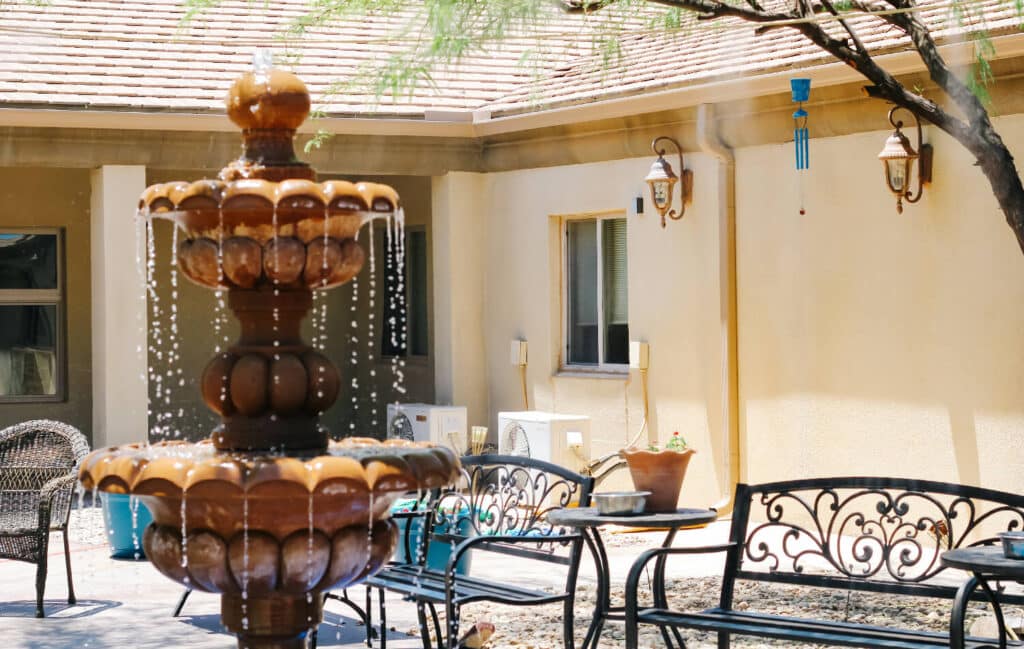 #1 Drug Rehab in Albuquerque
Albuquerque residents have access to effective, evidence-based drug addiction treatment at The River Source. With various locations throughout Arizona, Albuquerque residents can access some of the best rehab facilities a short distance away which provides more privacy and anonymity than local rehabs. Our rehab centers provide all levels of care including medical detox, inpatient treatment, partial hospitalization program (PHP), intensive outpatient program (IOP), and aftercare programs. Patients can complete a full continuum of care at the same facility with the same caring, compassionate clinical staff who know their case from the beginning. Our integrative naturopathic approach sets us apart from other drug rehab centers by using the same effective traditional addiction treatment methods and enhancing them with holistic therapies for a whole-person approach. The River Source's drug rehab programs not only address addiction, they also heal the body, mind, and spirit from the effects of substance abuse. All our rehab centers are Joint Commission accredited and in-network with most major insurance companies. We also provide a recovery guarantee which allows patients to come back to treatment at no extra cost if they relapse within one year of completing our full continuum of care.
YOU'RE NOT ALONE – WE CAN HELP
TAKE THE FIRST STEP AND APPLY FOR TREATMENT TODAY
Types of Drug Addictions We Treat
The River Source employs a multidisciplinary team of clinicians who are able to provide a variety of treatment methods, holistic therapies, and medication-assisted treatment to treat a wide range of substances. We create individualized rehab programs through multiple levels of care to meet anyone, anywhere along their recovery journey. Our medical detox program is also able to provide the necessary medications to help ease individuals through the withdrawal process from almost any substance. Some drug addictions we treat include, but are not limited to:
Methadone addiction

Methamphetamine and amphetamine addiction

Cannabis addiction

Cocaine addiction

Benzodiazepine addiction

Hallucinogen addiction

Inhalant addiction

Heroin and prescription opioid addiction

Alcohol addiction
Heroin Rehab in Albuquerque
Heroin addiction is incredibly challenging to overcome without the help of a comprehensive treatment program. Even if you are initially successful with stopping heroin use, without the proper coping skills and tools learned in rehab, it is likely sobriety is shorted lived. The River Source offers a full continuum of care for our heroin rehab program. Patients can complete the withdrawal process successfully, safely, and comfortably throughout the medical detox program. Heroin rehab will provide several types of addiction treatment and holistic therapies to address the underlying psychological and behavioral causes of heroin addiction, while also healing the whole person.
Cocaine Rehab in Albuquerque
Cocaine addiction can take over a person entirely affecting their health, relationships, and job severely. Our cocaine rehab program near Albuquerque provides patients with an inpatient environment often necessary for overcoming cocaine addiction starting with drug detox. Addiction therapies such as cognitive behavioral therapy, dialectical behavioral therapy, and group therapy help patients to address underlying issues of their substance abuse and provide them with skills and tools necessary to manage stressors and triggers on their own. Dual diagnosis treatment is also available at The River Source to treat co-occurring disorders such as anxiety and depression brought on by extensive cocaine abuse.
Oxy Rehab in Albuquerque
Prescription opioids such as oxycontin have been major drivers in the opioid crisis in the US. Anyone can easily develop an oxycontin addiction, even when they use their prescription as directed. Oxycontin users can develop a dependence on the prescription medication within just a few weeks of using it, which causes severe withdrawals. Our medical detox program can help anyone stop oxycontin or other prescription drug dependence more comfortably through medications and holistic medications. For those with addiction, continuing into oxy rehab in Albuquerque with The River Source helps users achieve recovery long term.
Meth Rehab in Albuquerque
Methamphetamine addiction has grown tremendously across the U.S. and especially in the Southwest U.S. in cities like Albuquerque, New Mexico. Meth abuse leads to severe physical and mental health issues, which can be reversed if treated early enough. Through The River Source's full continuum of care, patients can break years of meth abuse and addiction. Dual diagnosis treatment is often incorporated into meth rehab to help those struggling with the mental health effects of crystal meth which include anxiety, depression, psychosis, and schizophrenia. Treatment programs can also include family therapy to help rebuild relationships with loved ones that may have been strained due to addiction.
Benzo Rehab in Albuqueque
Benzodiazepines are commonly prescribed to treat anxiety and sleep disorders, however, they also have high abuse potential. Users will quickly develop a physical dependence on benzos and will require medical detox treatment to avoid dangerous withdrawal symptoms like seizures. Our clients in benzo rehab at The River Source are provided with dual diagnosis treatment to address the underlying anxiety and insomnia issues more naturally through behavioral therapy and holistic treatments. Clients will leave treatment with the tools and skills necessary to manage their anxiety without the need for medication.
Prescription Drug Rehab in Albuquerque
Many individuals develop an accidental addiction to their prescription medications, including sleeping pills, pain pills, stimulants, and anti-anxiety medications. Because of the stigma surrounding drug rehab, many people avoid getting the treatment they need which causes their symptoms to worsen. The River Source provides a comfortable, peaceful, and non-hospital environment to help clients overcome all types of addiction. Albuquerque residents can also take advantage of further privacy when they go out of the state of addiction treatment. Our programs are tailored to your needs and will help treat underlying causes of addiction, including more natural ways to manage anxiety and pain.
Top Rated Addiction Treatment in Albuquerque
Albuquerque residents can receive top-rate addiction treatment at any of our rehab centers in Arizona. The River Source provides integrative, evidence-based treatment in a comfortable, non-hospital setting with added privacy. Our treatment programs focus on treating the person as a whole and not just addiction, for more successful long-term recovery. Holistic therapies that are part of our treatment plans help clients heal from the effects of addiction and reduce many relapse triggers. Treatment plans are tailored to your unique case and are adjusted as you progress through treatment.
Albuquerque Drug Rehab Success Rates
The River Source in Arizona has higher success rates than the national average, which is measured by relapse rates after completing a drug rehab program. Our high success rate is due to our unique integrative treatment approach which incorporates naturopathic therapies into conventional treatment methods found in the top rehabs across the country, to heal the body, mind, and spirit. We have also molded our treatment programs around 20 years of experience in taking notice of what works best. Our clients who complete the full continuum of care have had the greatest success and we can tailor a treatment plan to include all levels of care.
Why Choose The River Source Albuequeque for Addiction Treatment?
When it comes to choosing the best rehab center for your needs, there are thousands of options to choose from. However, The River Source near Albuquerque offers much more than other rehab centers through our integrative treatment approach. While conventional treatment methods are at the core of our drug rehab programs, long-term recovery is more likely when the whole person is treated and not just their addiction. We also offer the perfect balance of high-quality addiction treatment with comfort. Often, luxury rehab clinics offer several amenities, but also provide more of a vacation than long-term recovery. While we offer several comforts and luxuries, our main focus is always providing patients with their best chance at achieving long-term sobriety through evidence-based therapies and highly skilled and certified staff.
Choosing Albuquerque drug rehab center for your drug addiction treatment needs provides you with the best chance of long-term recovery. All our treatment plans are personalized to address every aspect of your addiction and clients can access all levels of care under one roof. As a Joint Commission-accredited treatment facility, you can trust you are receiving the gold standard of care. You can have access to top-rated rehab treatment in a comfortable, private setting.
The River Source also has a higher success rate than the national average which we attribute to the combination of an integrative approach, personalized treatment plans, and a full continuum of care. Our programs are tailored to each individual and will help them progress through intensive addiction treatment to address underlying issues through more flexible options, allowing an easy transition back to the real world. Choosing a rehab center outside of Albuquerque can provide the distance from relapse triggers and influences while also having more privacy during this healing period.
Our Recovery Guarantee
Our commitment to you and your recovery does not end the day your program is completed. Although we provide you with the tools, skills, and healing necessary to overcome addiction, recovery is still difficult on your own and relapses happen. Part of our commitment to your recovery is offering you a 100% recovery guarantee which allows you to come back to the treatment center at no extra cost if you relapse within one year of completing our full continuum of care. If you or a loved one is struggling with drug addiction, please contact us today and learn more about our treatment programs.
QUICK, CONFIDENTIAL INSURANCE VERIFICATION
CLICK BELOW TO FIND OUT IF YOU HAVE COVERAGE