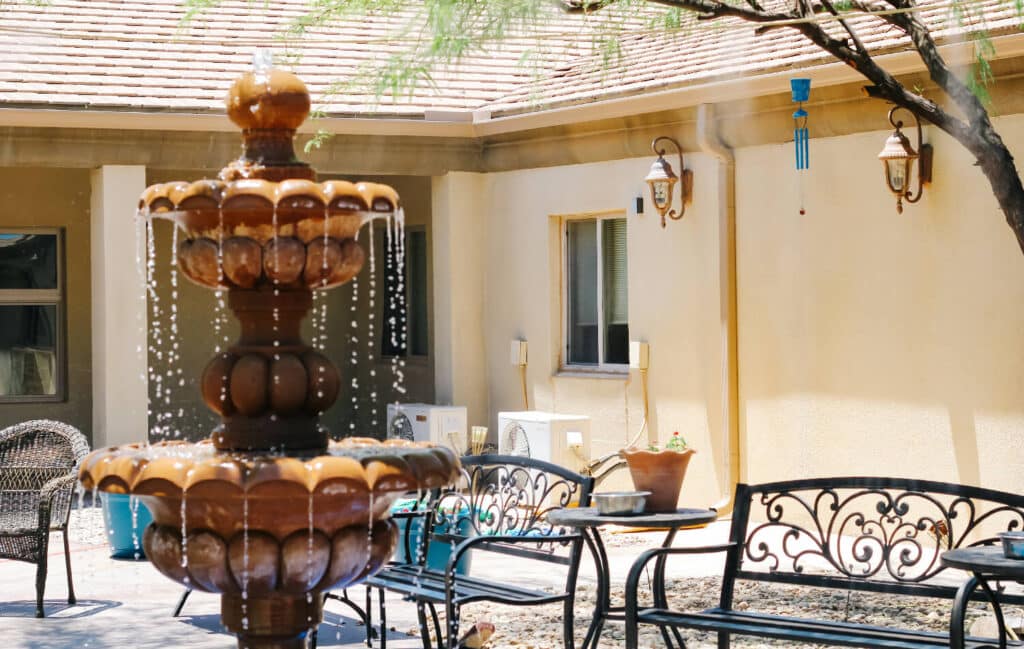 Best Inpatient Drug Rehab Treatment for Albuquerque, New Mexico Residents
The River Source, with multiple locations near Albuquerque, New Mexico, offers the best inpatient-residential drug rehab. Treatment programs are personalized to address each patient's unique addiction circumstances and provide the best chance at long-term recovery. We offer a unique integrative treatment approach incorporating holistic or naturopathic treatments into conventional treatment methods. Patients can access effective, clinically-based addiction treatment in a comfortable, non-hospital setting. Inpatient treatment can provide the type of environment necessary to fully immerse yourself in recovery while eliminating outside distractions, triggers, and temptations.
YOU'RE NOT ALONE – WE CAN HELP
TAKE THE FIRST STEP AND APPLY FOR TREATMENT TODAY
Why Choose The River Source Albuquerque for Residential Drug Rehab?
Albuquerque residents can benefit from a unique treatment program with a high success rate not found anywhere else that is only a short drive away. Traveling for inpatient drug rehab has added benefits including added privacy and confidentiality. You can also put a greater distance between you and the triggers, people, and places of your environment that have contributed to your addiction allowing you to truly focus on yourself. With The River Source, you also do not have to choose between comfort and effective addiction treatment in Albuquerque. We provide comfortable and private residences that foster your recovery efforts. Treatment programs will also include nutritious, in-house-made meals and around-the-clock medical care.
The River Source also provides treatment for those with alcohol use disorders using the same top-rate integrative treatment approach. We are passionate about each of our patient's recovery journeys and will do everything we can to help them achieve long-term sobriety. When you choose The River Source, you choose a lifetime of support and community. Part of our recovery program includes a lifetime Alumni Program that includes resources and motivation to keep you active.
How Long Is Rehab?
Treatment programs at The River Source are individualized to each patient and will vary in length depending on the unique case. We work alongside you to create a treatment plan that fits your recovery needs, personal needs, and recovery goals. The most common inpatient rehab lengths are 30-day, 60-day, and 90-day programs, which can be adjusted to be longer or shorter depending on how you progress through treatment. We recommend all clients continue with varying outpatient treatment, including Telehealth Rehab for seamless reintegration into the real world.
30-Day Inpatient Drug Rehab in Albuquerque
Milder addictions can complete their recovery program in 30 days or less. This is also a great option for those who cannot take an extended leave from their lives or have a limited budget and would like to gain a strong foundation in their recovery efforts. Short-term rehab is intensive as it aims to fit in various addiction treatments and services in a short period of time. Outpatient and aftercare programs are always recommended after 30-day rehab programs.
60-Day Inpatient Drug Rehab in Albuquerque
Like a 30-day rehab, 60-day rehabs offer many of the same addiction therapies but more time to complete and apply them. Longer rehab programs can provide more time away from relapse triggers to focus on yourself and reduce the likelihood of an early relapse when you are most vulnerable. 60-day programs also allow more time to begin working on coping skills and a relapse prevention plan to successfully manage your recovery outside of our rehab center.
90-Day Inpatient Drug Rehab in Albuquerque
Individuals with severe addictions usually require a minimum of 90-day rehab programs. While you may be apprehensive about staying at a treatment center for three or more months, remember that you will be surrounded by caring, supportive staff in comfortable accommodations and that rehab is an investment in yourself. 90-day programs will allow you to master coping skills while addressing underlying issues related to your addiction. You will also spend enough time away from stressors and temptations to avoid the risk of relapse.
Types of Drug Addictions We Treat
The River Source employs a multidisciplinary staff of addiction specialists, counselors, naturopathic doctors, physicians, nurses, and more who can treat any type of substance abuse. We tailor every treatment program to address specific substances' physical, psychological, and behavioral effects. Inpatient treatment may begin with medical detox and be followed up with outpatient programs. We provide treatment for illicit and prescription drugs and dual diagnosis treatment for co-occurring disorders such as anxiety and depression.
Inpatient Heroin Rehab in Albuquerque
Heroin addiction can completely take over a person physically and psychologically, requiring intensive, comprehensive treatment programs. The River Source's residential inpatient treatment program is the type of immersive experience necessary to break the grip of heroin and gain the tools and skills necessary to manage relapse triggers long-term. Medication-assisted treatment can help ease withdrawals and cravings which can last for weeks or months after stopping heroin use. Behavioral therapy and 12-step programming will address the root causes of heroin addiction and teach the necessary tools for managing your recovery.
Inpatient Cocaine Rehab in Albuquerque
Cocaine addiction can come with intense cravings when attempting to stop use. Residential inpatient treatment at The River Source can eliminate outside temptations and influences which often lead to relapse during early recovery when you are most vulnerable. Behavioral interventions can support long-term abstinence while medication-assisted treatment can help treat co-occurring disorders such as depression that may have been brought on by cocaine abuse.
Inpatient Oxy Rehab in Albuquerque
Prescription opioids such as Oxy can lead to dependence and addiction easily. Our treatment programs at The River Source can address any addiction severity and help you regain control of your life. Inpatient rehab for oxy addiction can greatly benefit those wishing to stop oxy abuse since patients have access to around-the-clock medical care and counseling.
Inpatient Meth Rehab in Albuquerque
Choosing inpatient meth rehab can remove you from your usual triggers and allow you to focus on your recovery better. Meth addiction can be severe and cause psychological effects including psychosis and hallucinations. Our medical team at The River Source is available 24/7 to provide care in times of crisis including administering psychiatric medications. Dual-diagnosis treatment will address co-occurring disorders using psychotherapy, behavioral therapy, and holistic treatments.
Inpatient Benzo Rehab in Albuquerque
Benzo addiction can lead to rebound anxiety and seizures in those who attempt to stop using cold turkey. Our detox and rehab programs near Albuquerque can help you ease off your medication safely while also providing dual diagnosis treatment to address underlying anxiety issues without using medications. Clients can leave The River Source with better control of their anxiety and depression.
Inpatient Prescription Drug Rehab in Albuquerque
Individuals can easily develop a prescription drug dependency or addiction. Inpatient treatment at The River Source can help you take a break from life's stressors, influences, and triggers to truly focus on your recovery and regain control of your life. We can treat addiction to several prescription medications including stimulants, sleep aids, antidepressants, anti-anxiety medications, and opioid painkillers while also addressing underlying issues that led you to seek the prescription in the first place for long-term relief from those symptoms.
Men's Inpatient Drug Rehab
Our rehab centers are gender-specific which not only helps individuals feel more comfortable but also fosters their recovery. Men's inpatient rehab at The River Source will address the unique circumstances men face that often lead to substance abuse while providing a space that allows them to express their feelings more freely and authentically. It also allows men to build strong bonds and friendships with one another for a lifetime of mutual support.
Women's Inpatient Drug Rehab
Women face their own challenges and trauma in recovery. By providing women's only inpatient treatment, women can live in a safe environment with reduced triggers relating to past trauma from the opposite sex. It also allows women to foster support and connections among one another while feeling more comfortable discussing sensitive subjects relating to their gender.
Top-Rated Inpatient Drug Rehab Program With Results
Our treatment programs at The River Source have higher success rates than the national average, which is reason enough to travel to Arizona for. We attribute our results to our unique programs that include personalized treatment plans, an integrative approach, and a full continuum of care. Patients are also more likely to complete their treatment program because we have created a comfortable, non-hospital rehab center that reduces many stressors associated with sterile environments.
Our Recovery Guarantee
Part of our commitment to your recovery outside the treatment center is offering a 100% recovery guarantee. If you relapse within one year of completing the full continuum of care at The River Source, you can return to treatment at no extra cost. We know the first year of recovery is the most difficult, and we want to help you back up in the unfortunate event of a relapse.
If you would like to learn more about our inpatient drug rehab program or any other program, we can answer your questions whenever possible.
QUICK, CONFIDENTIAL INSURANCE VERIFICATION
CLICK BELOW TO FIND OUT IF YOU HAVE COVERAGE