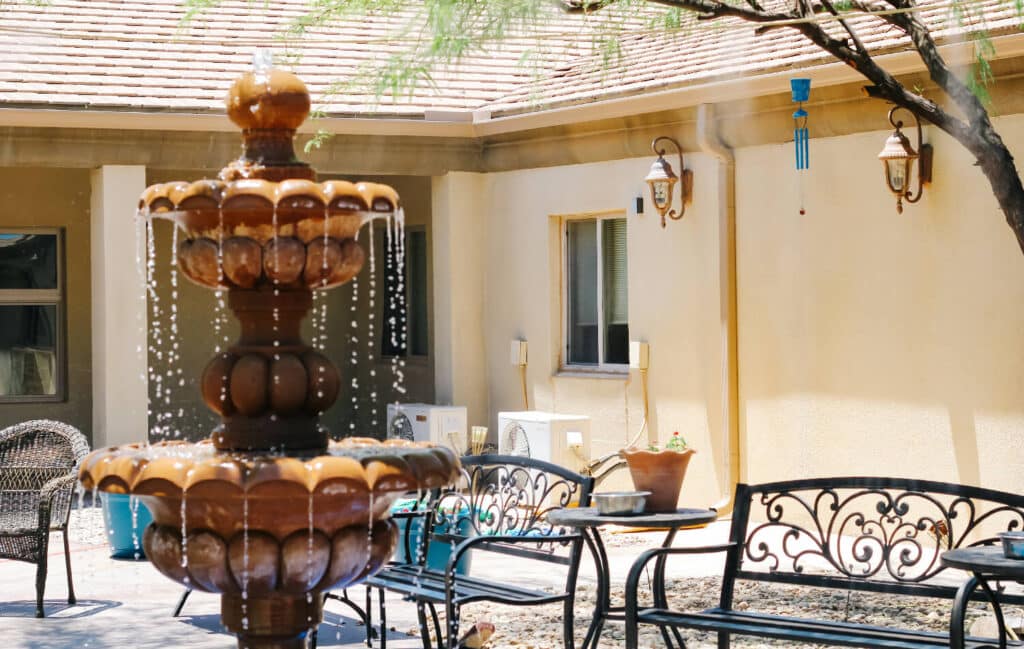 #1 Prescription Drug Rehab & Detox in Albuquerque
When a prescription for a medication turns into dependency or addiction, The River Source near Albuquerque can help you regain control of your life with our comprehensive detox and rehab programs. We provide individualized treatment plans to any person's needs and level of dependency or addiction. Our programs include prescription drug detox in Albuquerque can help individuals safely and comfortably stop using prescription medications they have become dependent on. For those who developed psychological and behavioral addiction to prescription medication, drug rehab will address the underlying issues, including dual diagnosis treatment for co-occurring disorders such as anxiety and depression.
YOU'RE NOT ALONE – WE CAN HELP
TAKE THE FIRST STEP AND APPLY FOR TREATMENT TODAY
Why Choose The River Source Albuquerque for RX Drug Rehab?
Prescription drug rehab programs at The River Source go beyond using conventional treatment methods found in the best rehab centers throughout the US. We use an integrative approach incorporating naturopathic treatments to heal the body, mind, and spirit. Albuquerque residents can benefit from traveling for rehab as it provides more privacy and confidentiality while putting more space between them and their addiction triggers. Patients can also complete the full continuum of care with us from medical detox to inpatient treatment to outpatient programs including partial hospitalization program (PHP) and intensive outpatient program (IOP). We also offer Virtual IOP which allows access to many of the same in-person therapies from anywhere in the world.
The River Source near Albuquerque, New Mexico provides the best value in treatment because of our integrative approach. Treatment programs will include conventional methods such as cognitive behavioral therapy, 12-step programming, and family education while also incorporating holistic therapies that look beyond the addiction to heal the person as a whole. Clients can also complete all levels of care with the same caring and supportive staff who know their journey from day one.
Inpatient Residential RX Addiction Program in Albuquerque
Beginning your recovery program with inpatient residential treatment allows you to stay at the treatment facility full-time and away from places, people, and things that may trigger a relapse early on. Usually, inpatient treatment is best suited for those with severe addictions, but all addiction severities can benefit from beginning their program in residential treatment. The River Source offers both short-term and long-term inpatient rehab lengths to fit any person's needs. Our treatment centers include comfortable and modern living quarters and common areas. Clients can benefit from clinically driven addiction treatment that works in a non-hospital setting with around-the-clock medical care from doctors, nurses, and counselors.
Types of RX Drug Addictions We Treat
The River Source employs a multidisciplinary team who can treat a wide range of prescription drug addictions. Every type of medication will present varying sets of challenges and require specific treatment techniques. Every treatment plan is individualized to address the underlying causes of addiction and teach various skills and tools necessary for long-term recovery. Types of prescription drug addictions we treat are below:
Benzo Rehab in Albuquerque
Benzodiazepines can quickly lead to physical dependency which may cause severe withdrawals when attempting to stop. Drug detox programs at The River Source can help you taper down use while providing other medications and holistic therapies to avoid withdrawal symptoms. Clients may also benefit from dual diagnosis treatment to treat underlying anxiety and sleep disorders without using medications for long-term relief of symptoms.
Fentanyl Rehab in Albuquerque
Like other opioids, fentanyl is highly addictive and requires comprehensive treatment programs for long-term recovery. Patients at The River Source can begin their treatment program with medical detox to stop fentanyl use comfortably and successfully. Fentanyl rehab will include a variety of treatment methods and services to help heal from the physical, behavioral, and psychological aspects of addiction to achieve long-term sobriety.
Oxy Rehab in Albuquerque
Oxy rehab at The River Source near Albuquerque may require intensive treatment programs depending on addiction severity. Completing our full continuum of care from medical detox and inpatient treatment through various outpatient programs can provide you with the best chance at long-term sobriety from oxy abuse. Our integrative treatment program will include several holistic therapies such as yoga, massage, and infrared sauna to treat pain and other co-occurring disorders more naturally.
Morphine Rehab in Albuquerque
Opioid addictions, such as morphine, are one of the most difficult substance use disorders to overcome. The River Source can provide you with the type of intensive and comprehensive treatment programs necessary to overcome any type of opioid use disorder. Morphine rehab may include medication-assisted treatment to reduce withdrawal symptoms, various individual and group therapy sessions, and holistic therapies to tackle the toughest addictions.
Meperidine Rehab in Albuquerque
Albuquerque residents looking for Meperidine addiction treatment can access The River Source's various rehab programs. Meperidine can easily lead to dependence within a few weeks of use and eventually addiction if not addressed quickly. Our personalized treatment plans vary in intensity to meet anyone along the spectrum of addiction, whether you only need help getting through Meperidine withdrawals after a few weeks of use or need multi-level treatment programs for a long-standing addiction.
Diphenoxylate Rehab in Albuquerque
Diphenoxylate is another prescription opioid with a high potential for abuse, even when used as directed. Prescription drug detox will include around-the-clock medical supervision and FDA-approved medications to ease withdrawal. Rehab programs near Albuquerque, New Mexico will address the root causes of addiction while teaching effective ways to manage your recovery on your own for successful long-term sobriety.
Sedative Rehab in Albuquerque
The River Source can address sedative medications' varying dependency and addiction levels. While some have a higher potential for abuse than others, they can still lead to physical dependency and severe withdrawals making it challenging to stop using on your own. Medical detox programs can help guide individuals on stopping sedative use while providing various therapies to ease withdrawals and co-occurring disorders. Individuals with an addiction to sedatives, will need to continue with drug rehab programs to achieve long-term recovery.
Antidepressant Rehab in Albuquerque
Antidepressants are usually non-habit forming, however they can still cause physical dependence which makes it difficult to stop using on your own. Our prescription drug rehab programs at The River Source can help Albuquerque residents overcome withdrawals associated with antidepressant use more comfortably and safely, while also addressing underlying mental health disorders more naturally through behavioral therapy and holistic treatments.
30-Day Rehab
Short-term rehab, or rehab lasting less than 30 days, is a great option for those with milder addictions. These treatment programs can be intensive, and you should be prepared to receive many addiction therapies and services quickly. This is a great way to gain a strong foundation for prescription addiction recovery. 30-day rehab can help you break negative behavioral patterns and learn new habits for successful long-term sobriety.
60-Day Rehab
Milder addictions with co-occurring disorders would benefit more from a longer rehab program like our 60-day rehab. This allows more time to complete all the therapies and services needed to successfully break from addiction. Dual diagnosis treatment will address co-occurring disorders such as anxiety and depression which may be contributing to the substance use disorder.
90-Day Rehab
Severe or long-standing addictions need a minimum of 90-day rehab programs for successful recovery. Long-term rehab programs provide the necessary time to recover from addiction and reduce the likelihood of relapse within the first year of sobriety. The River Source creates personalized treatment plans to address underlying causes of addiction, teach tools and skills to manage relapse triggers, and provide services such as vocational and life skills training to regain control of your life.
Top Rated RX Addiction Treatment in Albuquerque
Albuquerque residents have access to top-rated prescription drug addiction treatment that is only a short drive away at The River Source. We are a Joint Commission-accredited treatment facility and in-network with most major health insurance companies. Our high success rate is credited to our unique treatment program, which includes personalized treatment plans, an integrative approach, and a full continuum of care.
Prescription Rehab in Albuquerque
The River Source provides all levels of rehab care to address any type of prescription drug dependency or addiction. Treatment plans are dynamic and will be adjusted to how you progress through treatment. Our full continuum of care includes residential inpatient treatment, partial hospitalization program (PHP), intensive outpatient program (IOP), outpatient treatment, and virtual IOP.
Our Recovery Guarantee
We offer a 100% recovery guarantee which allows you to return to treatment for free if you relapse within one year of completing the full continuum of care. Relapses happen, even with the best rehab programs. The River Source wants to make treatment easily accessible to anyone and be able to get back on the road to recovery. If you want more information about our recovery programs or want to discuss your unique case with us, please contact us today.
QUICK, CONFIDENTIAL INSURANCE VERIFICATION
CLICK BELOW TO FIND OUT IF YOU HAVE COVERAGE