Pennsylvania Addiction Treatment for Drugs and Alcohol
Pennsylvania is nestled along the East Coast and has 63 miles of coastline along Lake Erie and 57 miles along the Delaware Estuary. It is a densely populated state thanks to its four large cities, Philadelphia, Pittsburgh, Allentown and Erie. Like other states along the East Coast, Pennsylvania has long struggled with drugs coming in from the ports and through the elaborate transit systems that run from New York.
At The River Source, we've seen patients from Pennsylvania that have been sucked into the drug culture due to the widespread availability of illegal substances like cocaine and heroin. It used to be that cocaine was the biggest threat in the state, especially as it was moved out to the European coast, but today's problems lie in heroin. With a significant increase in prescription painkillers, it's the next step to go to the cheaper and more readily available drug heroin. It's this path of drug abuse that has led many Pennsylvania drug addicts to The River Source.
Why Addiction is Prevalent in Pennsylvania
Pennsylvania follows the same paths as other Northeastern states when it comes to drug addiction. First, the state has a good mix of large cities and small, rural towns. There are many gangs in the cities that are responsible for distributing drugs throughout the state and making money. Although one would think that this type of business would take place in the city, it's actually more prevalent in the suburbs.
Many drug dealers have moved out of the city and into the suburbs to deal drugs because there is less law enforcement to detect their behavior. Also, the suburbs have more affluent neighborhoods, bringing about a new market for drug sales. Second, Philadelphia has one of the largest ethnic populations in the country, and these groups are moving in fast. They take over abandoned homes in the suburbs and use them to grow marijuana, they move drugs through the transportation infrastructure and they move drugs along the East Coast through Atlanta's transshipment points.
How Does Pennsylvania Compare to Other States?
Even with all the drugs moving in through Pennsylvania, the rate of drug abuse is actually lower than the national average. It is reported that 7 percent of residents admitted to using illegal substances in the past month, compared to the national average of 8 percent. Heroin is the most commonly cited drug for primary drug treatment, and The River Source shares these same findings, as we have worked with several patients from Pennsylvania who have battled heroin addictions.
Although the drug use statistics are lower, the rate of drug-induced deaths is higher than the national average, with 14.6 per 100,000 of the population having died from drug-related deaths in 2007. The national average is 12.7 per 100,000 people.
A Close Look at the Numbers
Below is the percentage of the Pennsylvania population using and/or abusing drugs.
| | |
| --- | --- |
| Illicit Drugs | Age 18+ |
| Past Month Illicit Drug Use 1 | 6.78% |
| Past Year Marijuana Use | 8.96% |
| Past Month Marijuana Use | 4.94% |
| Past Month Use of Illicit Drugs other Than Marijuana 1 | 2.99% |
| Past Year Cocaine Use | 2.06% |
| Past Year Non-Medical Pain Reliever Use | 3.82% |
| | |
| --- | --- |
| Alcohol | Age 18+ |
| Past Month Alcohol Use | 56.62% |
| Past Month Binge Alcohol Use 2 | 25.01% |
| | |
| --- | --- |
| Past Year Dependence, Abuse & Treatment | Age 18+ |
| Illicit Drug Dependence 1 | 1.56% |
| Illicit Drug Dependence or Abuse 1 | 2.06% |
| Alcohol Dependence | 2.88% |
| Alcohol Dependence or Abuse | 6.54% |
| Alcohol or Illict Dependence or Abuse 1 | 7.77% |
| Needing but not Receiving Treatment for Illicit Drug Use 1, 3 | 1.78% |
| Needing but not Receiving Treatment for Alcohol Use 3 | 6.25% |
1

– Illicit Drugs include marijuana, cocaine, heroin, hallucinogens, inhalants, or prescription-like psychotherapeutics that are used non-medically. Illicit Drugs Other Than Marijuana include cocaine, heroin, hallucinogens, inhalants or prescription-like psychotherapeutics that are used non-medically

2

– Binge alcohol is defined as drinking five or more drinks in the same setting on at least one day in the past 30 days

3

– Needing But Not Receiving Treatment refers to the respondents needing treatment for illicit drug or alcohol use but not seeking specific treatment at a facility

4

– Major Depressive Episode is defined as having a period of at least 2 weeks where a person experienced a depressed state of mind or loss of interest in daily activities. They also have the symptoms listed in the DSM-IV

Source: National Survey on Drug Use & Health, 2004 and 2005, SAMHSA, Office of Applied Studies

| | |
| --- | --- |
| Serious Psychological Distress | 10.50% |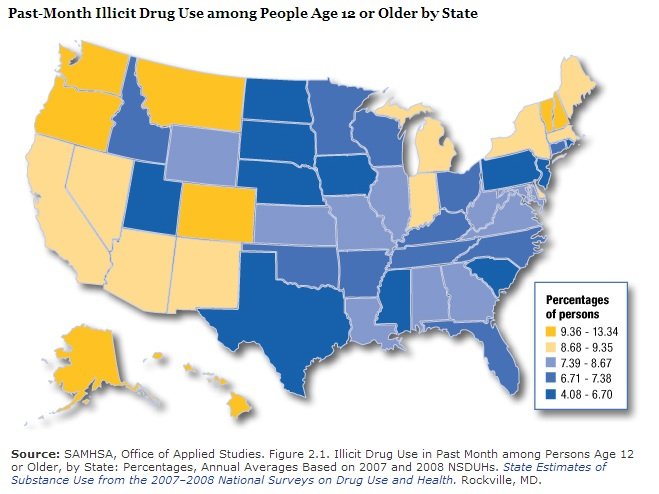 Why Seek Treatment in Arizona
If you or a loved one has fallen into a world of drug abuse, it's time to get the help that is deserved. The River Source offers a fresh start on the opposite side of the country where the desert sun is always shining and the warm temperatures promote happiness and healing. We accommodate patients from across the country by arranging for transportation from the airport and to our facility, as well as encourage family counseling sessions over the phone.