Why Addiction is Prevalent in California
California is a unique state because it has such a large population and many pockets that make one region different from the next. Whereas other states have one particular problem, California has them all. In San Diego and Imperial County, drug rates are high. These areas are prime locations for shipping illegal substances over the border, and many families living in this area use drugs as their source of livelihood. Cocaine, heroin and meth are a few of the drugs smuggled from the border.
In the northern part of the state, the drug problem may be quieter, but it still exists. Meth use is very popular in this portion of California, especially in the rural areas. In the farmlands, it's easier to hide drug problems, but these areas are still not far from some of the nation's largest cities, so a steady drug supply isn't hard to come by. In other parts of California, heroin is the drug of choice. With many affluent areas, the rate of abusing prescription painkillers rises, and therefore, so does heroin.
How Does California Compare to Other States?
Even with all this information on California and its multiple pockets that include rural areas, large cities and affluent suburbs, the state has fewer drug-related deaths than the national average. The state had 4,178 persons who died from drug-related causes in 2007, which accounted for 11.4 per 100,000 of the population. The national average is 12.7 drug-related deaths for every 100,000 people.
Nevertheless, in a 2007-2008 National Survey on Drug Use and Health, approximately 9 percent of residents reported using illicit drugs in the past month; the national average is 8 percent. Also, 3.94 percent of California residents reported using a drug other than marijuana in the past month, compared to the national average of 3.58 percent. Even though drug-related deaths are slightly lower than the national average, it's apparent that California still struggles with drug and alcohol abuse.
A Close Look at the Numbers
Below is the percentage of the California population using and/or abusing drugs.
Illicit Drugs
Age 18+
Past Month Illicit Drug Use

1

9%
Past Year Marijuana Use
11.02%
Past Month Marijuana Use
6.52%
Past Month Use of Illicit Drugs other Than Marijuana
3.91%
Past Year Cocaine Use
2.52%
Past Year Non-Medical Pain Reliever Use
5.20
| | |
| --- | --- |
| Alcohol | Age 18+ |
| Past Month Alcohol Use | 53.74% |
| Past Month Binge Alcohol Use | 23% |
Past Year Dependence, Abuse & Treatment
Age 18+
Illicit Drug Dependence

1

1.88%
Illicit Drug Dependence or Abuse

1

2.50%
Alcohol Dependence
4.11%
Alcohol Dependence or Abuse
8.48%
Alcohol or Illict Dependence or Abuse

1

9.71%
Needing but not Receiving Treatment for Illicit Drug Use

1, 3

2.37%
Needing but not Receiving Treatment for Alcohol Use

3

8.08%
1

– Illicit Drugs include marijuana, cocaine, heroin, hallucinogens, inhalants, or prescription-like psychotherapeutics that are used non-medically. Illicit Drugs Other Than Marijuana include cocaine, heroin, hallucinogens, inhalants or prescription-like psychotherapeutics that are used non-medically


2

– Binge alcohol is defined as drinking five or more drinks in the same setting on at least one day in the past 30 days


3

– Needing But Not Receiving Treatment refers to the respondents needing treatment for illicit drug or alcohol use but not seeking specific treatment at a facility


Source:

National Survey on Drug Use & Health, 2004 and 2005, SAMHSA, Office of Applied Studies

| | |
| --- | --- |
| Serious Psychological Distress | 9.81% |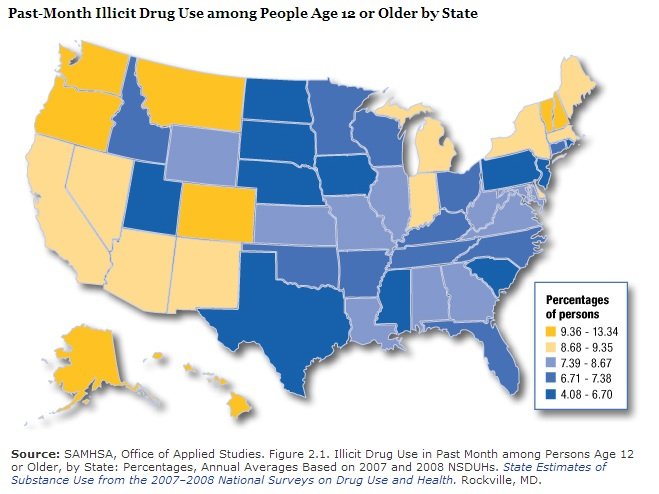 Why California Residents Should Seek Treatment in Arizona
California and Arizona border each other, so for those families who want to remain nearby their loved ones during treatment, The River Source is an excellent option. We work with many patients from California, and they appreciate the similar climate in Arizona. Those who come from the large cities of California will enjoy our quiet and secluded facilities that allow for the greatest chances of recovery.]]>