Inpatient Drug Rehabilitation & Alcohol Treatment Centers
There are many inpatient drug and alcohol treatment centers available in Arizona but The River Source has success rates that are higher than average – 75% in 2012 – as a result of our comprehensive, individualized residential treatment. We are known as one of the top affordable inpatient drug rehab centers in the country because of our well-rounded approach in treating the whole individual – mind, body, and spirit. The experience of our staff and our innovative programs also contribute to our strong reputation regarding holistic residential treatment.
Our residential rehab centers specialize in drug and alcohol addiction recovery for clients of all ages and backgrounds. We can arrange for transportation on the same day, and our specialists are available 24 hours a day, 7 days a week to answer phone calls. With the comprehensive care that includes traditional medical detoxification, rehabilitation services, and continuing care, The River Source becomes more than just a step in recovery; we become part of the entire journey.
Benefits of Inpatient Rehabilitation
Physical Benefits

We help our patients through the withdrawal process
New environment
Stress prevention

Psychological Benefits

The program and treatment will be tailored to the individual's circumstances

Emotional Benefits

Peace of mind and emotional safety
Escape the world to focus exclusively on getting better
What Is the Length of Stay for Our Inpatient Rehab Programs?
Inpatient alcohol and drug treatment centers are more structured than outpatient programs. The River Source follows suit with this mentality, offering intense, rigorous programs that work quickly and efficiently to detoxify the body and work toward sobriety. Part of our full continuum of care includes our 30, 60, and 90-day treatment programs that build up the mind, body, and spirit. The average length of stay is 60 days for inpatient drug treatment, but extended periods are best when possible.
A longer stay is ideal because it provides the patient with additional time for self-healing, learning vital coping skills and remaining in a sober, supportive environment. We understand that not everyone has the financial means or the ability to stay for more than a month, which is why our inpatient drug rehab centers offer a 30-day drug treatment program that is especially concentrated. During this time, therapy is most extensive and abundant, with the individual, family, and group therapies taking place each day.
RECOVERY GUARANTEE
Our inpatient drug rehab and alcohol treatment centers offer a recovery guarantee, and that's because it's difficult to place a promise on something – or someone – you can't ultimately control. The River Source feels differently. We believe that by treating the whole individual and then sending our clients out into the world armed with the right tools, the chances for relapse are low.
How does it work? It's actually quite simple.
Our inpatient drug rehab center offers a recovery guarantee upon the successful completion of 90 consecutive days of inpatient treatment or our Full Continuum of Care (detox, residential, partial day program, intensive outpatient). We feel that this is enough time to successfully change addictive behaviors and work through underlying problems. If the client relapses for any reason within the course of the year, we will allow them to return to treatment at no cost.
The treatment that is offered is for an additional 30 days, and the client will need to cover the cost of transportation. Otherwise, the care received is free. Our guarantee serves two very important purposes. The first, and most obvious, is that it gives our clients a reason to trust our inpatient drug and alcohol treatment centers program and believe that it will work. The second is that we are making a commitment to each and every person who walks through our door. We hope that this commitment will encourage more suffering addicts to do the same for their own health and well-being after completing our inpatient treatment program.
What Happens During Inpatient Drug and Alcohol Rehabilitation?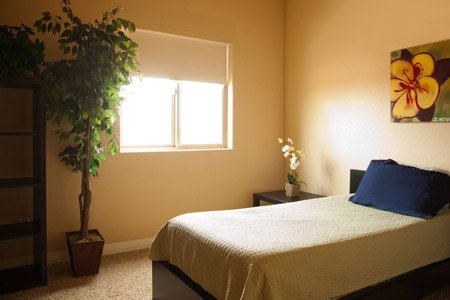 During your inpatient rehabilitation stay for a drug or alcohol addiction, you can expect an intense yet positive and rewarding journey to sobriety. It's like climbing a ladder: you take one small step at a time until you reach the very top. It may feel a bit unfamiliar, but once at the top, you keep working at your goal until you achieve it.
Our affordable inpatient drug rehab center's program starts off with detoxification in order to remove the toxins from the body. A full diagnosis will be made, including co-occurring disorders that may need to be treated. An individualized treatment plan is then written up in collaboration with our doctors, nurses, and counselors. Going forward, residents are given a schedule with activities and daily tasks divided up by the hour. This schedule is designed to get our clients on track with a healthy routine.
In addition to meeting for counseling and therapy sessions, residents also have the chance to meet with our behavioral health technicians. We leave time for self-reflection, which is an excellent time for writing in journals or listening to music. As long as you follow the rules and show respect in our community, you will be given the privilege to use your phone and laptop at the designated times. Visitors are also allowed on Saturdays and Sundays during our rehab treatment center's normal visiting hours.
What Extra Therapies are Offered During My Residential Stay?
As an integrative inpatient drug and alcohol treatment center, The River Source offers more than just a safe healing environment that our clients will find affordable. Our inpatient rehab center's programs are designed with the belief that the basis for a healthy and effective recovery lies in the mind, body, and spirit. That's why we believe that these aspects of a person need to be nurtured.
For an additional cost, our addiction recovery center offers several types of treatments that can be added onto the included therapies. These treatment modalities are safe, effective, and improve mental and physical health without the need for medication.
We must always remember the joy in living a life that is free of dependencies. A sober life is one of happiness, stability, and fulfillment. It's the ultimate goal in life.
If you or a loved one suffering from substance abuse is looking for a treatment that is both effective and affordable, our rehab center's programs can provide the help that is needed. The River Source offers high-quality inpatient treatment at our holistic rehab center in Arizona City for adult men and women at an affordable cost.
Looking for Affordable In Patient Drug Rehab Centers in Arizona that
Provide Full-Service Care?
Call The River Source Today to Receive More Information About a
Program for You or a Loved One
866-294-9331
Start the recovery process today!