Arizona Outpatient Rehab Addiction Treatment Program
Often times individuals who have successfully completed our inpatient drug and alcohol rehabilitation program
still need some form of on-going treatment in order to solidify their sobriety. Our outpatient treatment program is intended to offer these individuals a continuum of care. Outpatient treatment is also offered to new clients who may not require inpatient care for their particular circumstance.
Not sure if Outpatient Treatment is right for you or your loved one? Use this Professional Pre-Assessment form to help determine which program is right for you.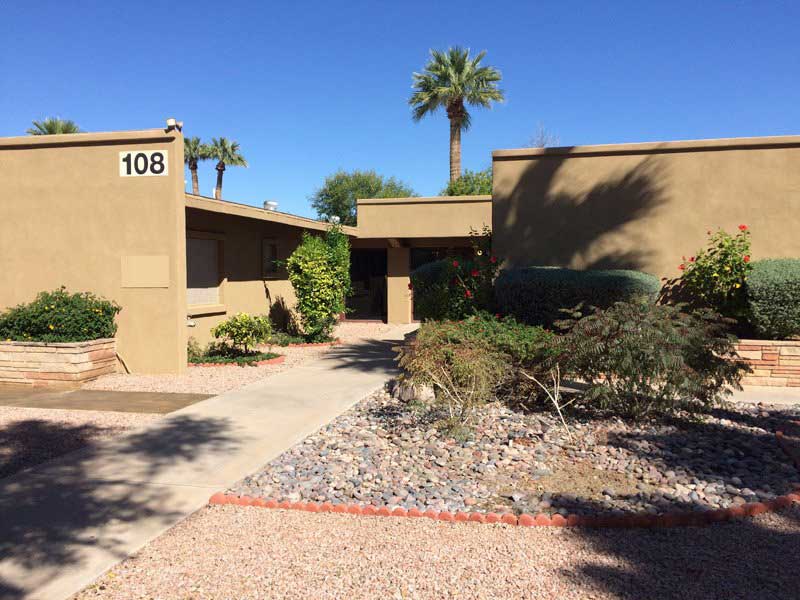 Our Outpatient Alcohol and Drug Rehab Center Offers Flexibility
Our outpatient treatment program offers flexible times that allow individuals to participate in both their daily affairs and treatment. We also offer day treatment for those who might work or attend school in the evenings.
What To Expect in Holistic Outpatient Treatment
Before you begin your treatment with us we will assess your specific needs and develop a custom treatment plan. Our outpatient treatment is always centered on holistic healing, which means your program will include treatment and therapies for the mind, body and spirit.
Outpatient Treatment Therapy Sessions Include:
Including self-esteem, relationship, family & work related issues as well as community participation.
Including career planning, financial management, anxiety & stress management and other important fundamentals.
Including family day, family education workshops, family counseling sessions and more.
Individualized Counseling Sessions
Including grief, boundary setting, trauma and personal relationships.
On-going education on the 12 step program and how you can integrate it into your everyday life.
Developing the skills to overcome drug and alcohol abuse after you graduate your addiction treatment program.
Other Outpatient Rehab Treatment Program Highlights Include:
Your body harbors many harmful metabolites from your ingestion of addictive substances. Part of your outpatient addiction treatment includes the removal of these substances from your body.
Once a week clients can expect to receive an IV with Vitamin C, B-complex, B5, B6, B12, Folic Acid, Calcium, Magnesium, Zinc, and Selenium – all key to replenishing the body.
In addition to the IV Vitamin Therapy we use B12 shots to combat the B12 deficiency so commonly found in alcohol and drug addicts.
Both are performed regularly to ensure successful and stable recovery. This keeps the individuals in care accountable while at the same time it helps the family and the treatment team develop trust in the individual.
Once your body is clear and stronger, we offer yoga classes or take you on hikes to help you get regular exercise so that you have the physical resources to overcome your addiction.
3 Reasons Why You Should Choose The River Source for Outpatient Rehab Addiction Treatment
With so many options available for addiction treatment these days making the decision on what treatment center is right for your needs can be overwhelming and frustrating. Here are a few reasons you should consider The River Source for your rehab treatment:
Proven Track Record

Founded in 2003, we have a long standing, proven track record for success. Read more from real clients in our client Testimonial area here.

Caring, Clinical Staff

We believe in providing the best treatment through a competent, coordinated and collaborative program, based on the principles of dignity and respect. Find out more about our staff here.

Affordable and We Accept Most Major Insurance

Our mission is to provide effective drug and alcohol rehab to as many individuals as possible. Verify your insurance online here.
The River Source Outpatient Addiction Rehab Intake Process
People enter our outpatient addiction rehab program from one of two routes:
They were in-patient clients who made progress and now need the counseling and maintenance that they can get from outpatient addiction rehabilitation.
They simply need treatment on an outpatient basis because their addiction is not crippling their life and relationships.
If you are a member of the second group, it is important that The River Source is a match for your treatment needs. The clients who have the best outcomes are those whom we are equipped to serve and who feel comfortable with our approach.
To start the process of outpatient addiction rehabilitation, call at any time of the day or night. An intake professional will talk with you about your addiction and ask a number of questions that are part of the intake process. These questions are part of an assessment that enables our trained clinicians to determine whether they can help you succeed. The intake professional will answer all of your questions regarding outpatient addiction rehab.
Prospective clients like yourself are often concerned about paying for outpatient rehabilitation services. Depending on the type of insurance you carry, you might only have to pay for a small portion, such as a co-pay at each visit. If your health plan will not cover visits to The River Source, you might be eligible for financial assistance through M-lend financial services. Our staff will also work with you to help you get the heroin drug rehab you need at minimal cost.
Make sure that you mention your financial limitations to the intake specialist. He/she will report this constraint to the treatment team. It may be possible for you to get help, but with a reduced number of visits per month so that help is affordable.
The important step is to call now so that you can gather the information necessary for making a good decision.
Ready to Make a Commitment to Addiction Recovery?
Call Today to See If Outpatient Rehab Treatment is Your Best Option
888-687-7332