Flexible Outpatient Options in Mesa, AZ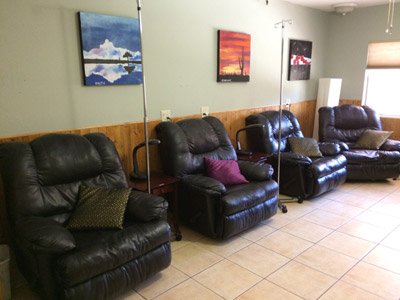 Located within historic downtown Mesa, our drug and alcohol outpatient treatment center provide a comfortable, serene environment for those working on recovery from addiction. The facility features several different rooms for counseling sessions of all sizes, it boasts a yoga room, and a fitness and wellness program as one of the many highlights in our integrative treatment model.
As part of the outpatient rehab services at The River Source, we offer an outpatient program that serves the needs of patients who need treatment on a more amplified and structured basis than traditional outpatient services.
Our effective outpatient substance abuse treatment is available day, afternoon, and night hours at our downtown Mesa, Arizona outpatient facility; perfect for any patient who needs flexible treatment options because of work, school or other daily obligations. The River Source also offers compatible outpatient satellite options in North Phoenix and Tucson.
What Is Outpatient Treatment?
The individual services we offer are essentially the same for patients in our (IOP) Intensive Outpatient are professional and confidential. IOP for alcohol and drug addiction at our facility includes treatment for 3 or more days a week. This provides a structured environment for patients looking for frequent addiction treatment outside of the hours that they spend at work or school.
If patients are at the IOP level of care, our patients are able to find the appropriate outpatient substance abuse treatment services at times that agree with their daily schedules and needs. The difference between being placed in IOP stems from our initial assessment of the patient. This free intake assessment helps us determine the scope and intensity of treatment needed by the recovering addict or alcoholic.
Why Choose Our IOP?
For individuals in the IOP programs at our sites; the treatment services we offer at our Outpatient facilities include:
Personal growth coaching

12-step meetings/guest lectures

Family Counseling

Naturopathic treatments (B-12 shots, acupuncture, etc.) (Mesa Campus only)
Evidenced-based, professional counseling sessions are at the heart of our intensive outpatient treatment for substance abuse, helping us build a track record of success. Our treatment experts are deeply experienced in the leading group, individual or family counseling sessions, all of which help the patient on his or her path to long-term sobriety.
As you saw above, we also conduct family counseling sessions. This means parents, spouses and/or children are brought into the session so the family can move towards healing together. These sessions help patients better understand the destructive impact their drug or alcohol dependence has had on loved ones. From there, our counselors work on helping the patient build better relationships with each family member.
Men and women 18 years and older are eligible for OP or IOP levels of care at our Mesa facility. We treat those suffering from drug and alcohol addictions and even co-occurring disorders. At The River Source, we believe that treating the mind, body, and spirit of each patient is essential to building a foundation of long-term sobriety.
Looking for Drug or Alcohol Addiction Treatment on an Outpatient Basis?
Explore Your Options With The River Source 866-294-9331